Have you always wanted to know how popular Discord is? This article has got you covered. This article provides you with amazing statistics of Discord as well as its monthly active users. These Discord 2022 stats show that Discord is growing faster than we expected, and the company's upside looks promising.
Discord functions as a text, video, and audio (voice) chat application where people worldwide converge to discuss or chat through community platforms known as 'servers.' Discord's fast ascent to prominence after its debut in May 2015 is not surprising.
You can have text, audio, and video conversations with other users, as well as connect with those who share your interests by joining public or private Discord servers. I have included some of my favorite Discord statistics in an effort to understand better how the platform has facilitated simple online discussions.
These statistics will give you a better understanding of the platform and its potential.
---
Discord User Statistics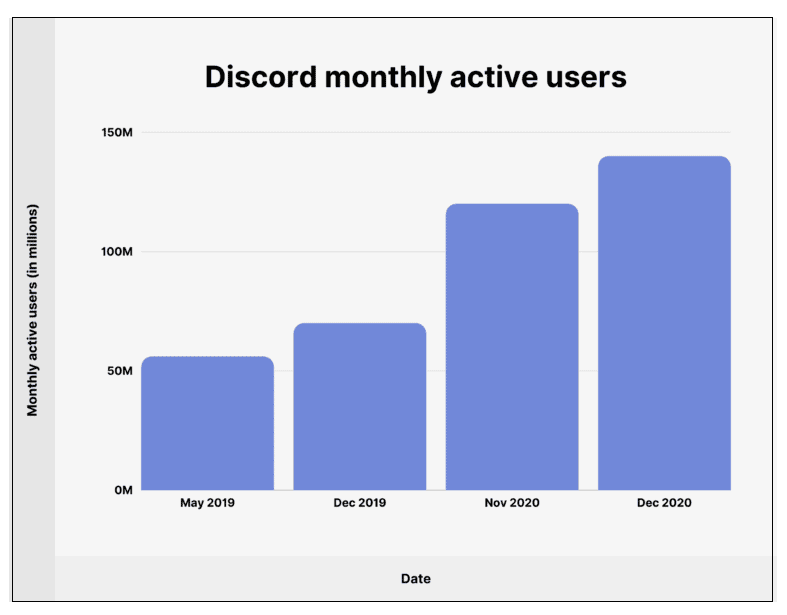 Since Discord's primary value is its community, I will begin with some basic demographics about regular Discord users and how they utilize the service. How many people throughout the world use Discord? What is the average monthly user count for the service? I appreciate your patience as I crunch the statistics.
1. Discord Is the Favorite Social Media Platform for 3 percent of US Teenagers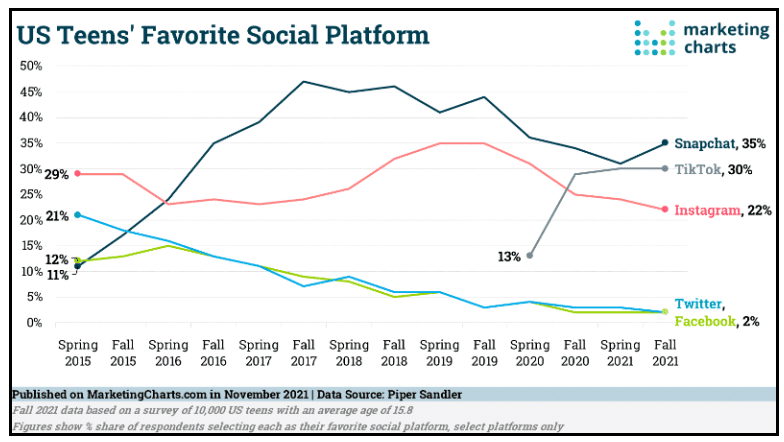 Even if TikTok, Instagram, and Snapchat remain the most popular social networks among adolescents, 3 percent of those polls said that Discord was on par with waning social media heavyweights like Facebook and Twitter. Given the exponential expansion of the platform over the years, I anticipate this figure to rise.
2. Two hundred and eight minutes per month is the average time spent on Discord by the average user in the United States
According to Backlinko's research, about 280 minutes monthly is the average time spent on Discord by the average user in the United States. That's equivalent to around 9 minutes daily. When using Discord, most people don't spend long periods actively searching for new channels to join. Instead, they sign in to respond to a message on a channel and sometimes participate in a voice or video channel.
3. The vast majority (78 percent) of Discord users say they don't use the app primarily for gaming or that they use it for gaming and other things equally
Discord's original purpose was to facilitate communication between players of online games. Research finds out that over 70 percent of users now say they use the site for purposes other than gaming or say they do both.
4. Discord's Peak Concurrent Userbase Is 8.2 Million and Growing
Since its establishment in 2018, there has been no fresh evidence suggesting that this record has been surpassed. In its first three years, Discord worked tirelessly to expand its functionality and user base, so this achievement was very meaningful.
5. The minimum age to join Discord is 13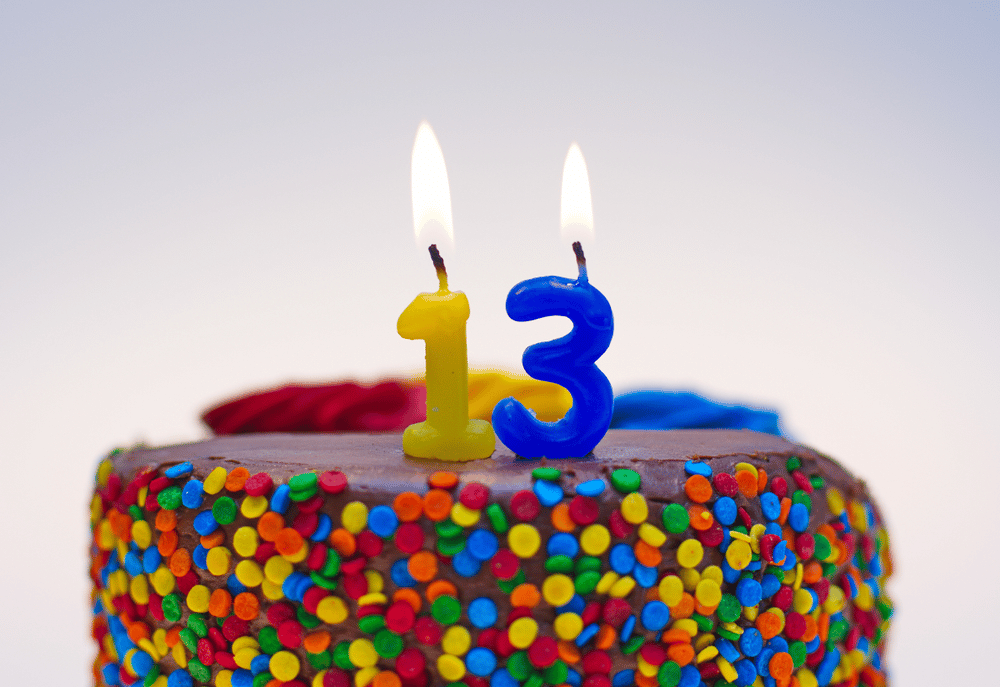 If your country's legal digital consent age is higher than 13, Discord is designed for users 13 and above. Still, there are a lot of Discord channels that have an age requirement of 18+, for the simple reason that some users can distribute content that is inappropriate for youngsters.
6. Discord has 150 million active users every month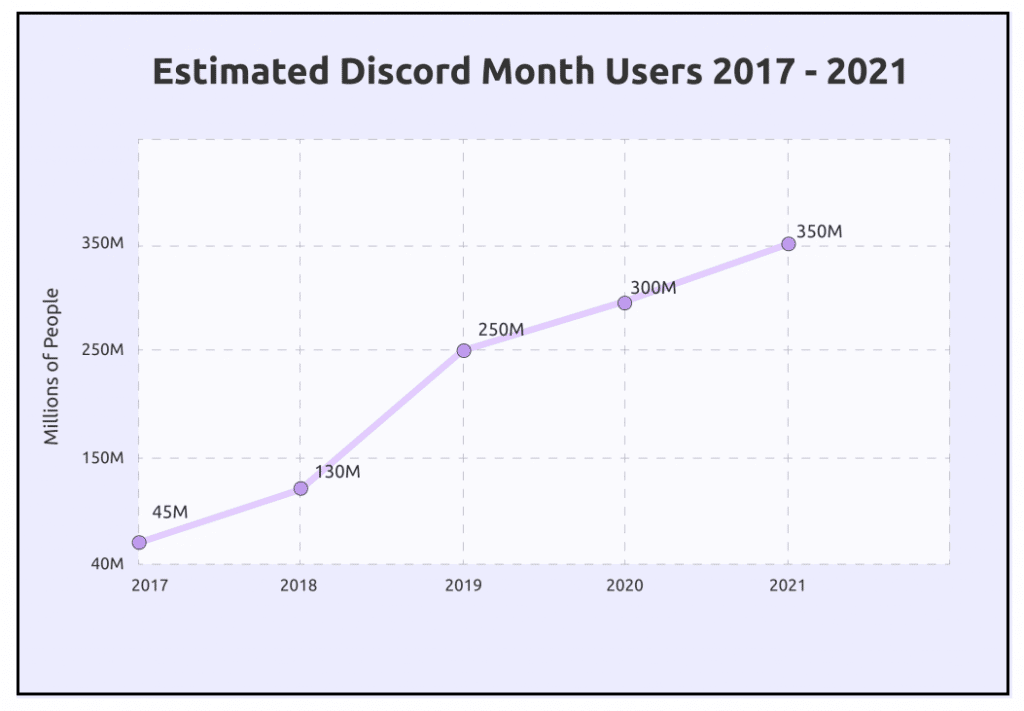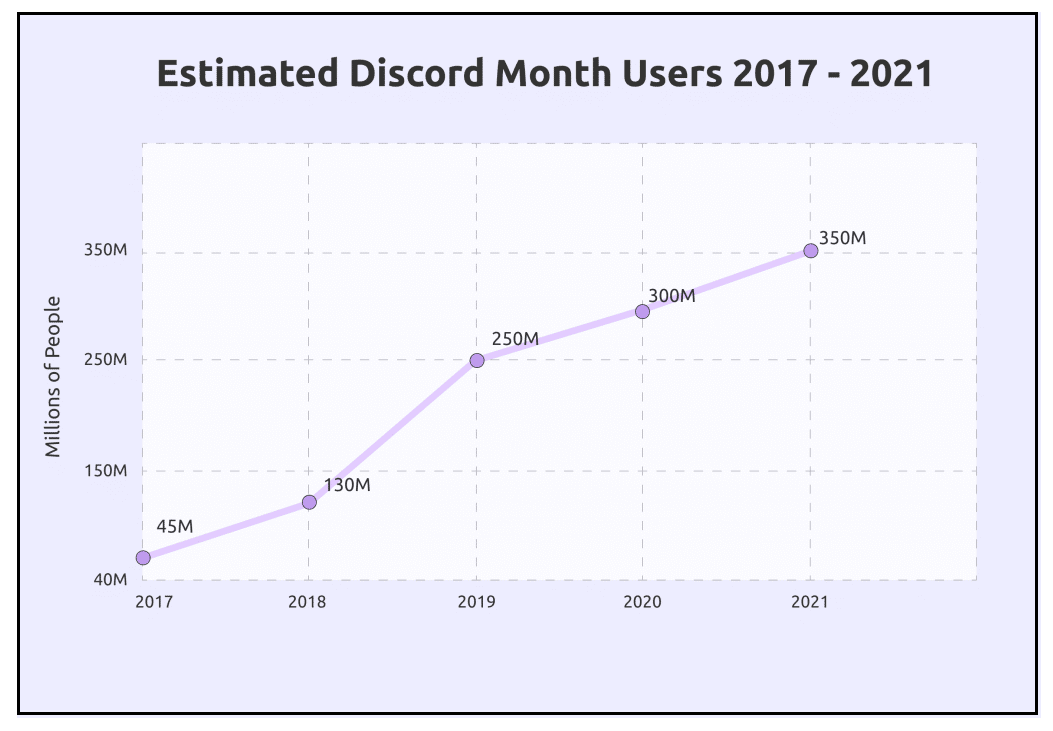 While this is a significant increase from Discord's monthly active user count of 56 million in 2019, the increase from 2021 is relatively small (10 million). Since the epidemic and subsequent lockdowns, the platform's popularity has skyrocketed, threatening the market share of established players in the messaging space like Meta's Messenger and WhatsApp.
---
Server Statistics of Discord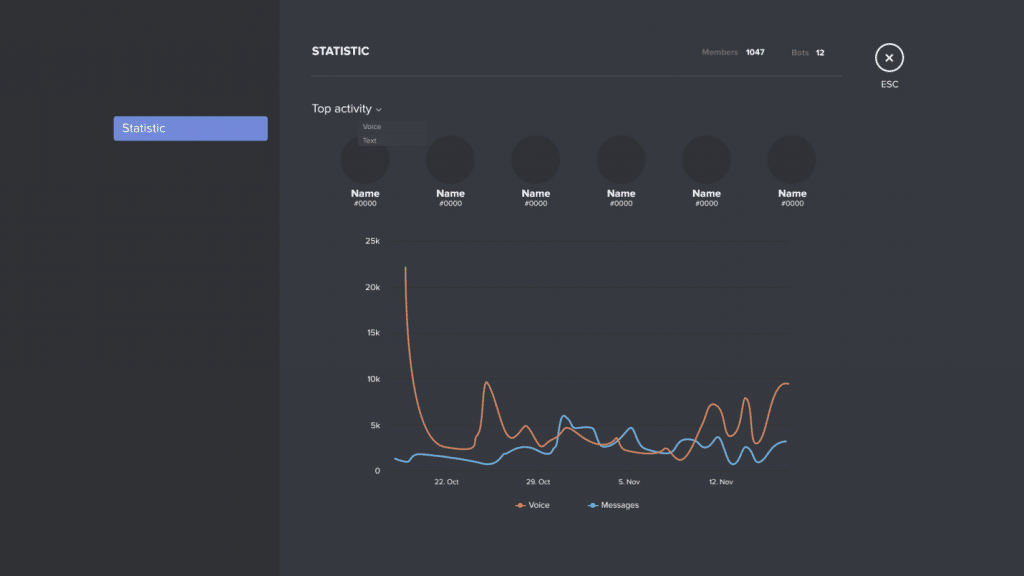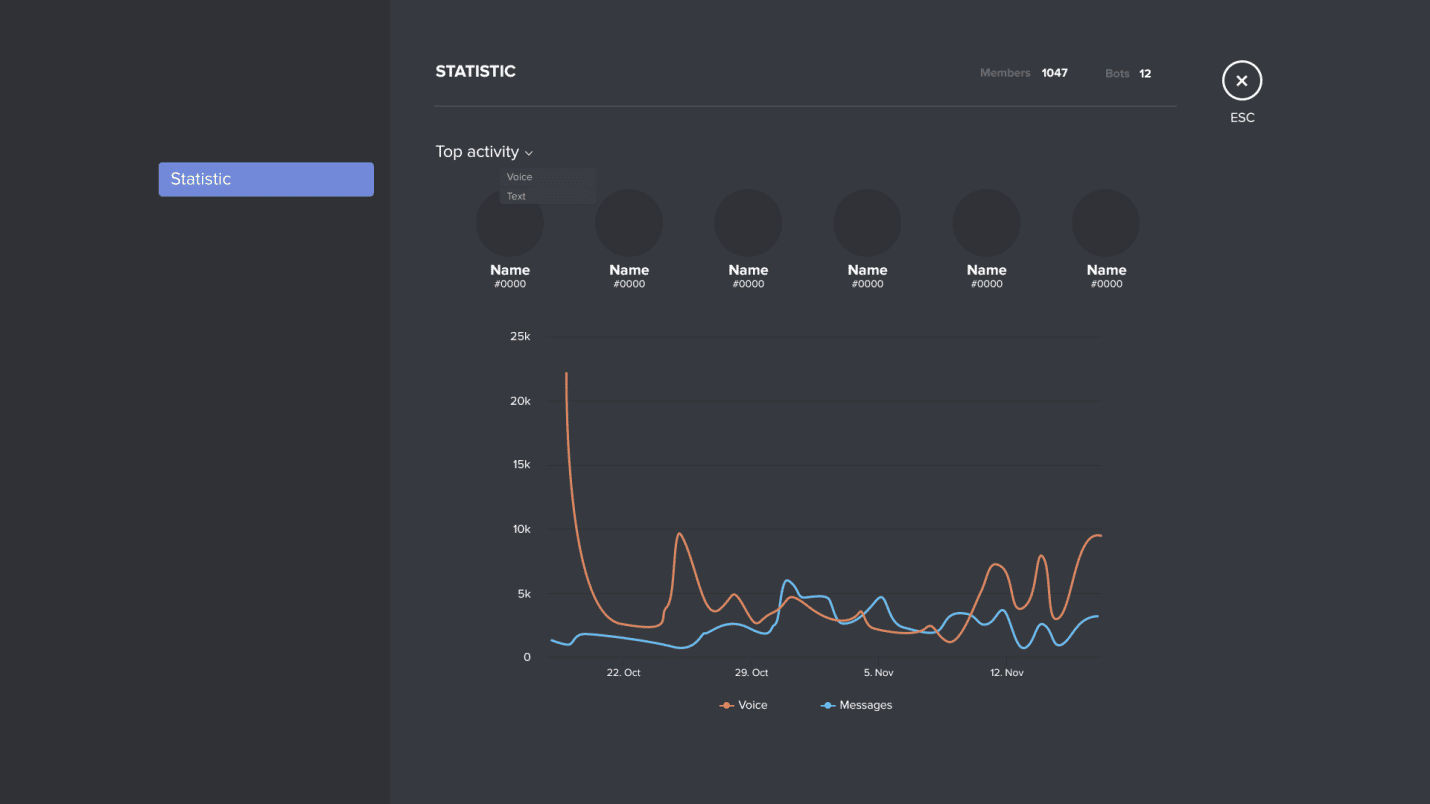 Discord is built on servers, whether they're personal and just for you and your pals or public and run by a whole community. Users must be welcomed into a Discord server community before they can begin communicating with the server through text, voice, or video—some amusing numbers from the Discord server.
7. Fewer than 15 people participate in 90 percent of all Discord servers
In no way does this indicate that they are unsuccessful. Each of these smaller social circles likely has its server, and many of those servers have less than 15 members. It makes using Discord more like chatting with close friends in person, giving users greater control over their privacy.
8. As the largest online gaming platform, Fortnite has its dedicated server.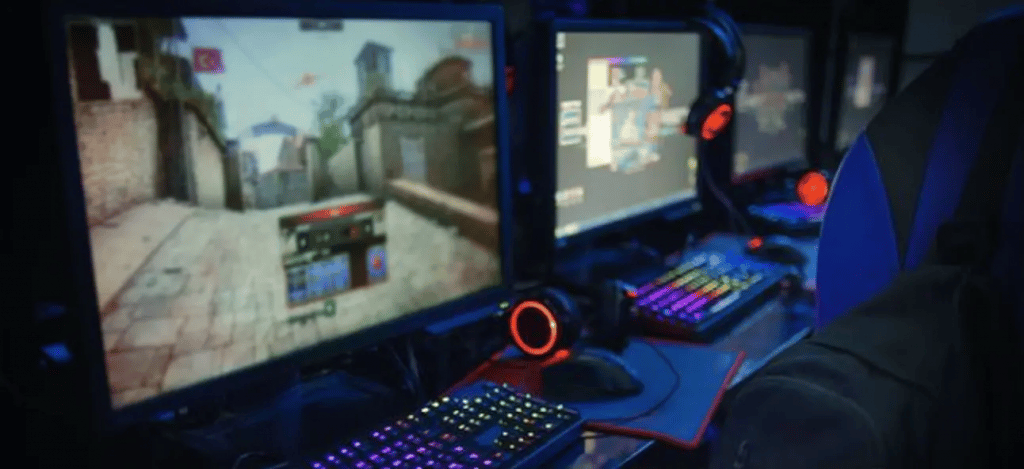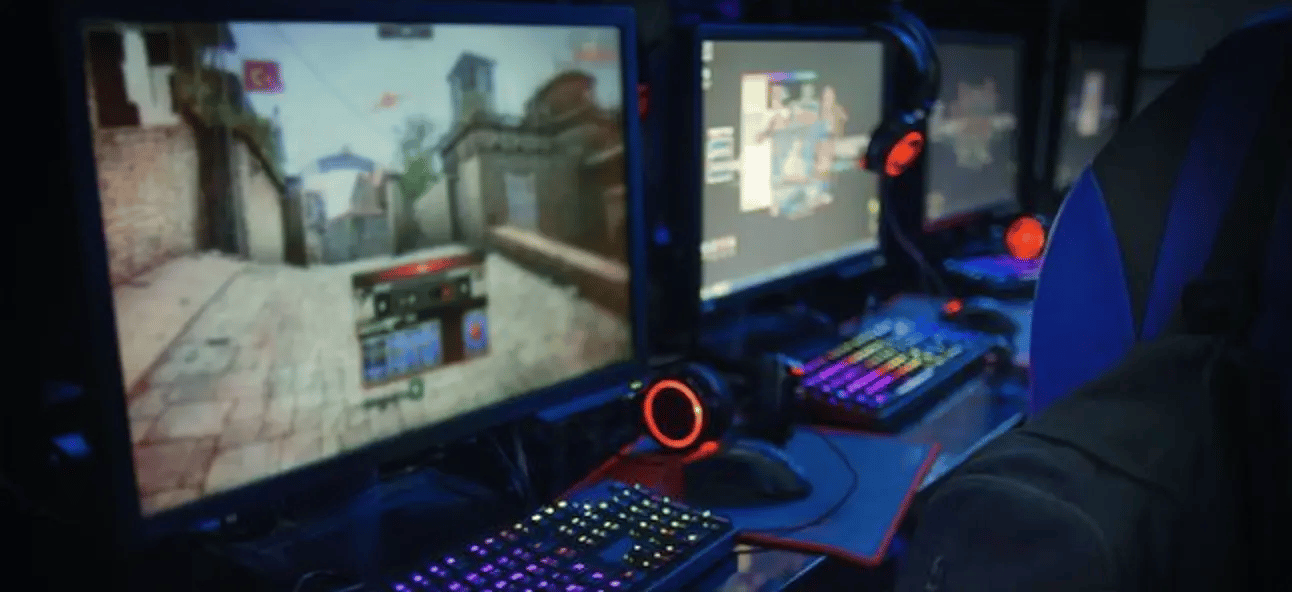 Fortnite has the biggest Discord server, with approximately 845,000 users. In second place, with almost 790,000 users, is Roblox's server. MrBeast's server, which features stunt videos, is in third place, with 765,000 users.
9. There are more than 850 dedicated voice and video servers in the Discord network.
Discord's 850+ voice/video chat servers are among the most extensive in the industry. Physical servers are what Discord relies on on order to process all of the audio and video communications from its members. Since video chats are so bandwidth-intensive, and Discord doesn't want to sacrifice quality for quantity, the maximum number of participants is 25.
10. Every Day, Users Spend 10.4 Billion Minutes Communicating with Servers
When considering the scope of Discord's user base, this statistic is instructive since it pertains to the platform's audio conversations. Users prefer using the site for voice conversation rather than text communication, given that 530 million messages are transmitted daily on the network.
11. In a Normal Week, There Are 19 Million Discord Servers Active 11.
Despite Discord's roots in the gaming community, its current user base hosts servers for a wide range of purposes. You can find servers dedicated to everything from a particular hobby or fandom to having a relaxed chat with a group of real-life friends or classmates.
12. Discord Nitro allows access to up to 200 servers.
Anyone can host their server, but you'll need an invite to join others. Unless you have purchased Discord Nitro, you are limited to 100 simultaneous server memberships. With a Nitro account, you can add up to 200 additional servers.
---
Revenue Statistics of Discord
---
When using the free version of Discord, you will not be exposed to any advertisements; yet, the company still needs to generate yearly money. Look at the following data to learn more about Discord's business model.
13. In 2021, Discord raised 500 million USD in a funding round.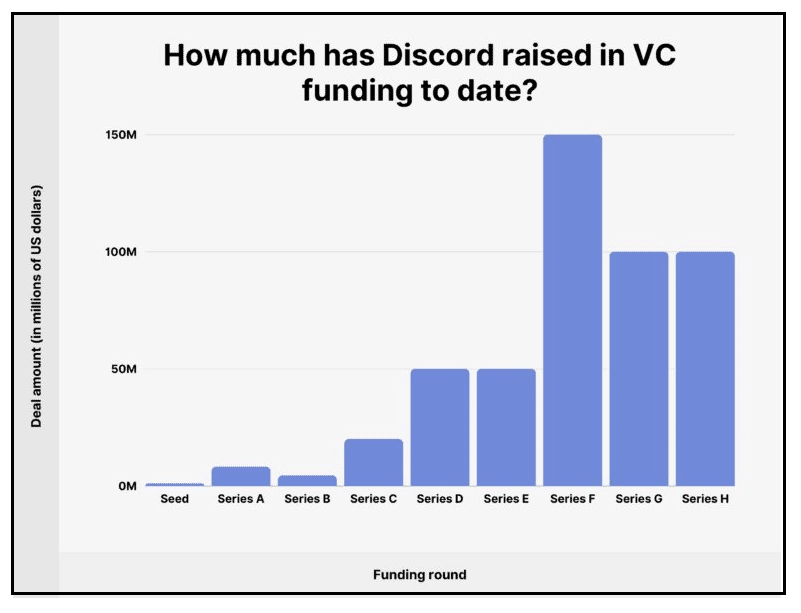 Discord is now worth 7.3 billion USD, thanks to the 100 million USD in capital it secured in 2020. In September 2021, a year after its last investment round, Discord secured 500 million USD, bringing its worth to 15 billion USD.
14. A disagreement As its primary revenue generator, Discord relies heavily on Nitro.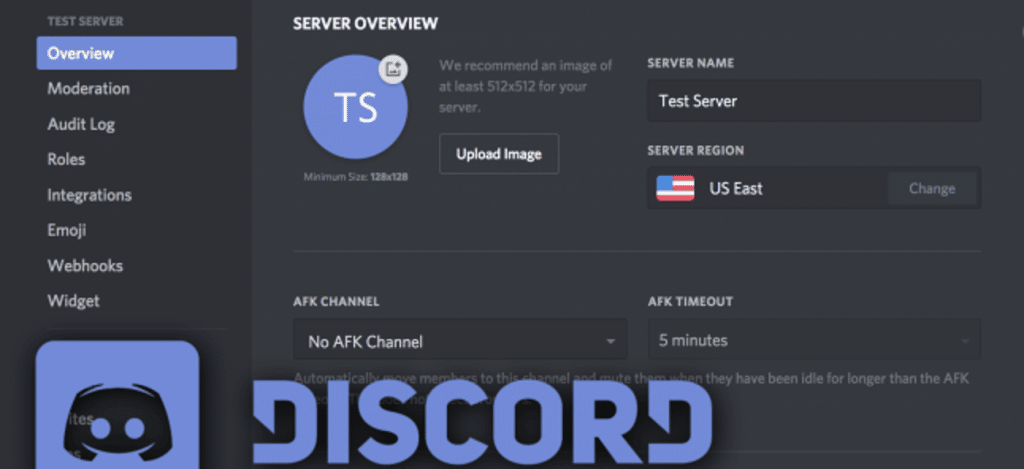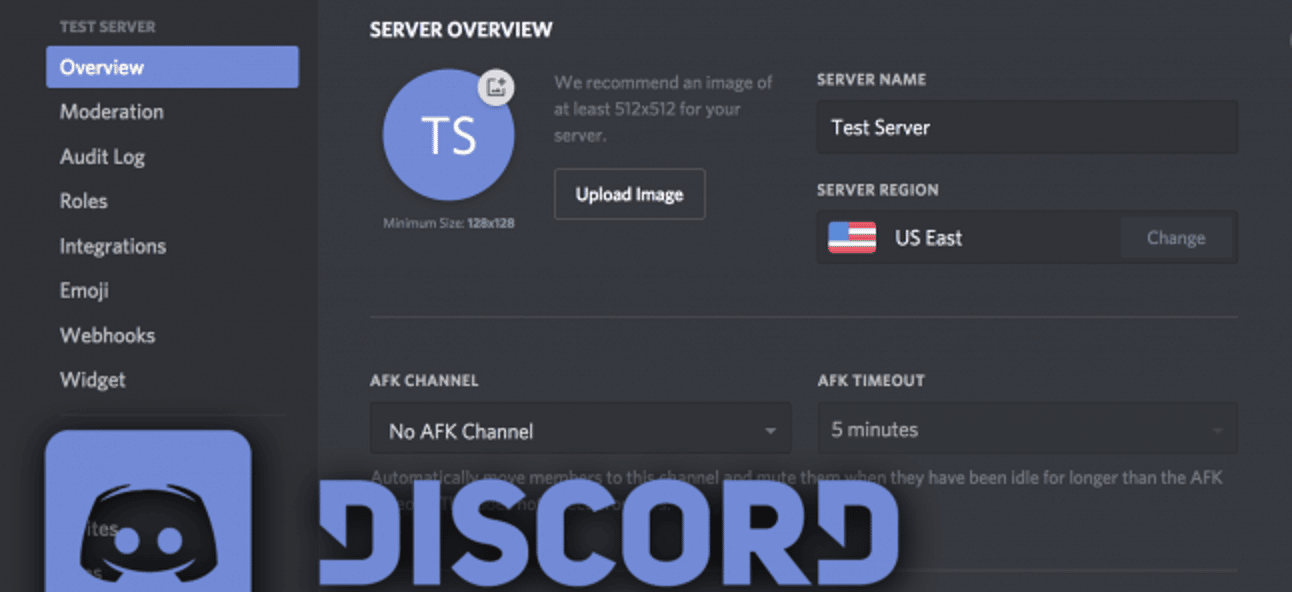 If you get the most out of your Discord experience, you should sign up for Nitro. Discord Nitro Classic (4.99 USD/month) and Discord Nitro (9.99 USD/month) are available, with the latter costing an additional 99.99 USD/year.
The latter supports greater maximum file sizes, better quality video, and two more server boosts (Nitro Classic has just one server boost). Since even the free levels of Discord are ad-free, the majority of the service's revenue comes from paid memberships.
15. The projected revenue for Discord in 2021 is 300 million USD.
Discord produced 5 million USD in income in 2016, when it was only getting started. The figure increased to 45 million USD in 2019 and virtually quadrupled to 130 million USD in 2020. As the platform continues to expand at a fast pace, it is projected that by 2021, Discord will have earned 300 million USD.
---
General Discord Statistics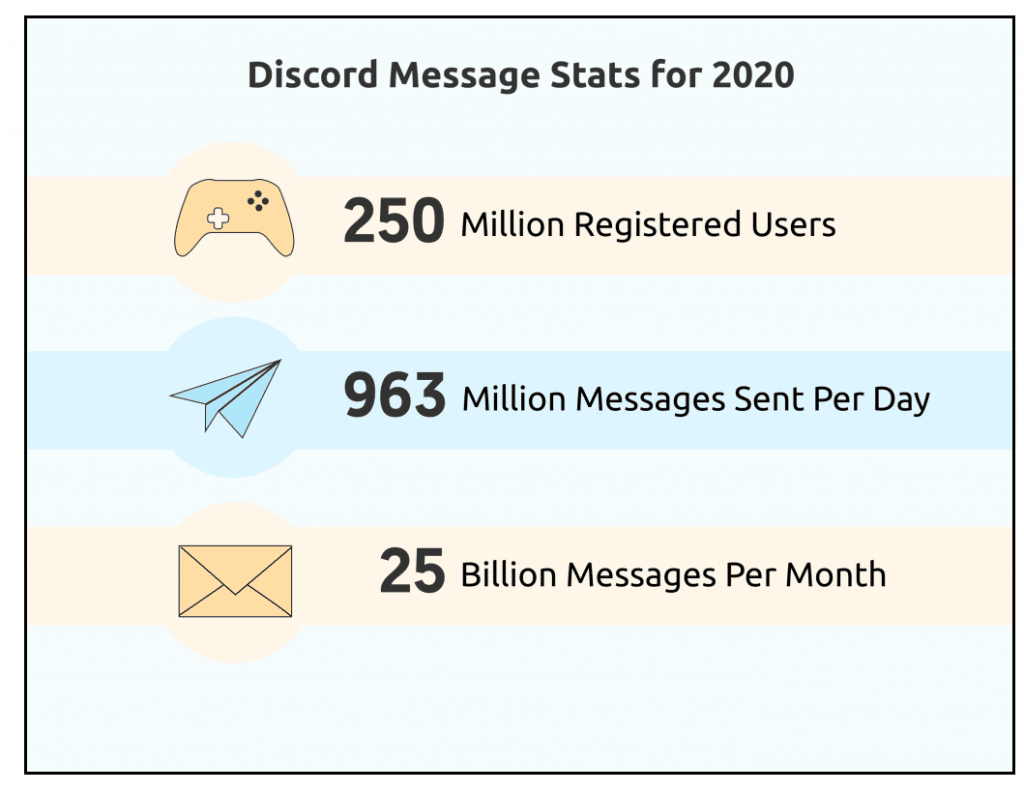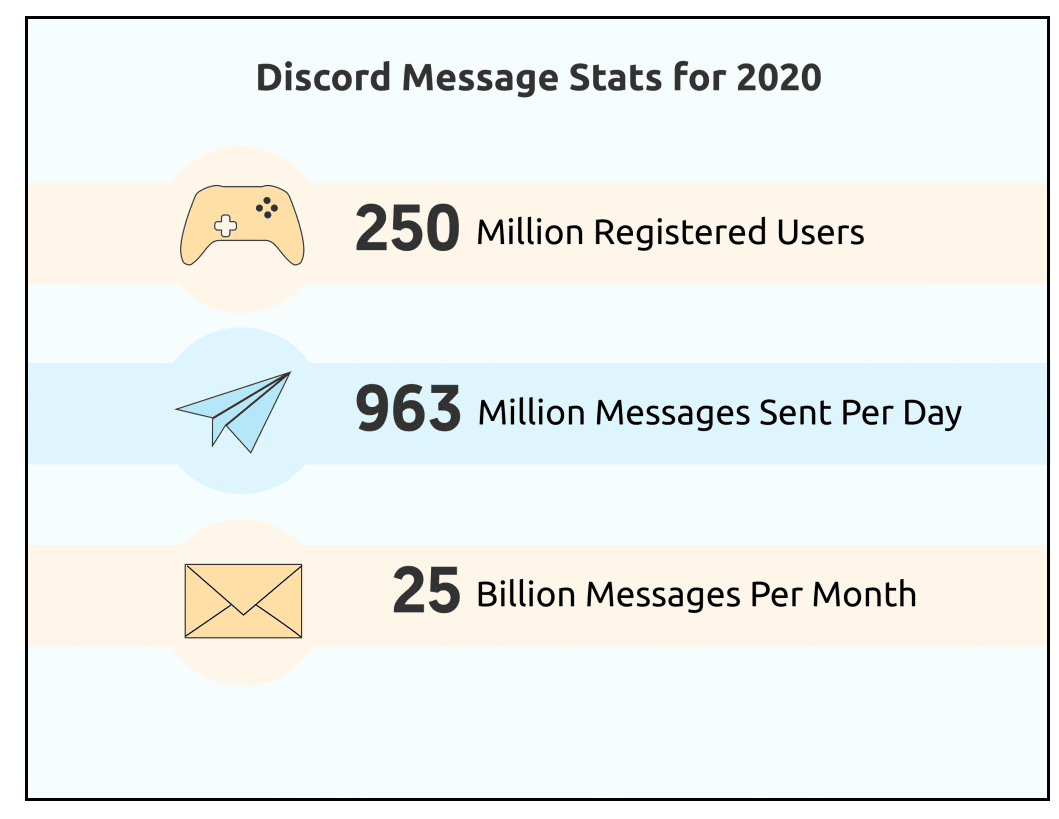 The following data doesn't fit neatly into any of the three categories listed above; instead, I think they make for some intriguing bits of Discord trivia.
16. Almost half (45 percent) of all Discord incident reports include either harassment or spam.
The majority (32 percent), or so, are claims of harassment, with spam reports making up the next biggest category (13 percent).
17. Discord is just a random name; it doesn't mean anything in particular.
When Jason Citron first conceived the platform, he chose the name "Discord" because he thought it sounded cool. The concept of disagreement (or "discord") has been proposed as a possible origin. The potential allusion to the fact that, before Discord's release in 2015, no other messaging service provided as comprehensive a set of tools as it does now.
18. The median annual salary for a senior software engineer at Discord is 218,363 USD.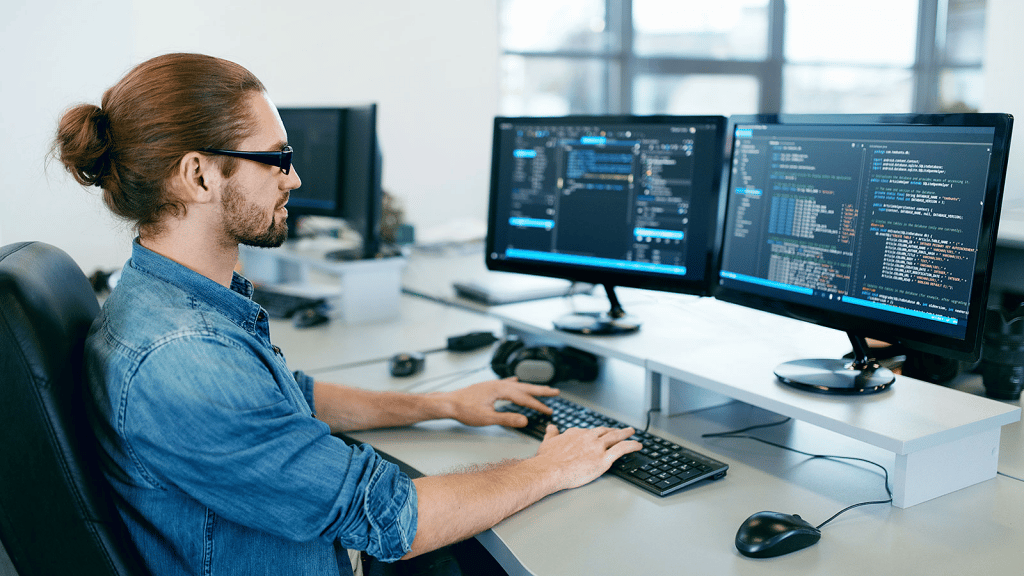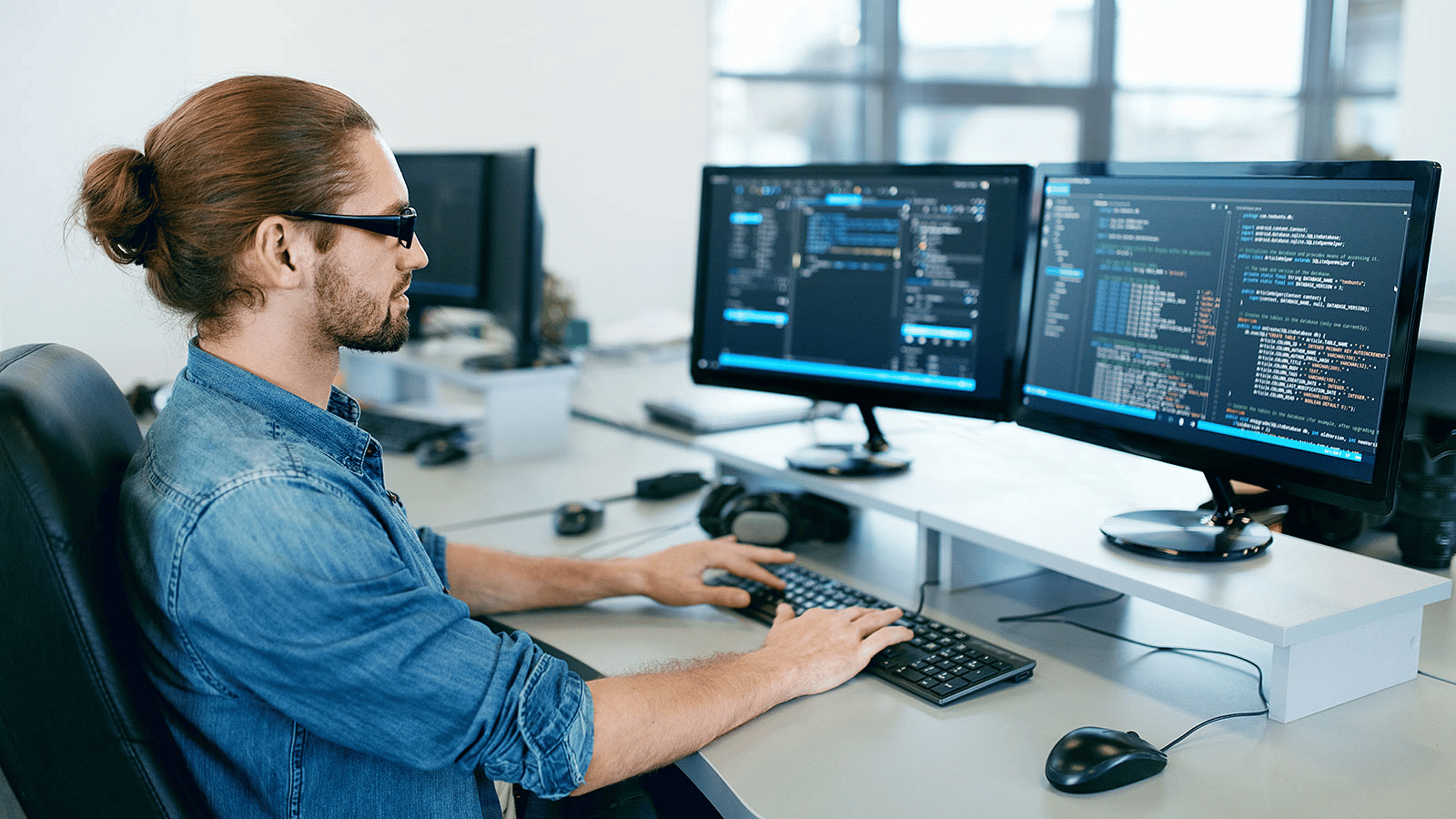 The average annual compensation for a senior software engineer at Discord is 218,363 USD, as reported by 14 employees on Glassdoor. Discord's engineers are paid highly in relation to the national average wage of a senior software engineer, which is 121,572 USD per year, as reported by Payscale.
19. Microsoft's 12 billion USD acquisition bid for Discord was rejected 19 times.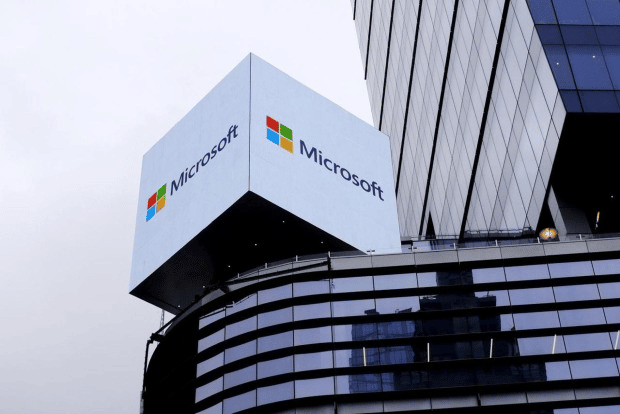 Microsoft was the sole credible bid when Discord went public in 2021. Discord quickly shut off the sale discussions and redirected its attention to expanding the company and maybe going public on the stock market. Since its inception in 2015, Discord has been run by its current CEO and co-founder, Jason Citron.
20. The Discord bot Rythm was the first to reach 1,000,000 servers.
If not the most popular bot on the site, Rythm was a strong contender. The high-quality music-playing capabilities of Rythm might be added to any speech channel. Before Google prohibited it because it utilized YouTube to play music, it processed as many as 200 orders per second. The bot will be back shortly, according to Rythm's website.
---
FAQs
Q. Does Discord still exist in 2022
Yes. In 2022, Discord's popularity is still through the roof, as shown by the fact that it has more than 150 million monthly active users.
Q. Which country is Discord mostly used in?
Regarding total traffic, 27.61 percent of Discord users are in the United States.
Q. How many active users does Discord have?
There are around 150,000,000 monthly active users on Discord.
---
Conclusion
When it comes to simple, effective online chat, Discord is unrivaled. It's used by millions of people every day to communicate with each other while playing games, share classroom resources, and chat with friends and family online.