For people who want to make music as a hobby and a career, beat creation software is a blessing. High-end music production software is quite expensive; thus, not everyone can afford it.
In these situations, employing top-notch free music-making software can let you follow your passion without unduly taxing your wallet. Thankfully, there are several top free programs accessible to create Beats that don't cost a fortune but still offer all the necessary features.
In addition, this blog will discuss some of the best beat-making programs for Windows and Mac that are appropriate for both novice and seasoned musicians.
Therefore, let's begin.
If you consider yourself a music enthusiast, see our selection of the best beat-making PC software below to learn how to produce your top-notch musical beats.
---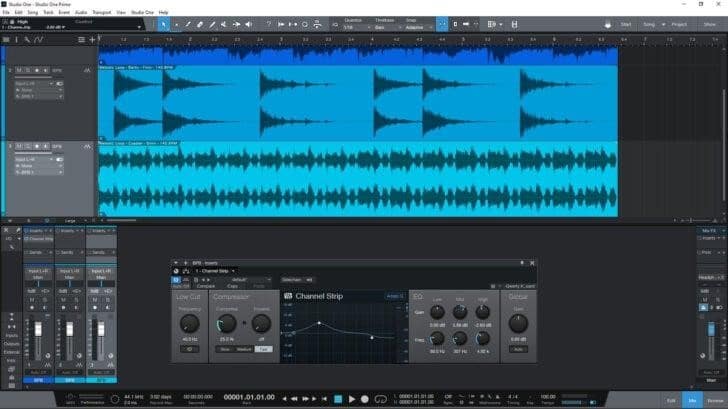 PreSonus offers Studio One Prime as a free music software program. It can be used to record and manipulate audio, but virtual instruments and third-party plugins are not supported.
With that constraint in mind, beat producers who employ hardware samplers and acoustic instruments can benefit from Studio One Prime. You may record your musical inspirations and make rhythms with Studio One's built-in effects and audio editing features.
PreSonus offers a free download of Studio One Prime.
Click to Download Studio One Prime:


---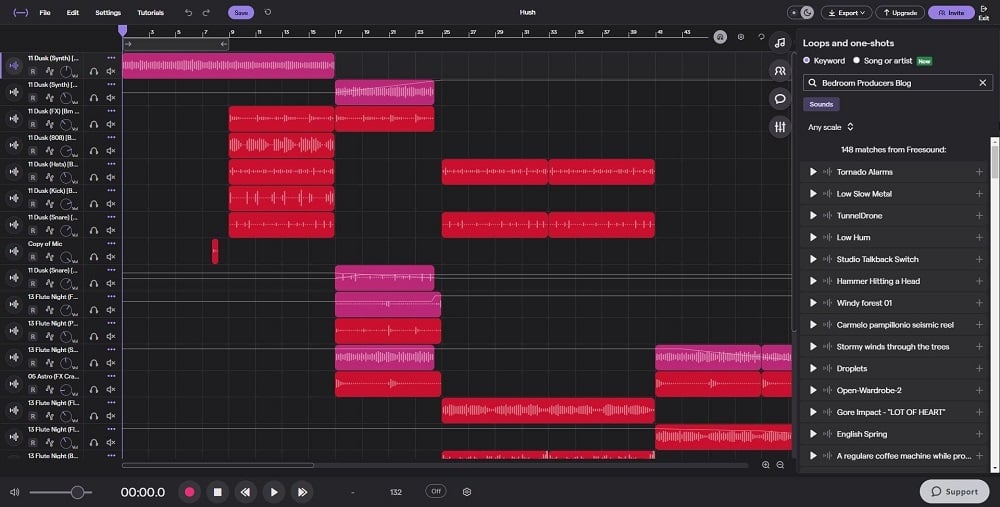 Another cloud-based program for creating music and podcasts is Soundtrap. Real-time collaboration is provided, enabling numerous people to work on projects simultaneously from various locations. Spotify created it.
I tried out Soundtrap's collaboration option with a friend, which performed better than anticipated. Even though you're not physically in the same room as another producer, Soundtrap is a respectable online beat-making tool for collaboration with friends.
The user interface of Soundtrap is straightforward and is made to accommodate both inexperienced and seasoned users. Installing anything on your computer is unnecessary because it loads in your browser.
The infinite projects, 290 one-shots, 5040 loops, 440 instruments, and 150,000 sound effects from freesound.org are all included in the free edition. New sound packs are released every two weeks, although there is limited access to them.
Nevertheless, there are significant restrictions with Soundtrap's free version. A subscription fee is needed to access premium services, including pitch correction, high-quality audio exports, and a more extensive selection of loops and sounds.
Soundtrap is a flexible beat-making app that runs in the cloud and has all the essential tools for creating simple music. A membership is required to access all of its features, even though its free edition makes a respectable starting point.
---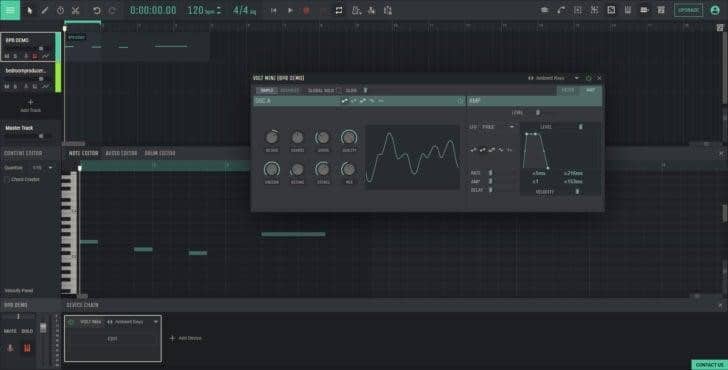 The free beat-making program Amped Studio combines desktop-style sequencing with cloud-based storage. When you're away from your main studio setup, this hybrid arrangement is ideal for capturing those spontaneous beat ideas.
Making beats online is free while using Amped Studio.
The user interface offers the typical DAW components that users are accustomed to, including audio and MIDI tracks, virtual instruments, and effects. Combining audio and MIDI on the same track with Amped Studio's hybrid track capability is one of its unique features.
You can start creating beats without downloading anything extra with the software's built-in virtual instruments and effects from Amped.
There is a free version of Amped Studio; however, some functions require a subscription. These extra features include additional virtual instruments and effects, expanded sound libraries, and the option to export projects in high-quality formats. With a subscription, the amount of cloud storage available for saving work online is also enhanced.
In conclusion, Amped Studio is an affordable, top-notch beat-making tool, albeit a monthly subscription is necessary to unlock all of its features.
Click to Download Amped Studio:


---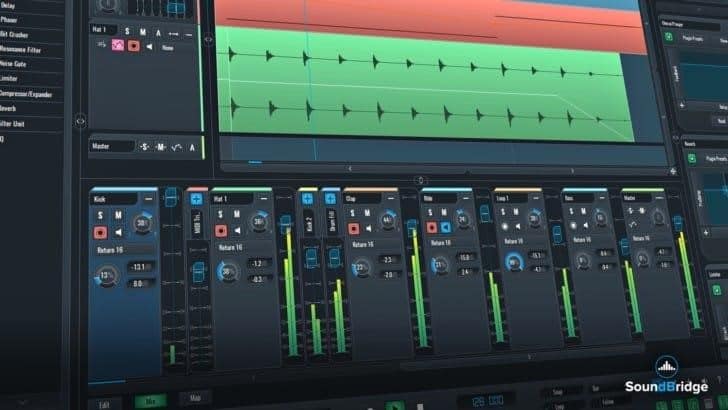 By providing a respectable feature set while strongly emphasizing simplicity, SoundBridge differentiates itself from other beat-making DAWs.
Even for those new to the game, the beat generation process will be simple because of its user-friendly UI. The software's layout combines simplicity and adaptability, resulting in a fluid workflow.
Additionally, SoundBridge doesn't scrimp on features. You have access to infinite tracks and the full complement of mixing tools. A sequencer, a multi-track mixer, automation, audio editing tools, and other capabilities are all included in the package.
I particularly enjoyed the RitMix drum machine while evaluating SoundBridge's beat-making skills. Creating brand-new beats from scratch is jam-packed with sufficient presets and drum samples to complete the rhythm section.
On the other hand, for experienced beat creators, the lack of extensive MIDI editing features might only be a small hiccup. MIDI editing is possible in SoundBridge, although not to the same degree as in dedicated DAWs.
Additionally, SoundBridge has a very limited user base for now, making it challenging to find solutions online if you run into beat-making workflow problems.
SoundBridge is among Mac and Windows's top free beat-making programs despite these flaws.
---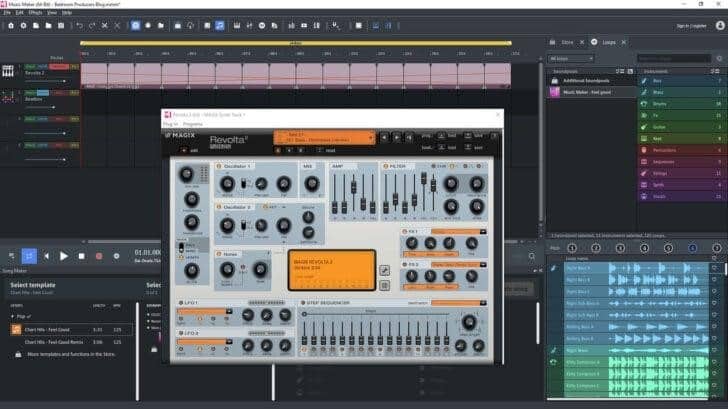 Magix Music Maker is a good option if you're looking for a free music creation program that prioritizes usability above cutting-edge capability. Magix Music Maker is like GarageBand for Windows.
Magix sets itself apart from other free beat-making software packages by providing a user-friendly drag-and-drop interface. This enables beginners to produce music and beats in just a few clicks.
The base version offers a useful library of loops, samples, and virtual instruments, available for free download. This free sound collection, however, cannot be expanded with additional samples or VST plugins from outside sources.
The Magix Music Maker Plus and Premium versions provide a considerable increase with a larger sample collection and extra capabilities, expanding the user's creative options.
It's crucial to remember that Magix Music Maker only has basic MIDI capabilities. Look elsewhere if you require beat-making software to produce unique drum loops and sample chops.
Despite its flaws, Magix Music Maker is a reasonably priced software for budding musicians who want to create beats for nothing. This is the program to learn how to make beats before switching to a professional DAW.
---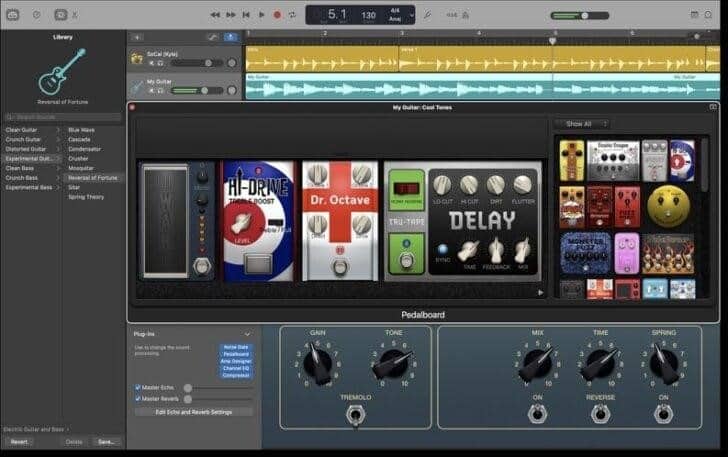 Every Mac comes with GarageBand, a free program that rivals many professional DAWs in terms of use. GarageBand is the ideal Launchpad for novice beat producers who wish to generate music on a small budget, thanks to its simple interface.
Even seasoned professionals can get some major juice out of it. Remember that GarageBand was used to create the beats for Usher's Love in This Club and Kendrick Lamar's Pride.
GarageBand doesn't scrimp on capabilities despite being as user-friendly as a garage door remote control.
The free Beat app from Apple is a great program for making music recordings and modifying audio files. To give your rhythms more depth and personality, it also features a variety of virtual instruments, guitar amps, and stompbox effects.
The Drummer track is a great tool for rhythm producers who desire a simulated percussionist in their studio (without the drumstick tossing).
The app doesn't include the sophisticated mixing console in Garageband's older sibling, Logic Pro, and MIDI editing is fairly constrained.
We can't complain, though, because it cost absolutely nothing. New producers can use Apple's GarageBand, a great beat-making program for beginners.
---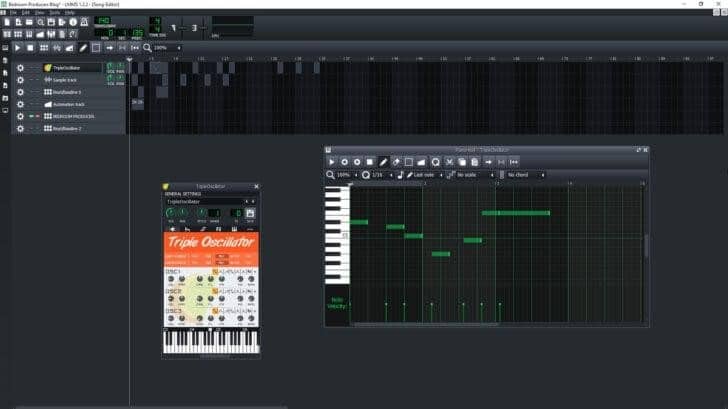 LMMS is a free, open-source beat creation platform. It mimics the effective workflow of FL Studio, one of the most well-known beat-making software available.
The sequencing methodology of LMMS, which has its roots in the techniques of ground-breaking beat-making applications like Fruity Loops and Reason, is considered by most beatmakers to be the program's most notable feature. Unlike conventional sequencer layouts in other digital audio workstations, this loop-based method is simple and offers a streamlined environment for beat composition.
In light of this, LMMS is a powerful free beatmaker program for creating beats and experimenting with your favorite virtual instruments and drum samples.
Third-party VST plugins can increase LMMS's functionality even more. Drum machines, samplers, and effects can all be loaded into your music creation program to give it more diversity.
Because LMMS is cross-platform, it can run on Windows, macOS, and Linux without a hitch. No matter where you are or what OS you use, you have access to a potent free beat-making studio.
The most recent LMMS for Windows version I tested ran smoothly. Compared to other beat-making apps on this list, the application is reasonably lightweight, with no stability problems.
---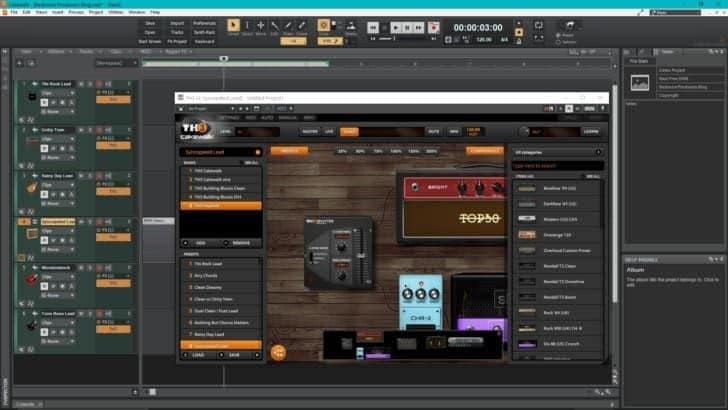 Another DAW that beatmakers shouldn't ignore is Cakewalk by BandLab. Its traditional sequencing method is especially helpful when recording vocals or natural instruments using a microphone.
Cakewalk debuted in 1987 and has maintained a consistent presence in music production software ever since. This durability inevitably results in a well-rounded, feature-rich musical instrument. Its functions mostly include industry-recognized music production software like Cubase, Logic Pro, and Pro Tools.
The free Cakewalk version, now managed by BandLab, provides all the tools required to record, mix, and master your music. Cakewalk allows you to create beats, record vocals, and even master your songs for internet sharing and release.
Unfortunately, Mac users cannot currently use Cakewalk by Bandlab.
---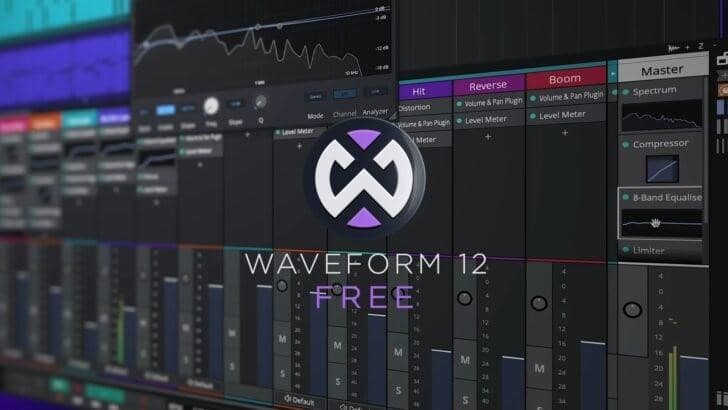 The free Waveform Free digital audio workstation is a feature-rich alternative to Tracktion Software's premium Waveform. The DAW provides a beat-making workflow appropriate for inexperienced and seasoned producers.
The program is compatible with ReWire and fully supports VST plugins. It is available for Windows and Mac.
Although some of the capabilities found in its more expensive sibling are absent, the fundamental functionality is present. Your music beat can be entirely recorded, mixed, and mastered with Waveform Free.
The free Waveform Free digital audio workstation is a feature-rich alternative to Tracktion Software's premium Waveform. The DAW provides a beat-making workflow appropriate for inexperienced and seasoned producers.
The program is compatible with ReWire and fully supports VST plugins. It is available for Windows and Mac.
Although some of the capabilities found in its more expensive sibling are absent, the fundamental functionality is present. Your music beat can be entirely recorded, mixed, and mastered with Waveform Free.
---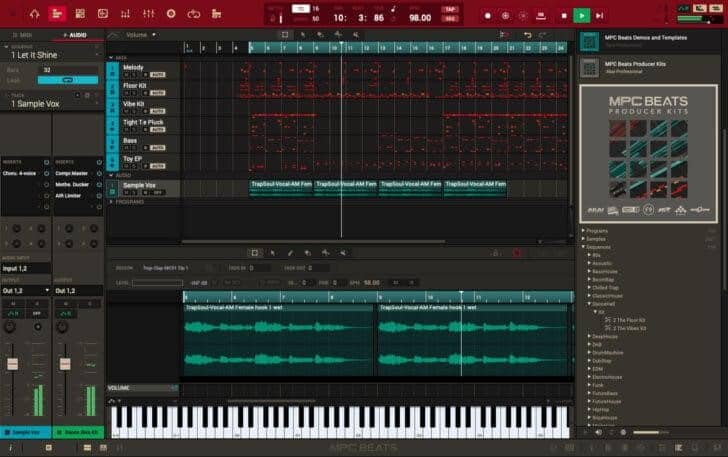 The best beat-making software is MPC Beats from AKAI, which gives experienced producers more power while opening up music production to newbies.
It redefines the beat-making environment for users wishing to master the fundamentals of music creation with a core feature set comprising an 8-track MIDI sequencer, 80 exclusive plugins from Air, and compatibility with AKAI and third-party hardware.
In addition, MPC Beats provides compatibility with VST and AU plugins, a sizable 2 GB sound library, a virtual mixer, sample manipulation tools, and plugin functionality.
MPC Beats is the ideal program for making beats on the fly, even if it won't replace a fully functional DAW.
I used MPC Beats as my primary tool for capturing fresh melodies and other musical inspirations as I tested it out for a month. It worked exceptionally well as a beat-making sketch pad, but my main DAW was still required to finish the project.
The free tracks app from AKAI is a tribute to the traditional MPC workflow and is ideal for producing EDM or hip-hop tracks. You can remix, develop, and explore to develop your musical concepts by starting with genre templates from the Trap, Dance, and Pop genres.
MPC BEATS ENABLES YOU TO EXPAND YOUR SOUND KIT with AKAI's add-on sample packs from famous sound designers like F9 Instruments, Araab Muzik, and others. There are numerous high-quality sounds available in the main software and two free expansion packs, ranging from contemporary vocalists to classic drum kits.
MPC Beats is a tough act to follow in beat creation at a low price—it's entirely free. It is ideal for beat producers who need a portable setup, whether they are novices or experts.
---
Your digital audio workstation uses free beat-making software
Even though each free beat-making tool has some restrictions, you can still use it as your primary digital audio workstation. Using our selection of free beat-making applications, you may choose the one that has all the features required for your workflow.
When you're prepared to commit financially, consider investing in a professional DAW like FL Studio, Ableton Live, or Logic Pro.
---
What is the top free DAW for a seasoned beat produce?
Experienced beat producers can use Cakewalk by Bandlab or Waveform Free as their primary platform. Both programs have cutting-edge capabilities for audio recording and editing, MIDI, and automation.
They can also export your beats in high-quality audio formats and load VST plugins. Both applications are accessible on PC and Mac.
---
Which is the best free beat-making program for beginners?
GarageBand and MPC Beats should be the primary beat-making tools for beginning music producers. You may start making music with either of these straightforward programs.
Download the free trial versions of programs like Ableton Live and FL Studio when you're ready to invest in a professional product to determine which workflow you prefer.
---
How to become a beatmaker on a budget?
Your talent and willingness to practice are more significant than your financial situation, as they are with most things.
As you can see in this post, many fantastic, free beat-making tools are available. The easiest approach to learning how to build beats on a tight budget is to download one of these free programs and use the program to hone your abilities.
Therefore, pick a production platform and start creating new beats every day. With practice, your abilities will advance more swiftly.
---
Which are the finest tools for creating beats online?
Online beat-making programs like Soundtrap and Amped Studio are great for making beats while commuting or traveling. With these cloud-based programs, it's simple to pick up where you left off and continue working on your beats while on the move.
Making apps for tablets and mobile devices is a different choice. You can easily transport them around in your bag or pocket, and there are many beat-making programs for the iPad and iPhone.
---
Frequently Asked Questions
Q. How do you obtain free beat-making software?
Visit the developer's website to obtain the installer for free beat-making software. Following the directions given during the installation procedure will make installing software simple.
Q. Which free beat-making program is the best?
To paraphrase a well-known photography adage, the finest free beat-making software is the one you already have on hand. You should pick the app that best suits you from this article's list of top applications. The top beat-making programs are BandLab, LMMS, GarageBand's MPC Beats, Waveform Free, and Cakewalk.
Q. How do I pick the finest music production software?
The finest beat-making software for you truly relies on what you need as a producer. Do you prefer using a MIDI controller to perform virtual instruments to record acoustic and sampling records? Please list the must-have features for your workflow and determine which app best suits it.
Q. How can new beatmakers get started?
If you're ready to start, you only need a computer and a beat-making app for beat-making. Install any free beat-making software on your PC and start by watching some basic lessons on YouTube.
Q. What benefits come with using beat-making software?
Unlike specialized beat-creating software, a conventional DAW is not optimized for beat production. It all comes down to workflow, and the tools outlined in this post will make it easy for you to start producing beats.
---
Final Thoughts
The free beat-making program you select will depend on what you require. The applications in this article are some of the best possibilities at your disposal right now. They effortlessly produce outstanding beats so that music enthusiasts may count on them. Many of these beat-making programs offer instrumental samples that you can utilize to grasp the rhythms better.
You must try each application separately to see which best suits your needs. In your search for the ideal sound, let your creativity go wild. When you have, utilize it to produce distinctive sounds. To manage your schedules and save time, use a booking system if you wish to sign up for online beat-making workshops. Do you require a complete calendar-based scheduling system?