At Apple's press conference in October 2021, the first to be launched is not a product, but an Apple music voice plan. Let's take a look at what services are included in this subscription.
Do you know what the Apple Music Voice Plan is?  Well, this is simply a voice control-only access to Apple Music. You will have limited access to UI when using this plan to stream or download music.
However, you can still access its rich library of over 90 million songs using Siri, unlike the standard Apple Music in-app user interface where you type to select songs. The Apple Music Plan is a three-tier plan, and users are free to choose a plan that matches their needs.
Here are basic things to expect if to subscribe to Apple Music Voice Plan.
---
Pricing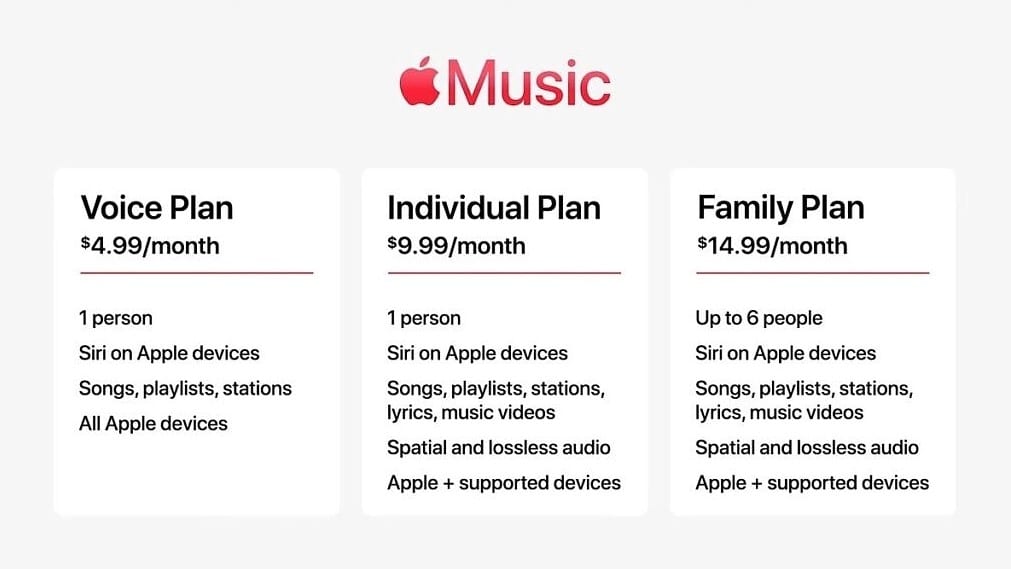 The Apple Music Voice plan is more affordable than what Apple Music charges its users for streaming songs on its platform. You now have the freedom to choose a plan that matches your entertainment need without having to pay a flat rate.
For instance, you can go for the "Voice plan" and pay $4.99 per month. If you wanna access to more features and budget isn't an issue, you can subscribe to "Individual plan" for $9.99 per month. For those who wanna enjoy music with their family members, you should go for "Family plan" at $14.99 per month.
The family plan supports up to six users, and you have access to all options and features. In general, the new Apple Music Voice plan makes Apple Music affordable than some of its competitors, such as Amazon and Spotify.
---
Device Support

The Apple Music Voice Plan has made it easy for users of Apple devices to stream music from its platform as long as your device supports Siri. These devices include Apple Watch, iPhone, Apple TV, Homepod mini, and MacBook.
If you love using Airpods, you can still use Siri voice controls to access music from the connected Apple device. Unfortunately, you won't access Apple Music Voice plan on third-party integrations such as Apple Music for Samsung TVs.
---
Scheme Comparison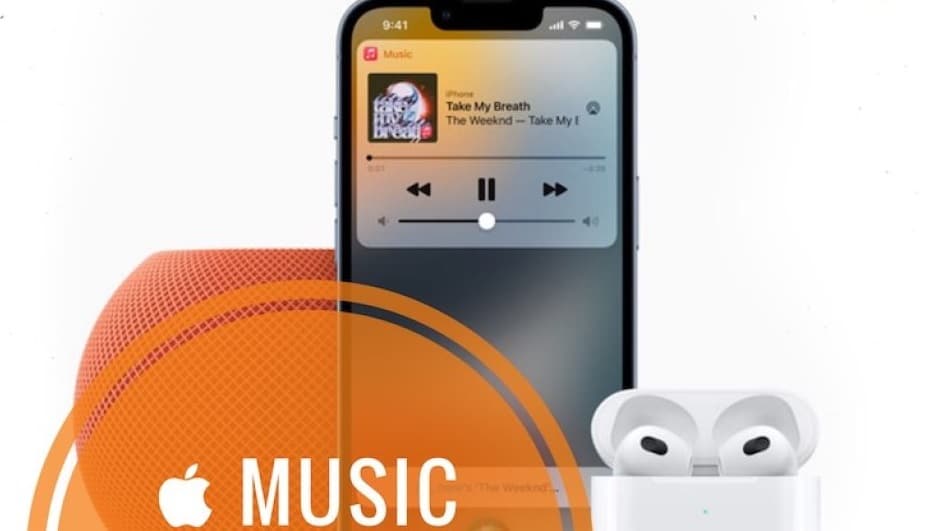 It's good to compare the options available in the Apple Music Voice Plan to have a better understanding of things you should expect. That way, you can make an informed choice when subscribing to a given plan.
Features
Voice

$4.99/Mo

Student

$4.99/Mo

Individual

$9.99/Mo

Family

$14.99/Mo

90 million songs
Yes
Yes
Yes
Yes
More than 30000 expert-curated playlists
Yes
Yes
Yes
Yes
Ask Siri to request any song, album, station, or playlist
Yes
Yes
Yes
Yes
Free trial without commitment
Yes
Yes
Yes
Yes
Stream ad-free music
Yes
Yes
Yes
Yes
Original shows, concerts, and exclusives
Yes
Yes
Yes
Yes
Access to the entire library from Apple devices (listen online or offline)
Yes
Yes
Yes
Yes
Live and on-demand radio stations hosted by artists
Yes
Yes
Yes
Yes
Available on other supported devices
Yes
Yes
Yes
Spatial audio with Dalby Atmos
Yes
Yes
Yes
Full catalog in lossless audio
Yes
Yes
Yes
Lyrics view
Yes
Yes
Yes
Download 100000 songs to your library
Yes
Yes
Yes
It is evident from the above table that all the plans have access to premium features and options except the voice plan. Therefore, a student plan is the best option if you're a student. For those working on a limited budget, you should go for the voice plan. Both individual and family plans have similar features, except that the family plan supports up to six people.
I recommend that you subscribe to the individual plan if you want to stream music alone and the family plan to share the platform with your family. That way, you will have access to all features and options when using Apple Music Voice Plan.
---
What service is not provided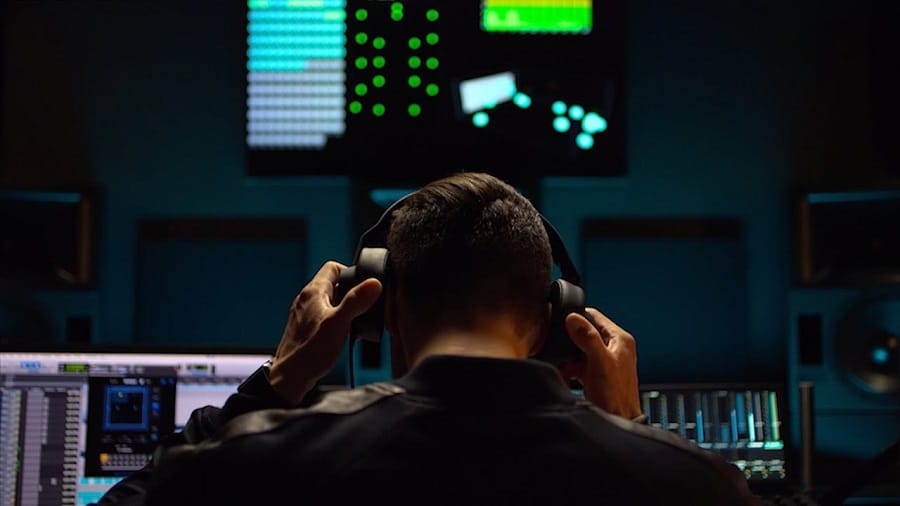 Users of the Apple music voice plan will have to make some sacrifices because it lacks several services available in the current Apple music solution. Here are five services that users of the Apple music voice plan will miss.
Cannot listen on other devices that support Apple Music
Spatial audio that does not support Dolby Atmos
Does not support lossless audio in the entire music library
Does not support lyrics display
Does not support downloading songs to the database
---
Areas Supported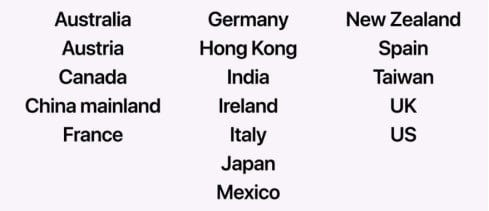 Apple Music Voice Plan currently supports 17 countries and regions, as shown in the table below.
Unfortunately, the service isn't available in many parts of the world where people love streaming songs from the Apple Music platform. I hope that the service will be available in other areas so that more users can use it to access songs and videos. It's meaningless for Apple to have excellent service that's available in limited areas.
---
Directions for use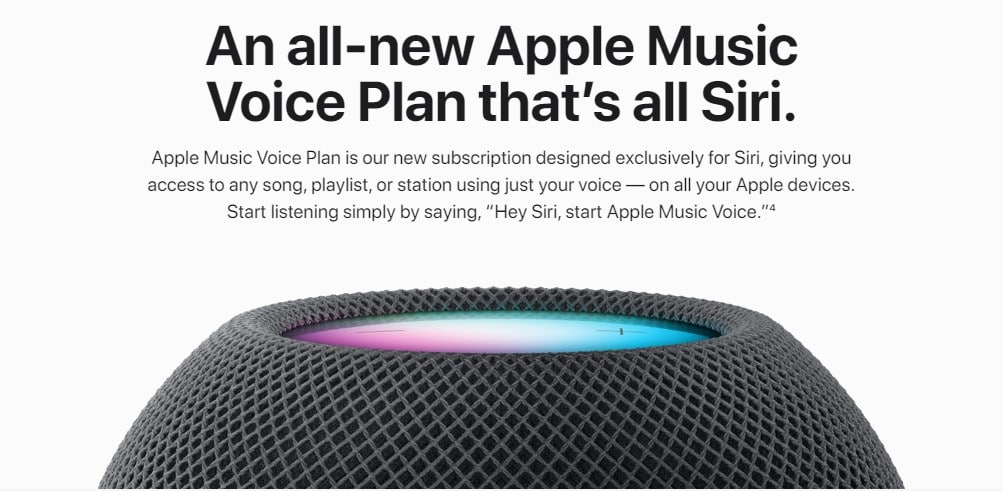 This time the voice plan needs to be executed through Siri with a specific password. You can let your device play music from a specific singer, a specific album, a specific occasion, or even a specific mood using Siri to make voice commands. For instance:
When you hear a good song, you can say [hi, Siri, add to my database] to collect songs
You can say [hi, Siri, play Taylor Swift] to play a song by a certain singer
Say [hi, Siri, play yoga song], used to play relaxing music
You can say, [hi, Siri, play my heart will go on], repeat a specific song.
However, using Siri comes with several shortcomings that are likely to affect using the Apple Music Voice plan. Without screen interaction, Siri can't complete the search, discovery, and sorting actions used to.
This is probably because Apple lets users develop the habit of using voice control to promote Siri. What about users who have pronunciation issues and would like to use the voice plan stream music? No doubt that the voice plan may have some problems.
---
Is it worth it?
Yes. Buying Apple Music Voice Plan is worth your money. The new plan is a game-changer on how people stream and download music from the Apple Music platform. First, the plan is affordable, and users are free to choose a plan that matches their needs.
Secondly, you don't need to type songs commands on your device anymore. All you need is to use voice commands on Siri to listen to your favorite song. This makes it easier and convenient for people who love streaming or downloading music from the Apple Music platform.
The new plan will be even better if Apple introduces the service to more areas. I also believe that Apple should allow users to use the screen UI alongside Siri commands.