Animated videos are widely used to communicate with the audience in an attractive fun way. Doratoon is a free online video editor and cartoon videos making service that lets you create effective eye-catching free animation videos in a short time.
Animation is an important pillar of the latest digital entertainment world. It is widely distributed on our phones, TV, and the internet and is mostly liked by the children community. Animated videos are those videos that contain drawings, illustrations, or effects that move attractively.
These types of videos are one of the ways that are used in our education system to teach the students in a fun way. It is the best approach used in advanced education institutions to transfer the information in a way that forces the audience to input their attention.
Making an animated video is not a big task if you have a great idea and a great tool to do it. A lot of online animated video maker services are available that let you make an awesome animated video for your class. Such as you can create animated videos by Doratoon.
---
Doratoon – The Best Animated Video Maker 
Doratoon is the best tool to make an awesome customized memorable animated video specially for educational platforms. It provides you with many different designs and templates that you can choose according to the need of topic and preferences. Its user-friendly interface makes it the best choice for beginners.
If you create animated videos by Doratoon you could be able to create a mesmerizing assignment as well as a lecture. Its advanced AI technological tools and features make it the best choice for a layman to create an animated videos by Doratoon.
By using its outstanding interface you can make things more interesting, attractive, and understandable by highlighting the key points. All you need is to go to the educator's section and get started. You will get an awesome animated video in a few minutes without inputting a single penny.
Along with it it also provides you with many tools essential for video editing and you can edit any of your videos just by uploading them on the website. It also enables businessmen and other professional people to make their presentations and animations.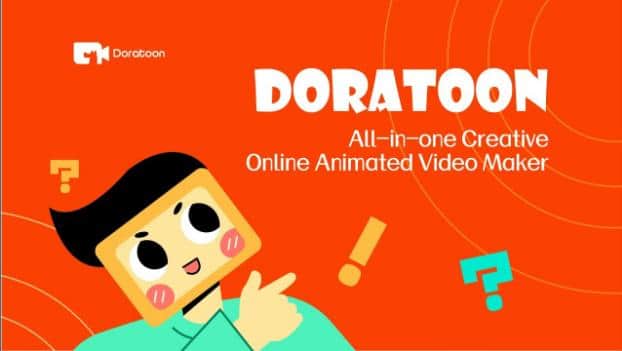 ---
Why Doratoon is the Best for Animation Videos
Many online working services let you make an animation for free but Doratoon has made its unique identity among them. There are some important key attributes of Doratoon that makes it superior to others, Here are these:
Versatile cartoon characters
It provides a vast variety of cartoon characters that show realistic actions and expressions. All the characters belong to different sectors and fields so you have a wide range of options to keep your theme repeatable to your topic.
Its AI dubbing feature makes the user's animation experience more interesting. By using this feature you can create dubbing videos by entering text and the rest conversion will be handled by the artificial intelligence of Doratoon.
To make your animation videos more relatable you can add your voice to it also. Doratoon enables the users to add audio to the files which could be played in the background of animated video.
It makes it possible to exhibit your drawing skills by using the drawing options. You can draw different shapes, icons and add colors also in these drawings.
It enables you to convert your PowerPoint presentation into a video highlighting key points. It turns PowerPoint slides into animation videos without affecting the original content of the presentation so it lets you frame your ordinary presentation into an eye-catching video.
Its subtitle features take your animated video to a high level whereby using artificial intelligence identifies the language and translates it without delay. This feature is helpful specifically for non-native languages to make understanding easier.
In addition to creating animated videos, its video editing tools are also to be praised. It provides all the essential tools to make your animated video more mesmerizing. For instance, you have a variety of filters and options to change opacity level to a certain limit.
Its alignment tool saves a lot of your time and makes it possible to align the text professionally. Which is an important part of a class assignment formatting. You will find grid lines that aid you in performing the alignment.
---
Steps to Create Animated Video by Doratoon for Class
The process to create free animation video is very straightforward and an interesting thing about the procedure is that you don't need to be a professional online video editor to create animated videos by Doratoon. We have described Doratoon in detail earlier, now to find the answer to "how to create animated video for class " go through the following steps:
Step 1:
Navigate to the official website of Doratoon on your device. To get access to all the tools and to perform the task sign up on it by hitting the sign up button present at the top right corner.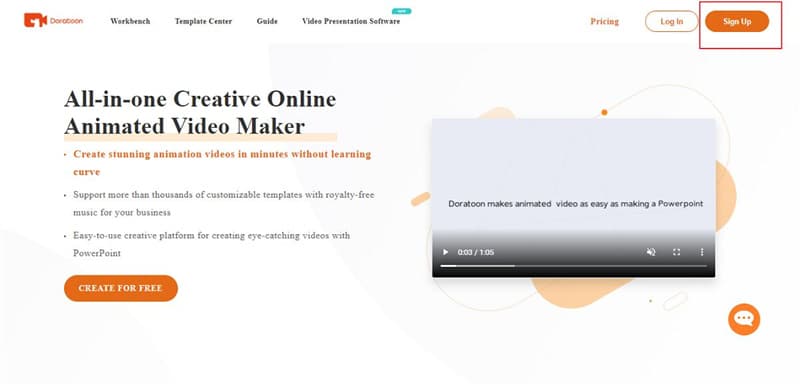 Step 2:
After signing up go to the workbench tab by choosing the "workbench" option from the left side of the top menu.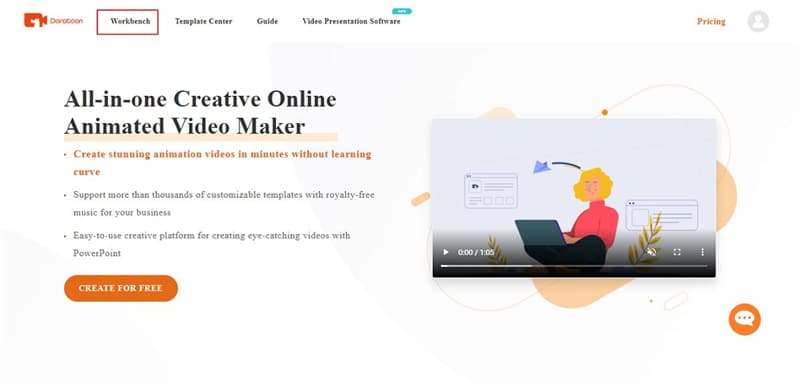 Step 3:
To start the creation process select the "Create a new video" button from the left pane. It will open the editing screen where you have to work.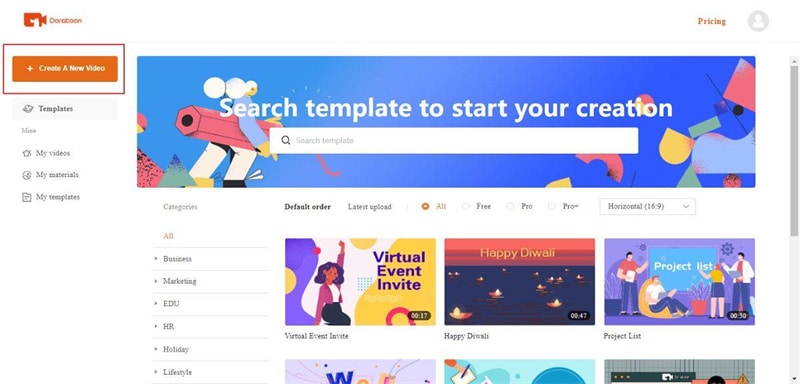 Step 4:
Now you can create an animated video by Doratoon using different tools and options by using the different options from the top and left menu. When you are done, hit the export button.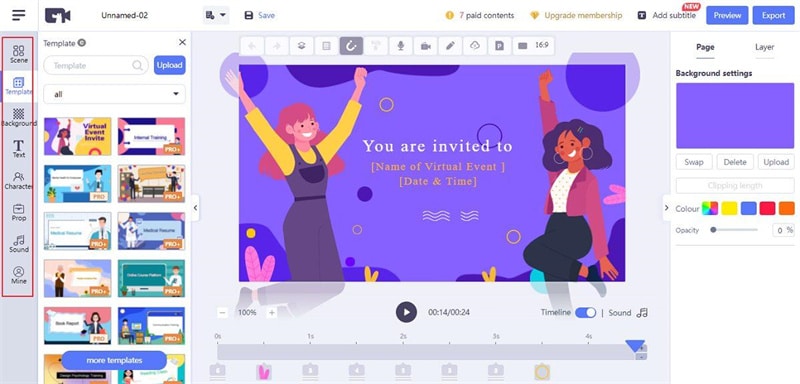 That's all you have to do to create an awesome animated video for class, for more understanding you can visit their official website. The created video will be available in the mp4 format and You can also set the title for your video while saving it which makes it easy to handle and find it.
---
Ending Remarks
Doratoon is the best choice because of its user-friendly interface and easygoing process. It provides all of its services free but the results you get in the last are at the Pro level. Moreover, you can make many advanced adjustments to your animated videos as it is providing the latest tools.
Because of its high processing speed, you will get your video within a short time without inputting a single penny. Besides educational purposes, its services are helping all the fields, and anyone can make animated videos regarding any field.