Losing important data on your computer, hard drive, or storage device can be devastating. Luckily, you can use the Stellar Data Recovery Professional for Windows software to retrieve data.
It is always unfortunate when you lose important data. Just imagine losing all your documents, life-long picture memories, songs, emails, and other important data. Some can be retrieved instantly but for some, you might need to use a software. This is where the Stellar Data Recovery Professional For Windows comes in.
No more worrying about whether you will be able to get your lost data. The software has got you covered. However, once you recover the data, back it up for future purposes. You can store your data on cloud storage like Google Drive.
In this article, we will provide the features, benefits, and specifics of the software. You will enjoy using it!
---
Benefits of using the Stellar Data Recovery Professional for Windows
Using the software comes with some benefits:
1. Easy retrieval of data
You can use the Stella Data Recovery software to recover data from corrupted hard disks, retrieve deleted files & folders on your PC, retrieve emails, get data from encrypted devices, recover data from storage devices, and get data from crashed systems.
2. Customizable based on your needs
You can use the software to regain access to any kind of lost data whether it was accidentally deleted, attacked by viruses, disk formatting, lost through partitions, or drive errors. Therefore, regardless of your needs, Stellar Data Recovery software has got you covered!
3. Allows preview of data before saving
Another great advantage of the software is that it allows you to preview the data before actually saving it. Therefore, you can choose whether you want to save some files or not.
The retrieved data is always categorized to make it easy to sort and verify the deleted files before saving. The irrelevant data can remain deleted.  Also, you can check the quality before saving the files.
4. Free trial and fair pricing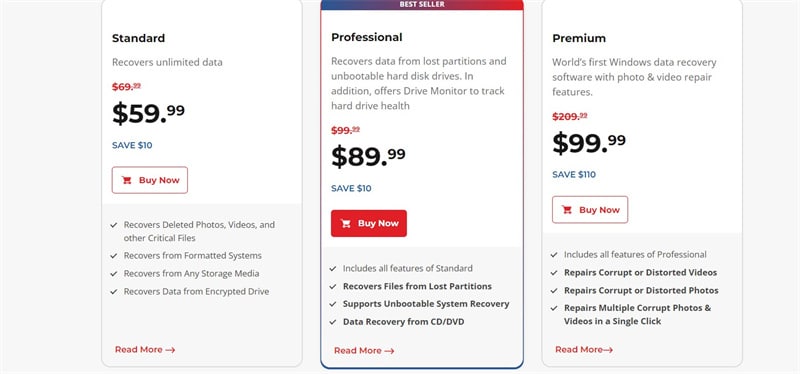 The software has a fair pricing based on the kind of features it comes with. You can choose to purchase the Professional, Premium, or Technician packages. Additionally, it comes with a free trial.
Therefore, you can test drive the software before you decide to purchase it. You won't even need to register, but use it for free.
5. Great Reputation
The Stellar brand has been in existence for over 30 years with over 3 million customers. That shows how much it offers great products that please its customers. It has over 8000 partners who work hand in hand to ensure the growth of the platform.
With over 100 awards, what more doubt would you have? Choose Stellar for all your data recovery needs!
---
Key Features of the Stellar Data Recovery Professional For Window
These are the key features of the recovery software:
1. Retrieve data from storage devices
When using the Stellar Data Recovery Professional for Windows you can retrieve different kinds of media files and raw data from hard disk drives, solid-state drives, USB, SD cards, 4K media drives, CDs, NTFS, exFAT, Blu-ray discs, and other storage media.
Whether you lost or deleted the files, you can retrieve them using the software. The software does a thorough scan to ensure you get all the data you need.
2. Recovery of data from missing partitions or corrupted devices
At times, you may format your drive without a backup or even the drive can become corrupt. What will you do? Luckily, the software allows you to get data lost due to drive corruption, deletion, or even formatting.
When using the software choose the option to "recover deleted or missing drive volume/partitions". Luckily, you can choose specific data or allow getting all the data simultaneously.
When recovering the data you can use the software on a dual monitor setup and perform multiple tasks without actually having to minimize the screens. Additionally, you can use the drive monitor utility feature to check your drive's health & performance. Therefore, once you know the health of your drive, you can choose to replace it with another one.
3. Regain access to data in unbootable systems or crashed OS
Let's say your PC Operating system crashes or your PC refuses to boot, you can use the Stellar Data Recovery Professional for Windows to retrieve the data. The computer might have crashed due to the hard drive, boot sector corruption, virus infection, or other reasons.
4. Retrieve deleted files 
You can use the recovery tool to restore data you had permanently deleted or even hidden files. You can regain access to deleted images, documents, apps, files, videos, and other media files. After you regain access be sure to save the data in a safe backup device or cloud storage.
5.  Regain access to data in Encrypted drive
The software can also retrieve lost or deleted data from an encrypted hard drive, SSD, or even storage media drives. Even if the drive has been encrypted through BitLocker, you can always get the data. Therefore, while using the software, choose to either run a "quick or deep scan" to recover the data. However, if it is BitLocker encrypted, you must provide the recovery key for the retrieval to be done.
6. Retrieves lost email files
Did you know that you can also retrieve your deleted emails? Well, yes, you can use it to get your deleted email data files from Microsoft Outlook, Outlook Express, Exchange server, and other files.
Therefore, when using the software select the option "emails", under "documents, folders, and emails" in the "select what to recover" screen. Therefore, all your email files will be retrieved. How much better can it get?
7. Recovery of optical media
The software can also be used to retrieve data from scratched or corrupt optical media. This includes CDs, DVDs, HD DVDs, and Blu-ray discs. Even after recovery, it will still retain the original file names and folder structures of the recovered files.
8. Disk imaging and drive cloning
Another great feature is that through disk imaging, the software creates an image of the hard disk to perform data recovery later using the created disk image. Through drive cloning, it creates a replica of the hard drive on another drive. The feature is best for recovering data from damaged hard drives.
---
Key Specifications of Your Device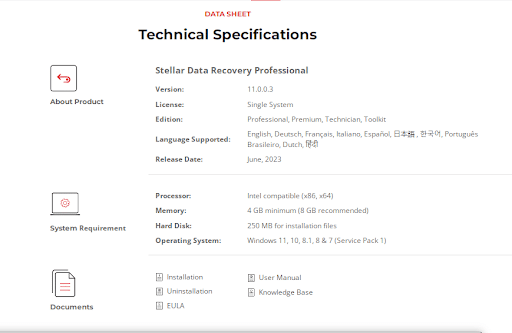 If you want to use the software, these are key things that your device needs to meet.
Retrieve All Your Data In An Instant
The Stellar Data Recovery Professional for Windows is customized to meet all your data needs. Whether your drive is corrupted or has a crashed operating system, the software has got you covered! Just ensure you back up your data always to prevent losing important documents. With its fair pricing, thinking about lost data will be history. Get it today!