Have you ever changed the default preinstalled Windows 10 theme that you found? If you have never, here are some amazing Windows 10 skins and themes that you can use.
Windows 10 is one of the most powerful operating systems being used currently. How do you like the desktop screen interface? Then you can consider choosing among these beautiful Windows 10 themes and skins to check whether you will find something that suits your preference.
However, also consider the final result that you want to achieve before downloading and installing a specific theme. Most of the Windows 10 skins and themes are free, while some are premium.
---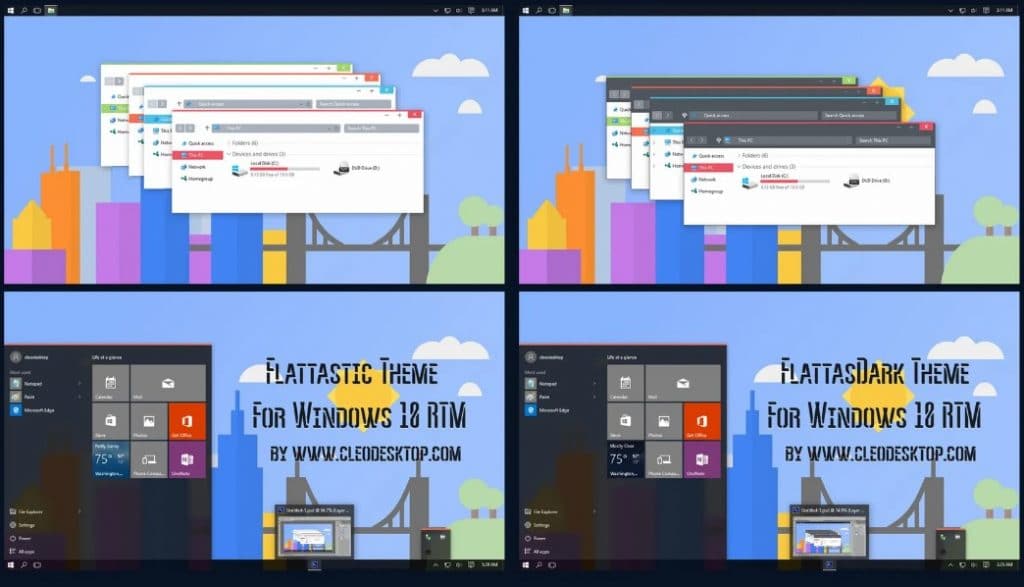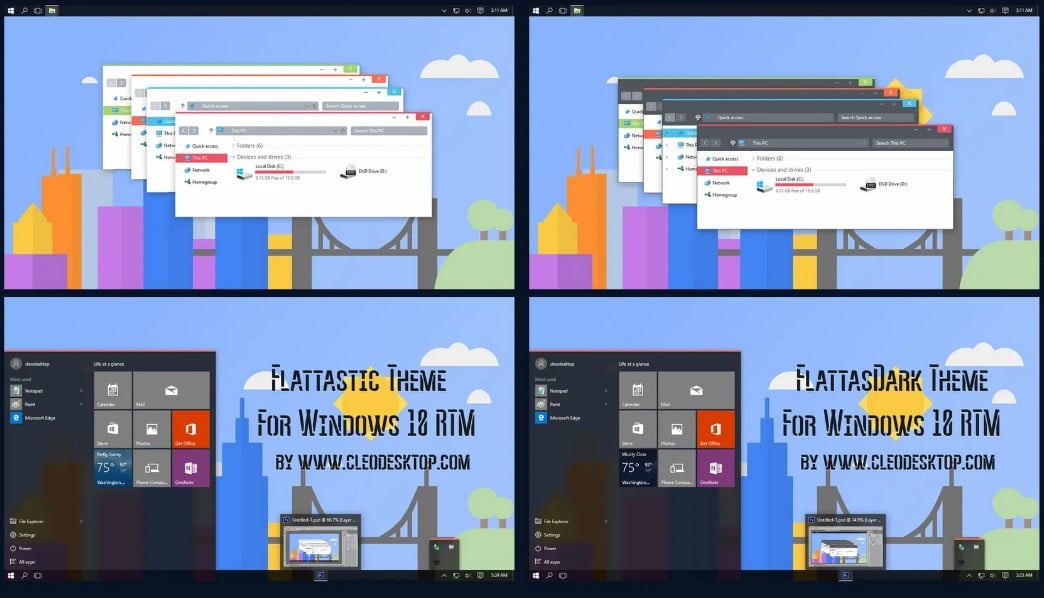 When was the last time you changed your Windows 10 theme? If you want a clean, simple, and attractive interface, consider the flattastic theme. It is a less complicated theme that can capture your attention fast.
It gives you the freedom to use any of the 8 light or 8 dark versions. It will look great on your computer. Furthermore, the flat icons will help brighten your computer. It is free to use and features some best color aesthetics.
Actually, it is one of the most elegant and beautiful-looking themes. It also has a wide variety of customization options. You can choose the theme type based on your mood.
---
If you are a fan of Star Wars, then you will love this Windows 10 theme. The battle between good and bad has always been shown through Star Wars. The package comes with 33HD wallpapers that you can use on your PC.
Luckily, the theme is easy to install and use. That's a perfect theme to have on your computer. You can set all the HD wallpapers to act as a slideshow that changes after every thirty minutes. If you love the fun of that, try the Star Wars Windows 10 theme.
Additionally, the wallpapers can fit any screen size and resolution. It has great visuals, 3D effects, and much more.
---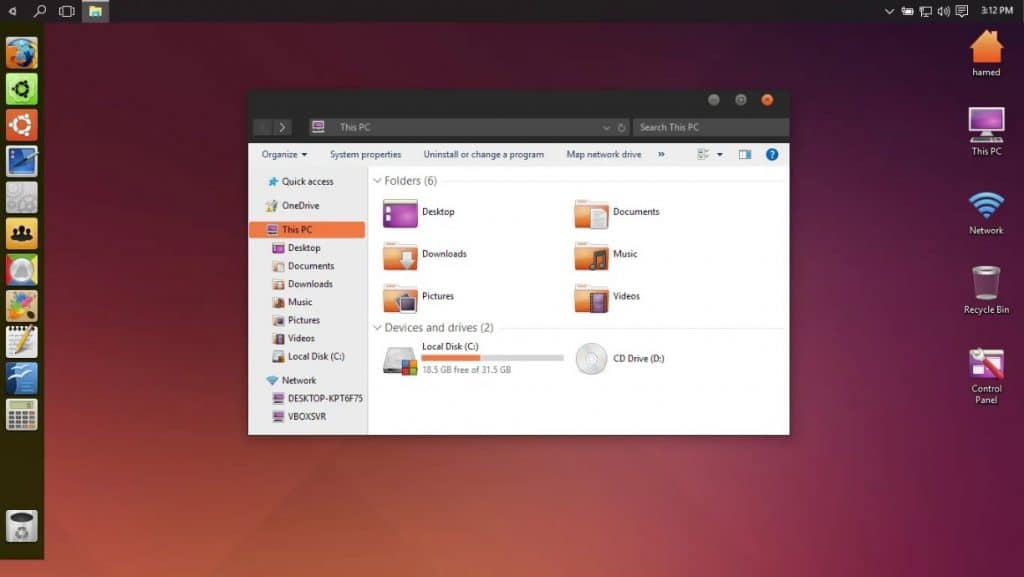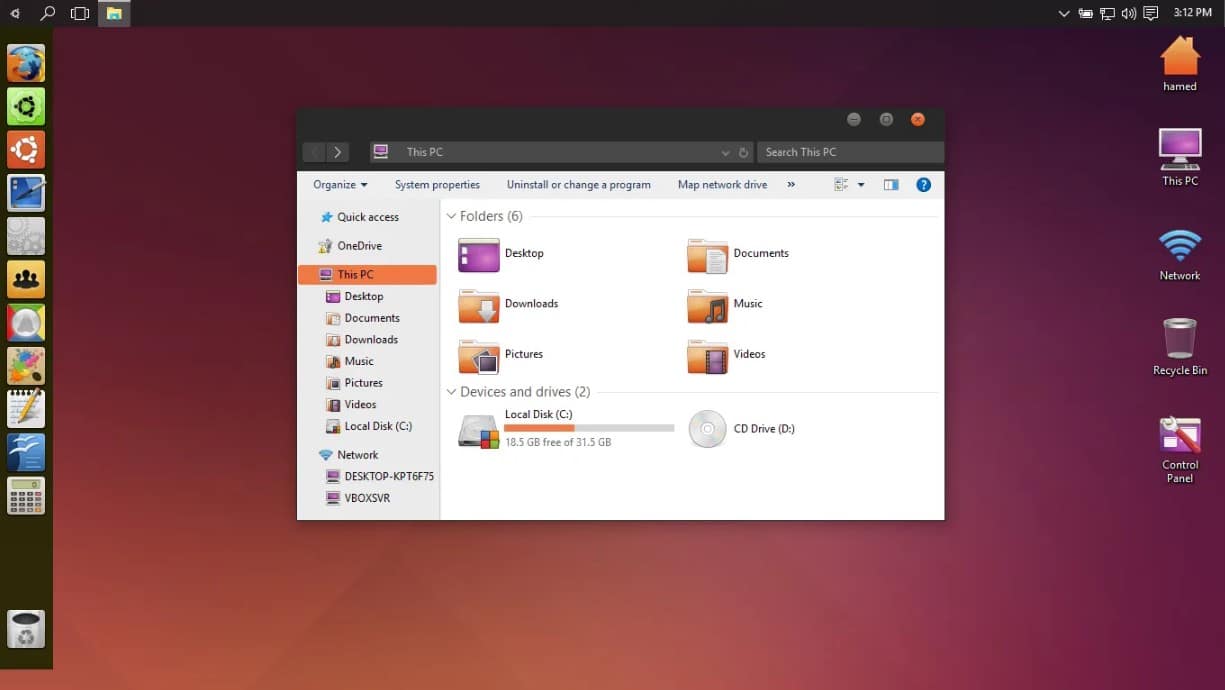 Have you ever fancied about having the Ubuntu operating system interface? Then you can consider the Ubuntu theme/skin pack. It transforms your Windows 10 UI to look like the Ubuntu OS.
The advantage of the theme is that you can customize it based on the color theme, keyboard shortcuts, and mouse gestures.
It will refresh your interface with a great look. Additionally, it contains keyboard shortcuts and colorful themes.
---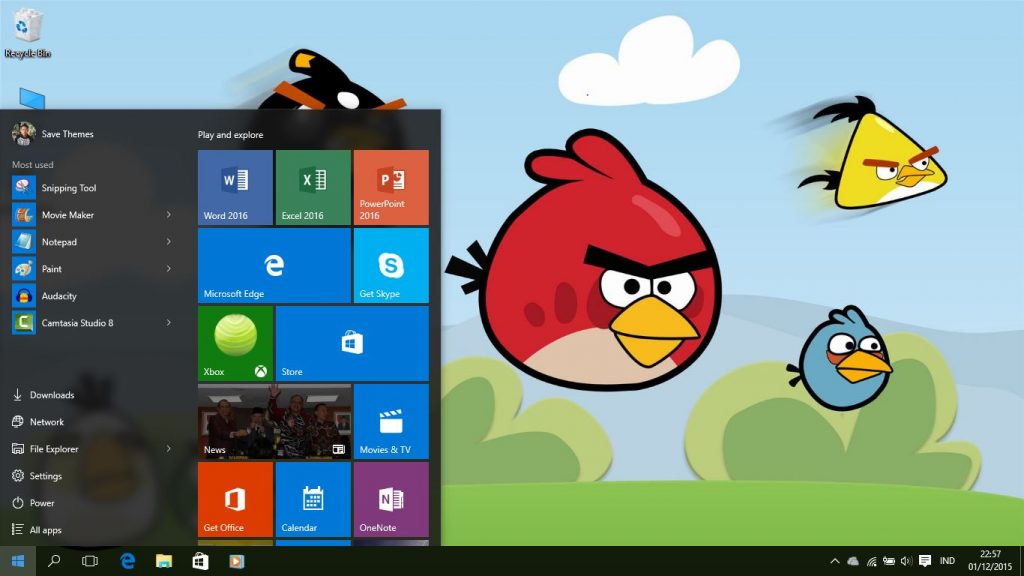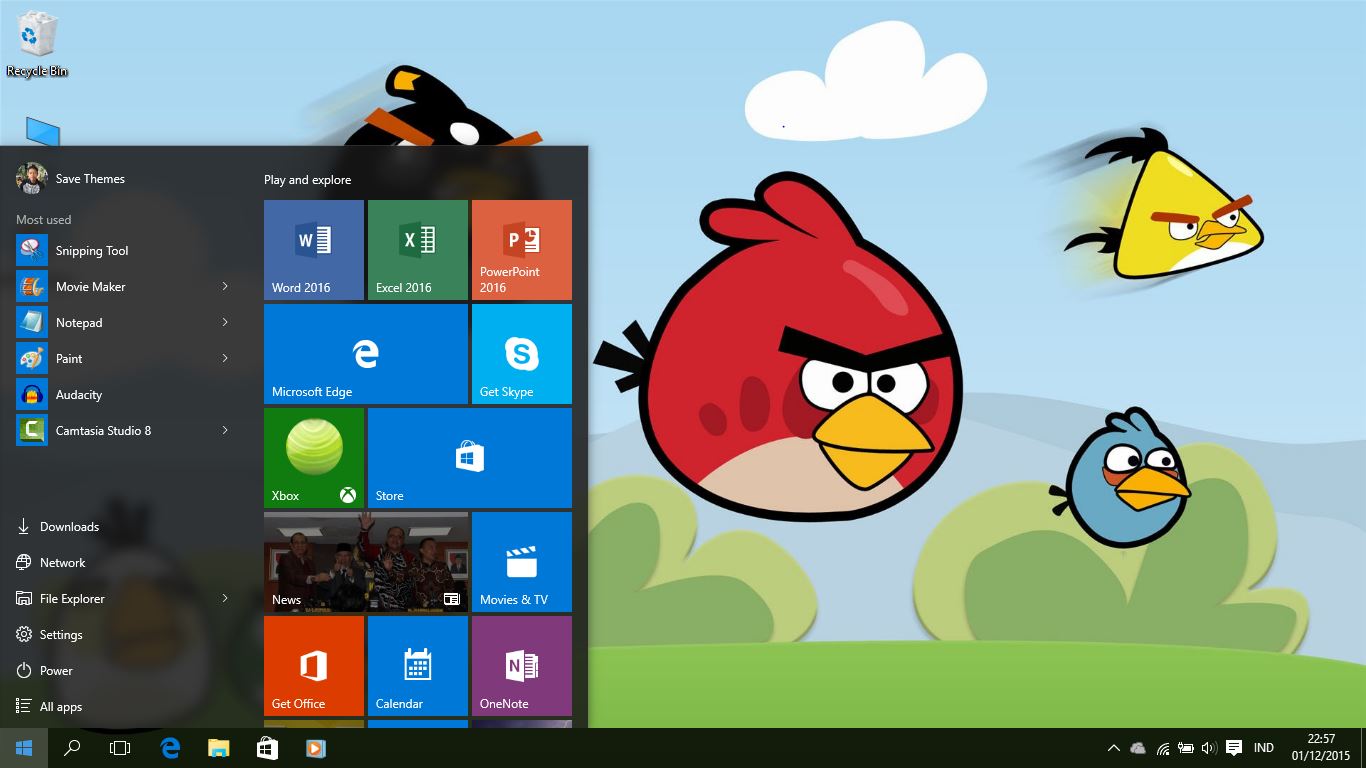 If you love sound effects on your computer, then the angry bird's theme will help. If you love working in a noisy environment and the sound won't disrupt you, consider the angry birds' theme.
You will enjoy a good amount of chirping. It also provides a minimalistic design that will make you happy. Try it out today!
---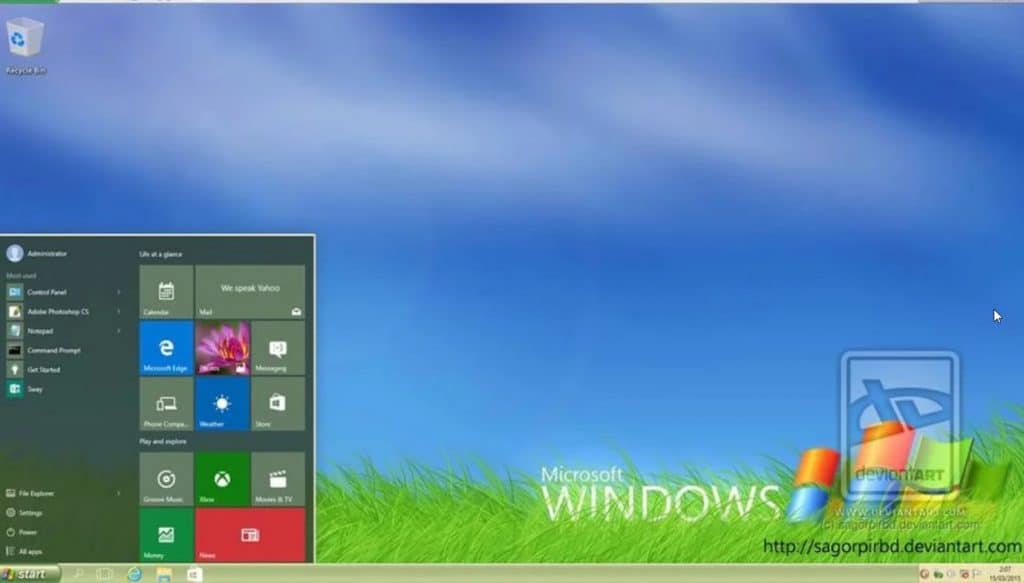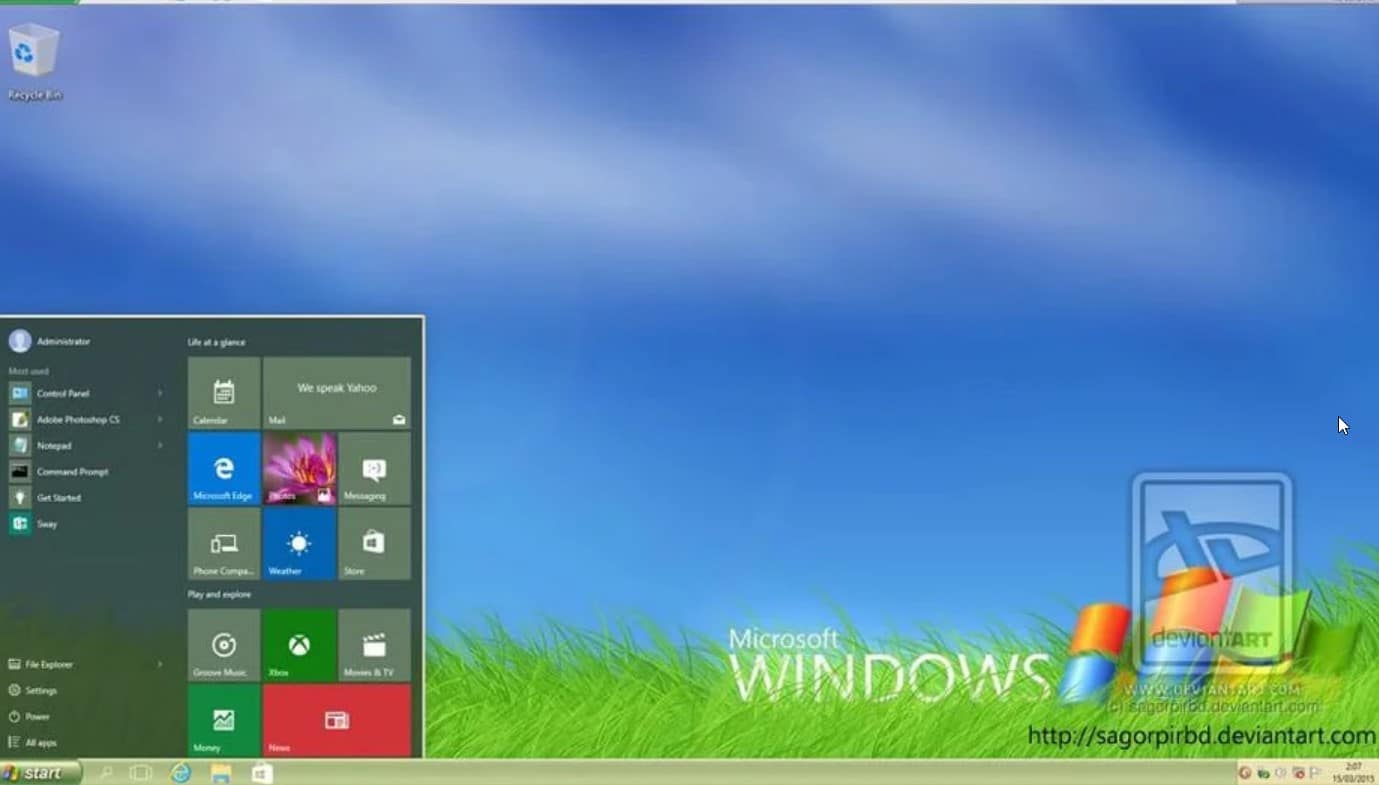 Windows XP has a great interface. If you missed it, then you can consider the Windows XP theme for your Windows 10 operating system. This will make your computer have an old-school feel and a classic look.
It features five different types of custom looks that are supported well on Windows 10. The theme is lightweight and doesn't consume much space.
In the package, you will also find original wallpapers of Windows XP.
---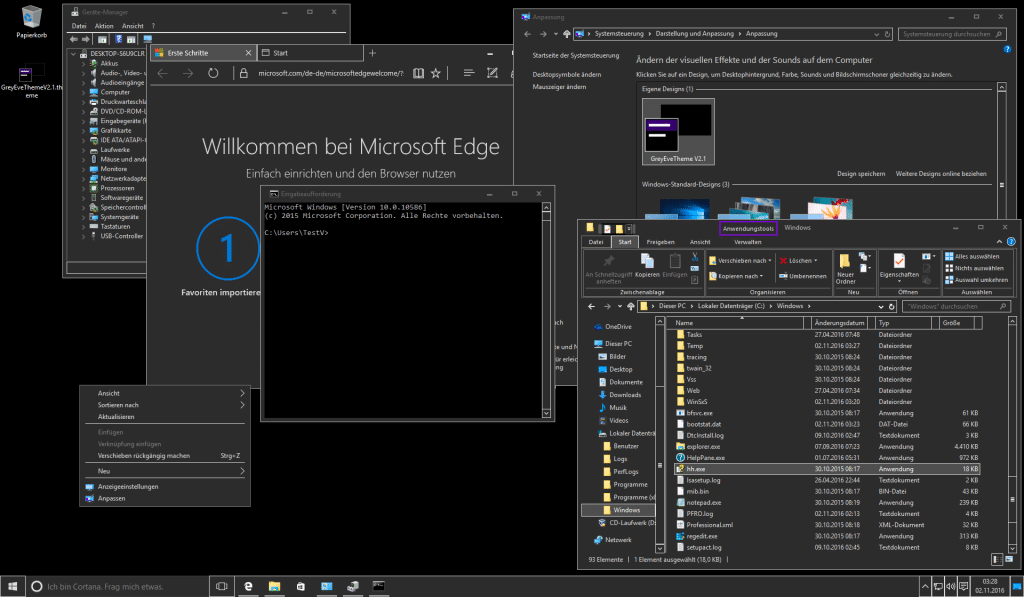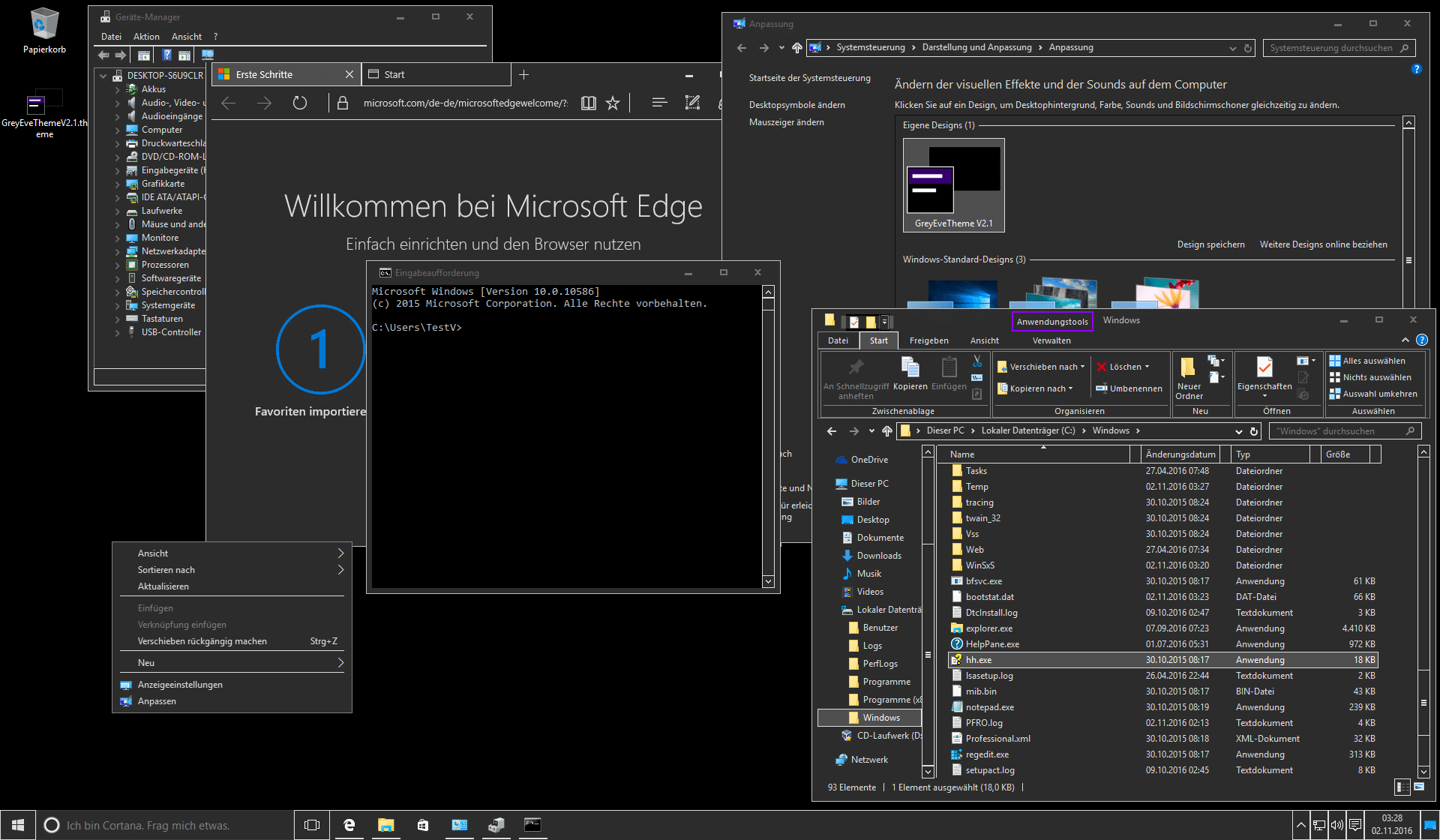 The GreyEve theme is one of the best dark themes that you can use on your Windows 10 computer. The theme blacks out with different shades of black. If you are looking for a theme that will provide a unique dark look while still making it easy to read the screen, then consider the GreyEve theme.
It consists of color palettes of greys and blacks. Luckily, the text will remain white to ensure it is easy to read anytime. You won't strain when using the computer, even at night.
---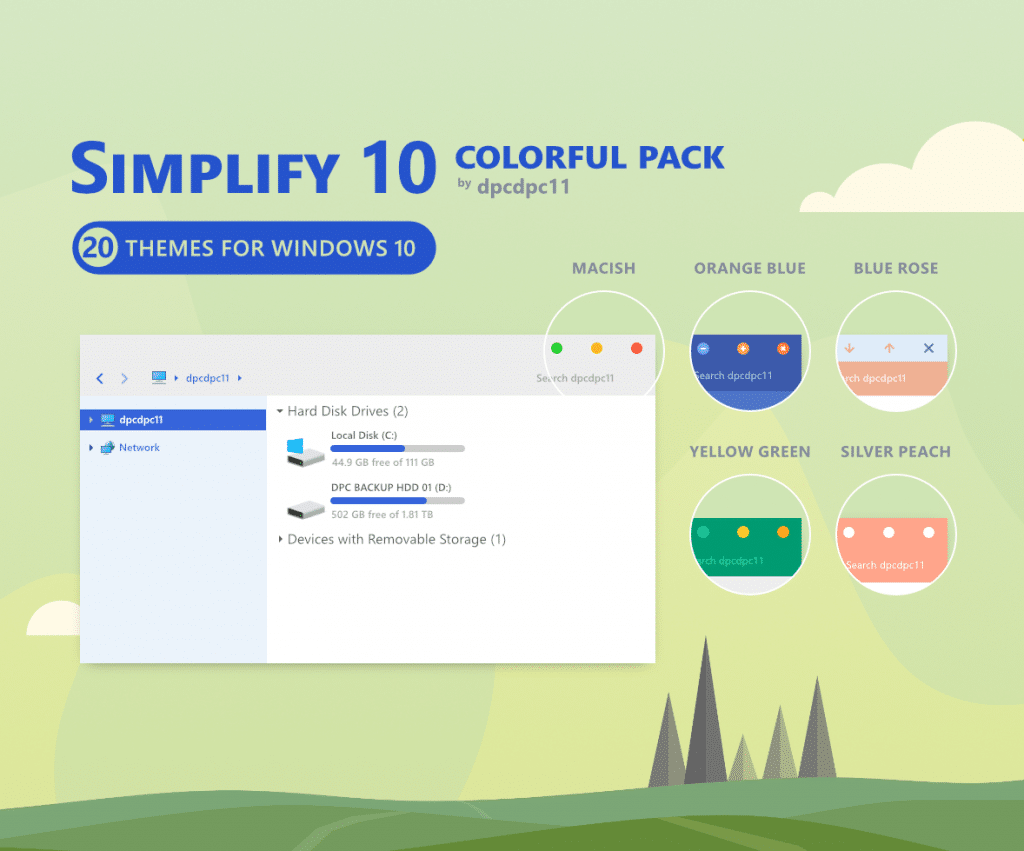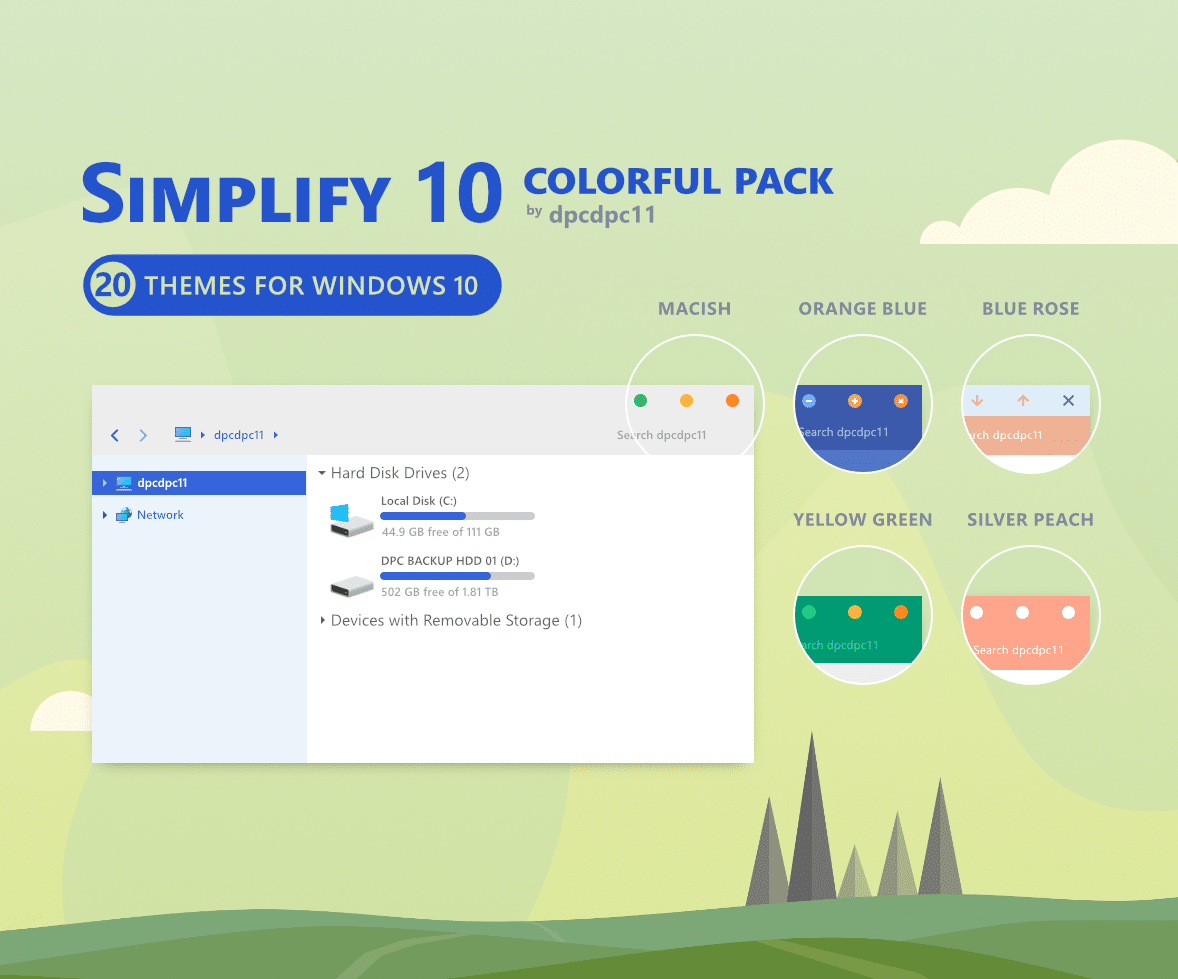 This is a premium theme for Windows 10. Simplify 10 features a pack of 20 elegant and minimalistic Windows 10 themes. All the themes won't distract you and your desktop will look cool.
Some matching extras include wallpapers, Firefox themes, and Windows Cursors. It just depends on what you fancy. You will get one of the cleanest and most minimalistic looks. The aesthetics will increase your productivity.
---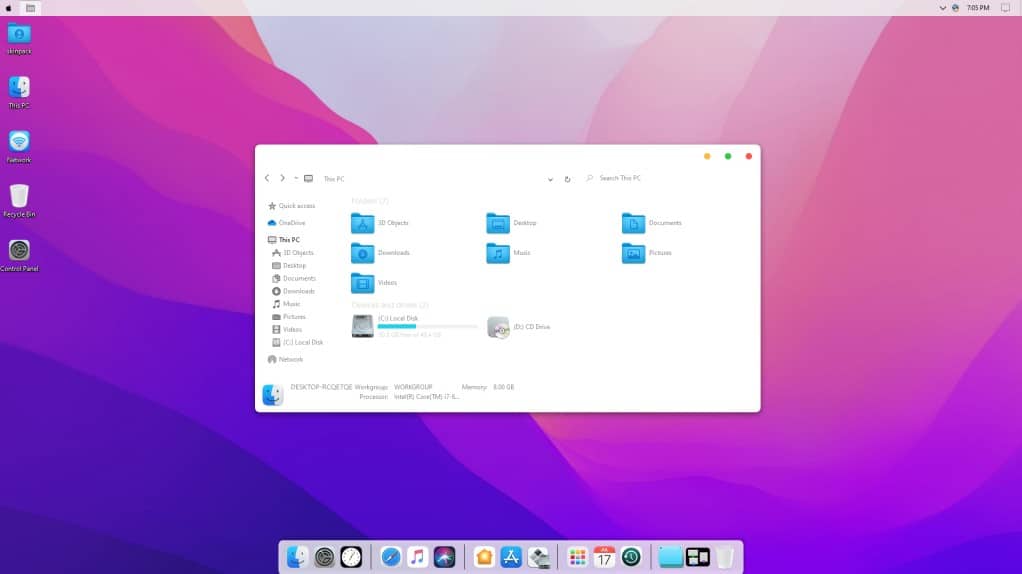 You can download the Big Sur theme that mimics the macOS design and feel. It is one of the best macOS-like themes of all time.
It also has some matching icons that will make you feel happy when you are doing your work. It also brings some exclusive features like the dock finder, control panel, Launchpad, and much more.
---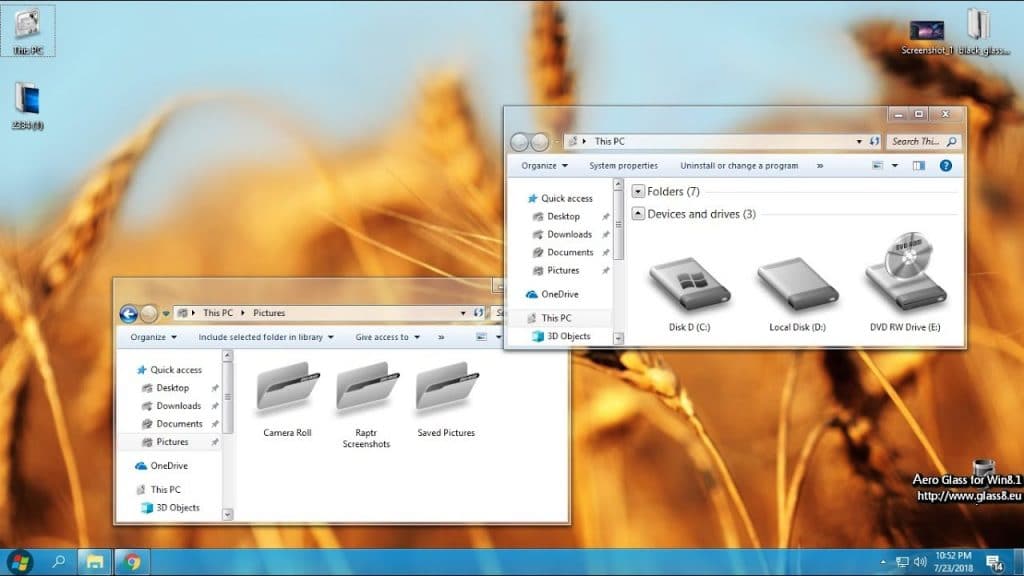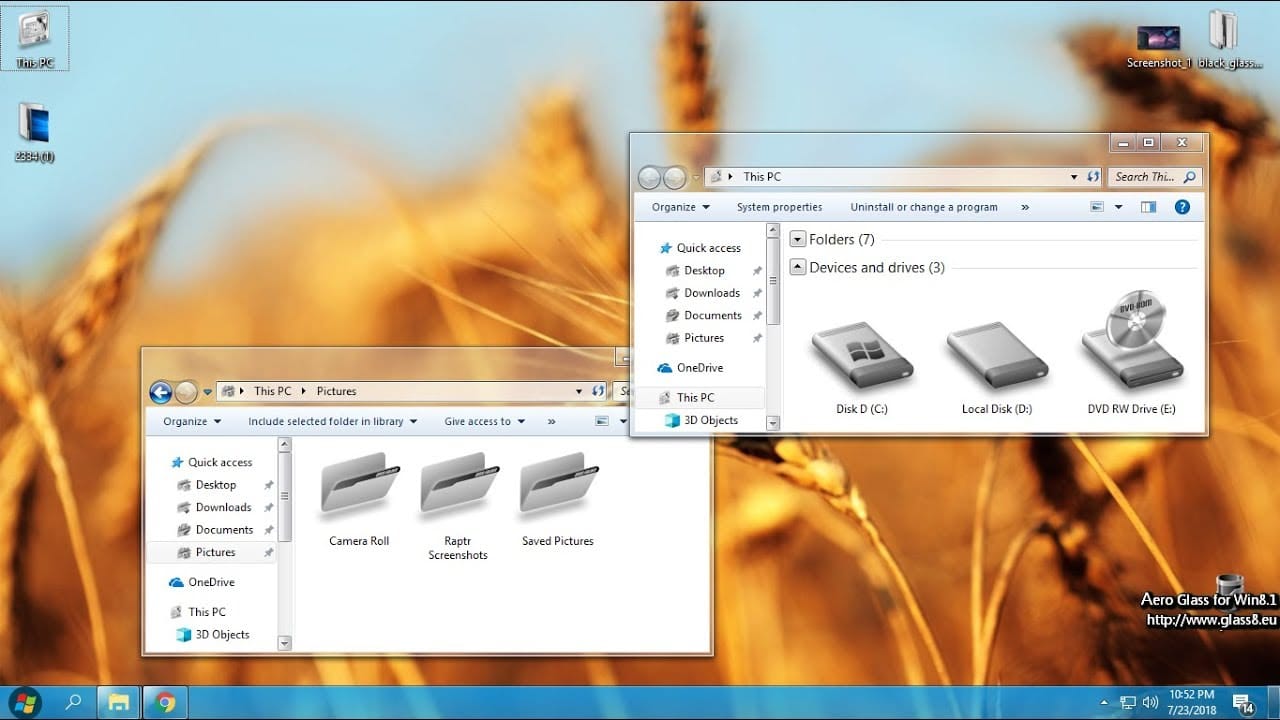 It brings the complete glass effect into the Windows frames. The key element of the Aero Glass is blurring the content behind the glass borders to prevent it from distracting you when using the computer.
Actually, the theme is completely integrated into the Windows manager. It also utilizes minimal resources without consuming too much space. This theme will bring back different effects such as the window shadow, caption glow effects, and rounded borders.
The caption buttons' appearance also changes completely. It will give your Windows 10 the best look. You will be happy with the cool, glassy, and transparent interface. It renders your Windows with transparent borders.
---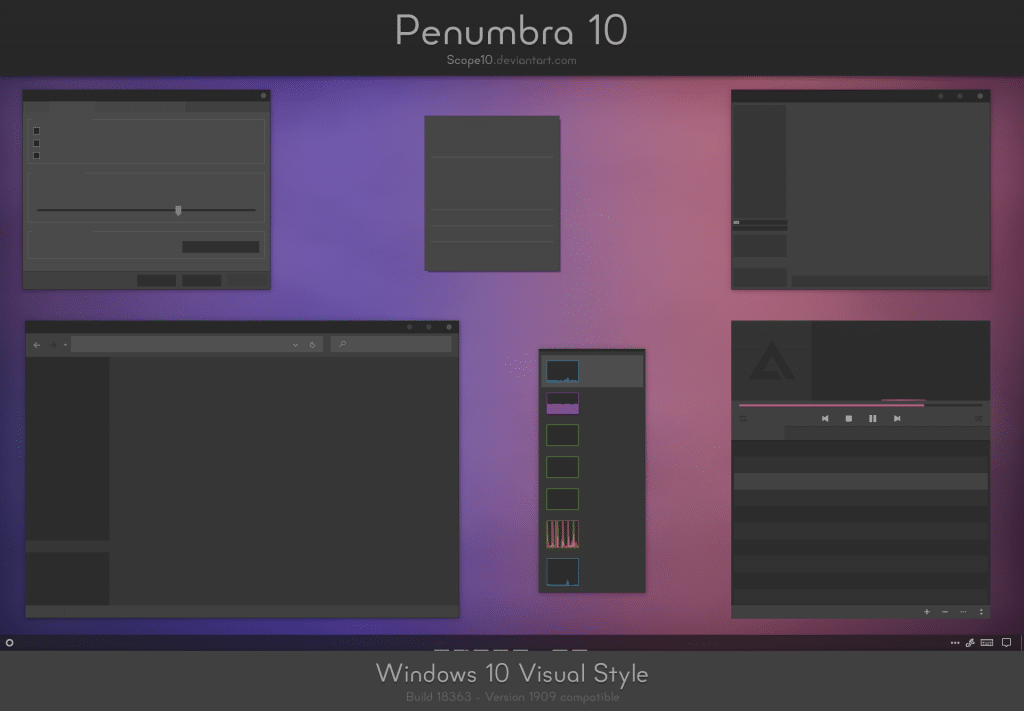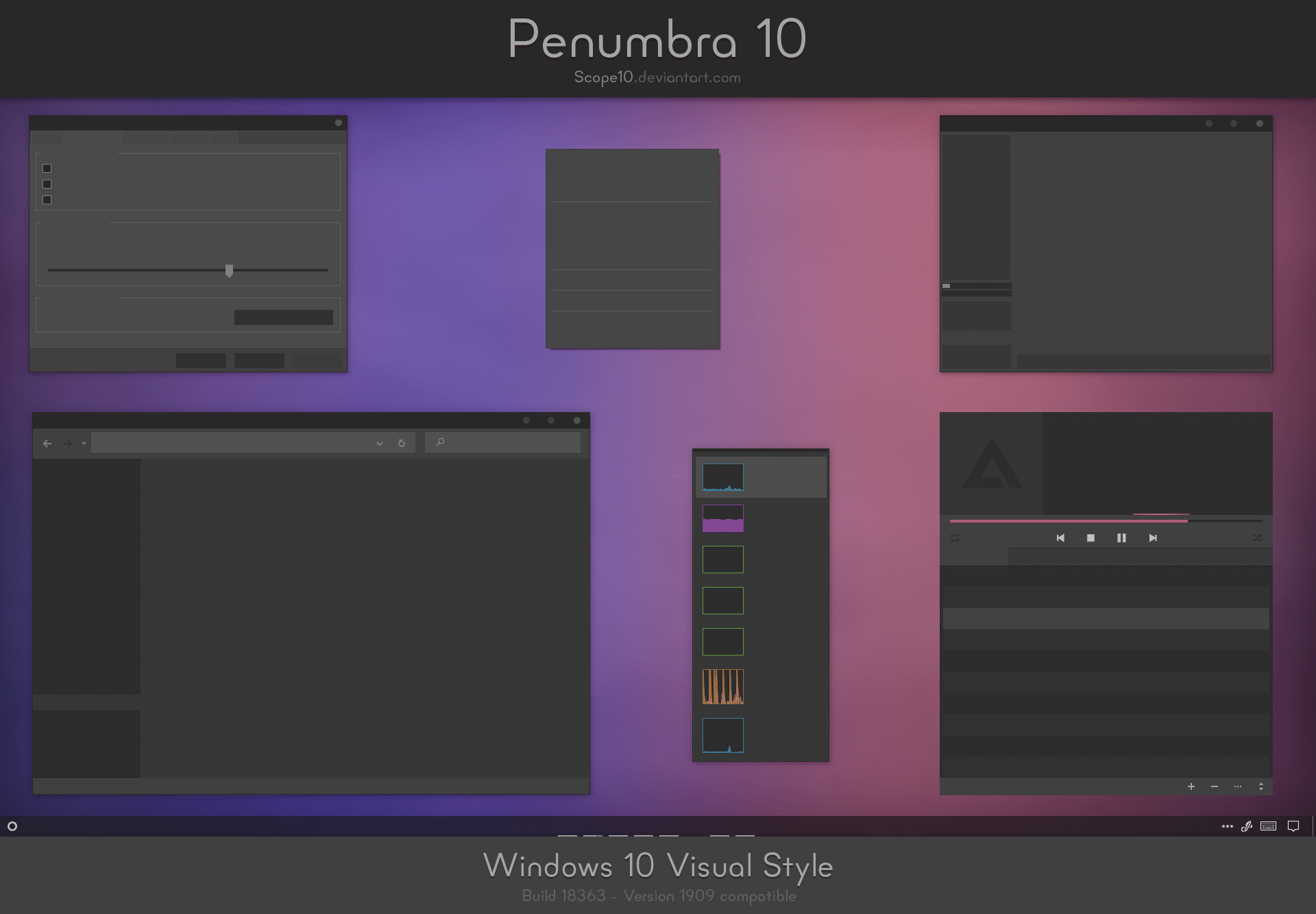 If you love minimalistic designs, the Penumbra 10 design will not fail you. It consists of neutral colors and dark aesthetics.
However, to use it, you need to manually apply the patches and place the theme files in the right folders. It features some neutral hues and dark aesthetics that make up this theme package.
---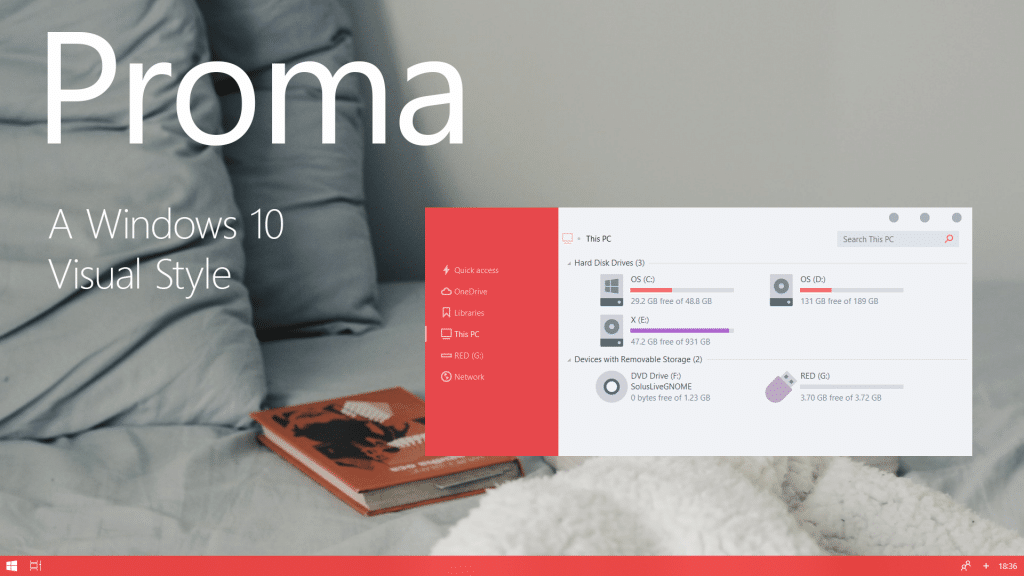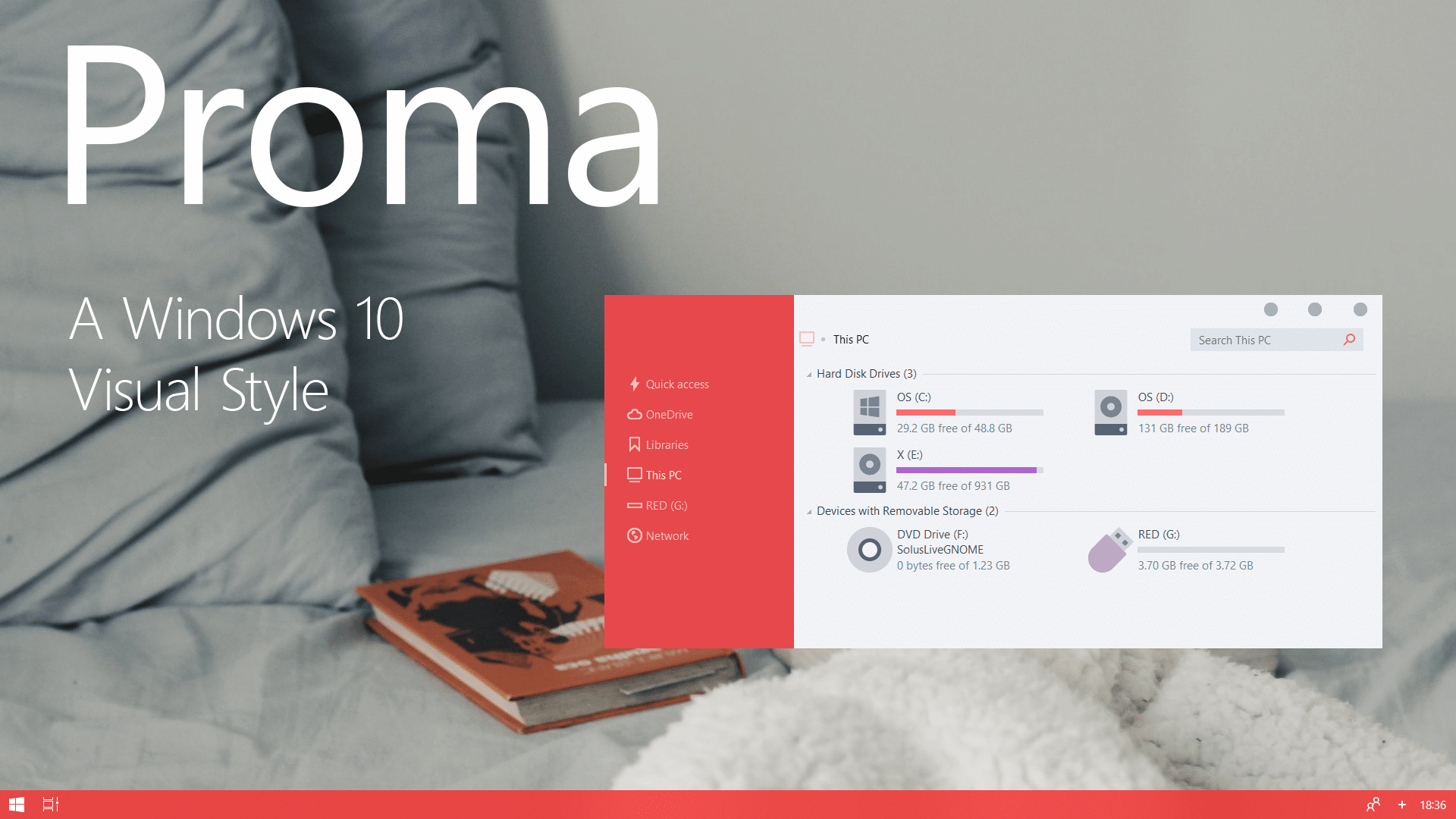 The proma is a bit unique from the other Windows 10 skins and themes on the list. It is not a complete skin, rather, it is an improved version of the default Windows theme.
It fills the gap with all the issues that the Windows theme has. This makes it more versatile and vibrant. In addition to the common colors, it also adds a pink color to the overall feel of the computer. If you want a new design on your computer, try Proma.
---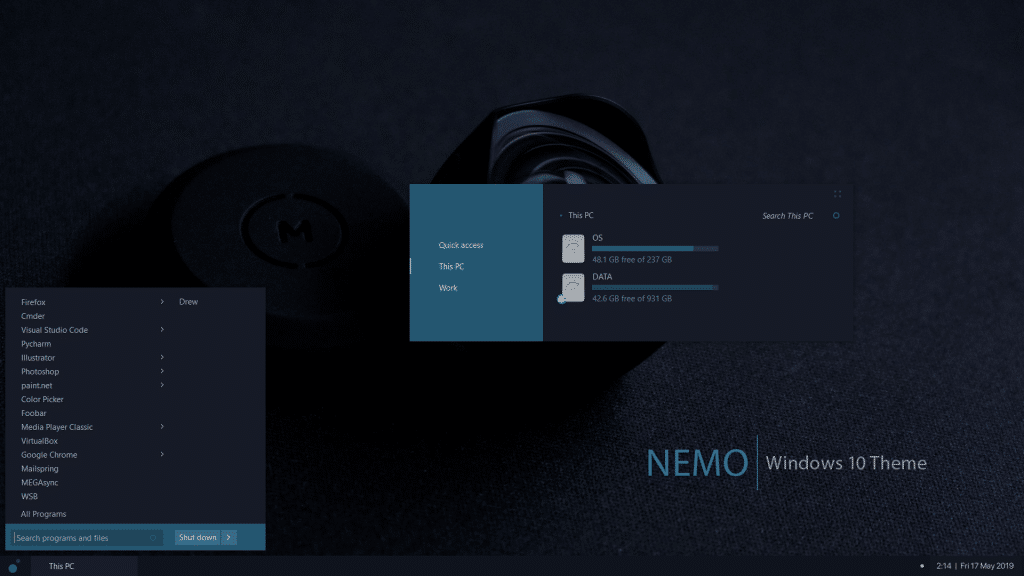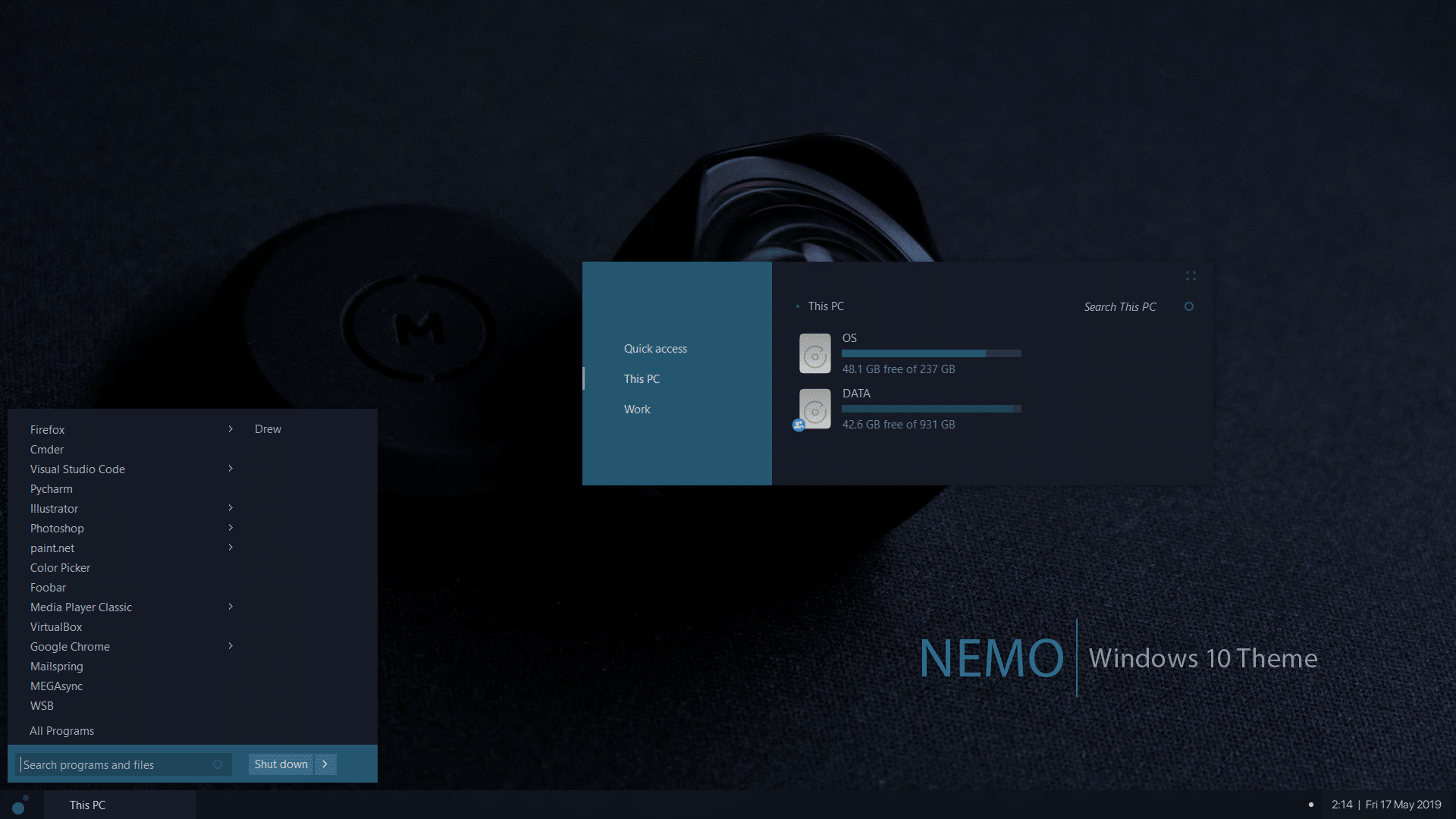 This Windows 10 theme has some amazing visuals that will make your computer interface look stunning. If you like trying out new designs, don't miss out on this one. It is also functional, customizable, and classic just as you would like it.
Be assured that you won't be disappointed. Nemo Windows 10 theme is a mysterious theme that you will love. The theme ensures that the design is consistent over the whole desktop.
The designer used the material color palette to make it more appealing. The icons are also beautifully crafted. It is a great theme to try out for people who love customizing.
---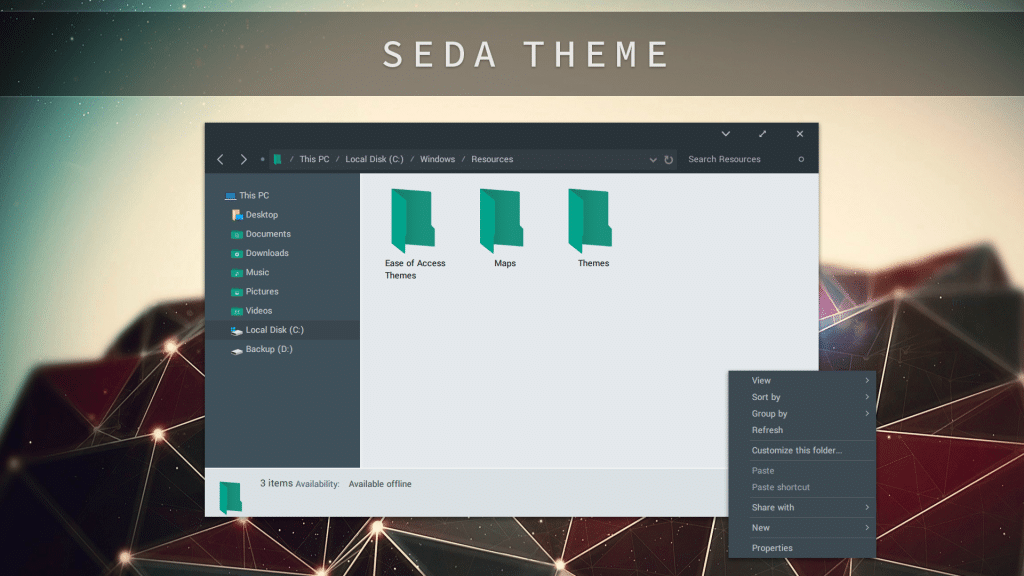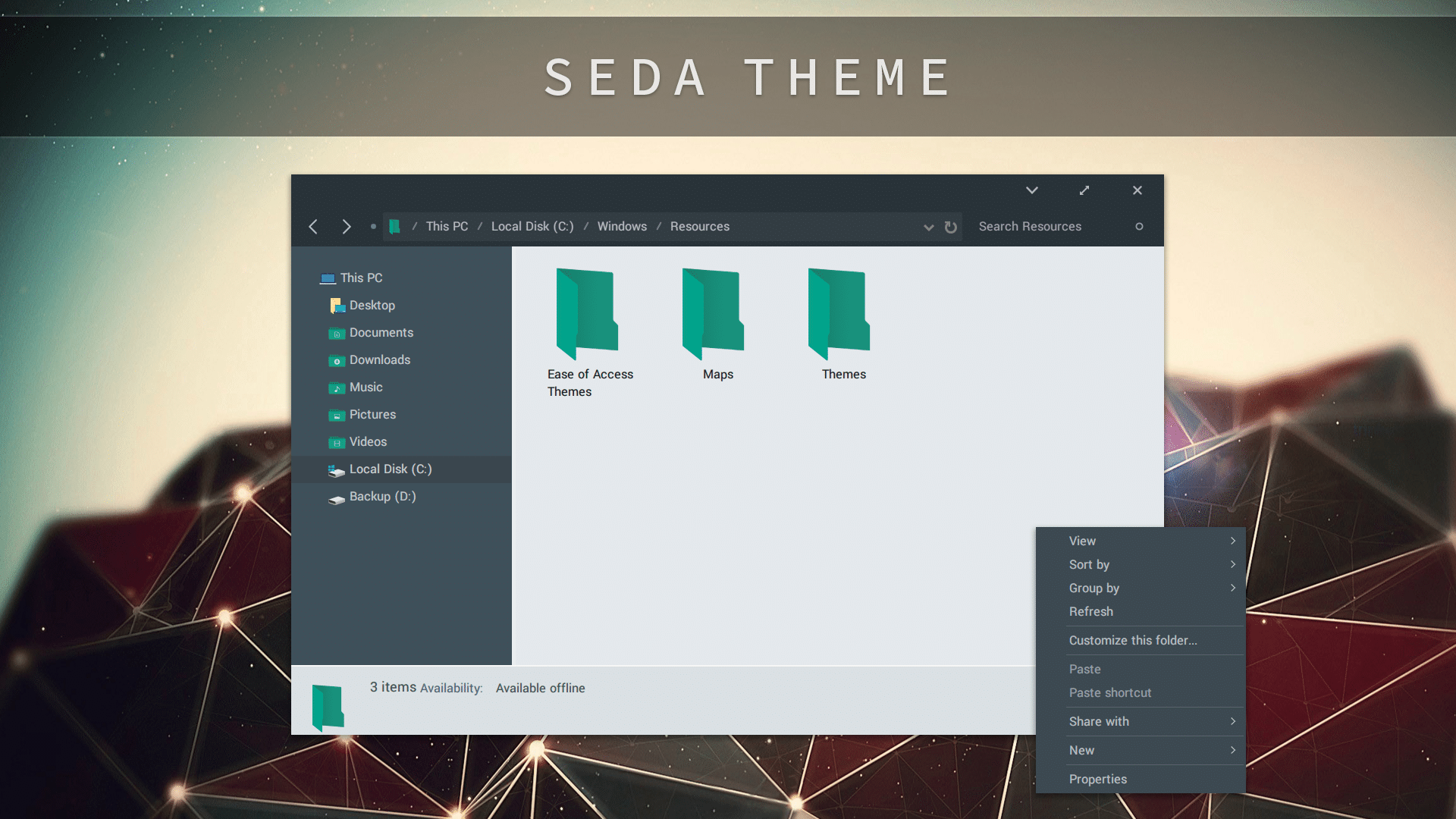 If you love exploring, then Seda Windows 10 theme is just right for you. It is a mixture of mild and dark greys. If you want a new style, you should try the Seda Windows 10 theme. The rest of the background has some amazing off-white blends that seamlessly combine to make the interface beautiful.
Fortunately, there is both the light and dark version of the theme. The color palette reflects the pastel colors that give the desktop a cleaner look.
---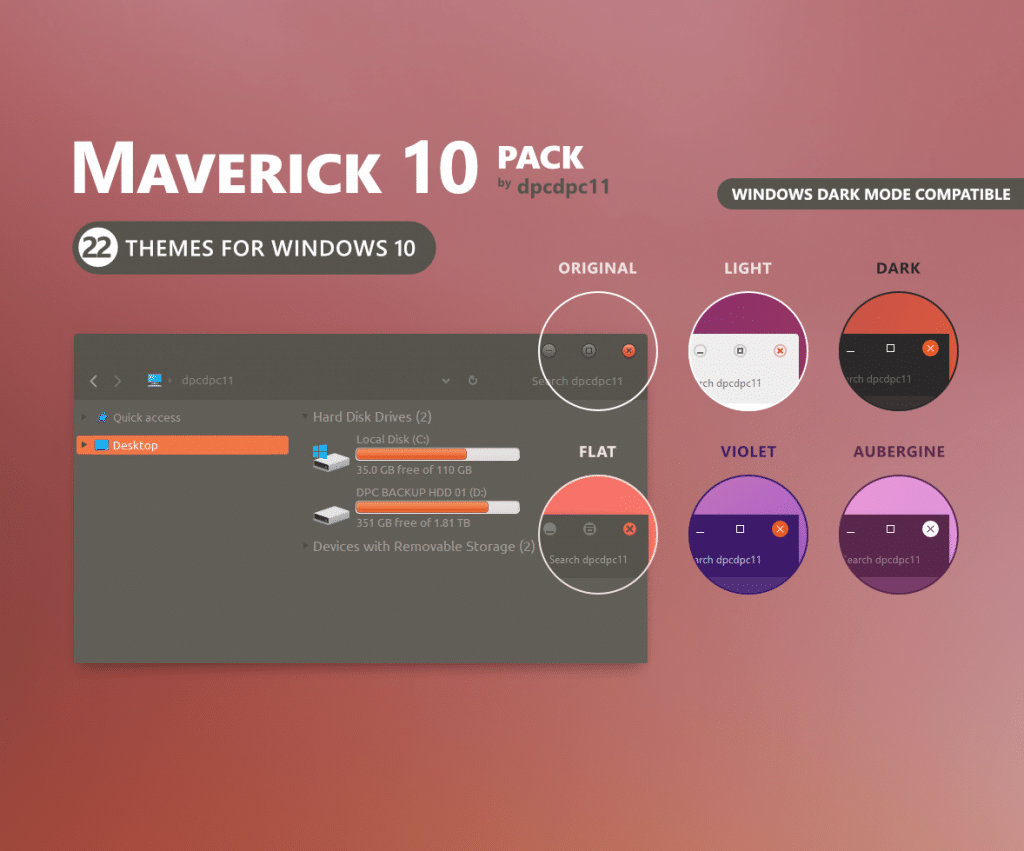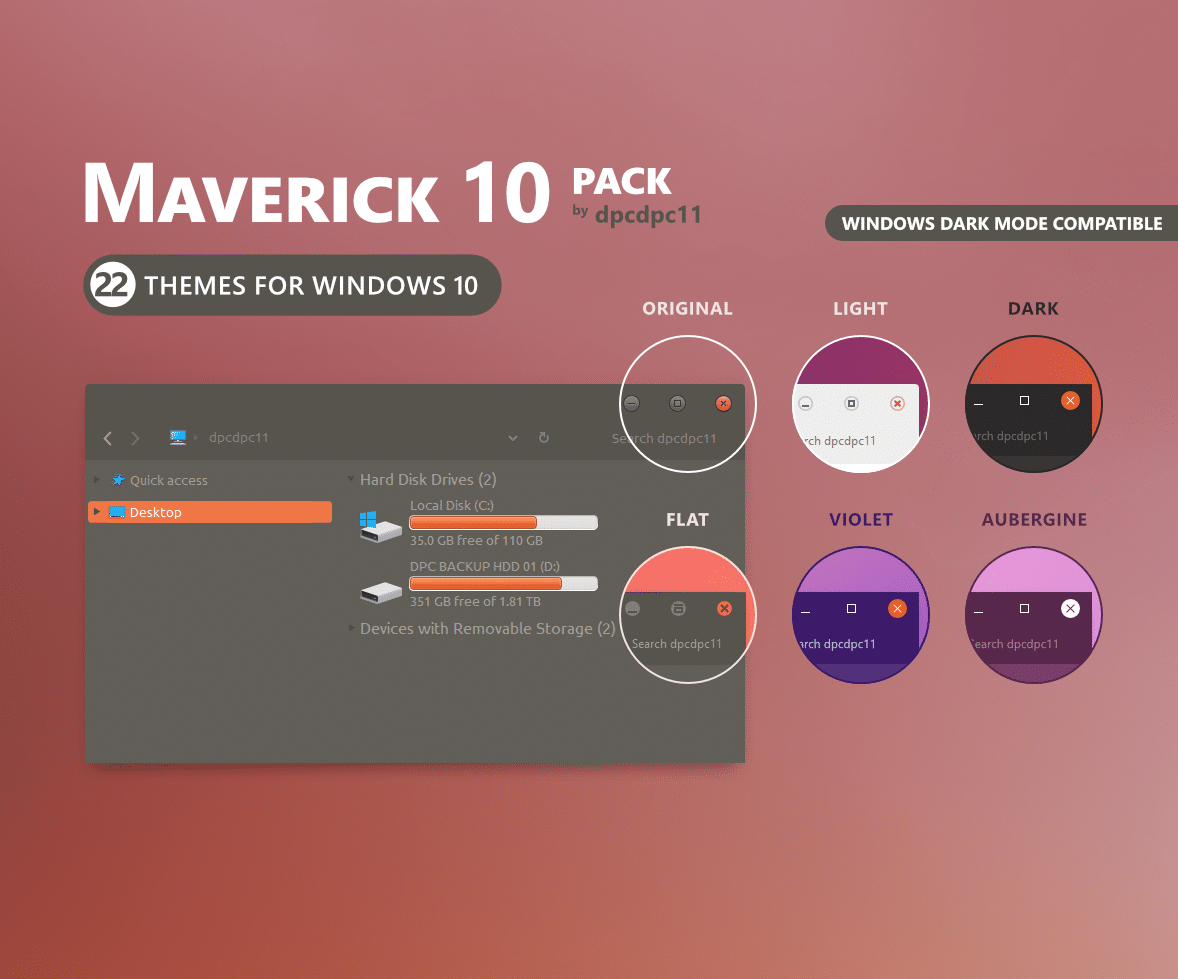 If you would like the Ubuntu look, then consider using the Maverick Windows 10 skin/theme. This redesigned theme will allow you to enjoy the orange and dark grey styles.
You will always enjoy using your computer. It is a pack of 22 Windows themes. It also features HiDPi ready up to 250% scaling, free updates, and unlimited support. Try it out today.
---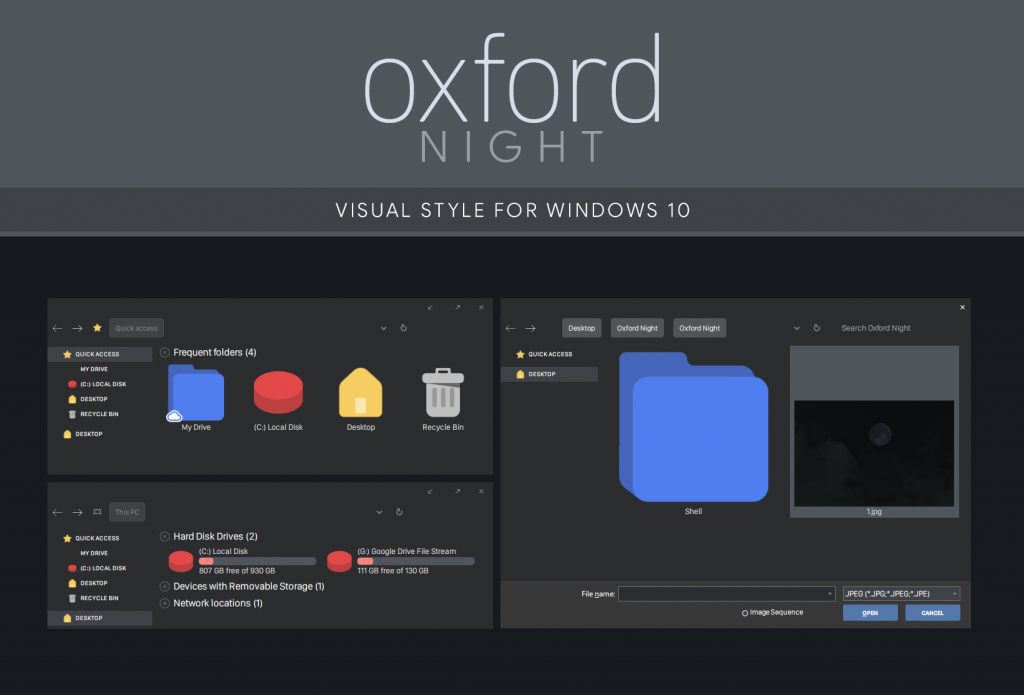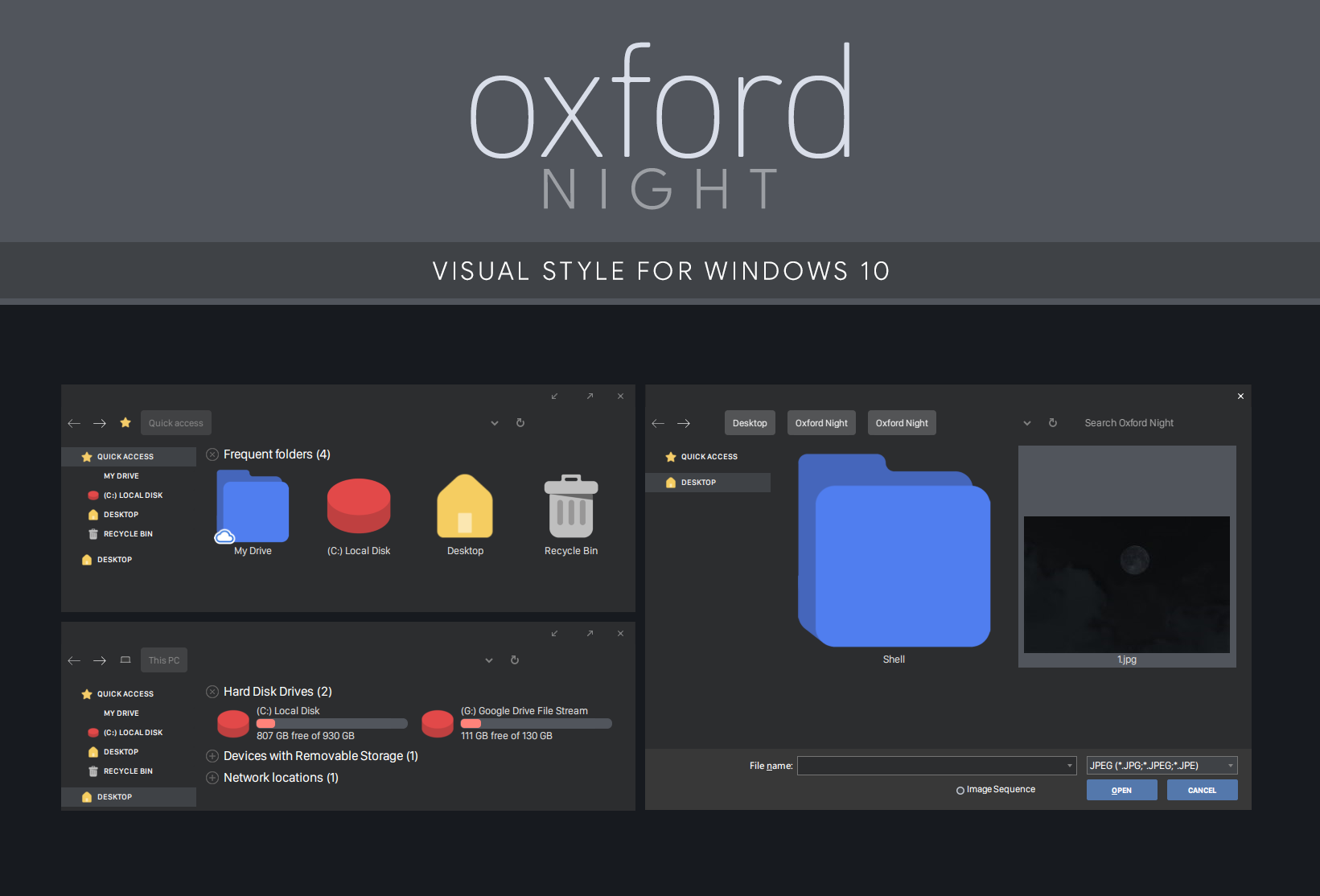 It is an amazing theme that is simple, clean, and minimalistic. The clean-cut lines of the icons make the theme clear and easy to navigate.
The theme looks friendly , and you will love the general outlook of the design. Moreover, the theme changes the context window to a white color.
---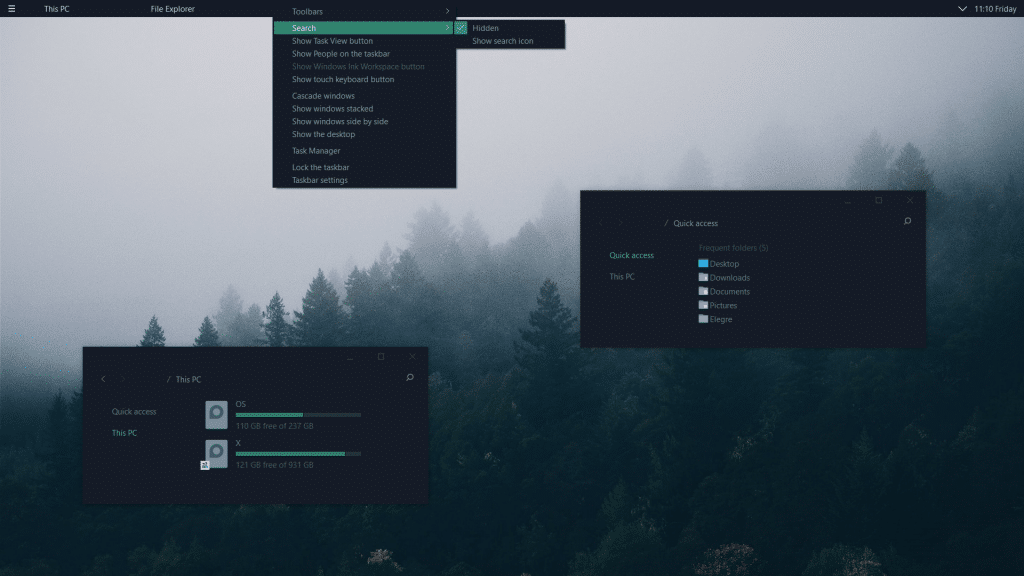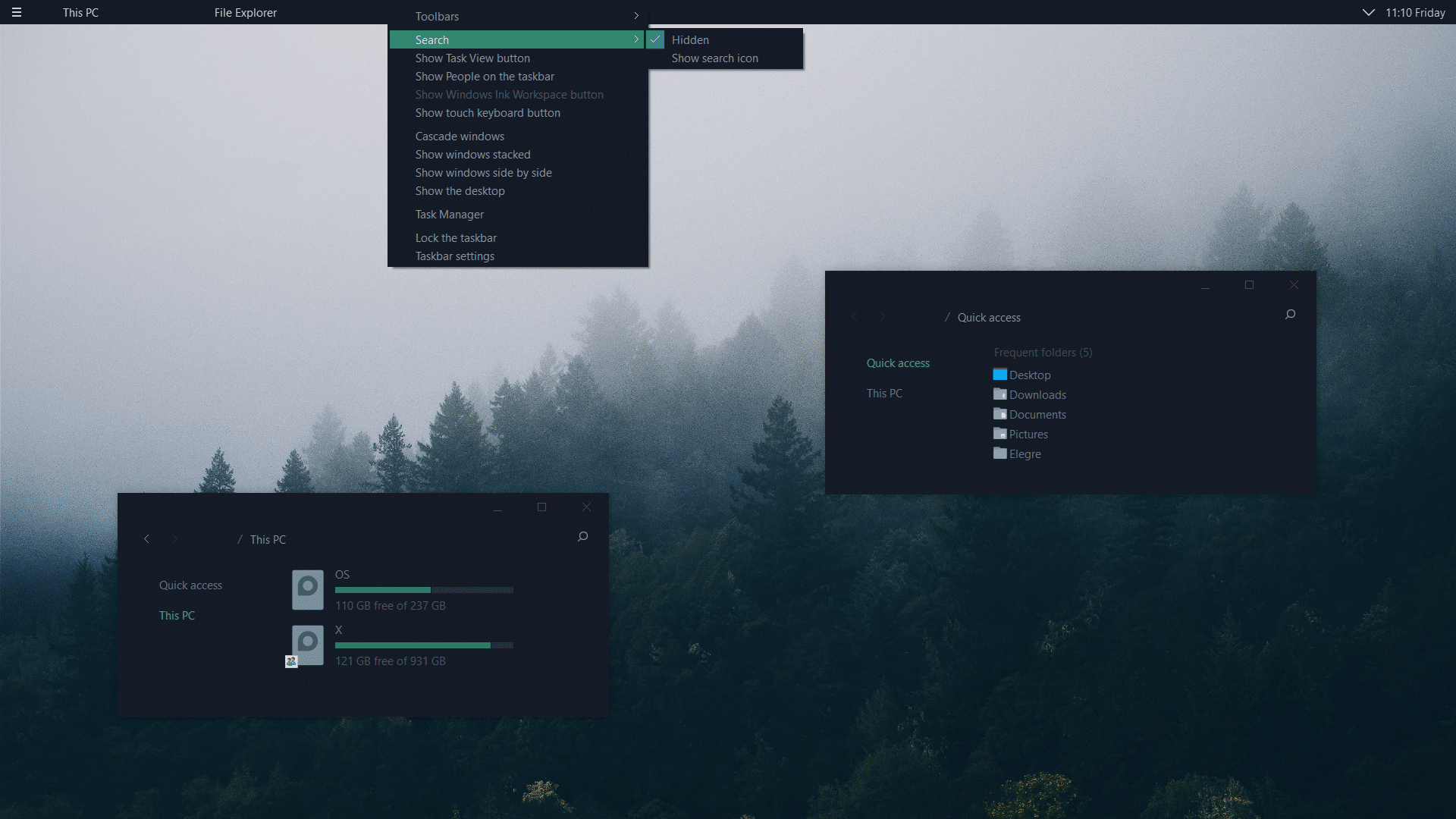 If you love dark themes, then Elegre will please you. It is a moody, dark theme that can fit any computer screen size. If you don't like colorful themes, you better consider the Elegre theme.
Its green accent over the dark background makes it look amazing when on your computer screen. It is simple, plain, and elegant. Your computer will stand out over many.
---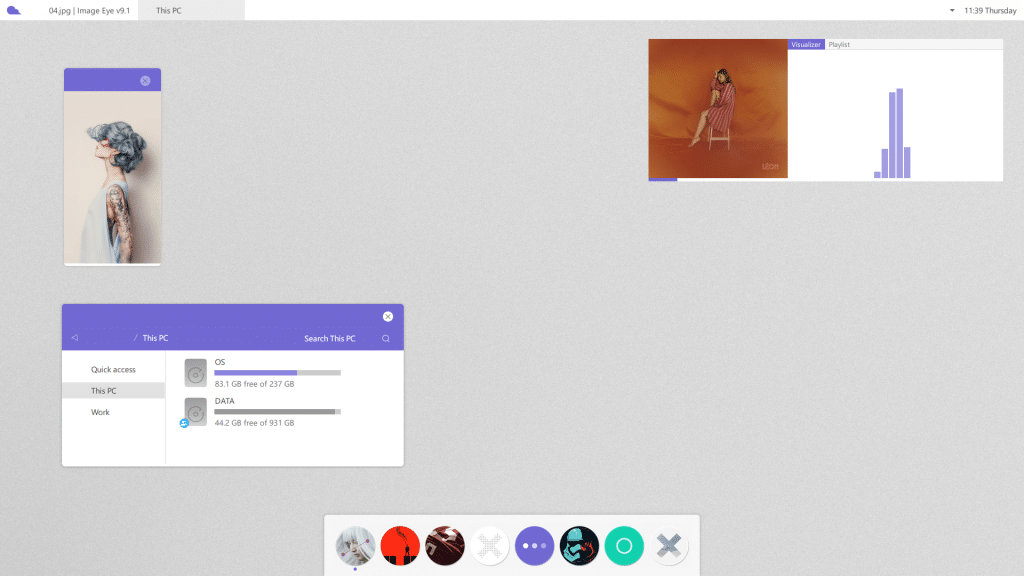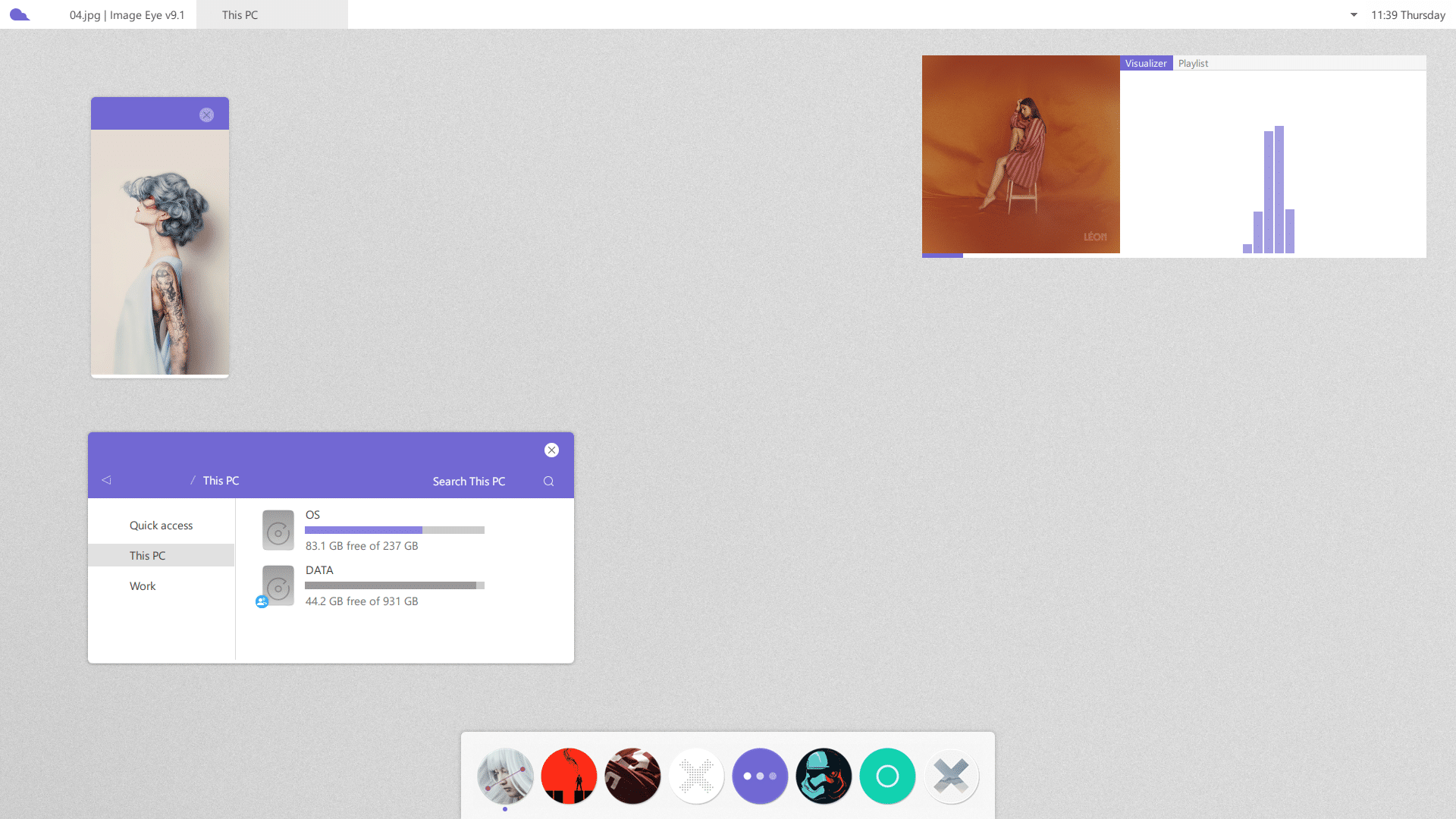 Voilu is one of the most beautiful and eye-soothing themes of all time. It is a completely light theme with a purple accent. Voilu makes the Windows title bar look beautiful with its accent and modified Windows buttons.
It allows you to enable a dock for a more enhanced look with a circle icon pack. It also allows you to tweak the start menu button and the taskbar. You will feel happy using the theme on your desktop.
---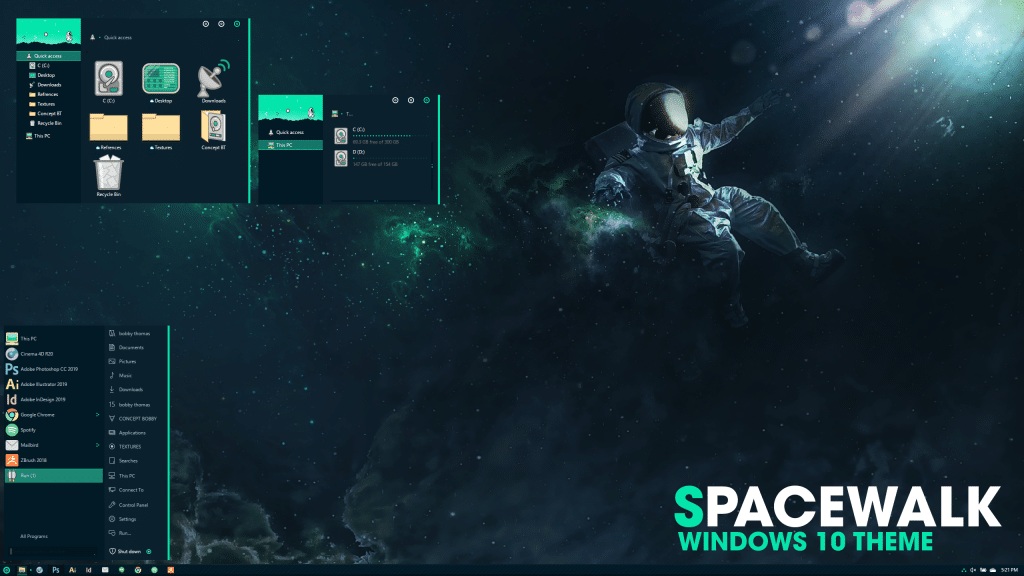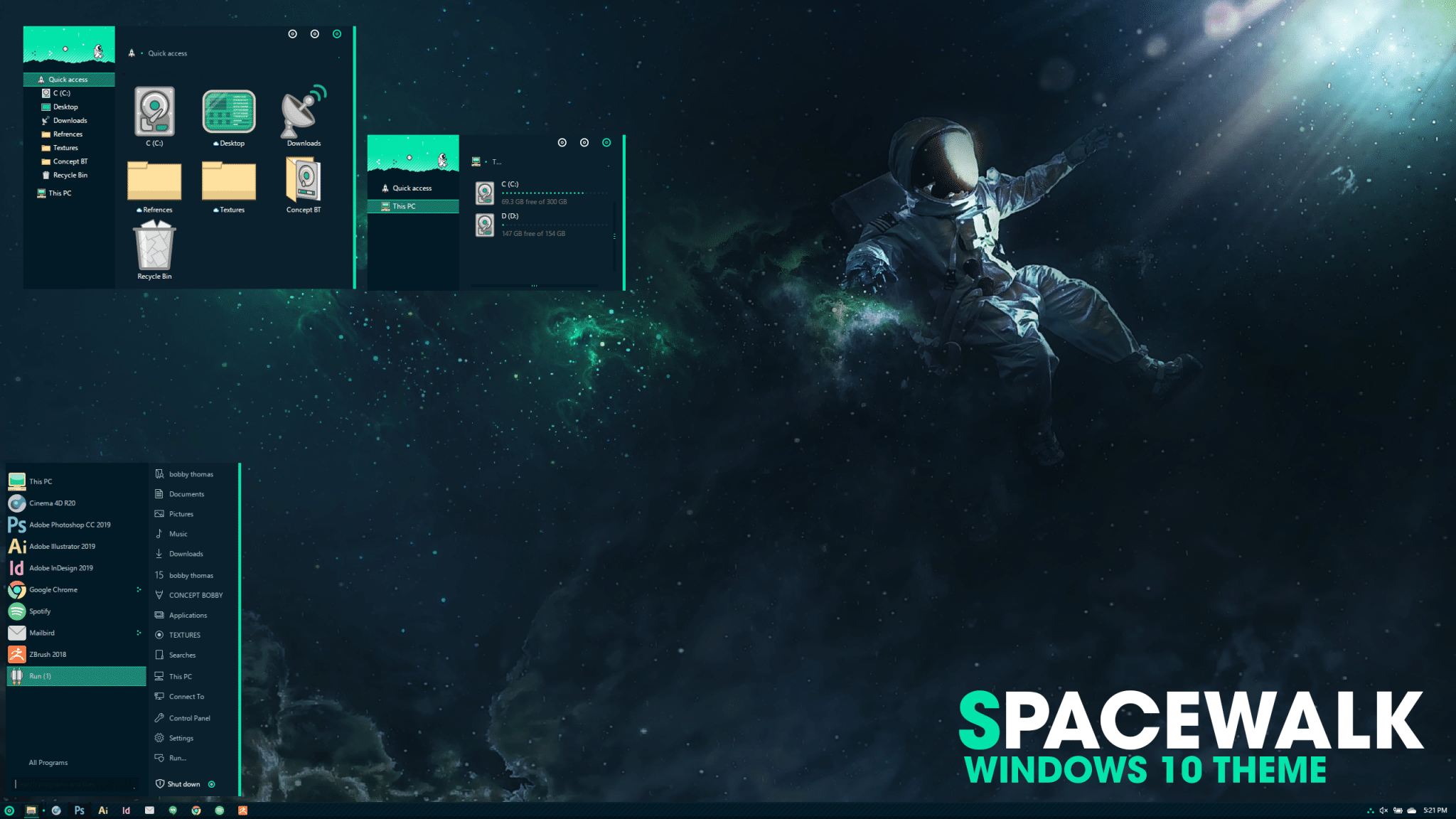 This is the perfect theme for cosmology lovers. The theme comes with a wallpaper that resembles a spacewalk. You will also get the computer's icons that relate to space exploration and a green accent.
Additionally, Spacewalk, features a unique banner on the left panel of each window in the file explorer. It brings the space exploration vibe to the desktop.
---
Conclusion
You can choose any of these amazing 18 picks if you are looking for the best Windows 10 skins and themes. They are all ideal and will suit your preference. At the end of the day, you need a theme that won't distract you when you are using your computer.
Additionally, you get the chance to change your wallpaper as often as possible. That's the kind of flexibility that you need. All the best as you choose a beautiful theme!