Google Chrome black screen is an issue that can affect your browser performance. I will show you some methods you can use to solve the issue and make your Chrome browser function well.
Have you ever encountered Google Chrome black screen on Windows 10? The issue varies from a fully black window, a flickering black window, or a partial black window. However, it returns to normal when you open a new tab.
This issue is mainly caused by how Google Chrome uses the hardware to render pages. Many browser issues can make your browsing experience poor. I will provide various ways you can use to solve the "Google Chrome black screen" issue.
1. Run Google Chrome on Compatibility mode
If you run your Google Chrome on compatibility mode, it allows you to run older versions of the application. It is one of the simplest methods that you can use to solve the Google Chrome black screen issue.
Step 1: On your desktop, locate the Google Chrome shortcut icon, right-click, and select Properties from the menu.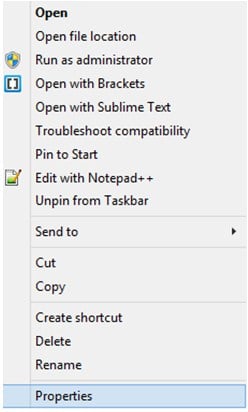 Step 2: Click on the Compatibility tab and check Run this program in compatibility mode.
Step 3: Select your preferred Windows version from the drop-down menu.
Step 4: Once done, click apply and ok to save the changes. Restart your Google Chrome browser.
If the problem persists, try to repeat the steps. However, this time click change settings for all users and use a different Windows version.
---
2. Disable Chrome flags
Flags are experimental features and may break at any time
Step 1: Open a new tab on Google Chrome. On the address bar, input chrome://flags/.

Step 2: You will be redirected to another Windows page.For this method to be effective, you need to disable any flags that you might have enabled previously. This is to ascertain whether that's the main issue.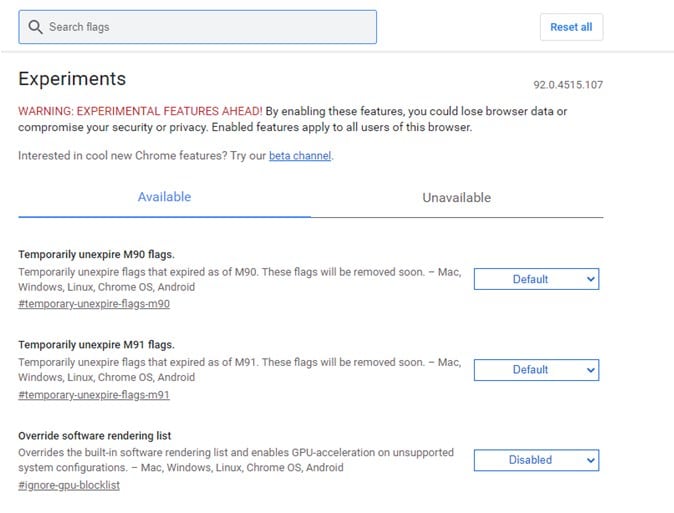 Step 3: Restart your Google Chrome Browser. Verify whether the issue is still there. If it is, you can try the next method.
---
3. Delete GPU Cache
The Google Chrome GPU cache may store too much temporary data on your computer that may accommodate too much space. To access the GPU cache folder, you need to be logged in with the administrator account.
Step 1: You can access the GPU cache here:
Local Disk C/users/Example/AppData/Local/Google/Chrome/UserData/GrShaderCache/GPUCache.

Delete the GPUCache folder.

Step 2: If the AppData is not visible at first, select local disk C >view, and make sure to enable "Hidden items."
Step 3: After you delete the GPU cache folder, restart your computer.
Step 4: Open your Google Chrome browser. Validate whether the issue is gone; if not, try another method.
---
4. Resize the Google Chrome window
Resizing the Google Chrome window can help solve the black screen issue on Windows 10.
Step 1: Simply click on Google Chrome's title bar to resize it.

Step 2: Once done, restore your browser to its original size. Check whether the problem is still there.
You can do this whenever the issue occurs. However, this is a temporary solution, and you may opt for more permanent ones.
---
5. Switch to another browser

If Google Chrome is not working correctly, you can use another browser. There are a wide variety of browsers that you can use, such as Mozilla Firefox, Opera Mini, Safari, Microsoft Edge, Water fox, and much more.  However, you need to find a permanent solution to ensure you can still use Google Chrome.
---
6. Disable plugins
The other solution is to disable Google Chrome plugins. This is because one of the plugins may be full of bugs or not compatible with the current Google Chrome version.
Step 1: On the top menu bar, click on the menu icon button

at the right corner. Select More tools > Extensions.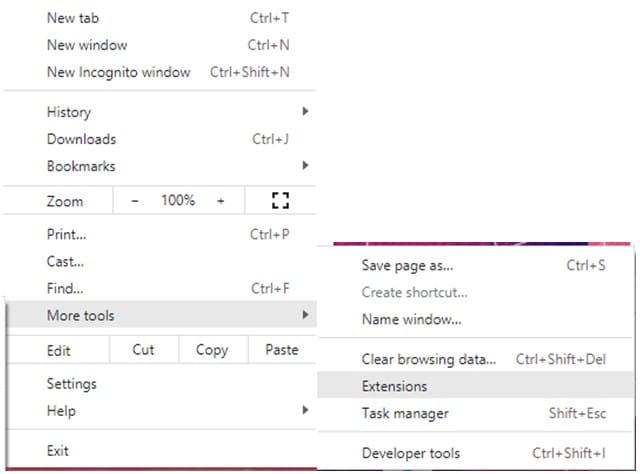 Step 2: On the next page, you will see all the installed extensions. To disable an extension,

switch the toggle off. It will turn from blue to grey.
Step 3: After you have disabled all the extensions, restart Google Chrome to check whether the issue is still there.
If the problem of a black screen doesn't appear again, you can start to enable the extensions one by one. Do this systematically till you find the extension with an issue.
---
7. Disable Hardware Acceleration
The other method is to disable the hardware acceleration.
Step 1: On your desktop, right-click on the Google Chrome shortcut.
Step 2: On the drop-down menu that appears, select Properties.
Step 3: Click on the Shortcut tab. In the target field, add this text; "-disable-gpu" It will look like this; chrome.exe" –disable-gpu"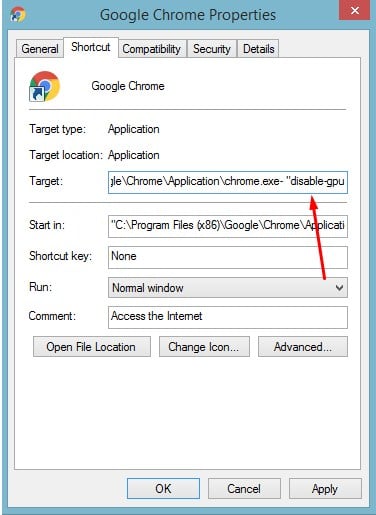 Step 4: Save the changes.
Step 5: Open Google Chrome, click on the dots icon button on the upper right corner, select Settings.On the next window, click Advanced settings. On the same page, scroll down till you find "Use hardware acceleration when available" Disable it by clicking on the blue button.

Step 6: Close Google Chrome, then restart it. Check whether the issue persists.
---
8. Add the no-sandbox startup parameter
The sandbox mode is used by Google Chrome to separate its processes. This is a useful security feature; should your browser encounter malware, the malware will be isolated thanks to the Sandbox mode. However, it sometimes causes black screen issues in Google.
Step 1: On your desktop, right-click on the shortcut icon and select properties.
Step 2: On the dialog box, click the shortcut tab.
Step 3: In the Target input field, add the following text: "—no-sandbox" at the end. It should look like this chrome.exe –no-sandbox")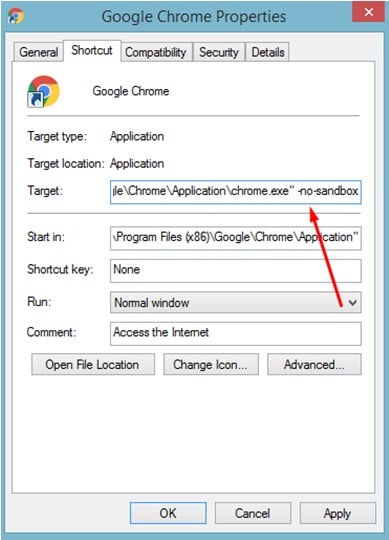 Step 4: Click Apply and OKto save the changes.
---
9. Reset Chrome Settings
If you decide to reset Google Chrome, you will delete all extensions and reset all its settings. This includes the bookmarks and history. Hence, remember to back up your browser data.
Step 1: Open Google Chrome Browser.
Step 2: Click the menu icon (3 dots on the upper right corner). On the menu, scroll down and choose Settings.
Step 3: Click Advanced, scroll down on the page and look for the "Reset and clean up section."

Step 4: Select the Restore settings to their original defaults option. On the next box, click Reset settings.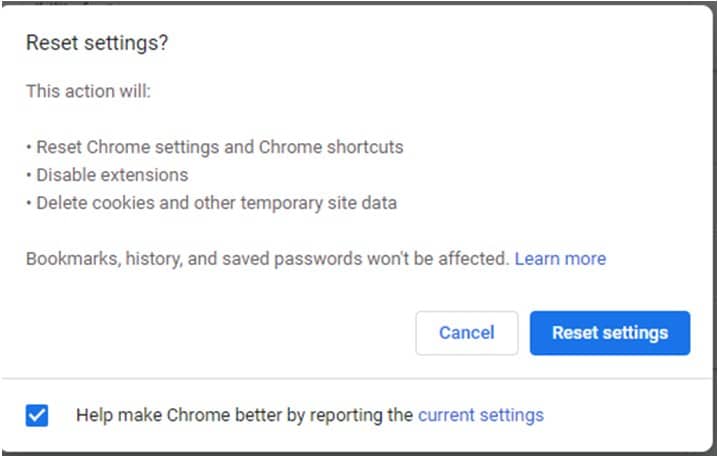 Wait for Google Chrome to reset to default and check if the issue is still present.
---
10. Uninstall reinstall
To uninstall Google Chrome,
Step 1: Click on the Windows button on your computer. Search for Control Panel.
Step 2: On the Control Panel Window, choose "Programs and Features"

Step 3: On the next Window, right-click on Google Chrome. Select Uninstall. It will uninstall the browser.

Step 4: To re-install Chrome, download the latest version of Google Chrome and install. Check whether the problem persists.
All these methods are valid and can help to solve Google Chrome black screen issue. However, use one method at a time. If it doesn't work, return the default settings. Also, always be cautious while downloading software and programs from the internet. This is to prevent any malicious viruses from entering your computer.