Since 2014 when it first surfaced, 2048 has remained one of the most popular and addictive mobile games. Below are some equally popular and engaging online games similar to 2048. Check them out…..
Single-player sliding block puzzle number games have become very common these days. 2048 is one such game with a reputation for being very challenging and super addictive. With that being said, here are some alternative games like 2048 that will also keep you engaged from start to finish.
---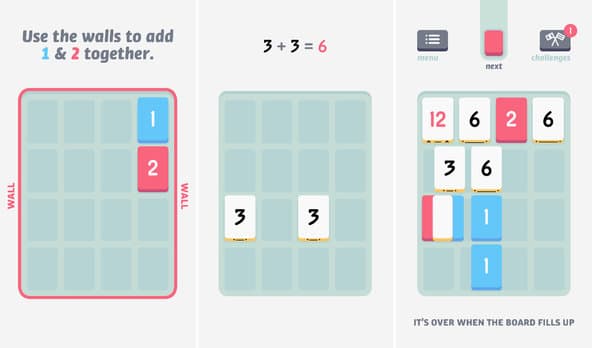 Threes is a part-math, part-matching puzzle game with numbers as protagonists. The addictive gameplay involves sliding numbers on a 4 by 4 grid so that the addend is the highest multiple of 3. The game ends whenever there's no more room to move on the grid. When that happens, your final score is the sum of all the numbers within the grid.
The primary strategy in the game involves combining the highest number values to get the biggest high scores. The 2048 alternative game has numbers ranging between a minimum of 3 and a maximum of 6,144. Whenever you exceed this upper limit, you can unlock new icons.
With its single game mode, high scores are achieved by combining numbers to get 3s, then combining the 3s to get 6s, then combining those to get 12s, then combining those to get 24s, … 48s, and so on. High number combinations are only possible late in the game when the board (grid) is almost full.
---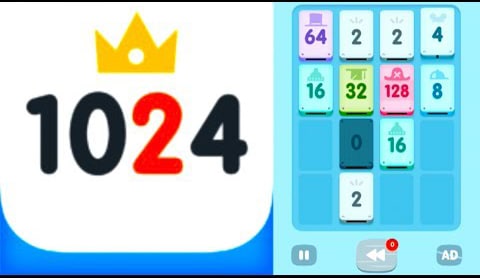 Another awesome 2048 alternative puzzle game that's not only engaging but also very challenging. The single-player mobile game is available on android and iOS platforms and supports multiple grids, including 2 by 2, 3 by 3, and 4 by 4. Note that each grid comes with a unique puzzle. As is the case with Threes, the ultimate task in this game is to match the same number of tiles to get an addend of 1024. When the player successfully makes the elusive 1024 tile, they win the game and also unlock a new level of gameplay.
During the game, all the player does is move tiles by swiping them around. Any pair of tiles with the same number will merge into a single tile with a value of their total of the two tiles. For instance, 1+1 gives 2, 4+4 gives 8, …, 512+512 gives 1024. Note that it's possible to make 2048 and even 4096 tiles, especially if you're a genius.
---
A single-player puzzle game like 2048 that's currently available only on iOS and Android platforms. And like most matching puzzle games, Hexic 2048 entails joining the numbers to get to the 2048 tile on the hexagonal board.
When a pair of tiles with the same number touch, they merge into a single tile with a value of the sum of both. The 2048 alternative supports multiple game modes, including Survival mode, X-tile mode, Classic mode, etc.
Hexic 2048 is also compatible with the four main Autoplay modes, including Corner, Swing, Swirl, and Random modes. Other interesting features of the game include multiple grid options, simple touch controls, and easy mechanics. One last thing, the game supports the Undo option, thus making it super easy to revert to previous gameplay or setting.
---
An attractive free, open-source number puzzle game. As with other games like 2048, the player's goal is to make tile number 243 to win the game.  When three tiles with the same number touch, they merge into one with a value of the sum of the three, i.e., 3+3+3 gives 9, then 9+9+9 gives 27, …, 81+81+81 gives 243.
Besides its simple user interface, the game also supports a couple of other awesome features such as automatic game saving, instant game theme change, leaderboard, etc. Also worth mentioning is that players can unlock other features and new game levels upon making the 243rd tile.
---
If you like challenging number puzzle games, 2048 Hex is your thing. One of the most interesting games like 2048, which combines math and matching skills for the best experience. The game supports 3 distinct modes: Triangle, Classic, and HourGlass. Tgame's objectame is to make the maximum tile of 4096 to win the game.
The Player has to merge 3 similar tiles to get a tile with a value equal to the three merged tiles. If you collapse a pair of 4096 tiles, you get a star: the more stars, the better. The puzzle game supports three tiles, including Chinese, Numbers, and RGB. And 2048 Hex pays you virtual dollars which can be cashed out into your PayPal account.
---
If you're looking for fun games like 2048 that aren't based on numbers, then you can't go wrong with the Chain Fruit 2048 Puzzle Game. It was created by Infinite Joy Limited. It is a relaxing yet very addictive game that comes with improved graphics and very colorful fruits. The endless fun game involves shooting and merging fruits into juicy watermelons to earn points. Gaining the maximum points, 2048, unlocks new gaming levels along with other rewards.
---
A very exciting and thought-intriguing mobile game that involves matching numbers. The deceptively simple puzzle game involves combining twos and threes to get fives which increment to bigger digits. The 2048 alternative game supports different modes including Time, Highest, and Classic modes.
Fives is very lightweight and Android exclusive. Besides supporting the undo function, the game also allows players to unlock up to 30 different achievements and levels. Other prominent features of Fives include girds, different music, leaderboard, and upgrade option.
---
Another popular game like 2048 that's created by the Nomone Software Company. The mind-twisting math puzzle game requires a lot of thinking and careful planning to get high scores. It offers almost similar gameplay as 2048, with enhanced mechanics and some very enjoyable features. The goal is to move blocks on the grid by swapping them around till you make 2048 or, better yet, 4096.
There are bombs in this game. Use them to eliminate larger blocks for higher scores. Other than that, White 2048 has two game modes, each with its own set of pros and cons.
To unlock a new level of gaming, you'll have to win your current level by making the elusive 2048 or 4096 blocks. And if you're stuck or need any form of assistance at any level of the game, you can always count on their detailed tutorial for assistance. If you're looking for games like 2048 that are challenging and exciting, White 2048 is worth giving a try.
---
Love merge number puzzle games that involve merging blocks? Well, then you are going to like Chain Cube 2048. And as you might have guessed, the goal is to reach 2048 by merging chain cubes. The gameplay involves aiming and shooting blocks with the same color and number using a 3D die.
The 2048 alternative comes with awesome graphics, a user-friendly interface, fun 3D physics, and very intuitive game controls. If you manage to reach 2048, and it's tough for your information, you win and unlock a new gaming level. A new level of the game comes with impressive features such as cool skins for your chains, impostors, animal cubers, and eastern eggs.
---
Last on our list of games like 2048 is the Countdown Number Puzzle Game. And this one is for Math lovers only!  The game is based on basic algebra operations like addition, subtraction, multiplication, and division. The player needs to find exact solutions for math problems.
You can use a hint to help out.
At the end of every round, the math solver will show you alternative solutions to the problem. That helps provide a whole different perspective on the math problems in the game. Remember there's no countdown timer in the game. So you can always take your time with every question.
The game has up to 10 puzzle packages, each with 100 math puzzles. Gamers are kept busy from start to finish. Also worth mentioning is that the puzzles get harder as you advance further into the game. Currently, the Countdown Number Puzzle Game is only available on Android and iOS platforms.
---
Jigsaw puzzles are also great options for those who enjoy 2048.
If you're looking for a wide variety of jigsaw puzzles to play online, check out Im-a-puzzle.com. There are thousands of puzzles available, all organized by category so that users can find the perfect game when it strikes their mood. From animals to art, cars, food, and more – players can pick their favorite puzzle and even customize the number of pieces and the size of the pieces.
As an added bonus, you can even create your own jigsaw puzzles on this site!