Currently, the most common connection standards for PC monitors, projectors, and smart TVs are VGA and HDMI. What's the difference between the two? Which's better for gaming or watching videos? Keep reading to find out more about VGA vs HDMI.
VGA and HDMI are cable connection interface standards used to link devices such as PCs or even DVD players to displays such as computer monitors, HDTVs, and projectors. In this post, we've compared different aspects of the two cable interfaces in order to help you know the differences between them. With that said, let's get started…
What's VGA?
VGA stands for Video Graphics Array. Though largely replaced by HDMI, in some respects, VGA is still the standard for linking video display controllers such as PC monitors and projectors. It was introduced way back in 1987 as part of the IBM PS/2 line of PCs before becoming the ubiquitous connector for most computer monitors, projectors, and smart TVs back then.
The VGA cable connection interface only transmits video signals. Meaning, if you're considering transmitting audio signals alongside video signals, you'll need a separate audio cable for that.
Furthermore, the interface mainly transmits RGB analog video signals. That's a clear departure from HDMI cables which are designed to handle both audio and video digital signals. Standard VGA cables feature a 15 pin connector and do not support hot-swapping or hot plugging. Hot swapping refers to the ability to connect or disconnect a transmission cable while the computer is on without compromising the signal quality.
---
What's HDMI?
HDMI stands for High Definition Multimedia Interface. It was introduced back in 2002 and has since become the preferred HD standard for most display electronics in the market today, e.g., PC monitors, HDTVs, projectors, and many more. Currently, it is the de facto cable connection interface alternative for composite video, component video, and A/V connection types such as S-video.
HDMI's are based on adapted HD resolution that's powered by the handshake digital copy protection feature. Unlike VGA cables that transmit only analog video signals, HDMIs support both external audio and video signals, all in digital format. The cable interface features connectors with pins ranging between 19 and 29.
What's more, these cables are hot-pluggable. Meaning, HDMIs have a Hot Plug Detect feature that supports communication between the source device and the sink device. Simply put, ho plugging is about being able to connect or disconnect the cable while the PC is on without interfering with the signal quality.
Comparatively, HDMI is better than VGA in many respects. For instance, while the latter mainly supports analog signal transmission, the former transmits signals mainly in the more versatile digital format. Moreover, VGA mainly transmits video signals. That's to say, if you need audio signals to accompany your video, then you'll need a separate cable for that. On the other hand, HDMI cables support both audio and video signal transmission. As such, you won't need separate cables for both audio and video. Just one HDMI cable and you're good to go.
Tip! VGA to HDMI or VGA to DVI converters allow for signal transmission across different cable interfaces.
---
HDMI vs VGA Comparisons
After the definitions, let's delve some more into the specific differences between these cable connection interface standards.
HDMI vs. VGA: Video Resolution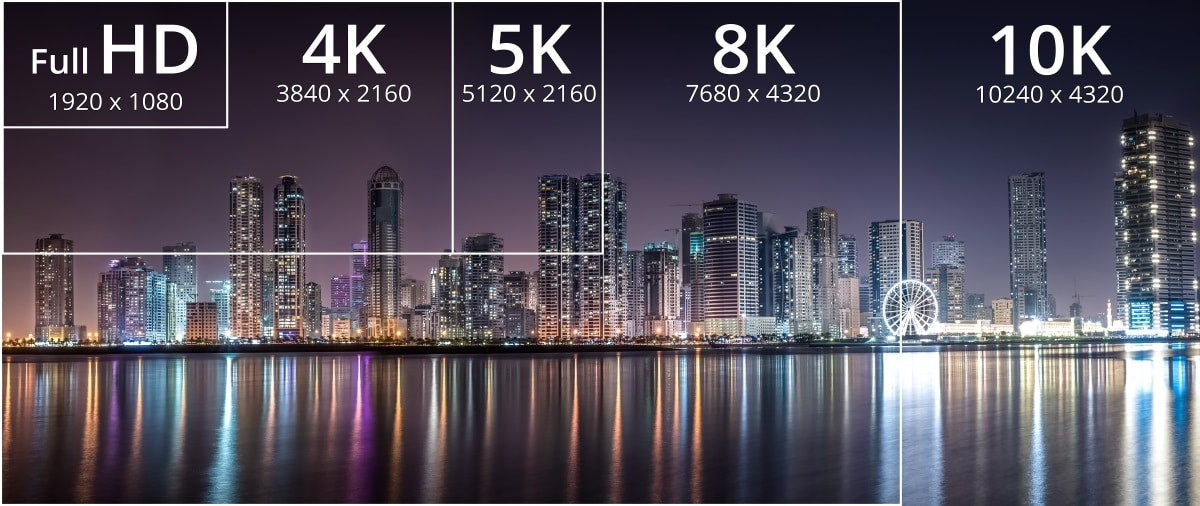 HDMIs come in different versions, each with defined resolution capacities. Generally, HDMI 1.0 to 1.2a have resolutions as small as 720p or 1080i. HDMI 1.3 to 1.4a often have resolutions in the range of 1080p to 4K. Similarly, HRD (HDMI 2.0/a/b) supports a resolution of 4K at 60Hz. HDMI 2.1 is capable of a range of resolutions, including 4K, 5K, 8K, all the way to 10K at 120Hz. Below is a quick summary table of all the supported resolutions.
| | |
| --- | --- |
| HDMI Version | Maximum Resolution |
| 1.0 | 1600 x 1200 at 60Hz |
| 1.1 | 1600 x 1200 at 60Hz |
| 1.2 | 1600 x 1200 at 60Hz |
| 1.3 | 2048 x 1536 at 75Hz |
| 1.4 | 4096 x 2160 at 24Hz |
| 2.0 | 4096 x 2160 at 60Hz |
Similarly, VGA comes in different types, each supporting different resolutions. Below is a summary of the common types of VGAs and the supported resolutions.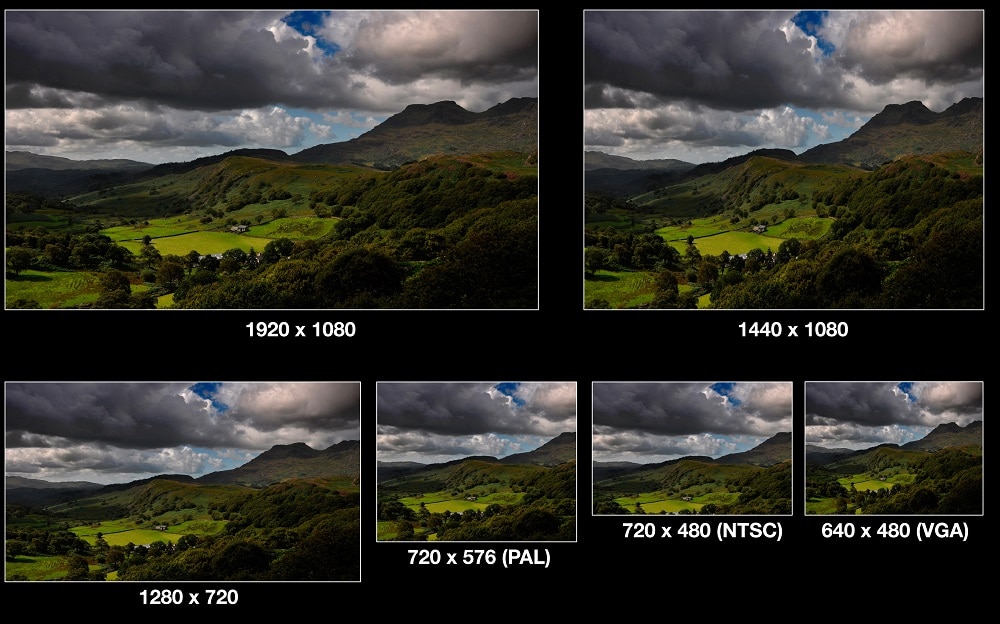 | | |
| --- | --- |
| VGA Version | Maximum Resolution |
| VGA | 640 x 480 |
| SVGA | 800 x 600 |
| XGA | 1024 x 768 |
| WXGA | 1366 x 768 |
| SXGA | 1280 x 1024 |
| SXGA+ | 1400 x 1050 |
| WSXGA | 1600 x 1024 |
| WSXGA+ | 1680 x 1050 |
| UXGA | 1600 x 1200 |
| QXGA | 2048 x 1536 |
---
Refresh Rates (Hz)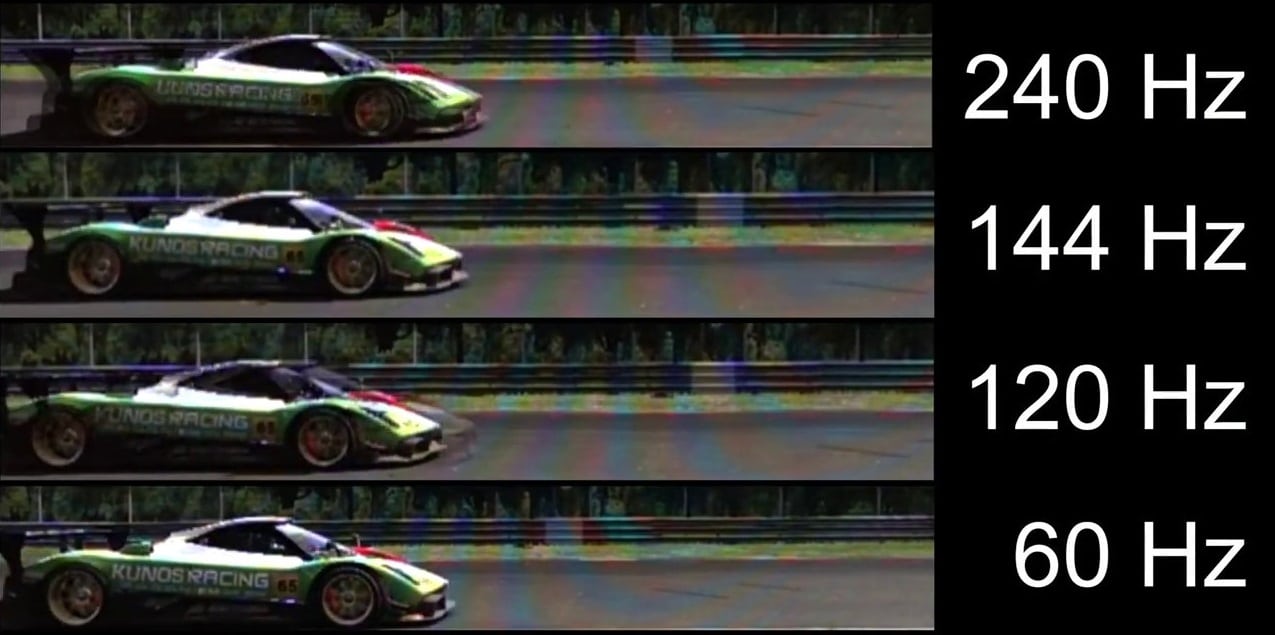 VGA and HDMI also differ in their refresh rates. For instance, VGA supports refresh rates ranging between 60Hz and 85Hz. On the contrary, HDMI supports a wide range of refresh rates. For example, some professional gaming monitors with HDMI can reach refresh rates of up to 144Hz. Furthermore, gaming computers with HDMI 2.0 can clock refresh rates of up to 240Hz. A high refresh rate means higher frame rates ideal for the best gaming experience, especially when it comes to popular MOBA such as League of Legends. Below is a summary table for different HDMI versions and their refresh rates.
HDMI Version
Refresh Rate
1.0 – 1.2a
1080p at 60Hz
1.3 – 1.4b
1080p at 144Hz

1440p at 75Hz

4k at 30Hz

2.0-2.0b
1080p at 240Hz

4K at 60Hz

8K at 30Hz
---
HDMI Vs. VGA: Data Transmission Rate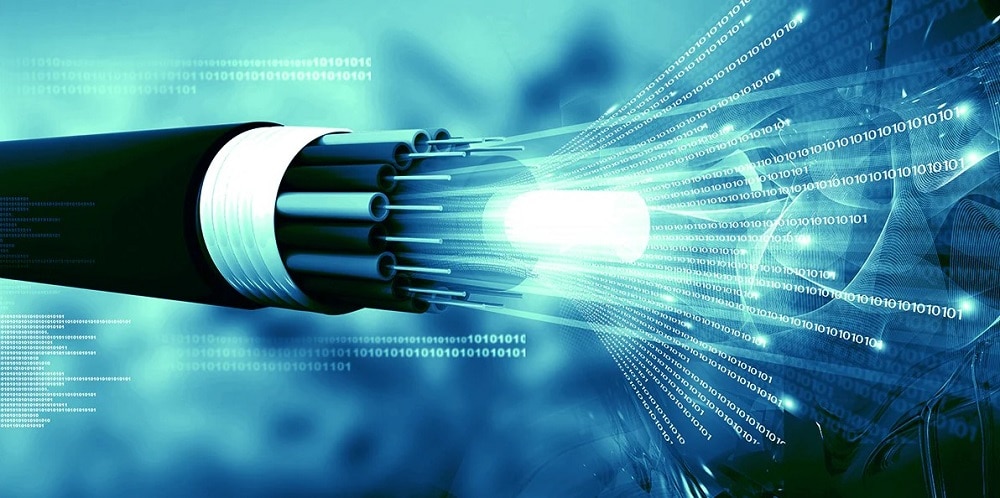 The data transmission rate for HDMI varies with the version. The most common data transmission speeds are 10.2 Gbps for HDMI 1.4 and 18.0 Gbps associated with HDMI 2.0. Below is a summary table for the data transmission speeds for different HDMI versions.
| | |
| --- | --- |
| HDMI Version | Transmission rate |
| 1.0 – 1.2a | 4.95 Gbps |
| 1.3 – 1.4b | 10.2 Gbps |
| 2.0-2.0b | 18.0 Gbps |
The data transfer rate for VGA is considerably lower compared to HDMI.  Remember, VGA transmits analog video signals and doesn't support hot-plugging (connecting or disconnecting a transmitting cable when the PC is on).
In other words, you'll have to power off your computer before connecting your VGA cable. On the contrary, HDMI supports hot plugging. Meaning, you can connect the cable while your PC is on.
The data transmission rate for VGA varies with the version and refresh rate. Here's a summary of the bandwidths for different versions of VGA data transmission cables.
| | |
| --- | --- |
| VGA Version | Bandwidth (MHz) |
| VGA | 14.0 |
| SVGA | 27.0 |
| XGA | 48.0 |
| SXGA @60Hz (refresh rate) | 60.0 |
| SXGA @ 80Hz (refresh rate) | 79.0 |
| UXGA | 87.0 |
| UXGA | 116.0 |
---
HDMI vs. VGA: Audio Transmission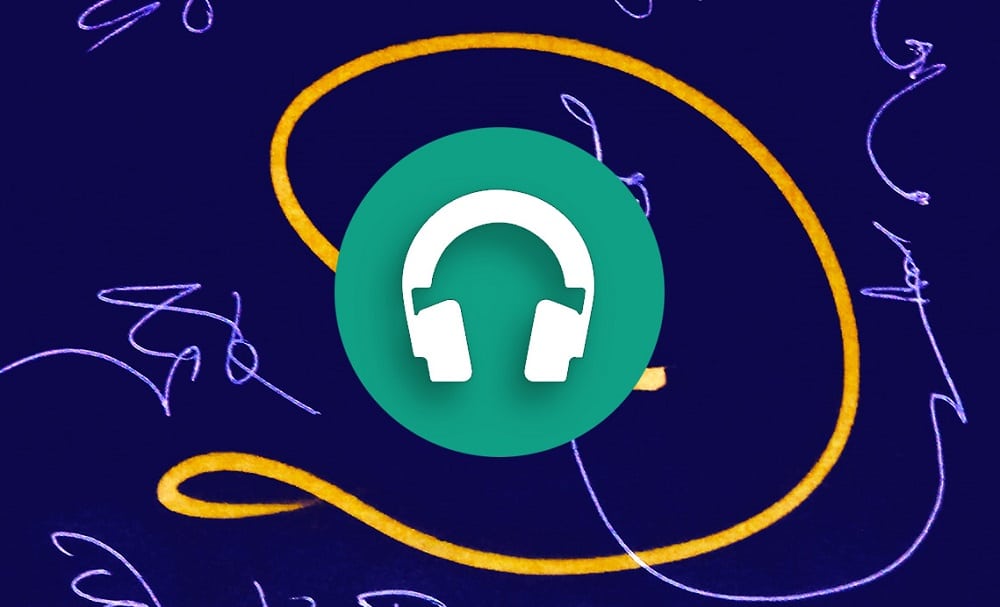 The audio transmission rate for HDMI cables is estimated at around 36.864 Mbps. The rate had remained relatively constant since the inception of these cable connection interfaces back in 2002. HDMI is capable of transmitting up to 32 channels of high-definition digital audio signals such as DTS, DST, Dolby Digital, among others. On the other hand, VGA doesn't support audio transmission. Meaning, you'll need a separate cable to help with audio transmission alongside your VGA cable.
Likewise, if you use an HDMI to VGA converter to display from a new PC model to an old monitor that supports sound output, you'll also need a separate audio cable. The bottom line is, if your PC monitor comes with an in-built speaker, be sure to use an HDMI cable to take care of both video and audio outputs.
---
The Length of the Transmission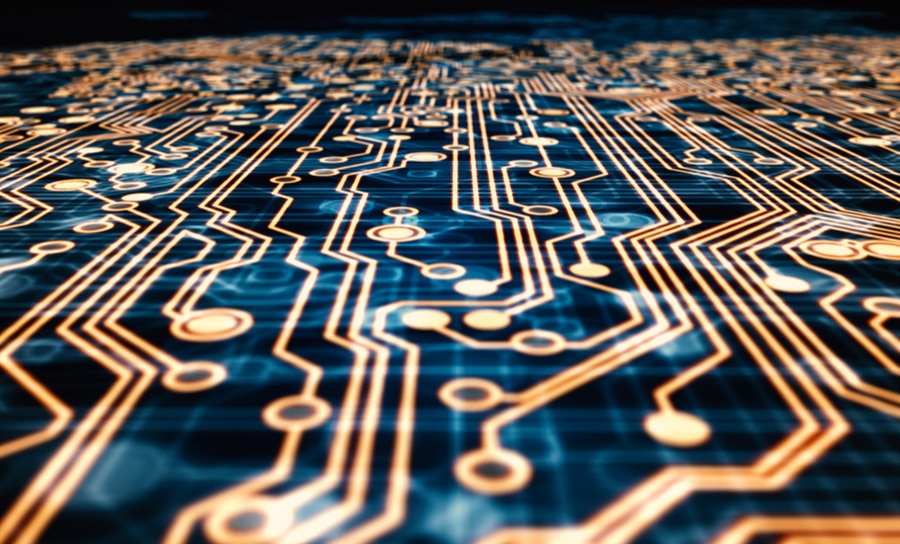 There's a significant difference in the transmission rates for both HDMI and VGA cables and ports. Theoretically, HDMI can transmit data over a distance of up to 20 meters. Currently, the cable length for most HDMIs is within 15 meters.
On the other hand, standard VGA cables can transmit data over a distance of up to 30 meters. Besides, a signal amplifier can extend the transmission distance to 150 meters. However, there's a catch. In VGA cables, the signal quality diminishes with an increase in transmission cable length. Furthermore, long VGA cables are also associated with a decline in image quality due to image degradation.
---
Interconversion Between HDMI and VGA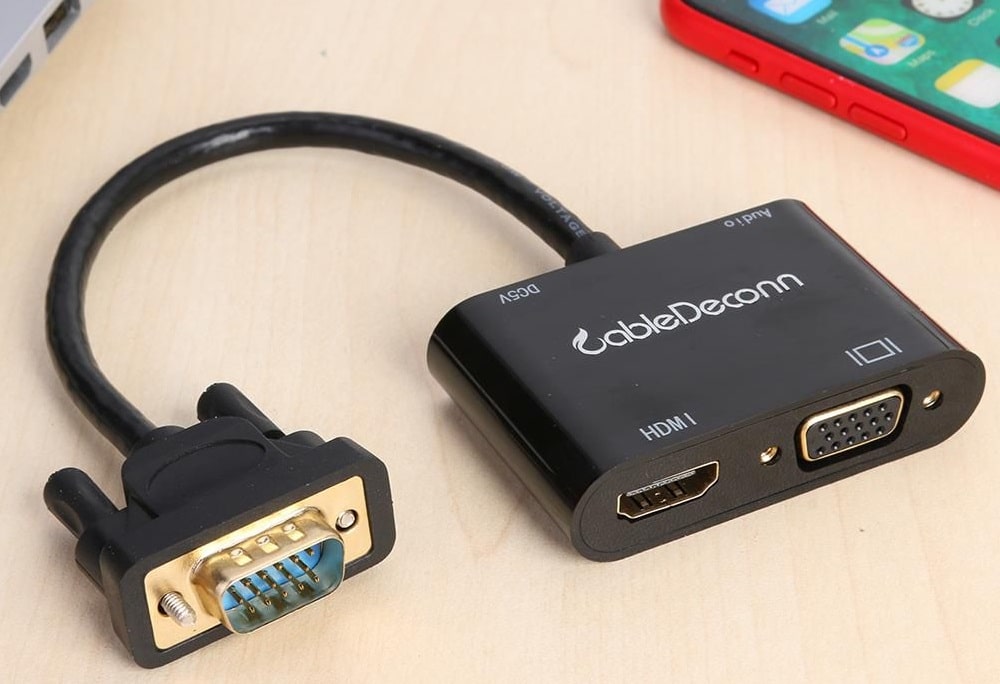 It's possible to connect your VGA PC to an HDMI-compatible monitor and vice versa using a VGA – HDMI converter. What the adapter does is facilitate an analog to digital signal transmission conversion. However, it's worth mentioning that the process of converting analog to digital signals leads to significant degradation of the signal quality. Meaning the original analog signal will lose some information in the course of conversion.
---
HDMI vs. VGA: Connector Types

HDMI supports some 5 distinct connector types, all of which vary with the version of HDMI or VGA. The available types and their HDMI versions include Type A (HDMI 1.0), Type B (HDMI 1.0), Type C (mini connector compatible with HDMI 1.3), Type D (Micro connector compatible with HDMI 1.4), and Type E (HDMI 1.4). On the contrary, VGA cables only have one connector type. It comes in both male (15-pinned) and female (15-holed version).
---
Applications of HDMI and VGA Cables and Ports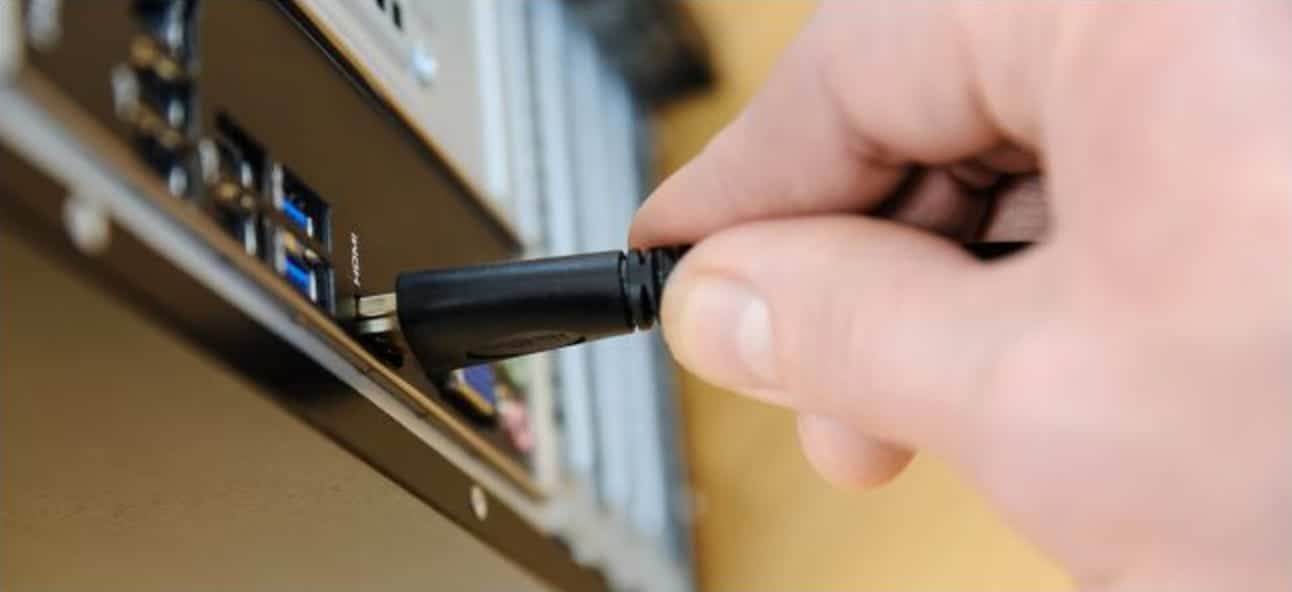 HDMI ports are common in most modern electronics. For instance, most gaming PCs use HDMI ports and cables because of their superior response time, affordability, and ability to handle both audio and video digital signals. Conversely, VGA cables are confined to older technology gadgets such as monitors, projectors, TV sets, etc. The thing is, VGA ports and cables are disappearing fast from the electronics scene due to replacement with better-performing alternatives such as HDMIs.
---
HDMI vs. VGA: Pricing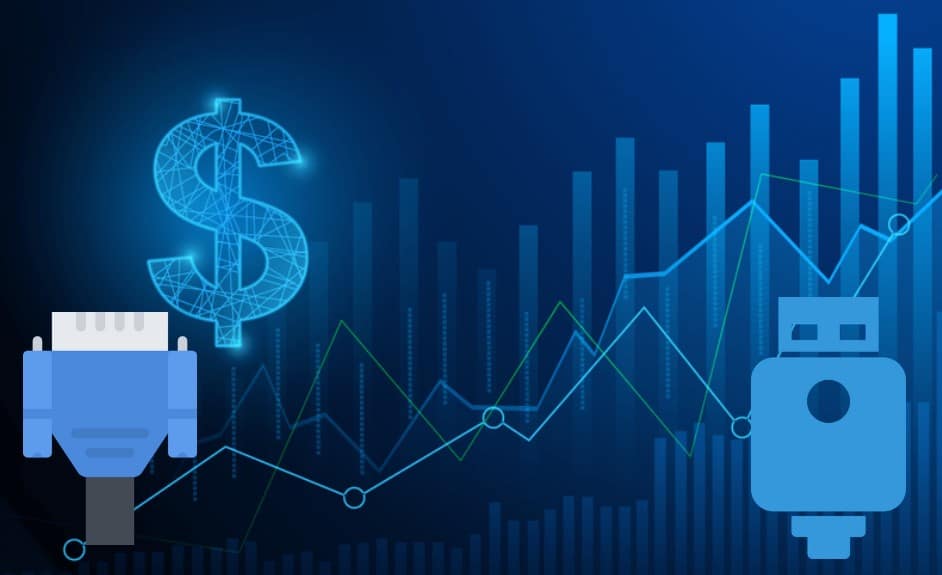 Another difference between HDMI and VGA is in their market values. HDMI cables are comparatively more expensive than VGA cables considering that the latter transmits high-quality digital audiovisual feeds while the former only handles analog video signals. The cost of a standard HDMI cable depends on, among other factors, the manufacturer, brand, and length.
On the other hand, the prices for VGA cables have taken a steep dive, especially considering that more and more electronics are adopting HDMI instead. VGA is fast losing relevance in the world of electronics.
---
HDMI vs. VGA: Input Lag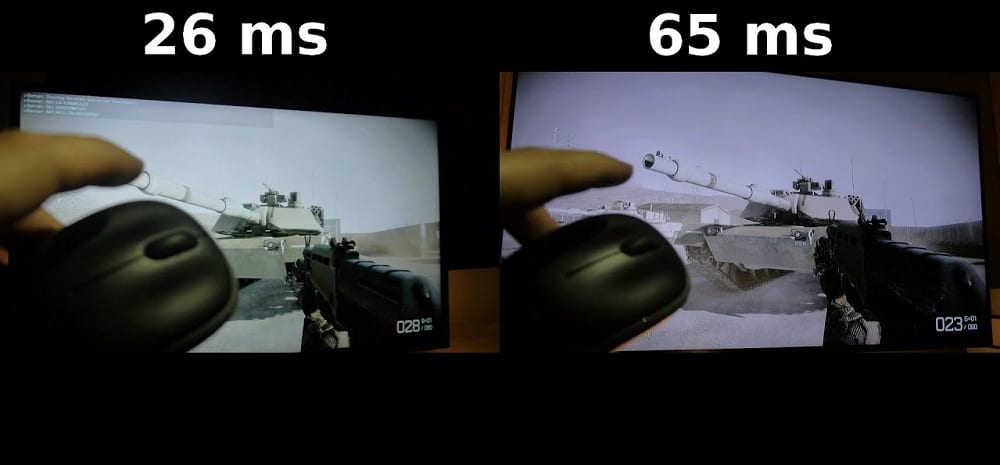 When it comes to signals, input lag refers to the time interval between signal reception and display on the screen. VGA cables tend to have far less input lag when compared to their HDMI counterparts.
The high HDMI input lag is associated with a phenomenon called input post-processing which simply means the application of effects such as color, motion, depth, among a host of others effects, to the input signal before displaying it on the screen.
Be that as it may, low input lag associated with VGA cables ad ports come at the cost of low output image quality. Most modern HDMI-powered devices have an option for disabling post-processing to reduce the input lag. That's especially handy for gamers.
---
Signal Quality

HDMI cables and ports support only digital signals, while VGAs support analog signals. Now, there's also a significant difference as far as the quality of signals in either of these cable connection interfaces goes. For instance, while HDMI's are more susceptible to electromagnetic interference and less sensitive to signal interference from other cables (crosstalk), VGA cables are the exact opposite – more sensitive to crosstalk and less susceptible to electromagnetic interference.
Note that the issue of electromagnetic interference in standard HDMI cables can be readily fixed using thick insulation.
---
FAQ
Q. Can you run the VGA and HDMI simultaneously at the same time?
Yes, it is possible to attach them at the same time. Unfortunately, the quality of the image on the monitor connected through VGA is worse than the image on the monitor connected through HDMI. HDMI offers better image quality.
Q. Can I connect 2 monitors with VGA?
Yes, it is possible to have dual monitors with one VGA port. However, you will require video interfaces such as Display Port, HDMI, DVI, or VGA. If the computer just has one VGA port consider either replacing the video card with one that allows support of 2 VGA's or use a VGA splitter with a USB.
Q. Does VGA transmit digital video?
Yes, VGA transmits digital videos from a source like a computer to a display device like a monitor, TV, or projector.  Unfortunately, VGA doesn't support audio.
While the need and use of VGA cables and ports on electronics continue to decline steadily, more and more devices are adopting HDMI ports and related cables for their functionality. A couple of reasons have been pegged to this shift in preference. Among other reasons, HDMI's superior image quality and support for audiovisual transmission have both been identified as probable factors driving the preference shift. That aside, HDMIs also offer a much more integrated experience when compared to VGA ports, cables, and related devices. In that regard, if you're shopping for a new monitor, HDTV, or maybe a gaming console, we strongly recommend choosing one with an HDMI port for the best experience.