The motherboard is a computer's main printed circuit board onto which all hardware and peripheral components attach in order to function.
What is a Motherboard?
The motherboard, also called a logic board in some devices, is the main circuit board of a computer onto which all the hardware components attach. Besides securing the PC components in place, the motherboard also distributes power and enhances communication among the electronics, thus ensuring the smooth running of your computer.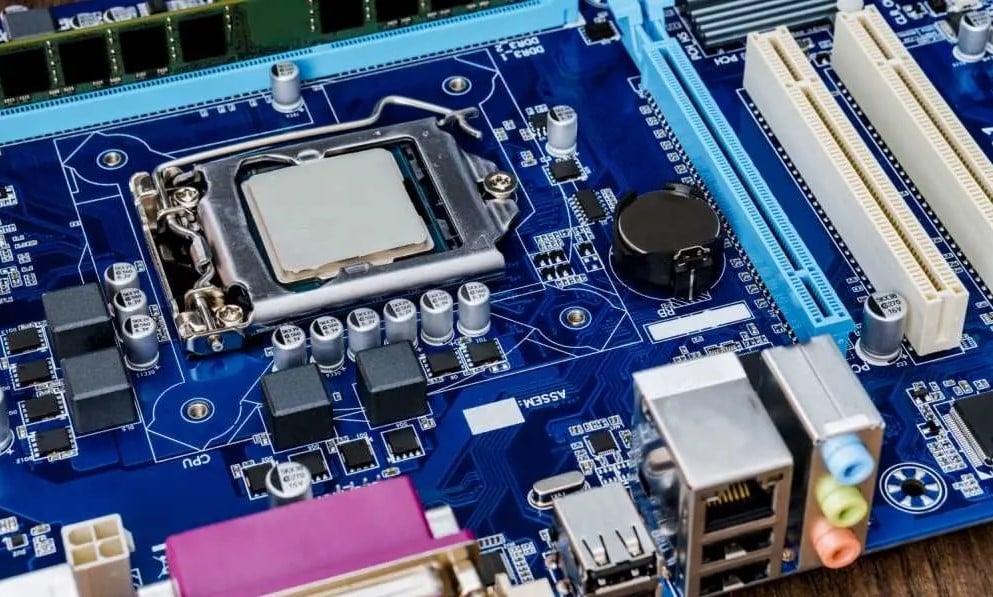 The motherboard ensures connectivity between the CPU, the RAM, hard drive (SSD or HDD), video card, sound cards, optical drives, ports, and expansion cards. So critical is the mainboard to your PC that without it, the computer won't function. Similarly, when it's on the fritz, your PC will show serious signs of system malfunction.
---
How to Check My Motherboard's Model Number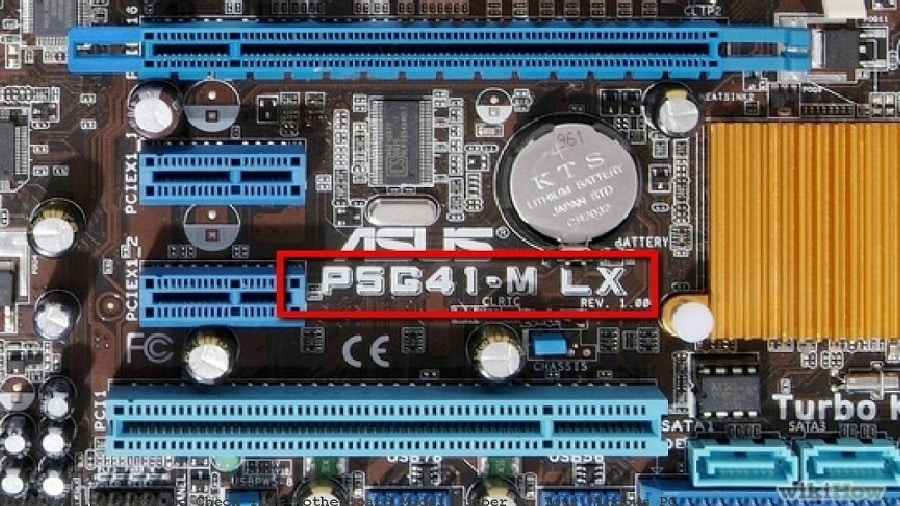 Knowing how to check the model number of a PC's motherboard finds use when you want to upgrade some components or maybe replace the entire baseboard. The model number makes it a lot easier to obtain compatible replacements. Besides component upgrades, you can also use this number to get your computer fixed remotely.
In such a case, the remote technician will just request the machine's model number, and then he or she will figure out or recommend the best way to fix the problem on your PC. For a detailed description of how to check your motherboard's model, read this article on What Motherboard do I Have?
---
Motherboard Components
Motherboards have a wide range of components, all of which work together to keep your PC running smoothly. While motherboard models vary with the PC brand, the actual components are almost the same.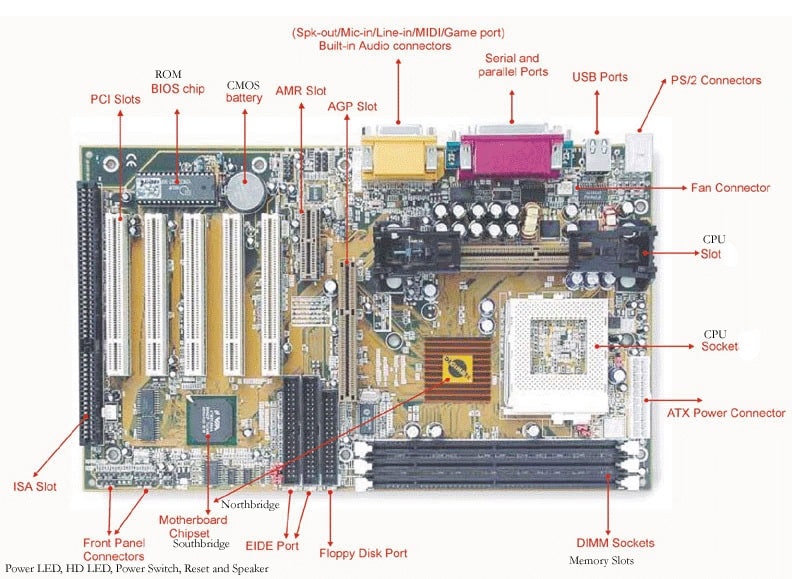 However, it's worth noting that some motherboards have expansion slots that allow for the attachment of other components, which further enhance the functionality of the computer. Be that as it may, here are some components found on the ASUS P6T Deluxe V2 motherboard:
CPU Socket
Also called the processor or mini-processor, the CPU is responsible for executing program files by performing mathematical and logical calculations.
The Northbridge
This chipset is tasked with the processing of high-speed electrical signals from the CPU, RAM, AGP, and PCI Express while also communicating with Southbridge.
The Southbridge
Another chip is tasked with the processing of low-speed electrical signals and relays the same to the CPU via the Northbridge. The name is associated with its location to the south of the PCI bus. The integrated hardware includes a network card, and a sound card, and a couple of other low-speed peripherals.
Memory Slot
Also referred to as a RAM slot or memory socket. The memory slot allows the RAM (PC memory) to be embedded onto the computer's motherboard. The majority of the motherboards have between 2 and 4 memory slots, and that determines the type of RAM used.
PCIe Slot
Links the motherboard to the sound card, network card, graphics card, and other critical components to provide key PC functionalities.
PCIe Express Expansion Slot
Provides a connection point for a network card, video card, sound card, SCSI, among other PC hardware components.
Jumper Cable
Conveys power to the power switch cable, hard disk indicator light, loudspeaker cable, among other connector cables.
System Panel Connector
Responsible for controlling the PC's power button, reset button, and LEDs. The system panel connector is also referred to as the system panel header, system panel connector, panel, or front panel connector.
24-Pin Power Delivery Port
An extension of the original 20-pin power supply connector. The 24-pin power delivery port conveys power to the motherboard and its components. The 9th pin powers the entire motherboard.
The 8-Pin Power Delivery Port
Also called a 4+4 pin auxiliary connector and it provides additional power to the CPU.
Rear Panel Connection Port
Provides a connection point for peripherals such as speakers, monitor, keyboard, and mouse.
USB Connection Slot
Used to connect USB devices such as a mouse, USB flash drive, keyboard, among others peripherals, to the motherboard.
Front Panel Audio Connection Pin
Provides a connection point for the front panel audio header for your headphone or microphone.
Jack SATA Connection Slot
Provides an interface for connecting a host bus adapter to your mass storage devices such as SATA hard drive or an optical drive such as CD-ROM.
IDE Connector Socket
The Integrated Drive Electronics (IDE) is an interface that links the motherboard to storage drives such as hard drives, CD-ROM, and DVD drives. IDE is often referred to as ATA or PATA.
Floppy Drive Connection Slot
Also referred to as floppy channel or FDD header, the floppy drive connection slot links the floppy drive to the PC's motherboard.
---
Types of Motherboards
Motherboards are classified on the basis of their physical size and shape specifications (form factor), chipset, and type of processor sockets. For more information on the specific types of motherboards, check out this article.
---
Mainboard Maintenance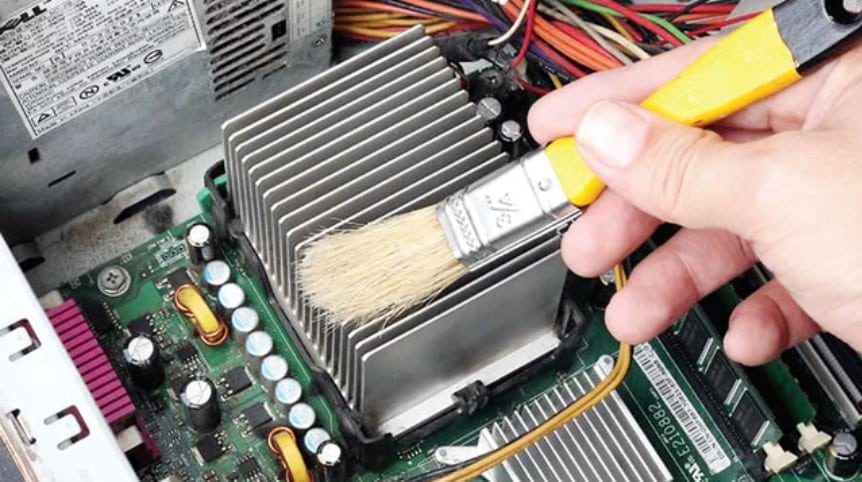 Just like any other electronic component or gadget, your PC's motherboard needs to be maintained to keep your PC working at its optimum. Here are some tips you may want to implement to keep your motherboard in perfect shape:
Brush off the dust: it's advisable that you get your PC's motherboard cleaned of any dust once a month or after every 2 months. Check through to ensure all the components, including the fan, are brushed clean of any dirt or grim.
Avoid chassis collisions and drops: sudden shocks following knocks, collisions, or drops will damage your motherboard.
Carefully remove detachable components so as to clean the copper connectors. Remember to reattach them after the cleanup.
In very humid surroundings, you might want to apply some desiccant on the chassis to prevent motherboard short-circuiting, which could potentially damage your PC.
Confirm that your CMOS battery is still working: that coin-like battery on your motherboard may be drained after years of use. That may lead to inaccurate PC date and other related system malfunctions.
Ensure the fans are working: Dysfunctional fans will cause the motherboard to overheat, thus damaging crucial components and potentially putting your PC on the fritz.
---
Major Motherboard Manufacturers
The global motherboard market is growing so fast, fierce and competitive. Even so, some big names continue to dominate the scene. Here are some of the best major manufacturers of motherboards:
ASUS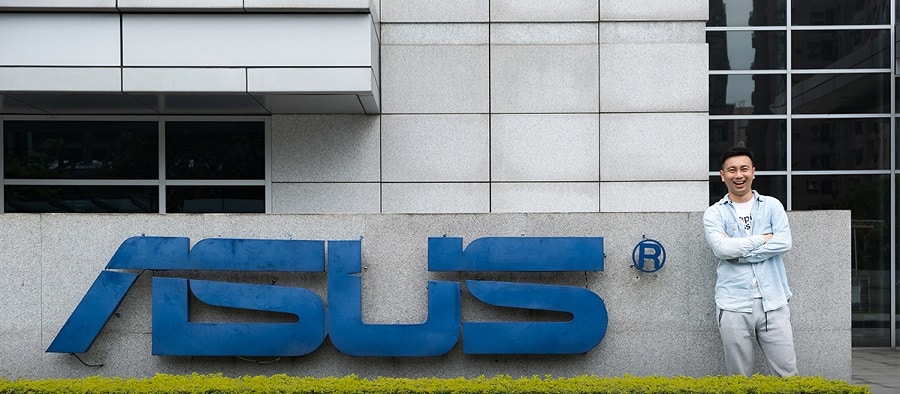 Asus is a multinational computer and phone electronics company from Taiwan. And when it comes to manufacturing high-performance motherboards for either gaming or for your personal computer, no one built them better than Asus.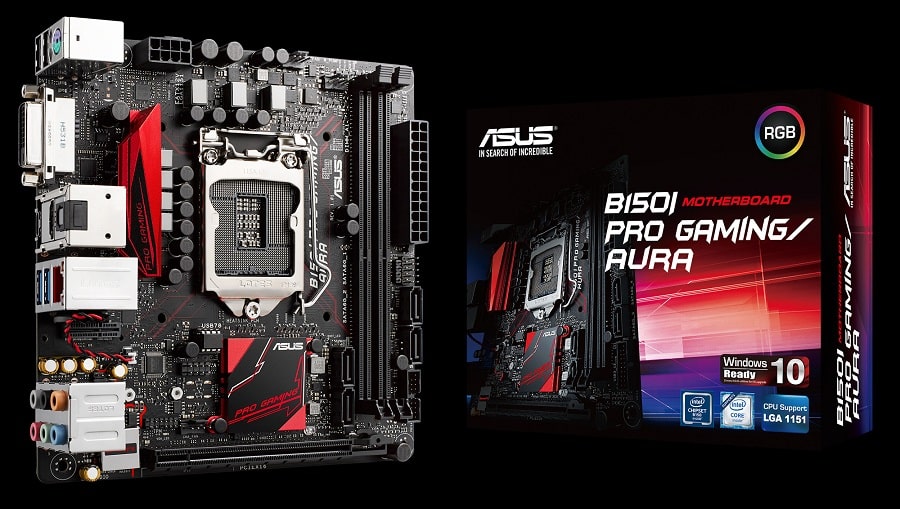 Features of Asus Motherboards
Overclocking ability: Staggering
Target users: gamers and other high-end users
Thermal solution: Excellent
Motherboard series: Republic of Gamers (ROG), TUF Gaming, Prime, and ProArt series.
Build quality: Superb
Onboard Thunderbolt video: supported
---
Micro-Star International (MSI)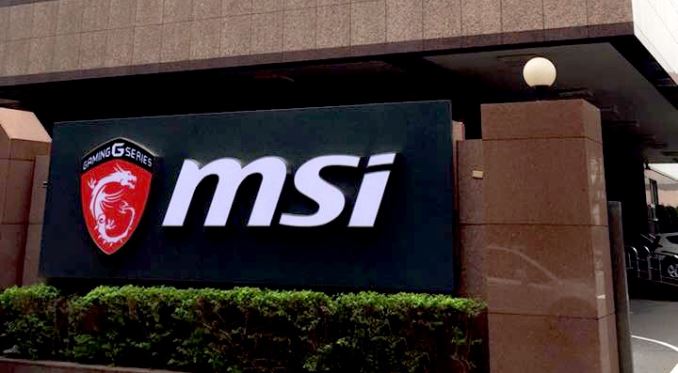 Micro-Star International is a Taiwanese electronics company that manufactures a range of electronics, including motherboards. Besides covering all budget levels, MSI boards also pack some very awesome features that easily match the most popular high-performance rig designs. Their high-end varieties are not only affordable but also performant.
Features of MSI Motherboards
Overclocking ability: excellent
Target users: middle-end users
Pricing: flexible
Build quality: Excellent
Motherboard series: MEG, MPG, MAG, and PRO series
Others: pre-installed I/O shielding, Nahimic Audio enhancer, and Extended Heatsink
---
Gigabyte Technology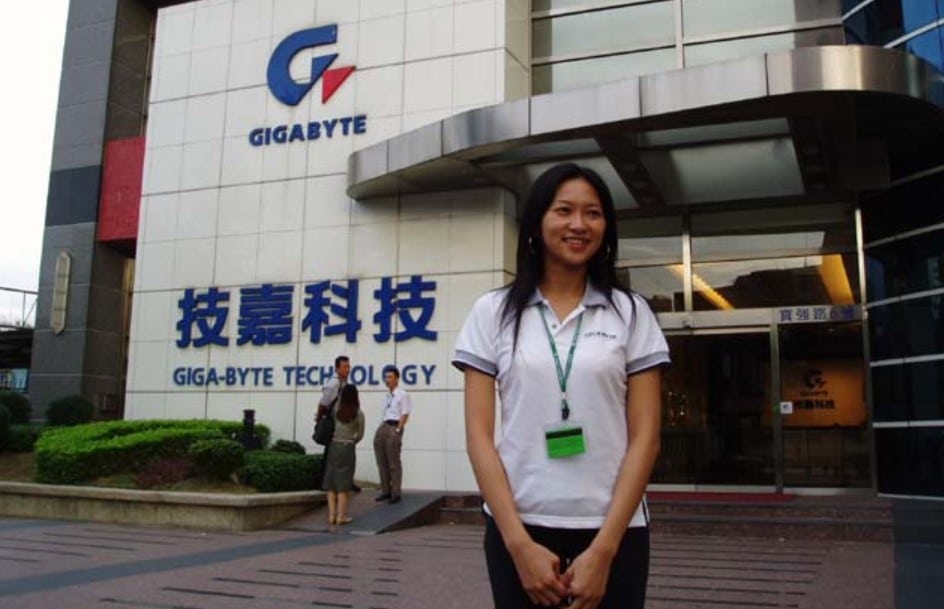 Gigabyte Technology is a Taiwanese company specializing in the manufacture of quality PC electronics. In particular, their motherboards come in different designs, all loaded with the best features that match the needs of middle-end users. And they're incredibly energy efficient, thanks to their low RDS (on) and MOSFETs functionalities that minimize heat dissipation.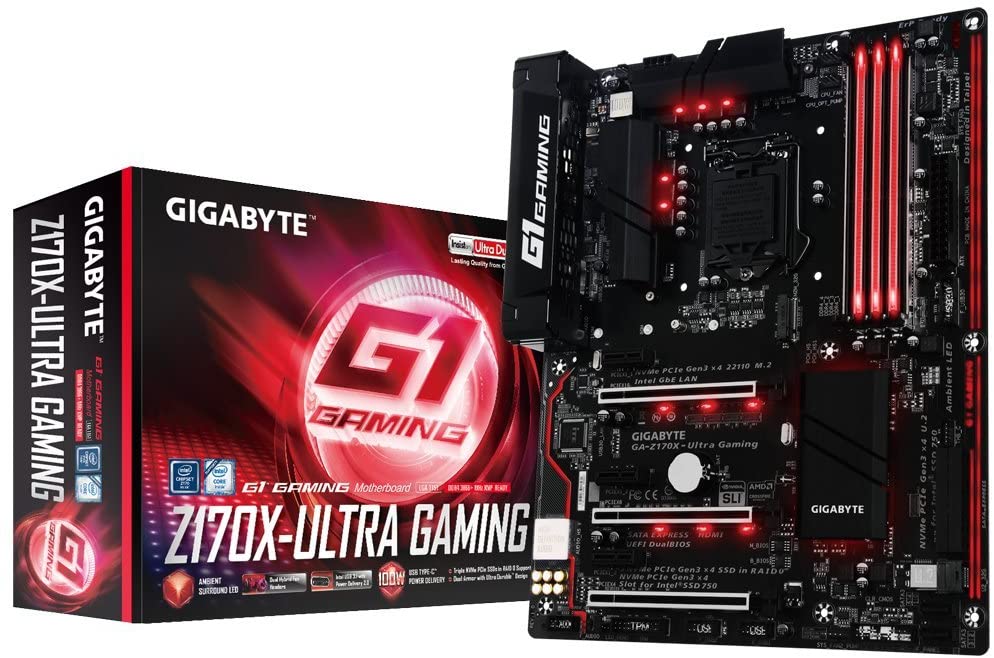 Features of Gigabyte Technology Motherboards
Overclocking ability: Awesome
Target users: middles end gamers
Industry-leading surge protection
Humidity protection glass fabric PC8
High temperature protection: Lower ROS (on) MOSFETs Design
Other well-known motherboard manufacturers include Taiwan's ASRock and America's Intel companies, though they're as popular as the above-mentioned Taiwanese trio. If you're interested in some good quality motherboard for your home, office, or gaming PC, we highly suggest you go with Asus, MSI, or Gigabyte series.