In today's rapidly growing digitized era, everyone requires an efficient tool that helps them in keeping track of their essential tasks. This is why nowadays, people rely on tools such as MS Excel more than ever, but with the perks of going paperless, an issue of data loss arises.
So, what to do? If your essential file becomes a victim of data loss, a recovery tool such as Recoverit can help you recover an Excel file. Awesome, right? In this article, we'll discuss an efficient data recovery tool, Wondershare Recoverit, and how it can be valuable in recovering lost MS Excel file(s) on Mac.
---
Part 1: Why Does My MS Excel Data Lose In My Mac?
First, let's talk about the reasons behind the data loss of your essential MS Excel file(s) on a mac. Many internal and external reasons can be a cause of data loss.
1. Accidental Deletion
Not every time it's a fault of your computer system behind a data loss. Human errors can be behind it as well, such as accidental deletion. Sometimes while getting rid of certain files on your Mac that are not helpful to you anymore, you end up deleting important Excel files as well. This happens when you're not paying enough attention, which can lead you to make this mistake unknowingly.
2. Damaged Hard Drive
Undoubtedly, a hard drive is the essential part of a Mac, as it stores all your primary data. An ill-managed or damaged hard drive can erase your data from your MacBook. The hard drive is a vulnerable part of your computer which can easily get damaged in case of water damage, heavy drop, power failure, or overheating.
3. Wrong Formatting of an External Drive
Another reason that can lead to data loss is wrongly formatting an external drive. While making a time machine backup on your Mac, ensure the format is set to macOS Extended Drive to avoid errors. If the format is not set as per the requirement, you'll become a victim of data loss. This reason might not seem like a big deal, but it definitely can erase your essential data.
4. Virus Corruption
Viruses have a profound quality to damage your data severely. Various deathly viruses can even be a cause of data loss which makes the situation panicky for any user. With the advancement of technology, these viruses have got powerful and infectious. These vicious viruses usually enter your computer system via the internet and corrupt your essential files and other data without warning.
---
Part 2: How to Recover Your Microsoft Excel Files Using Wondershare Recoverit – An Overview
Now that we've highlighted some of the significant reasons for data loss of MS Excel files, let's introduce you to the popularly known data recovery tool, Wondershare Recoverit for Mac. This tool allows you to recover your Excel file without modifying the content. The stylish and innovative interface makes it easy to navigate, plus the highly qualified processor works like a charm in data recovery. It supports various versions of Excel, such as 2003, 2007, 2010, 2013, 2016, 2019, 2021, and 365, for the ease of its users.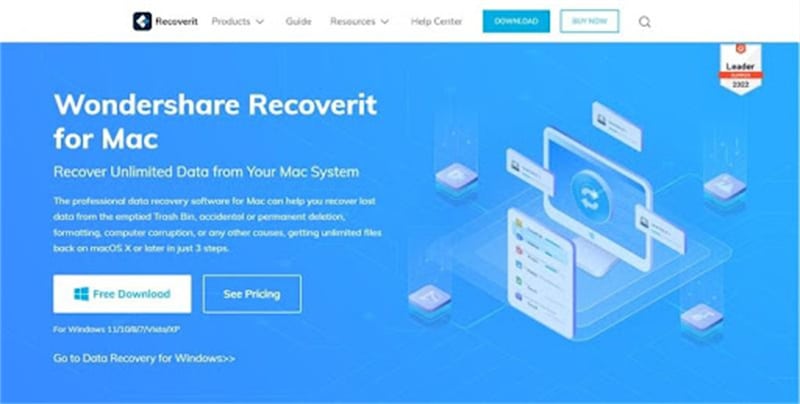 As more people are relying on tools like Excel, there comes a need for a reliable data recovery tool. With the promising 95% recovery rate of your Excel file(s) on your Mac, Recoverit eliminates causes of data loss, including deadly virus attacks and system crashing. Now only in a matter of time and a few steps can you retrieve your essential Excel files without any risk. Aside from a smooth processor, Recoverit offers a fantastic feature of preview by which you can review the recovered data before saving it on your Mac.
Now that you know plenty much about Wondershare Recoverit. Let's share a mini tutorial on recovering MS Excel file(s) with this tool on your Mac:
Step 1: Launch Wondershare Recoverit for Mac
Firstly, you need to download Wondershare Recoverit and launch it on your Mac. From the interface, the default setup will display "Hard Drives and Locations" on the left sidebar; click on it. Then select the Mac hard disk option under the "Hard Disk Drives" tab or the Desktop/Folder under the "Quick Access" section. Now press the "Start" button to start scanning your MacBook.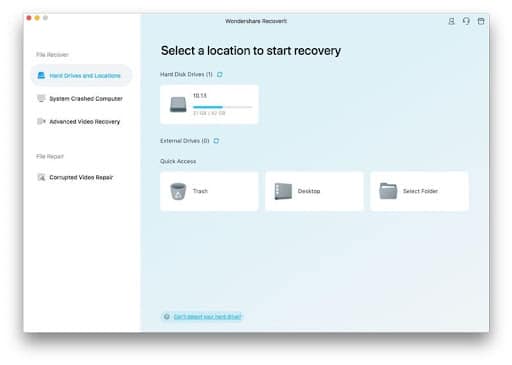 Step 2: Scan the Targeted Location
Now Recoverit for Mac will run the deep scan on your selected location. It might take a while if large-sized data is present. You can see the live scanning process from the display to ensure it's working correctly.
Step 3: Preview the Recovered MS Excel File(s) and Save
Once the scanning process is complete, Recoverit provides its users with a valuable preview feature. With the preview feature, you can preview the recovered MS Excel file(s) to ensure that the data recovery process has succeeded.
To preview, click on the "Preview" button beside the file you want to preview. After previewing, you can retrieve your desired file(s) by selecting them and then clicking on the "Recover" button to retrieve them back on your MacBook.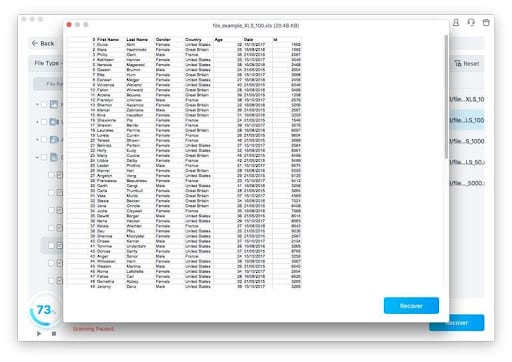 ---
Part 3: (Important) Tips to Protect Your MacBook from Data Loss
How can you avoid the data loss situation in the future? For that, we're going to give you some valuable tips on how you can protect your MacBook from panicking scenarios such as data loss:
1. Always Keep a Backup
Though it seems like a cliche but keeping a backup of your MacBook data is always a good thing to do. What if you face a data loss of your essential files and don't have a backup? This is why it's highly suggested to keep a backup of your data on some external device.
2. Advanced Anti-Virus
Everyone knows the deadly viruses roaming the web, which can severely destroy your data. To save yourself from these viruses, you must have a trustworthy antivirus installed on your MacBook. An advanced anti-virus works like a frontline defender in front of the viruses.
3. Updated Equipment
Outdated and rusty equipment is another primary reason for data loss. A hard drive is an essential tool of a computer that needs to remain up to date for the safety of data. This is why ensure the maintenance of the sensitive equipment of your MacBook, or else you can quickly become a victim of data loss.
---
Conclusion
Wondershare Recoverit for Mac is an impressive data recovery tool with promising advanced features. An issue of data loss has become severe, which is why Recoverit offers a data recovery process with an outstanding 95% of success rate. With the aesthetic design and simple interface, it's easy to navigate, even for an amateur user. So now, retrieve your MS Excel files on your MacBook without any privacy risk.