By now, it should be obvious that in 2023, there are many choices available for organizing and altering your photographs.
Free photo editors and free online photo retouchers do exist, but commercial software offers far more. Subscription plans often guarantee stability and useful upgrades and feature improvements, despite the temptation of one-time cost choices.
Whatever software, tool, or plugin you choose to employ, keep in mind that you may often utilize it in conjunction with your current programs without disrupting workflows.
---
Part 1. What Are Photo Retouchers?
Photo retouchers are professional tools that make alterations to photographs and they adjust color tones, remove or add objects, or change the composition of an image. Photo retouching is done on photographs with software such as HitPaw Online Photo Retoucher. They are used for a wide range of applications in the photography industry.
The software designed specifically for photo retouching is sometimes called retoucher, photoshop, and image editing software. Photo retouching is often used to correct minor technical issues such as color balance, exposure, and contrast in order to produce the best image possible from a raw photograph. It may also be used on photographs with special effects, such as adding shadows and textures.
---
Part 2. Top 10 Online Photo Retouchers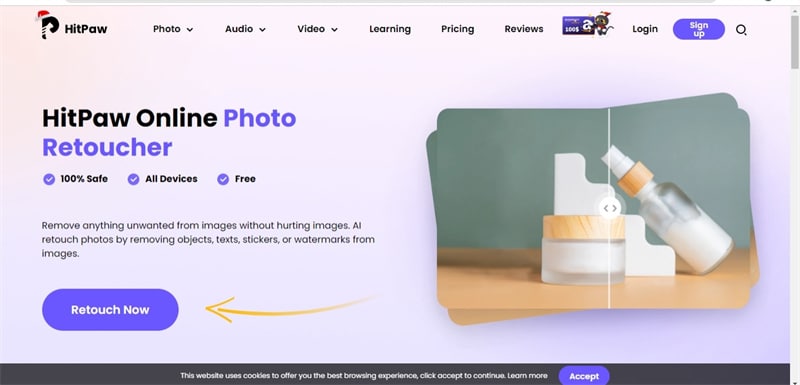 HitPaw Online Photo Retoucher is the simplest way to remove unwanted objects from your photos with just one click. Get rid of those awkward moments, ugly stickers, texts, and watermarks in a matter of seconds! The software is compatible with both Windows and Mac computers. HitPaw's AI-powered photo retoucher is the easiest way to remove anything you don't want in your photographs without any significant impact on the quality of the image. It's automatic and takes a few seconds.
Unlike other online photo editors that might make matters worse, HitPaw's AI is 100% safe and guaranteed not to harm the quality of your photos. We also boast a user-friendly interface that's easy to use even for the most novice of users.
Don't waste time editing ugly photos by hand – let our AI do it for you! Fast and affordable photo retouching services for all your needs at the click of a button.
Pros
HitPaw gives you a 3-minute result with just one click!
Endless possibilities for making photos perfect
Remove watermarks from images
The AI-powered algorithm scans every inch of the photo to automatically remove objects, texts, stickers, or watermarks from images
100% safe and easy
Fast and accurate
An affordable alternative to hiring photo retoucher
User-friendly interface
Advanced options yet beginners-friendly
3 Steps for Photo Retouching Using HitPaw Online Photo Retoucher
Step 1: Insert A Photograph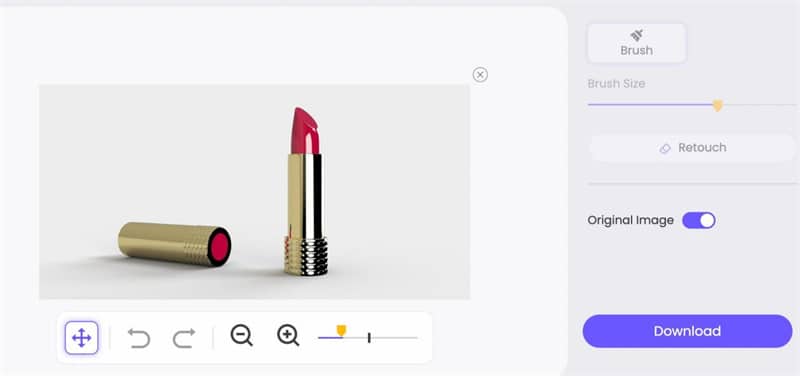 The image you wish to edit should be uploaded.
Step 2: Choose a topic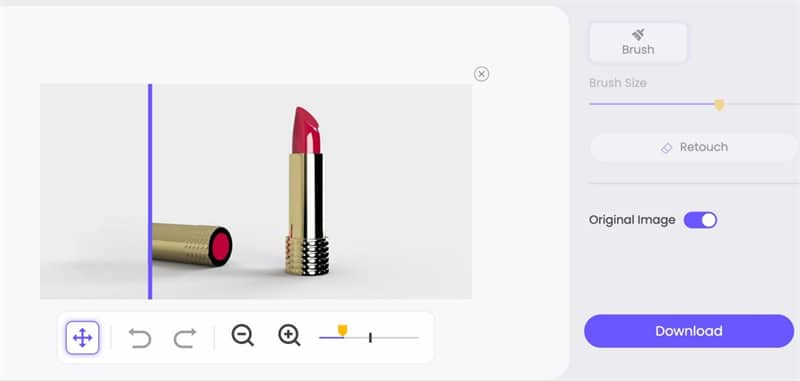 Use a brush to precisely pick and delete any undesirable subjects.
Alt: Online Photo Retouchers
Step 3: Save and Download
To download the picture, click Download.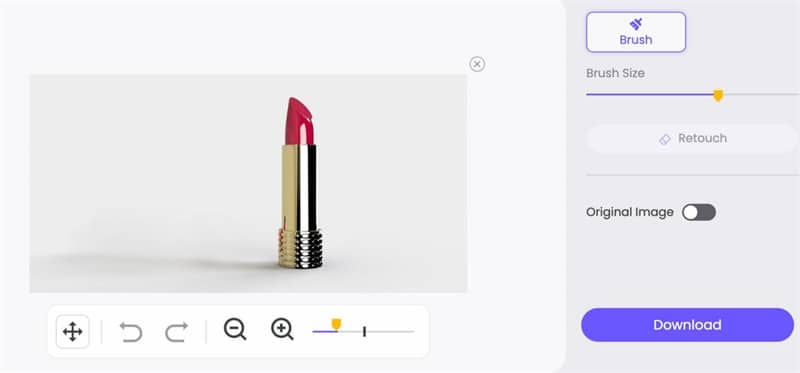 Try Online HitPaw Retoucher For FREE
2. Photo room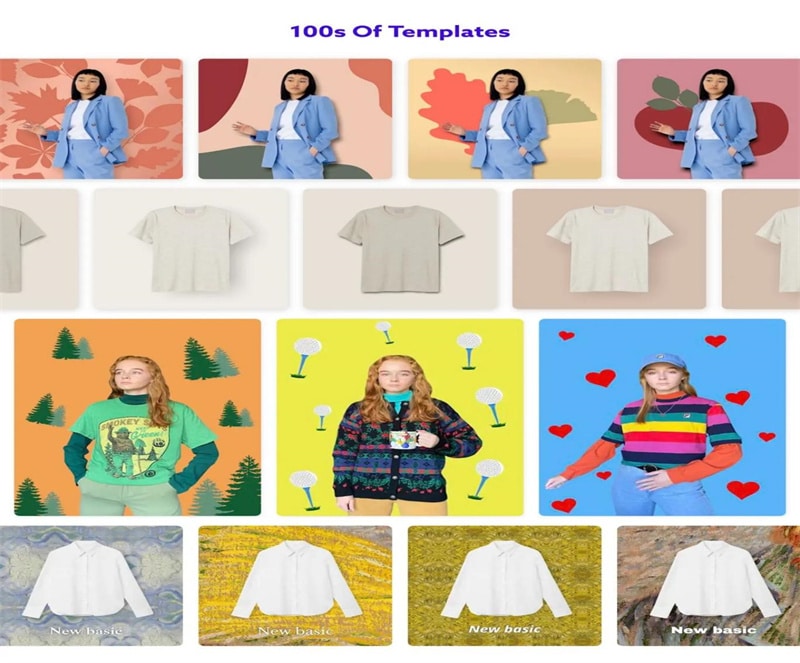 With a few touches, you can quickly and easily produce, edit, and organize flawless product photographs. To get their listings live 3x faster and increase sales, thousands of online retailers and creators opt for PhotoRoom.
Price
After your seven-day trial period, monthly or yearly subscription fees for PhotoRoom Pro are charged to your iTunes Account. The cost of a Pro subscription for customers who want to upgrade in order to use the function is $9.49 per month or $46.99 per year.
Pros
Expert photo retoucher for sites like Shopify, Poshmark, Amazon, and Depop.
Precisely refine edges of images
Eliminate imperfection and undesired things.
Quickly export photographs for use on any social media or online store.
Has Smart Templates to receive recommendations that best meet your needs.
Cons
3. Picwish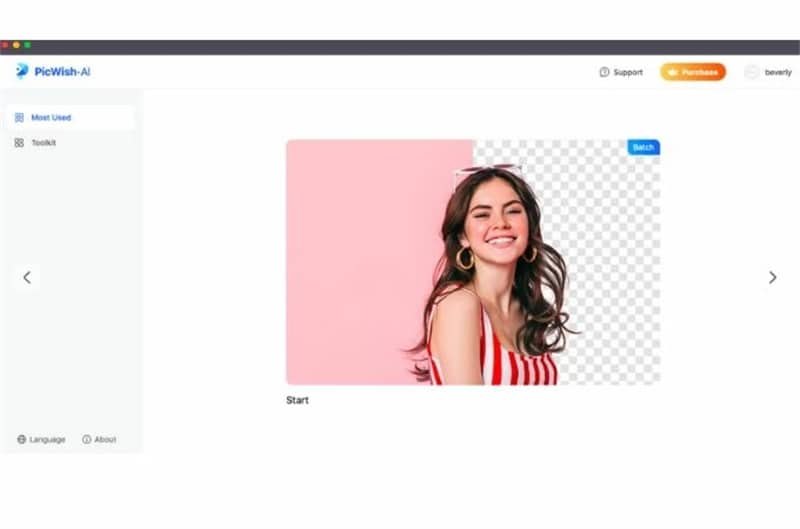 The online photo retouching application PicWish works its magic. One of the greatest internet retouchers must be using it. You will be awed by the superb AI technology in use, which allows you to instantly and completely eliminate an image's backdrop with only one click. In my situation, this instrument does difficult tasks, like cutting hair, with incredibly clean and precise edges.
Price
Basic plan has 100 credits and costs $39 with $0.39/credit.
Other options are as follows.
300 credits $79 $0.26/credit
500 credits $99 $0.20/credit
1000 credits $189 $0.19/credit
3000 credits $499 $0.17/credit
Pros
Positive company mission
Great customer support
Good visual design
Easy to use
Cost-effective
Strong feature set
Clear retouching options for new users
Cons  
There are limitations to editing an old photo.
It is time consuming to retouch photos here.
4. Luminar Neo  
Luminar Neo is an additional macOS-compatible image editor. With this tool, you may modify images by cropping, transforming, cloning, erasing, and stamping without sacrificing the quality of the result. Additionally, this AI-powered tool automatically applies Presets to improve your images.
Price
Starts at $14.95/month
Pros
More than 60 filters are present.
The ability to browse, organize, and sort photos using the built-in library.
Strong AI
Cons
Overpriced
Not for professional use
5. Cleanup.pictures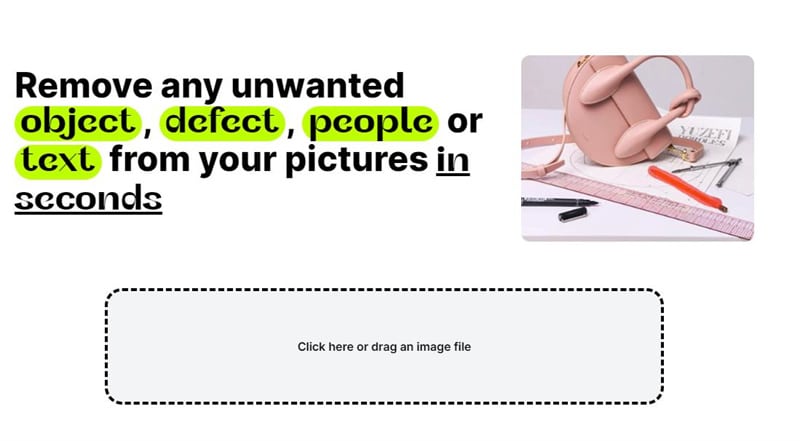 The artificial intelligence-based advanced editing and retouching tool Cleanup.picture is far superior to conventional clone stamp tools. While retouching like Adobe Photoshop Fix requires a backdrop reference, our AI can accurately infer what was hidden beneath undesired text, people, and objects with just a few clicks.
Price  
Unless you require higher quality and processing high-resolution photos, the image retouching is free. The cost is then $5 per month ($4 per month) or $48 per year.
Pros
Quick Photo Import options
One of the key reasons for the popularity of this web tool is its simplicity of use.
Removal of items in a variety of situations.
Stamps and watermarks are simple to Remove.
Outstanding final results and amazing retouching filters
Cons
6. Inpaint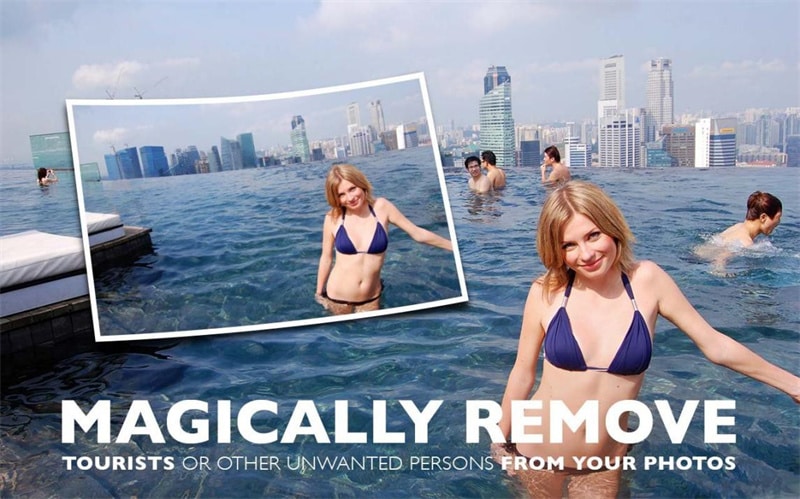 Some of the older pictures we have are still significant to us since they still have worth and inspire good feelings. Unfortunately, vintage film photography will always leave behind scratches, stains, and tears, especially when discussing antique photos.
Thankfully, Inpaint makes it simple to edit a digital duplicate of an old photograph that has been scanned in. With little work on your part, this little but mighty assistant will eliminate all those annoying flaws. Just pick out the troublesome areas and make the necessary adjustments!
Price
Users of Windows and Mac operating systems can download and install Inpaint with lifetime updates for a one-time cost of $19.99. The cost of Batch Inpaint is the same, and it works on both Windows and Mac computers.
Pros
The kind of items you can remove from your images don't appear to have any restrictions.
It works wonders to remove skin and eye imperfections. It works well for eliminating watermarks, logos, and even time stamps from photographs.
Highly unique and accurate retouching solution
Online retoucher available
Cons
It's a one-trick program that allows only photo retouching and object removal
7. Cutout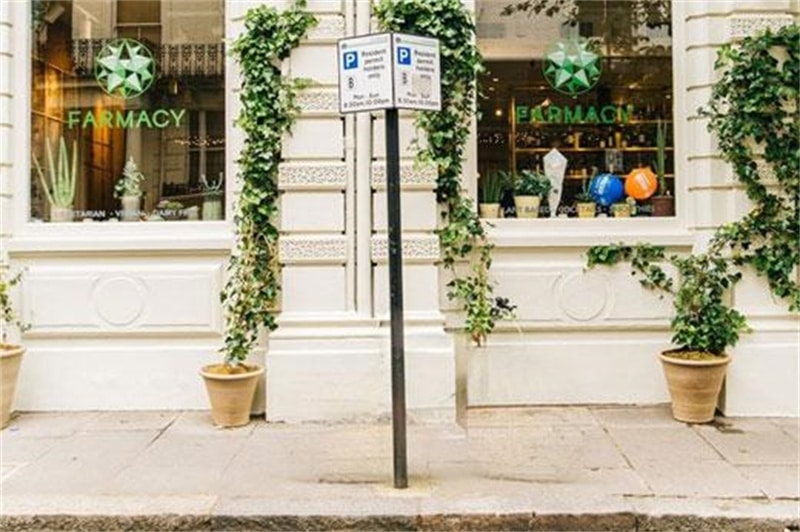 It automatically removes undesired objects, texts, and symbols as well as repairs and restores the image to perfection as if these items had never been present. This excellent image retoucher is accessible online.
Price
You will receive one credit, or one edit, if you select the Free plan. The basic Subscription Plan costs $5 a month and comes with 40 credits.
Pros
Straightforward UI
Web-based photo upload and retouching options
AI-based cut out features
Batch processing
Agile
8. Fotor  
On our ranking of the top online photo retouching tools, Fotor has also taken the top spot. Beginners will benefit from its simple interface. This strong app's 1-tap Enhance feature will rapidly improve your image. On the other hand, you may also edit your photos manually utilizing the rotate, flip, and clone tools in its toolbox.
Price
Starts at $8.99/month which is affordable for most users.
Pros
Several filters, retouching options and effects.
For adjusting exposure, brightness, contrast, white balance, saturation, and sharpness, there is an easy-to-use intensity slider.
Users can simultaneously resize images, add effects, and border numerous photos.
Cons
Free version comes with ads
9. Snapedit  
Price
SnapEdit is currently entirely FREE, allows you to utilize images of any resolution or size, and permits HD downloads.
Pros
Eliminate acne, wrinkles on the Face
Easy to use photo retouching option for beginners
Fast and interesting
Support both web and mobile app
Cons
Batch processing feature absent
Not for professional usage
10. Picsart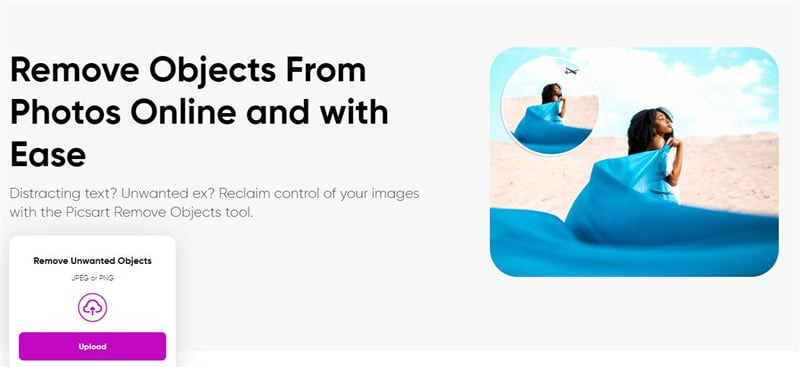 Similar to more sophisticated programmes like Photoshop, the Picsart photo retoucher software provides a variety of crop tools, background removal choices, the ability to add text, and numerous image layers. Users of PicsArt are able to edit images as well as make collages and social media banners.
Price  
Pricing for Picsart's 2 editions ranges from $55.99 to $74.98. Picsart also offers a free trial.
Pros  
Availability of batch editing features
An online photo retoucher beyond basic filters with options for layering and remixing media together.
Has trending filters for pictures and popular photo effects
Has a Background Eraser to erase and replace backgrounds.
User-friendly interface
Cons
Free version comes with advertisements
---
Conclusion
Everyone doesn't have the ability to do photo retouching, right? Despite the fact that we frequently modify our selfies and smartphone photos, professional picture editing is a whole other experience. The results of your photo editing will be very different from those of a professional online photo retoucher if you are a layperson with no experience in the field.
However, if you are a layperson and lack the talent for image retouching, it is not a major concern. You may certainly get your photography touched up using an internet online retouchers/photo retouching programs like HitPaw Online Photo Retouchers.