Photo restoration can be difficult, but with VanceAI Photo Restorer, casual users or designers can ensure the best vintage image on social media.
Antique photo restoration is a creative image editing approach that fixes damaged old photos over time. Given that everyone has some old family photos that have been damaged and that many photographers and designers are interested in historical photography that also mimics the past times, photo restoration applications have become extremely trustworthy and sought for.
You can use such programs to repair scratches from old images online and make an image look brand new. You may also just enhance old images, which is useful for older photos that may appear washed out or outdated. As a graphic designer working in print media or blogs, you may then use those old pictures in publications and social media.
With that in mind, we'll take a closer look at VanceAI Photo Restorer, an AI photo restoration tool provided by VanceAI.
---
Part One: Why Should You Use an AI Photo Restorer?
Traditional picture editing software can bring old photos back to life, but an AI-based tool, VanceAI.com, can do the same much more easily. Naturally, most casual users or designers prefer to modify old photographs on social networking sites when they are not asked to do so themselves.
Users simply need to upload photographs and manage a few settings when using apps like VanceAI. The software performs all of the actual photo repair. If you are a graphic designer, photographer, or other professional who works with antique photographs or ancient images on a daily basis, you will undoubtedly need to repair numerous photos at once or in quick succession.
In such circumstances, employing a typical software product such as Photoshop will yield the desired effects but will need a significant amount of time and work.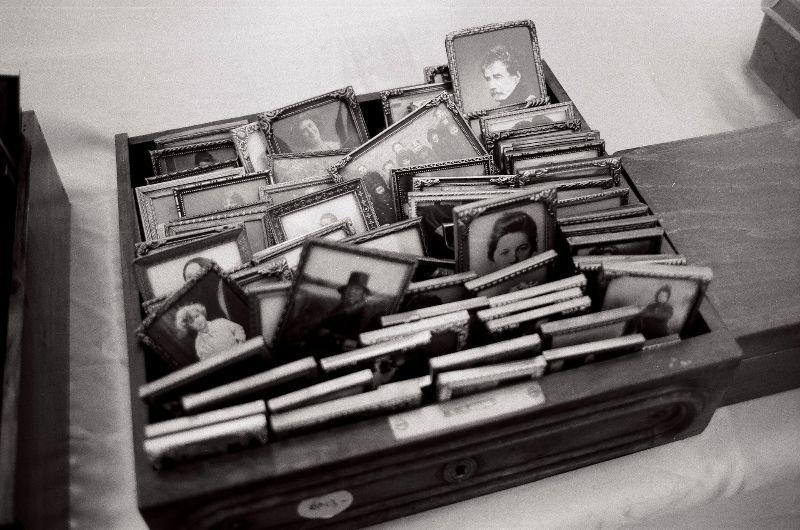 An AI-based tool, on the other hand, will produce excellent outcomes while requiring less time and effort. Furthermore, a few AI-based programs, such as VanceAI, recognize the necessity to give numerous valuable tools in order to remain competitive, and so they do.
VanceAI also features picture enhancers, photo to sketch converters, and other tools that may be used in conjunction with the photo restorer to completely transform your old photography. Overall, an AI picture restoration program like VanceAI will provide casual users or designers with an experience similar to that of a premium software tool while requiring very little from the user.
---
Part 2: How Does VanceAI Photo Restorer Restore Old Photos?
This guide will now walk you through the stages of using VanceAI's AI old photo restoration tool to restore old images online.
Step 1: First, some casual users or designers who wish to restore old images and historical photography on social media platforms can go to the tool's homepage by clicking on the link provided above. Sample recovered images and the Upload Image button can be found here. Use it to access the Workspace.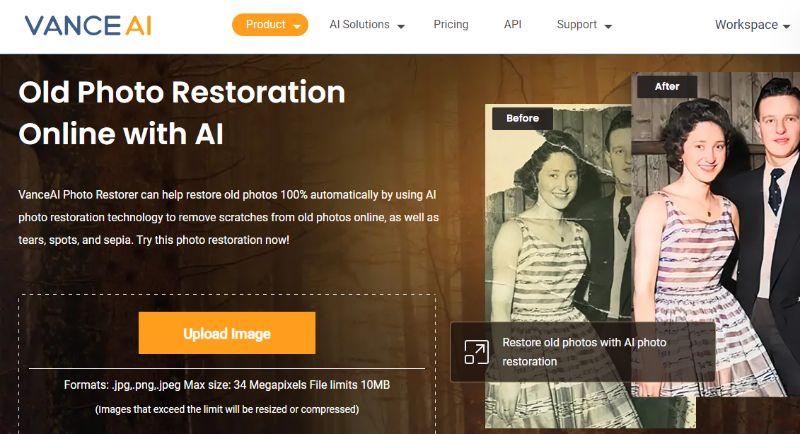 Step 2: You may upload photographs and handle other things using VanceAI Restorer Workspace. You may upload photographs, change settings on the right sidebar, check your subscription and credits, and so on using the upload box. To begin processing the image, click the Start to Process option.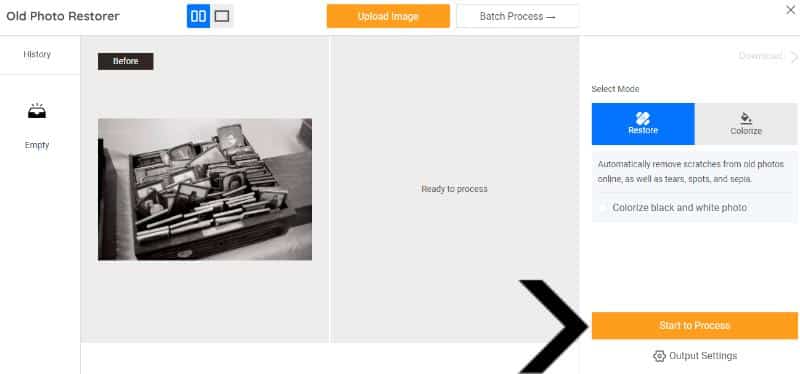 Step 3: When the pop-up appears on the Processed tab, navigate to it and click the Preview icon to examine the before-and-after comparison image. To save the image to your device, click Download Image.

---
Part3: Old Photos Fixed by VanceAI Photo Restorer
Now we'll look at a few photographs restored using the VanceAI Photo Restorer in various ways to learn how vintage image works.
1. Improved Vintage Image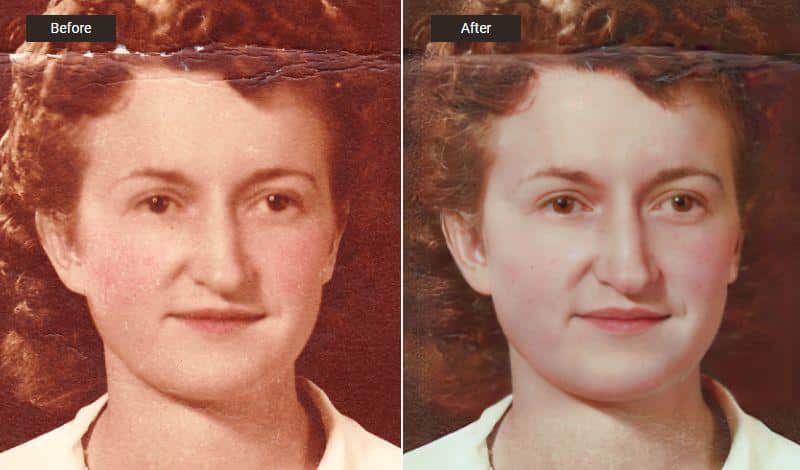 Although the ancient image is not severely damaged, it does have numerous visible imperfections that detract from its genuine quality. The new image is more crisper in clarity after being processed by the VanceAI Photo Restorer.
Clearly, the photo restoration software is amazing for face enhancement. There is an improvement not only in quality, but also in color and fluidity of the image. The new image is clearly more current and can be shared on social media or on stories.
2. Vintage Image Enhanced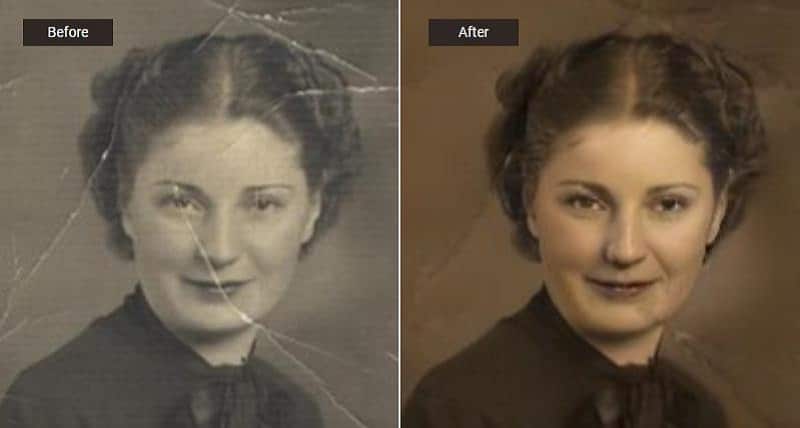 The old photography is mostly colorless and has some edge damage. VanceAI's photo restoration tool resolves both of these concerns. VanceAI Photo Restorer goes above and beyond most other online AI-based photo restorers by giving users the ability to colorize the original image while it is being repaired.
As the photographs show, there is a good reason to colorize an ancient image. The colors are accurate and complement the aesthetic.
3. Old Portrait Repaired
In this situation, there are significant differences in the hue and shading of the vintage image and the current one. However, the photo restoration software ensures that the damage marks are mostly gone. The previous image had white blemishes at the top, whereas they are mostly gone in the new image.
---
Conclusion
With VanceAI Photo Restorer, online photo restoration is both gratifying and simple. Apart from being simple to use on social media platforms for casual users or designers, it is also a type of app that is gentle on your computer system or network. The web application's technological performance is fairly smooth, with few problems or malfunctions that would interfere with your experience with it.
While better systems benefit image processing tools, it is not as obvious as it is in desktop software applications such as Photoshop or Luminar. When it comes to pricing, VanceAI is also available here. Start your premium subscription for as little as $5.94 per month for the yearly plan, which includes a generous 100 image credits per month as well as new features.
If not, you can always start with the free account granted to all registered users, which includes three image credits each month.
---
VanceAI's Additional Options
VanceAI is a website that is always being updated with new features and picture altering capabilities. As of today, it has a rather extensive set of tools that people, both casual users and designers, can use to improve their photographs at any moment. As a result, you can also utilize other VanceAI tools that work well with the Photo Restorer.
AI image enhancer from VanceAI can help you boost the quality of your old images. This tool will ensure that image quality is improved without boosting photo resolutions, which is ideal for photography photographs. Aside from that, VanceAI Photo Colorizer can colorize ancient and vintage image in seconds. With this tool, you may entirely transform old family images.
---
Free Alternative to VanceAI
If you don't want to get started with the Photo Restorer tool right away, you can try photorestoration.ai, which is an internet platform backed by VanceAI for free old photo restoration.
This application is also quick and simple to use, making it excellent for absolute beginners in image editing.