With many popular sites implementing heavy access restrictions, web scraping is only getting tougher by the day especially for novice developers. Here's the good news though; free proxy developers have kept pace with the geo-restriction algorithms.
As it is currently, you can use free proxies APIs and free proxies to do more than just scraping data from the web.
If you're a developer looking for a reliable free proxy network to help with web scraping, then worry no more.
In this review, we have put together some of the best free proxies for web scraping. Check them out and choose the ones you feel will get the job done.
---
Best Free Proxy APIs  for Web Scraping
Finding a reliable free proxy network with low latency and impressive speeds can be really hard. It even gets more complicated considering the large number of providers on the web.
Despite the popular belief that free proxies aren't suitable for web scraping, there are a couple of mentions that you definitely need to check out and if possible give a try. Here are some of the best free proxy APIs for web scraping.
---
Highlight: Best for web scraping
Feature: 4 premium plans
Payment plan: Start from $29 monthly for Freelance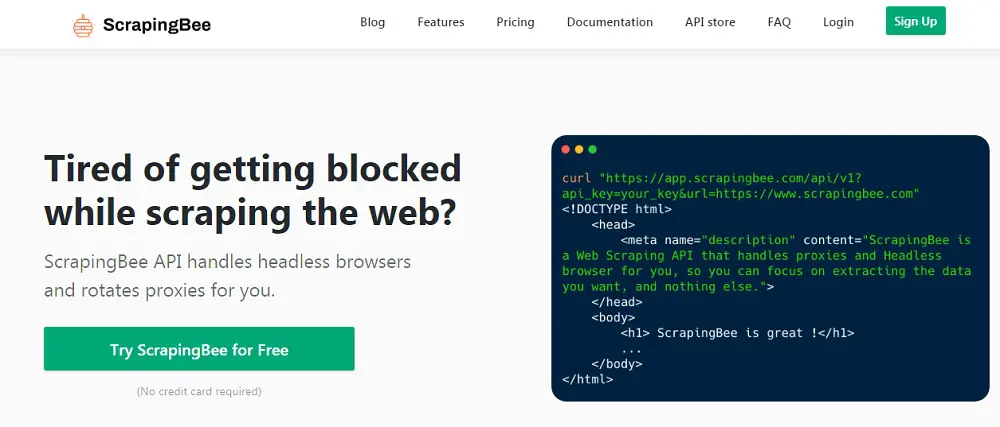 For general web scraping tasks like review extraction, price tracking, and real estate scraping, ScarpingBee is all you need. The platform has a large pool of virgin proxies for convenient scraping of search engine results pages. SEO keyword monitoring and backlink checking without limits have never been easier.
ScarpingBee uses the latest chrome version to manage headless instances thus allowing you to focus more on data extraction. The platform renders JavaScript with a simple parameter allowing you to scrape all types of sites and single-page applications.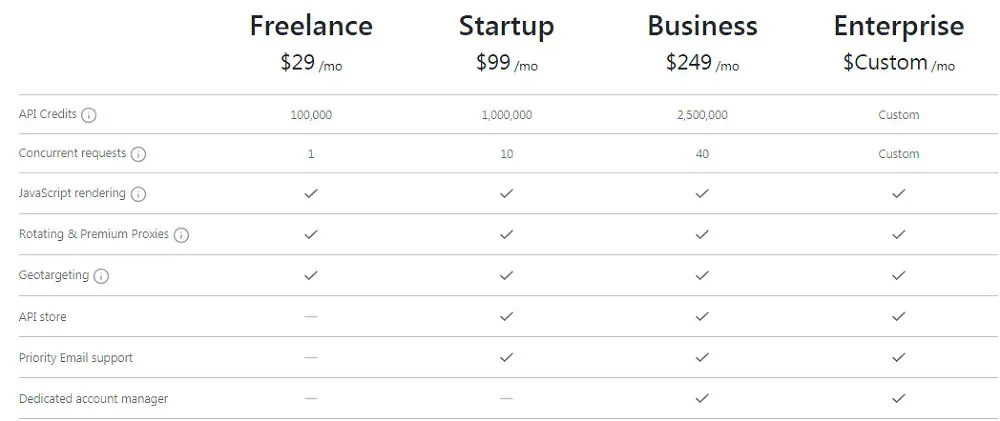 Among other perks, ScrapingBee supports automatic proxy rotation and geo-targeting for convenient access to restricted sites without risking blocks and blacklisting by sites.
The platform provides 4 affordable premium packages including freelance, startup, business, and enterprise. All the plans are priced differently, depending on the supported features.
---
Highlight: Unlimited bandwidth
Feature: 40+ million IPs and 12 countries Geo-targeting
Payment plan: Start from $29 monthly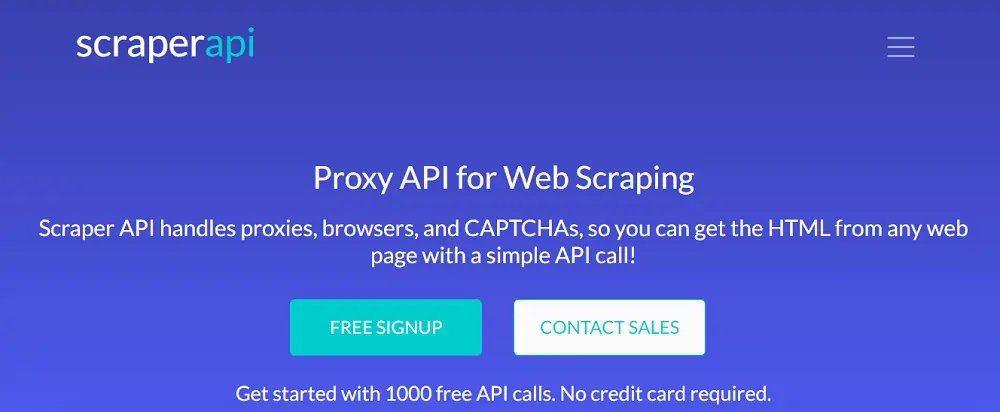 IP blocks and captchas are the banes of automated web scraping. You need a free proxy provider with a large pool of 40M+ IPs and support for automatic retrial of failed requests to overcome such problems. Scraperapi guarantees these and many other powerful features for the best scraping experience.
Among other functions, Scraperapi supports customization of request headers, request types, and IP geo-locations giving the developer absolute control during data scraping. Each of their proxy scraper APIs comes with unlimited bandwidth.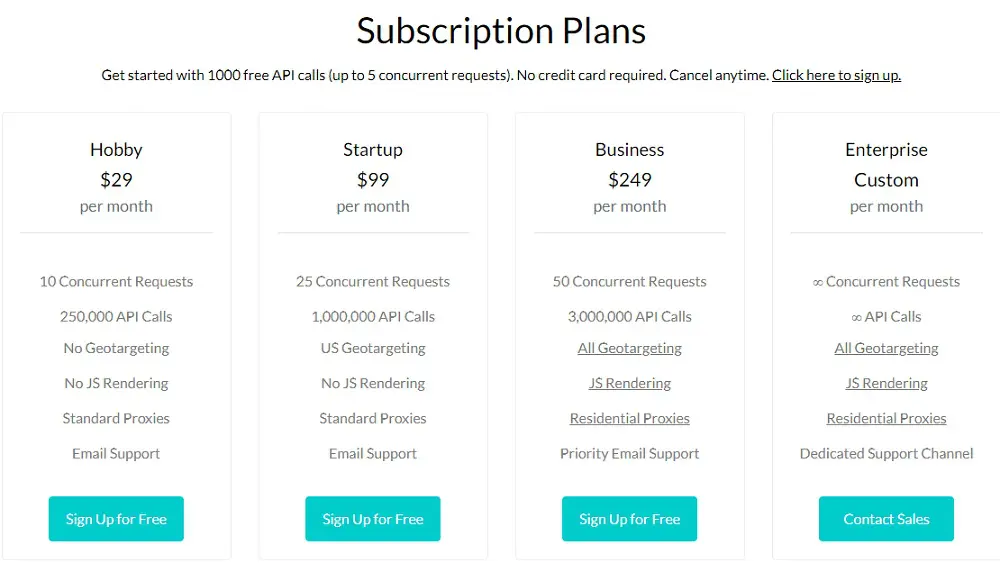 That implies users are charged only for successful server requests. Besides, Scarperapi has the best-in-class reliability and a 99.9% uptime guarantee for uninterrupted data collection.
---
Highlight: Automatic proxy rotation
Feature: Unlimited API request with their premium plans
Payment plan: $12/ month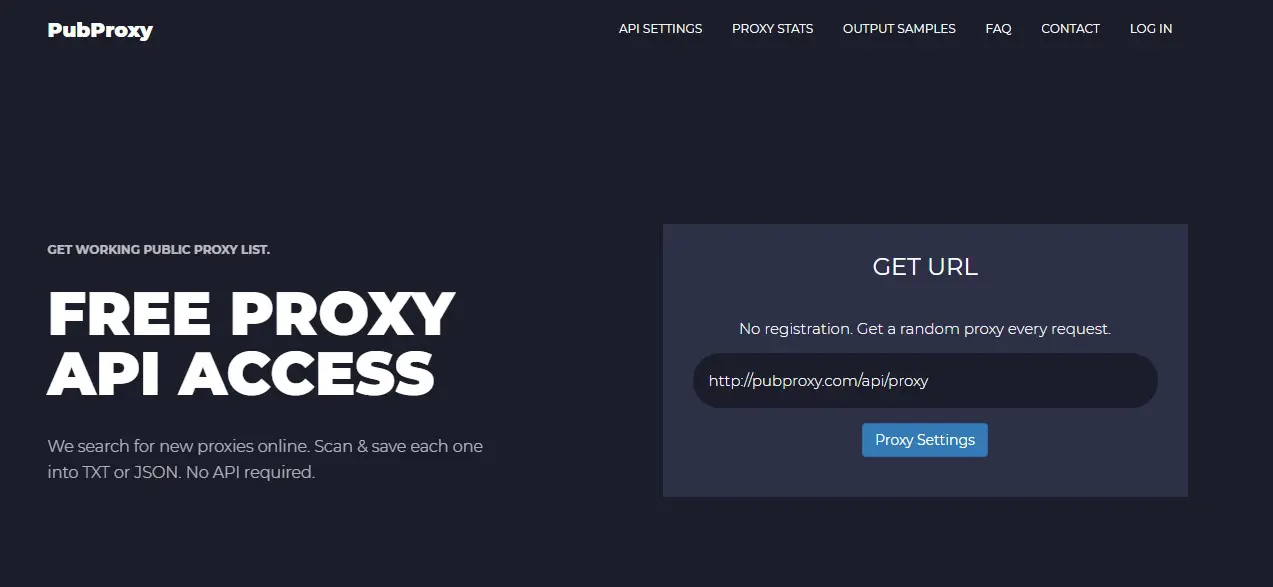 Pubproxy has a large pool of genuine, tested, and working public proxies suitable for web scraping. The platform supports 4 types of proxy protocols including socks4, socks5, Http, and Https.
Furthermore, it also supports 3 levels of anonymity. These include elite, anonymous, and transparent.
Aside from free proxies, they also have premium proxies with limited and unlimited API requests. For the latter option, Pubproxy charges only $12/ month.
Besides the levels of anonymity, their proxies are also sorted by country and city. Meaning, users can easily choose proxies for select locations.
---
Highlight: Hundreds of working US proxies
Feature: Support Http(s), Socks4, and Socks5
Payment plan: Start from $20 monthly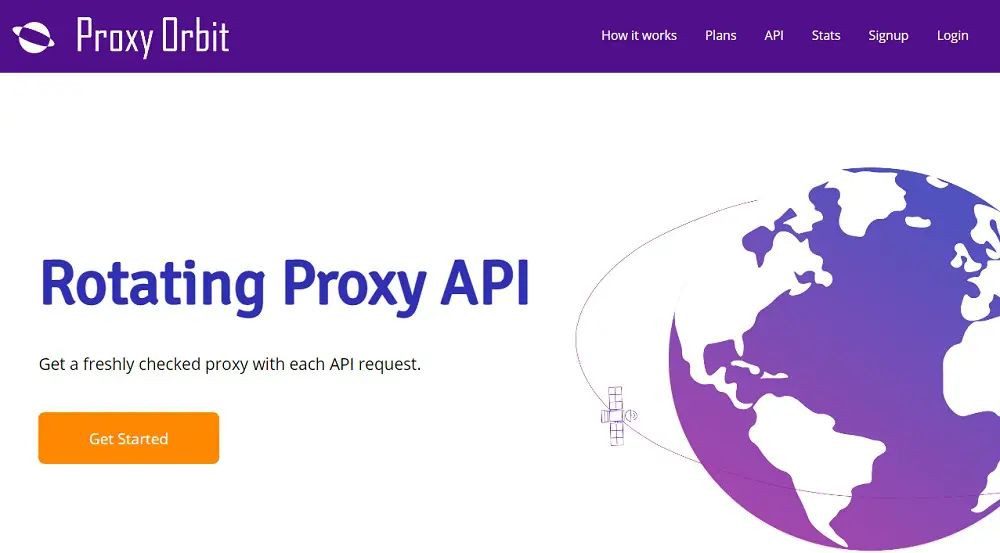 Whether you want to increase your web traffic or limit web scraper blocks, a reliable proxy network is all that you need. Proxyorbit has rotating proxies that make it possible to improve web traffic and leads as well as limit web scraper blocks.
Their proxies are served via RESTful API for convenient filtering of results on the basis of speed, location, and preferred protocols. You also get access to unlimited bandwidth and concurrent API requests. Proxyorbit allows you to use all your scrapers simultaneously without worrying about data capping.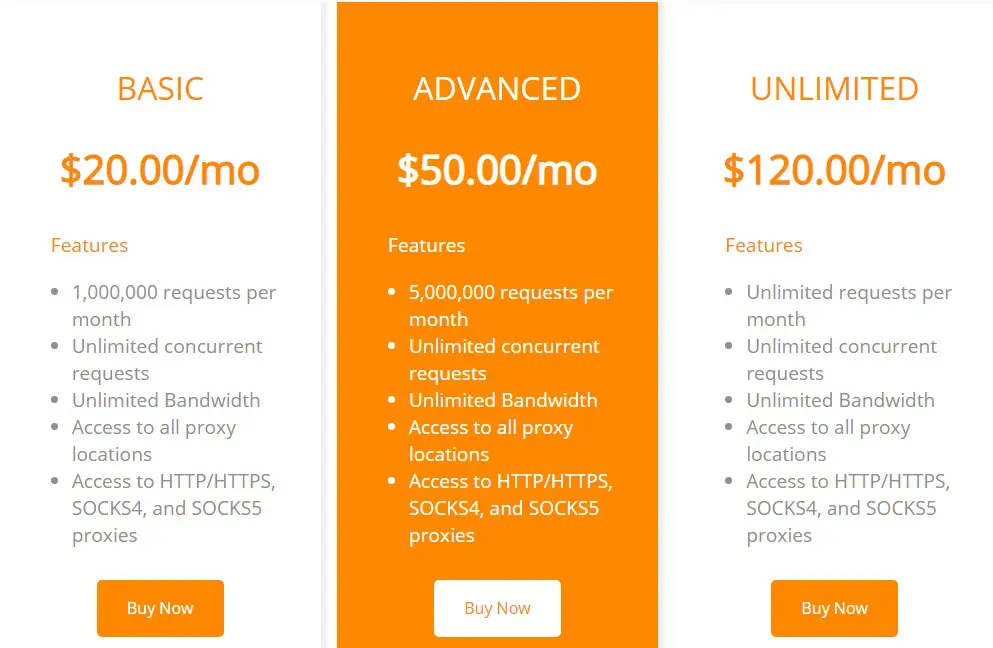 Upon sign up, users get access to the proxy pool. From the pool, you can sort proxies by country, level of anonymity, and port numbers for a more targeted web scraping experience.
Also worth noting is that both the free and premium plans give access to hundreds of US proxies. The platform supports four types of proxy protocols including Socks4, Socks5, and HTTP, and HTTPS.
If you want more features, better speed, and performance, you may want to try one of the three Proxyorbit premium plans. The premium packages include a basic plan, an advanced plan, and the unlimited plan.
---
Highlight: Up to 50 working proxies on the free plan
Feature: Unlimited downloads and API access
Payment plan: Start from $5 monthly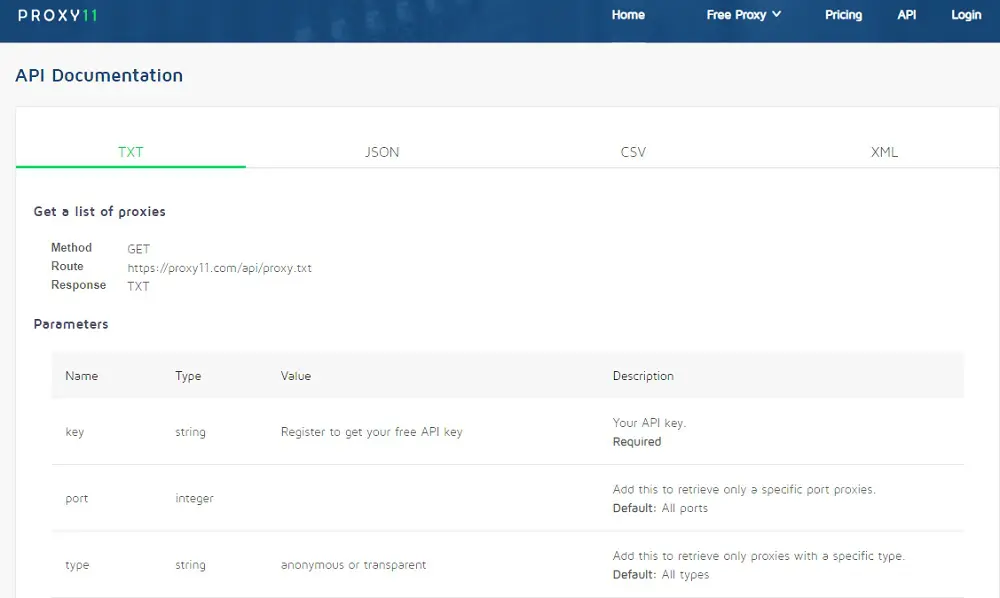 Proxy11 is another reliable free proxy for web scraping. It has thousands of working HTTP(s) and socks proxies that are added to their IP pool daily. Among other features, the platform seems to focus on security and reliability. As such, they have some of the best privacy and anonymity features.
For convenient web scraping, they've built a powerful yet simple to use RESTful API. Subscribers get access to thousands of proxy addresses that are evaluated and tested for viability every few minutes. That said, their gigabit network is also very fast and stable.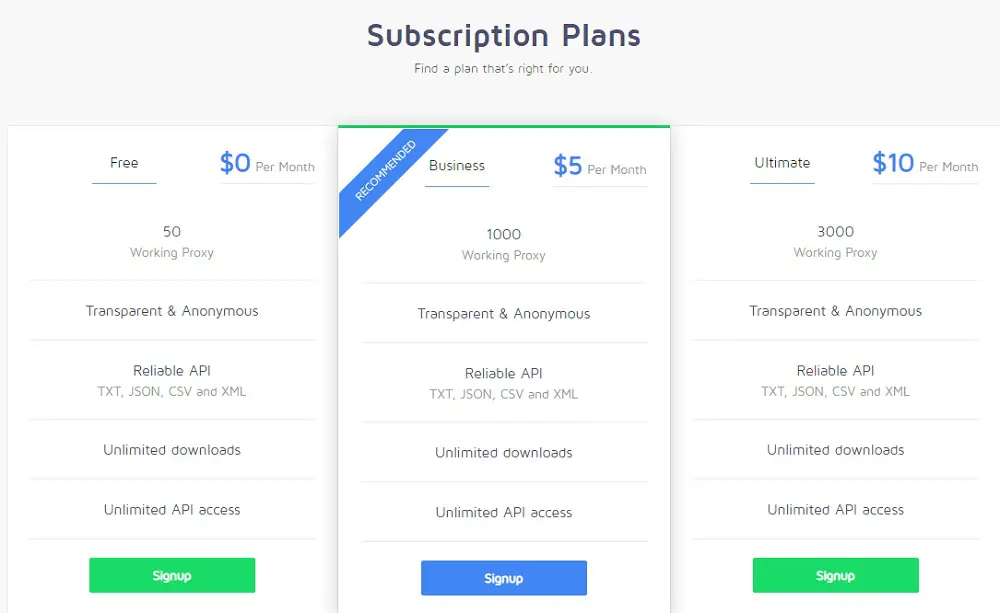 Proxy11 supports a range of API proxy formats including .json, cvl, and, xml, .txt API proxies. Apart from their awesome free plan, Proxy11 also has two affordable premium packages each with access to a limited number of working proxies.
---
Highlight: 3.5k+ free proxies
Feature: Supports sorting by country
Proxy Protocol: Socks4, Socks5, Http, and HttpS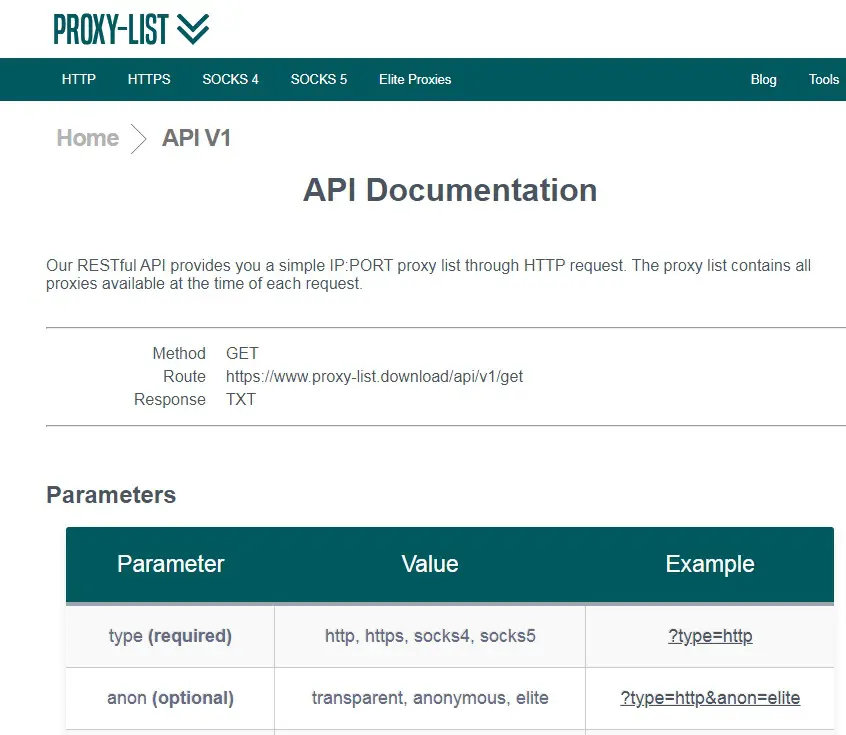 The proxy list has a robust collection of reliable free proxy APIs. More than ever before, you can surf the web anonymously, unblock contents, and bypass restrictions using working free proxies. Like most top free proxy API platforms, this provider has a massive pool of 3.5k+ proxies available in different protocols.
The supported protocols include https, https, socks4, and socks5. For unbeatable reliability and functionality, their list of free proxies is routinely updated. That said, Proxy List Download supports geo-targeting for convenient proxy sorting by country and city.
Apart from that, users also enjoy very easy access to their select proxies. All you need to do is export your list to your clipboard or download it in .txt format.
---
Highlight: Up to 12 countries to choose from
Sorted by:  Country, city, and ports
Proxy Protocol: Http, HttpS, and Socks

Spys.one has a modest list of free proxy APIs for only 12 countries. The public proxy servers are sorted by country, city, or ports. That not only makes for convenient geo-targeting, but also allows for easy selection of preferred proxies for web scraping.
From the official site, it seems like Spys.one only supports 3 proxy types on their free plan. These include Http, Https, and Socks. The proxies are somewhat reliable with an average uptime of 55%. It's also worth noting that the anonymity level varies for all the free proxies. While some proxies guarantee high anonymity, others aren't performing very well on that front.
---
Absolutely Free Proxy Lists for Web Scraping
While some providers have both premium and free proxies, there are platforms that are fully dedicated to offering free proxies. Here are some of the best providers of free proxy lists.
---
Highlight: High-level anonymity while scraping
Feature: Proxies are sorted by country, city, and region
Proxy Protocol: Http and Https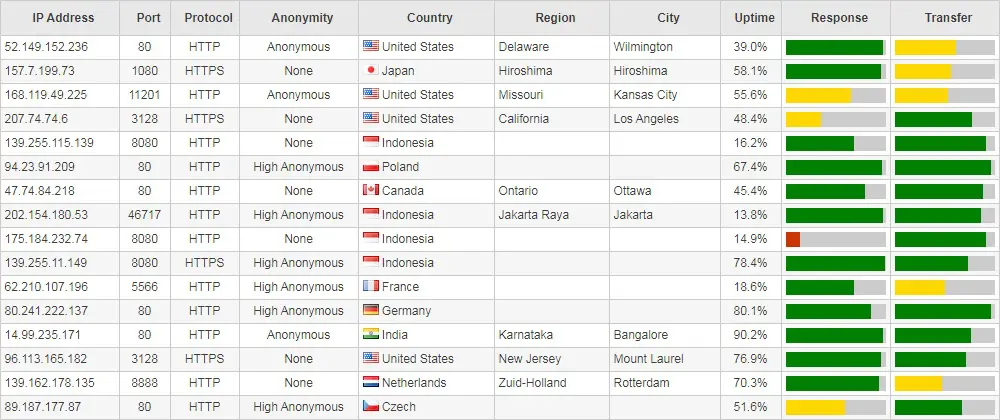 Freeproxylist is best for novice developers just starting out with web scraping. The platform supports 2 proxy protocols; HTTPS and HTTP. In order to minimize instances of web scraper blocks or shutdowns, the platform has three anonymity options; "None", "Anonymous", and "High anonymous".
Depending on your target sites, you'll choose appropriately. Their proxies are sorted by country, city, and region. You can easily find proxies for your preferred locations. They have a broad list of countries to choose from including the US, Canada, UK, France, etc.
Proxy uptime varies significantly. While some have an uptime as high as 96.01%, other proxies within the pool hardly cloak more than 4%. Just take time to check and evaluate the performance of each of the proxies before use.
---
Highlight: Supports personal proxy uploading
Sorted by: Country
Proxy Protocol: Https, Http, Socks4, and Socks5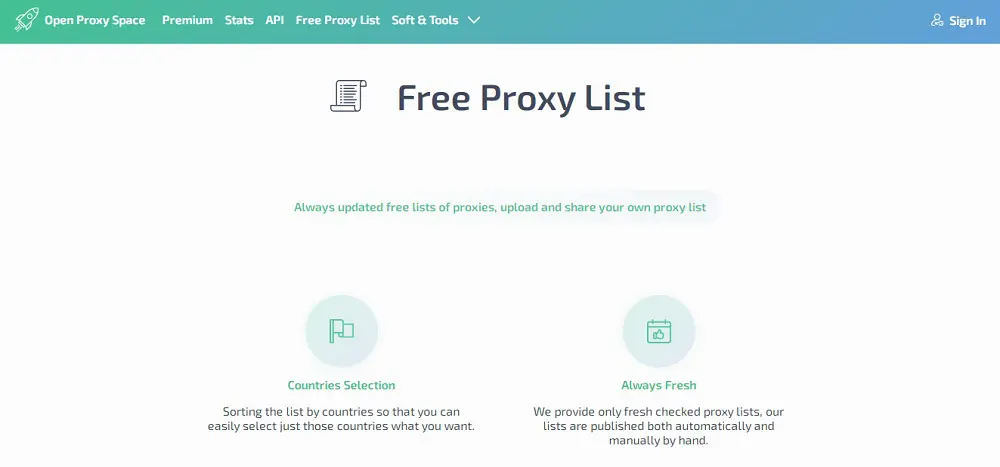 When it comes to speed and reliability, free proxies are often not the best option. However, not OpenProxySpace. The platform has one of the freshest, most dependable lists of free proxies on the web. Among other features, they support proxy sorting by country.
That way, you can concentrate only on your preferred locations. For reliability, their list is routinely updated both automatically and manually by real humans. The available proxy types include Socks4, Socks5, Https, and Http protocols.
Their proxy performance is also above par, with most of their proxies averaging an impressive 92% uptime.
---
Highlight: Fresh list of viable proxies every couple of minutes
Sorted by: Country
Proxy Protocol: Socks4, Socks5, and Http
Proxyscrape has a very impressive free proxy package that comes with lots of awesome features. Get access to reliable Socks5, Socks4, and Http proxies for free. The levels of anonymity depending on the type of protocol with Http offering the highest level of anonymity.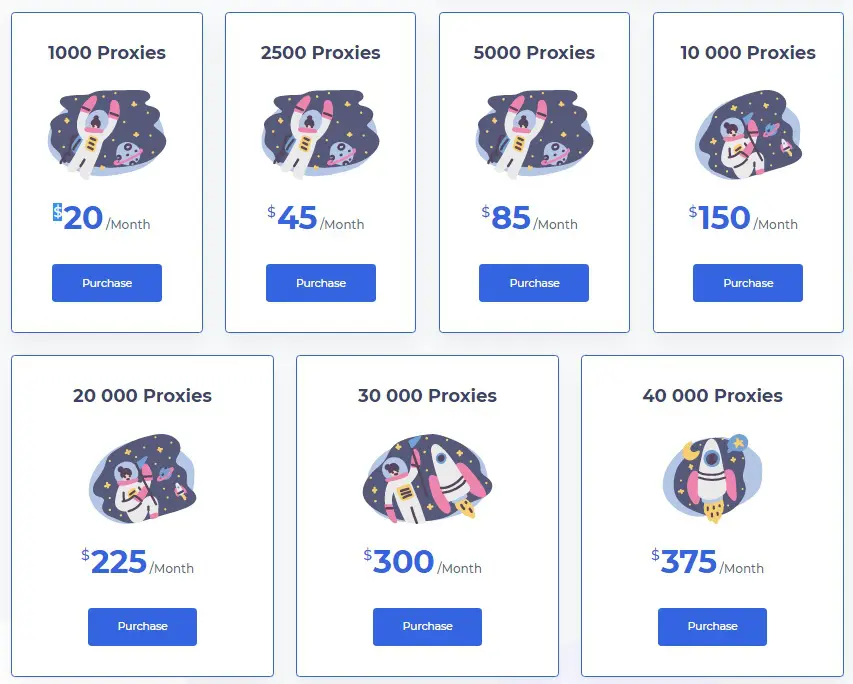 The proxies are sorted by the country for convenient geo-targeting. That allows you to choose proxies for select countries only. Their list is updated routinely. You can rest assured that your choice proxy is working. The free plan comes with limited bandwidth allocation. So you can send as many requests as long as your bandwidth lasts.
---
Highlight: 99.9% uptime guarantee
Sorted by: Country, ports, and city
Proxy Protocol: Socks4, Socks5, Https, and Http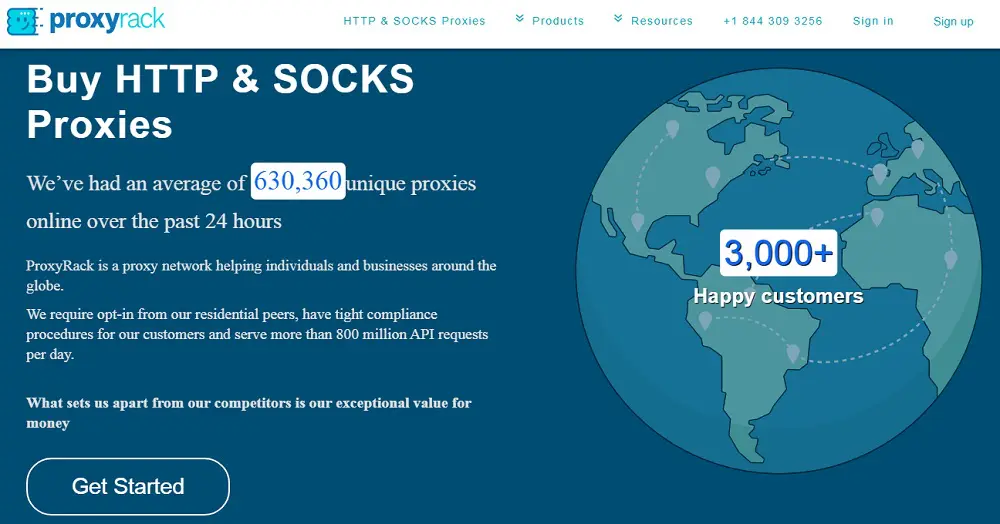 Proxyrack is one of the leading proxy providers in the industry. Their free proxy list supports all the popular protocols including Socks, Https, and Http. They have a large pool of viable free proxies sorted by country, port, and city.
Users get to choose their preferred proxies for convenient geo-targeting. The performance speed varies for all the proxies. By and large, the speed is a factor of the number of users, considering that viable free proxies may have many users concurrently.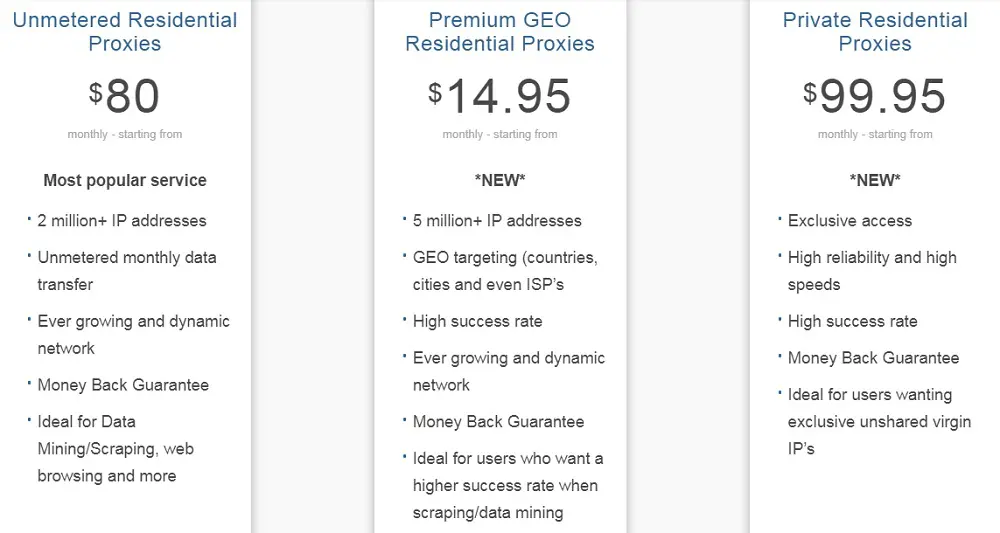 Their list is updated frequently in order to weed out faulty proxies from their list. That way, you can be sure all the proxies enlisted are viable.
---
Highlight: 99.9% uptime guarantee
Sorted by: Country, protocols, and portals
Proxy Protocol: Https, Http, and Socks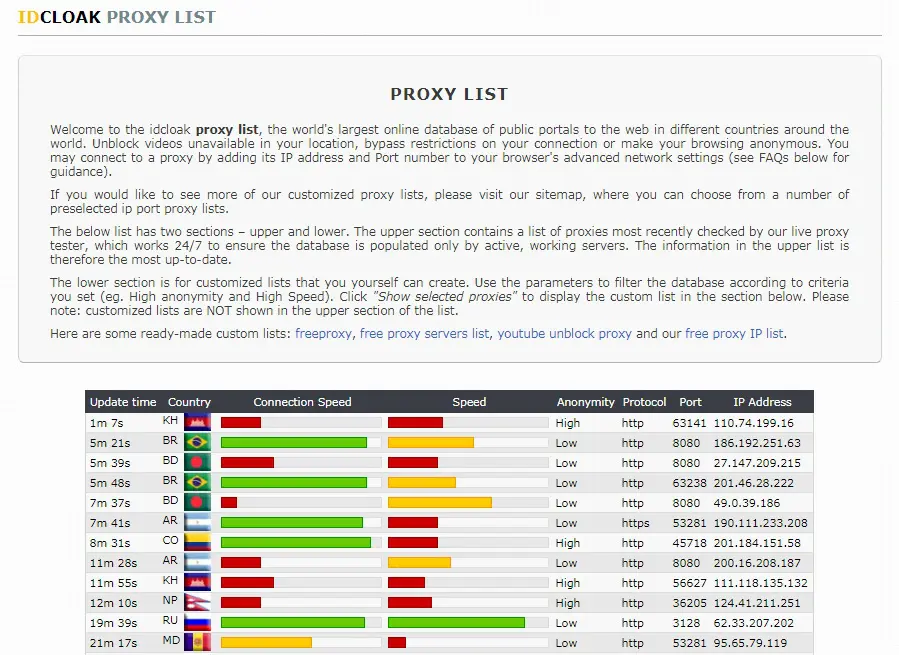 IdCloak claims to have the world's largest database of reliable free proxies. Bypass access restrictions and scrape data from any website of your liking with high speed proxies. Their list of proxies is updated by the minute, thanks to a dedicated proxy tester algorithm that works round the clock.
IdCloak supports all 4 common proxy protocols including HTTP, HTTPS, Socks4, and Socks5. Furthermore, the proxies are sorted based on level of anonymity, available ports, and country.
That makes for an easy selection of proxies that suit your scrapping needs. Generally, the average speed for the proxies is awesome.
---
Highlight: Uptime in the range of 29% – 91%
Sorted by: Country, anonymity level, and portals
Proxy Protocol: Unpublished

If you are looking for the largest list of working public proxy servers, you can never go wrong with Proxynova. The platform uses an integrated algorithm that automatically checks and updates the database with working proxies by the minute.
Users can select their proxies from the gigabyte sized database using attributes such as country, anonymity level, and port number. The platform supports Http(s) and socks proxies. Apart from that, the available anonymity levels supported include transparent, elite, and anonymous.
The overall proxy speed is excellent, of the best among free proxies. The uptime, though not quite impressive compared with other providers, is just fine for routine web scraping and bypassing access restrictions.
---
Highlight: 90 encrypted proxies spread in 33 countries
Sorted by: Country
Proxy Protocol: Socks and Http(s)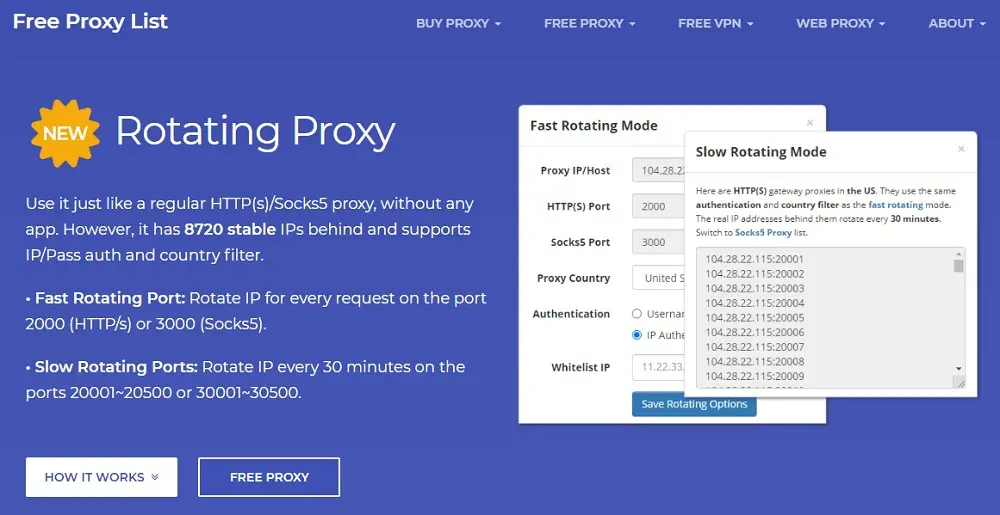 The platform has 2 types of proxies. They include rotating proxies and SSL proxies. Sslproxies has a pool of 8.7k+ stable IPs to choose from. Instances of scraper shutdowns or blocks are unheard of. It supports IP and Username/ password authentication.
The platform supports both socks and HTTP(s) proxy protocols. They have a modest pool of encrypted proxy servers in 33+ countries making it one of the best among free proxy providers. Also, they have many SEO/traffic tools for analyzing a website's search engine ranking.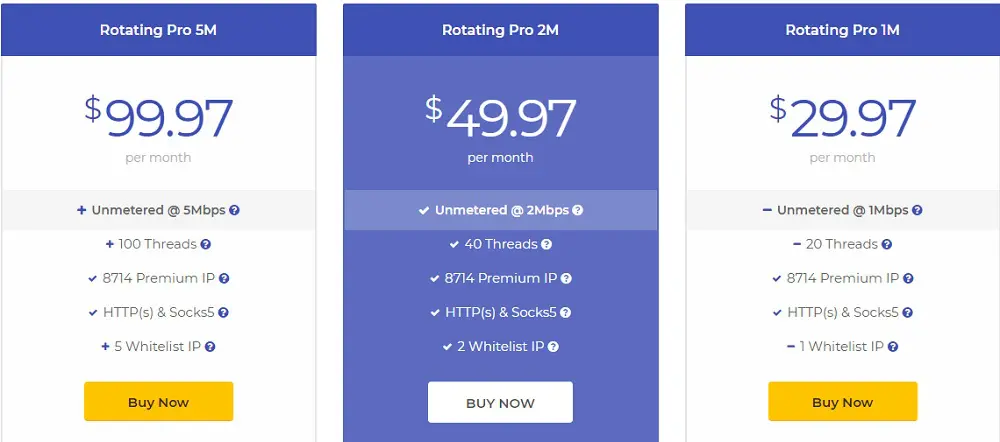 That said, proxies on this platform are sorted by country, anonymity, and ports. That makes for convenient geo-targeting of proxies.
---
Highlight: 99.9% uptime guarantee
Sorted by: Country, anonymity level
Proxy Protocol: Socks4, socks5, Http, and Htpps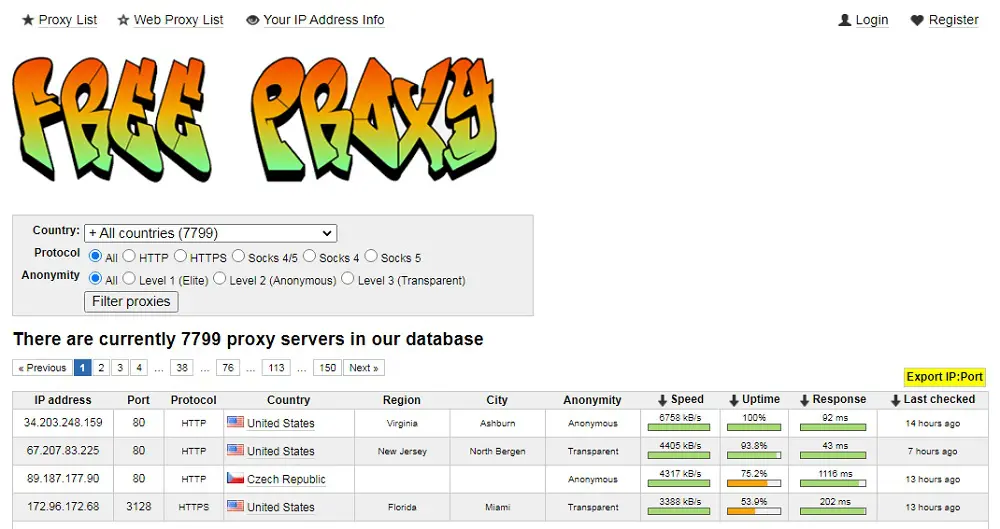 Free Proxy has a large collection of proxies for web scraping. Their servers are spread across many countries worldwide. The proxy protocols supported by the platform include Http, Https, socks4, and socks5.
Their free proxies are sorted by country, region, city, and level of anonymity. That makes it much easier to choose proxies that suit your scraping needs. The uptime averages 68%, which is impressive by free proxy standards.
Besides, the proxies also have an awesome latency of up to 40ms. With such an impressive response time, you can be sure to get the very best surfing experience.
---
FAQs About Free Proxy APIs & Free Proxies
1. What's a proxy list?
By basic definition, a proxy list refers to a collection of all the proxy servers available on a site. Some of the common types of proxy servers include Http, Https, socks4, and socks5. Proxy lists include IP addresses of computers hosting proxy servers.
2. How do free proxy lists work?
In order to fully grasp how proxy lists work, let's begin by understanding how a proxy works. Proxies work by interconnecting computer networks indirectly. That said, now here's how a free proxy lists works. They conceal your real IP by routing your connection via an alternative IP. In doing so, client sites register your connection as coming from the proxy IP and not from your true IP.
That makes it easy to access geo-restricted content. With a proxy list, you can opt for proxy rotation, meaning you'll have different IPs every couple of seconds, minutes, or hours. You can also choose to use a single IP, what's called static IP.
3. Are free proxies exclusive to you?
No. as the name suggests, free proxies are accessible to everyone who may want to use them. For that reason, your connection speed will vary depending on the number of users on the same proxy.
The same is true for their lag time and ping time. That said, if you want exclusive proxies, then consider upgrading to a premium plan. Note that some premium proxies are shared, although with a few users. If you want strictly exclusive proxies, the best option would be dedicated proxies.
4. Are free proxies good for web scraping?
No. Free proxies are often accessible to many users. That accounts for their high ping time and low speeds, not to mention their average network uptime. Besides, they are highly likely to be blocked by sites. All these reasons, and many others, make free proxies unsuitable for web scraping.
5. Which is the best free proxy list?
To be honest, there's no single free proxy provider that would fit the definition of best. If you are serious about scraping data on the web, consider premium proxies. They are far better than free proxies in terms of speed, network stability, among other measurable performance parameters.