Are you looking for ways to hide your IP address whenever you surf the net? Read on for some of the best free proxy servers that can bypass blocked sites and hide your IP address.
A lot of websites keep a record of your IP address along with other information like visited pages and search queries when you visit them. This helps them in targeting ads and understanding what people are interested in.
So the more you visit a particular website, your identity becomes evident to the website owner. The reason behind this is cookies which are stored by websites on your computer and then transmitted to their servers whenever you visit a particular website again.
But with a proxy server, you can access content on the internet, while hiding your IP address. This also makes it easier to view blocked websites with lesser privacy restrictions. This means with a proxy you can't bypass through all blocked sites. It, however, depends on the type of proxy you are using; some proxies get blocked in the process of accessing super restricted sites.
Here are some of the best free proxies you may need to surf the internet anonymously.
---
Best 15 Free Proxy List to Hide Your IP Address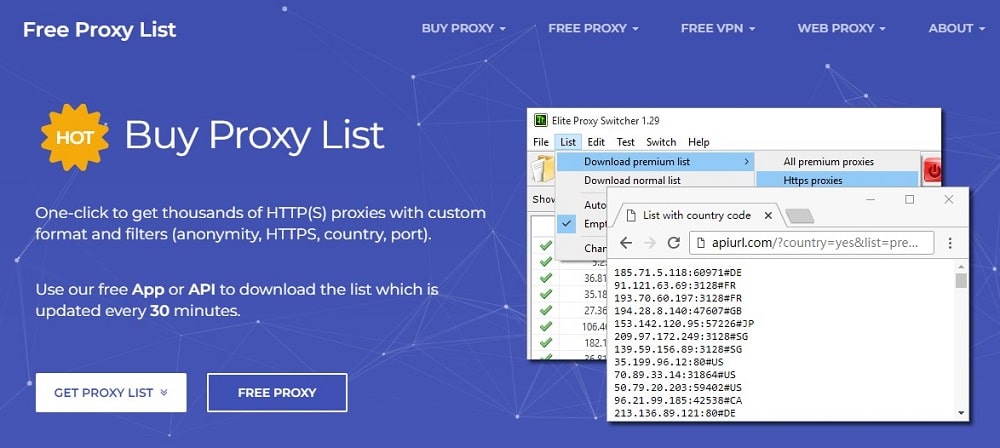 Get access to the best free proxy list on the internet. Whether you want to use the proxies yourself or you want to resell them, your order will be updated every 30 minutes. A quality free proxy list containing about 3300 free proxies and over 6000 IPs in different subnets (over 110 countries) that is updated every 5 minutes, and allows you to:
Filter by Anonymity Level
Filter by Country (takes a while to load)
Get HTTPS / SSL proxies only
Get elite proxies only
Download the proxy list in .txt format
You can, however, hop into their pricing plan with either of their three monthly tiers.
---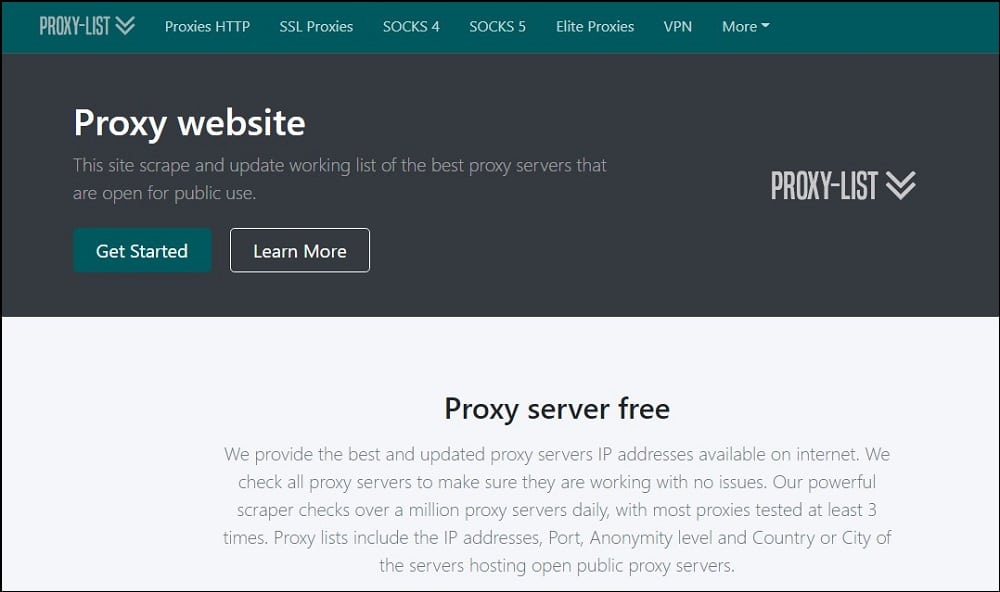 The Proxy-List is a web-based anonymous proxy scanner. It provides to its visitors a free anonymous and open source alternative to other "top" proxy sites. This site is the server for free and fresh HTTP, HTTPS, SOCKS 4 and SOCKS 5 proxy servers.
Using either of their proxy lists you can be sure of working proxies because the account boasts of daily checks and tests at least 10 times a day. This is always to make sure they are all working.
---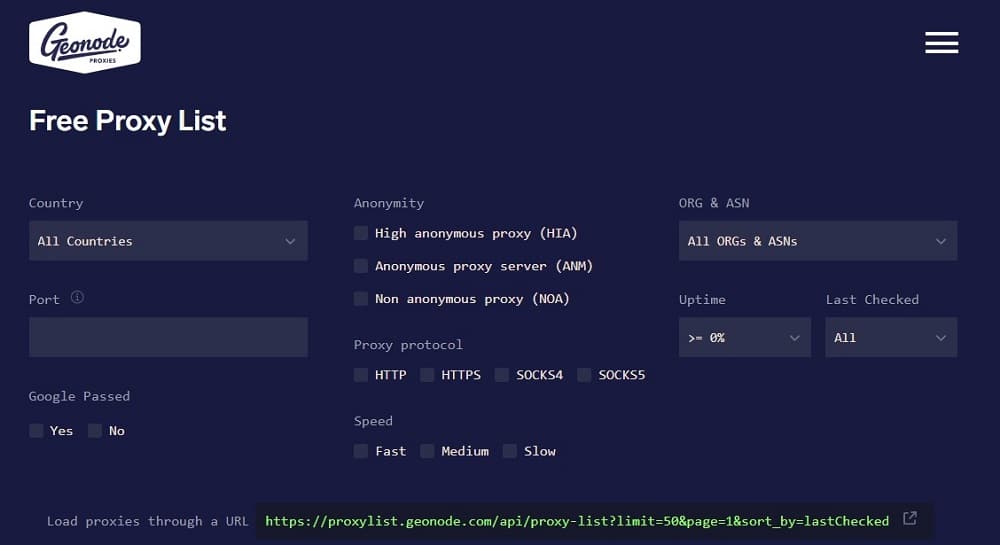 Geonode free proxy list, web proxies can also be used for anonymity as they hide your IP address making it harder for third parties to determine your identity. There are three types of web proxies:
High anonymous, Anonymous, and Transparent (Non-Anonymous). A High anonymous proxy is the most private kind of proxy. It does not show your real IP to the target website and it does not reveal that you are using a proxy server. It simply tells the target website that you are using a proxy server, but it cannot detect your real IP address.
An anonymous proxy server does not send the real IP address in the HTTP headers, so it is impossible to detect that the user is using a proxy. A transparent proxy sends your real IP address in the HTTP header, so it is detectable that you are using a proxy, but it is not detectable what specific proxy server you are using.
Geonode promises to add new proxies daily to their database so that you, their client can enjoy using fresh proxies. With a 7 day trial, you can be sure to try their services just for $7. This contract can be canceled any time you feel you are not receiving what you expected.
---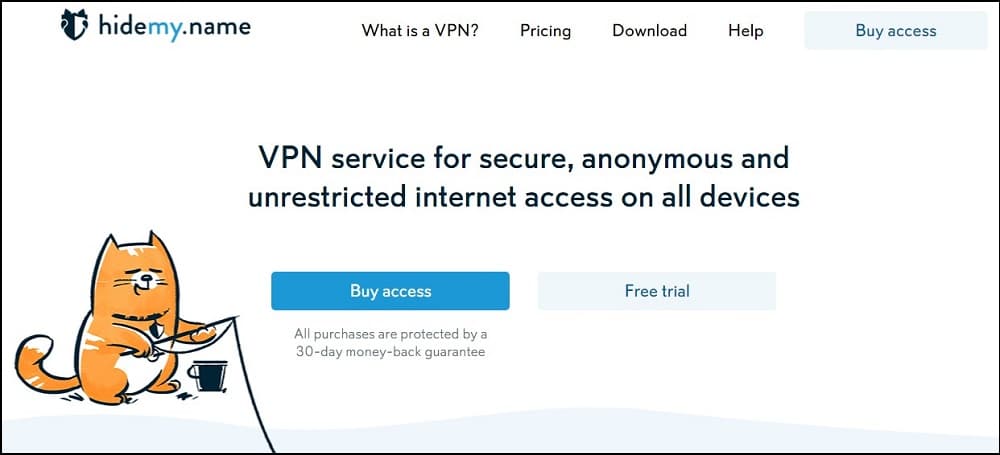 Hidemy.name free proxy list is the best place to get fresh proxies! All proxies are checked by their scripts daily, so you have a guarantee of the best quality proxies. They also have a safety measure about not keeping logs and tracking your activity.
The website offers a lot of different servers and they are spread out all over the world. However, if you want to bypass geo-blocks then you can use a server from the USA or Europe. You can also browse through the available list or search for one in particular.
The site however, claims not to be responsible for any performance or stability issues of their proxies. This is attributed to the fact that their proxy lists are automatically collected by spider bots from different websites. They also boast a proxy anonymity parameter that makes the decision on whether your real address will be seen or not.
---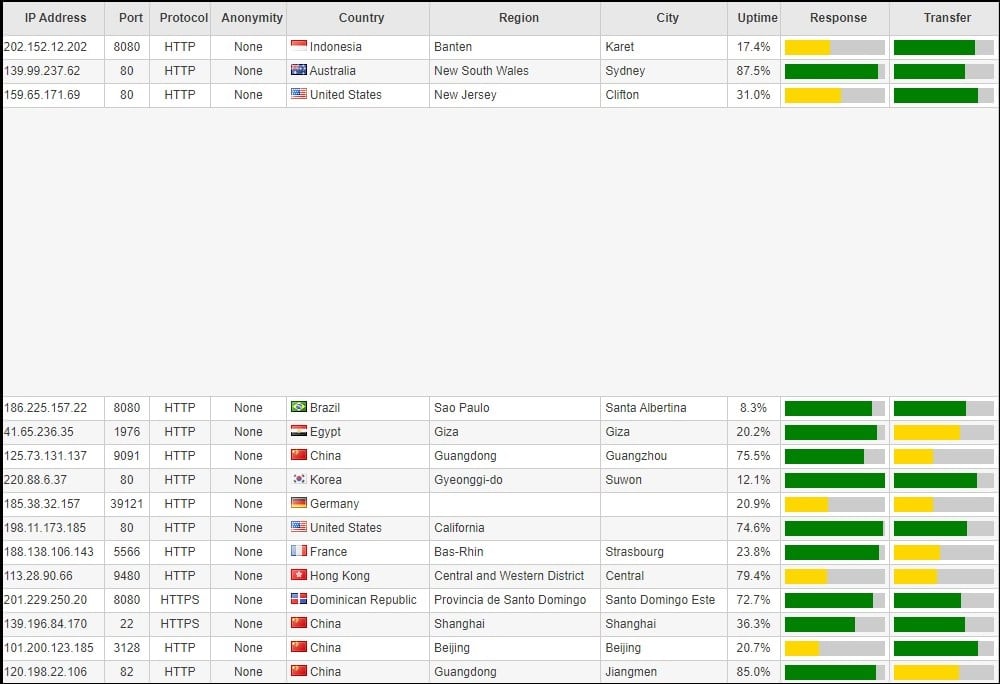 The site contains a lot of free proxy lists. These proxies can be sorted by IP address; Anonymity (high-anonymous, anonymous, transparent); Checked time (the time and date of last check); Country (a country in which pr\server is located). Some of the best features you can get from FreeProxyLists.net includes:
Language translation into many different nationalities including, German, Chinese, French, Italian, Russian and Spanish;
Compatibility with any browser that supports proxies like Internet Explorer, Firefox, and Opera;
Daily fresh updates of proxy list from anonymous web proxy and high anonymous proxy server;
Proxy assessment every minute automatically to get fresh proxies;
---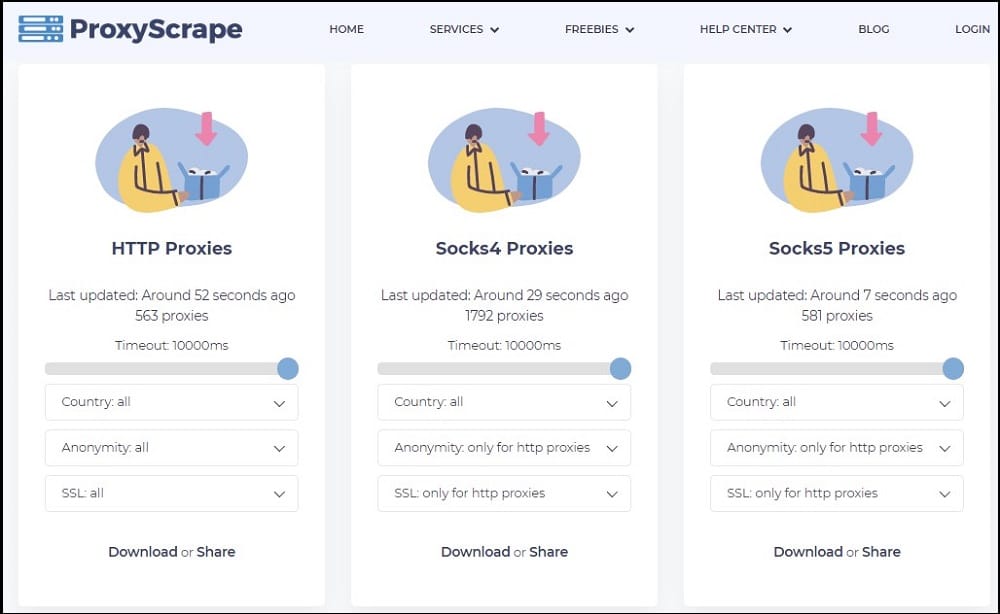 ProxyScrape, is an all-in-one for your proxy needs. Free proxy list 30,000+ free HTTP, Socks5, and Socks4 Proxy lists, the proxies are updated every 5 minutes to ensure you get the freshest proxies.
The server scrapes countless proxies from the internet to make sure their clients have the best freshest proxies. They countlessly check the proxies every minute for those that no longer work before exposing them to you.
You can then download these proxies in text (.txt) file formats or straight from Proxyscrape proxy API. You can have the proxy lists further sorted according to different countries' information based on your needs.
---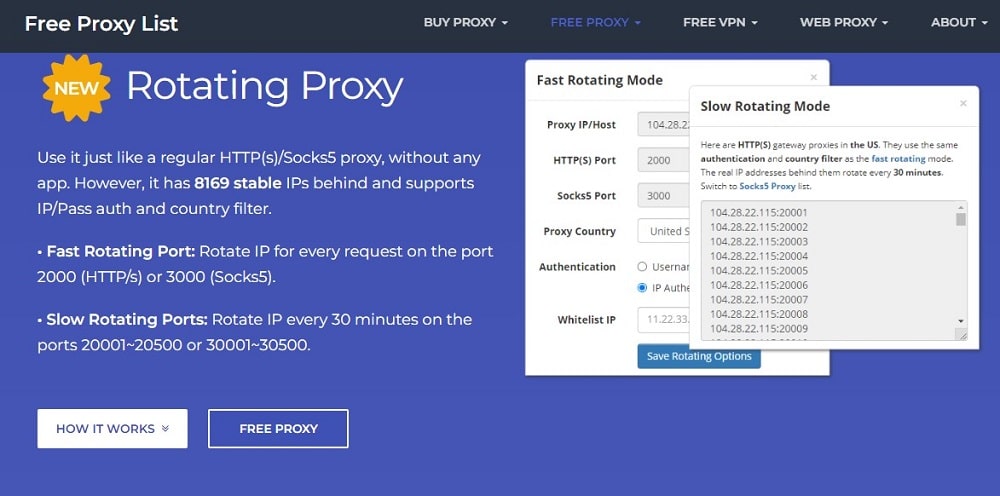 The proxy service allows you to surf anonymously and hide your IP address. It may allow you access to blocked websites or make it possible to view videos that would otherwise be unavailable in your area.
The server boasts of encrypted SSL communications between their clients and their proxy servers. Part of the best thing about this server is that you; the client, are unlimited on the number of times you can renew the SSL Proxies free plan.
An additional advantage is that different proxies have different speeds. So you should not expect to see any speed categories in the list. Most speed variants are assumed to be based on the specific nationality for the proxy. For instance, USA proxies are believed to have higher speeds than most other countries in Europe.
---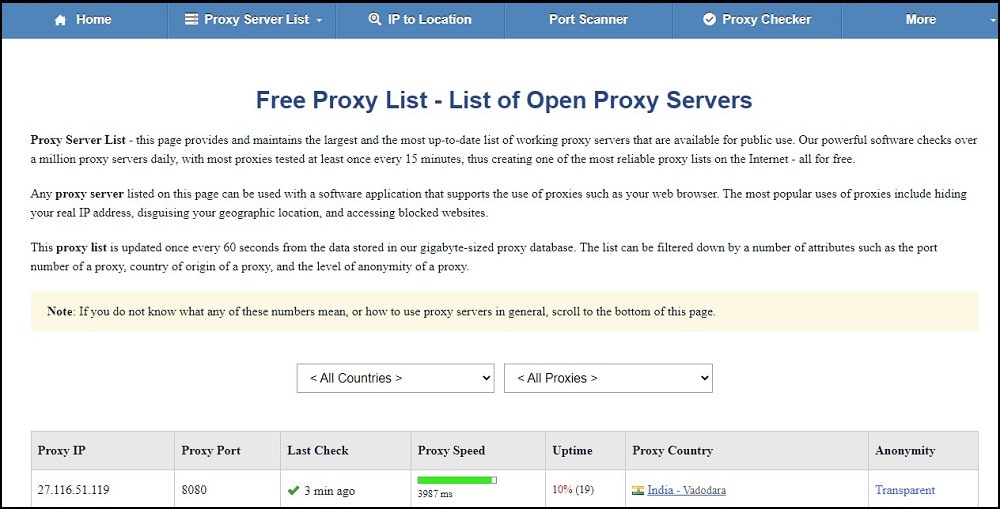 Proxy Nova is an anonymous web proxy service provider. It offers you the freedom to unblock restricted websites, secure your online identity, and surf the internet without being tracked. You can therefore use it to unblock Youtube and other websites anonymously without slowing down your internet connection.
The server also has a wide database of free proxies from around the world. It is available in multiple languages including English, French, Japanese, Russian, and Spanish. Proxy Nova's web proxy works by hiding IP addresses giving you the freedom to browse unrestrictedly without revealing your location.
---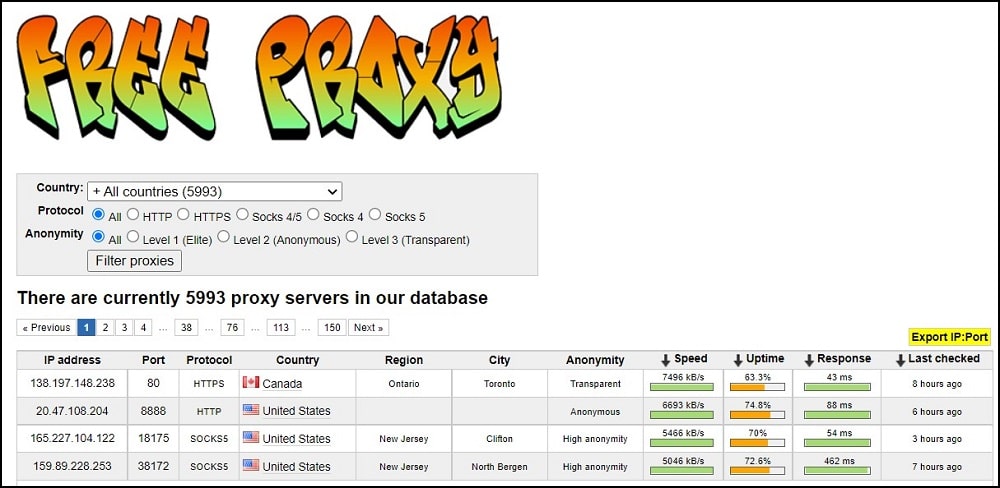 Free-Proxy.cz is a free, fast, and reliable list of anonymous proxy servers. The server has valid proxies compatible with all browsers. With thousands of fresh proxies updated on a daily basis, the server claims no responsibility for any issues that may arise about their proxy list.
So you can use this list at your own risk since the server has no guarantees or certification that the proxies are good. This, however, can not stop you from getting a huge list of free proxy servers – IP: port format, with protocols HTTP and HTTPS. They also have SOCKS4/5 list (TCP) available for paid users (not free).
The server also provides free APIs for developers and webmasters to gather data from their systems. Instead of scrolling through the whole list, you can get to know more about any server by clicking the IP address and it will show you all the details about this anonymous proxy server (country, port, IP type, etc.).
---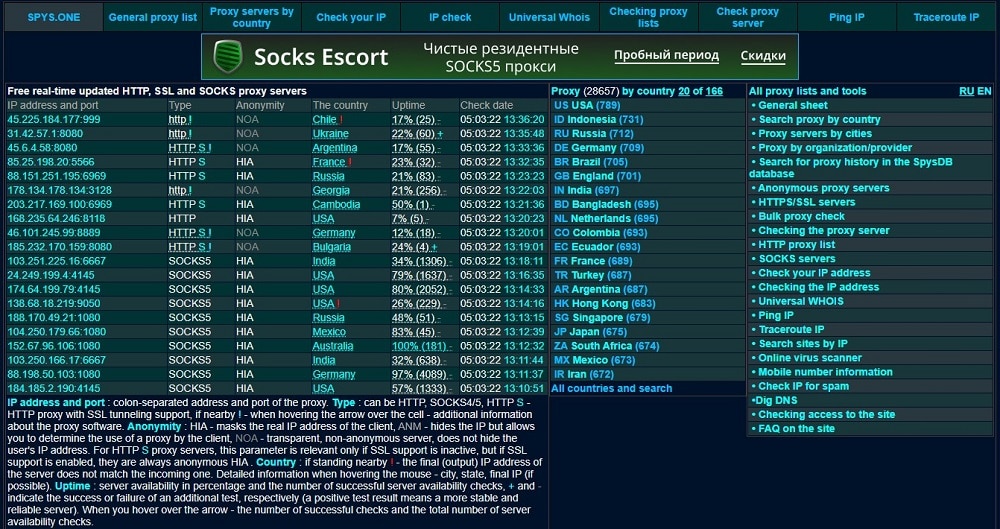 Spys.one – gathers proxies from all over the world. The list is updated every minute. So you can be sure to find only the freshest and newest proxies, the best ones. The proxy server list is intended for those who need a lot of proxies but don't have the time or resources to search the web for them.
The server usually has two types of proxy servers – transparent and anonymous. The first ones are quite easy to detect because they don't hide their own IP addresses. The second type hides its own IP which makes it much more difficult to find out who is behind the proxy server.
Transparent proxies usually slow down your Internet connection a lot. That's why it's better to use anonymous ones if you care about web surfing speed and security. There are two ways to access their server:
Auto-detection – Choose the country of IP addresses you need and press the [Auto] button (a large number of proxies per page).
Manual – Choose a specific proxy from the list (one proxy per row).
---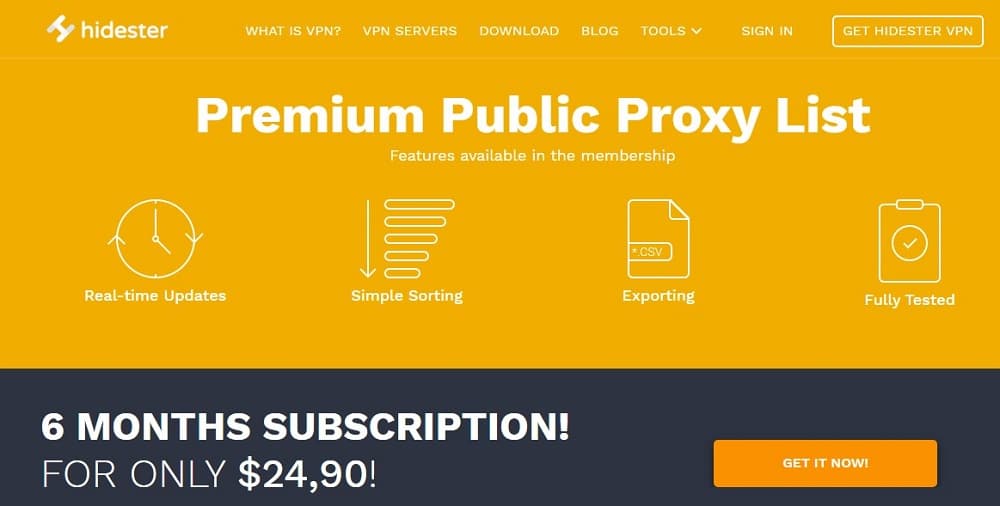 Hidester is a free web proxy service, which lets you access websites anonymously. This means that you can visit any website and no one will know where you came from. As with most proxy websites, Hidester also lets you hide your IP address and choose some other IP address instead.
However, the best feature of this website is that it comes with a VPN (virtual private network) service. This means that all your web traffic is routed through Hidester's servers before reaching the destination website. You can also choose to use different ports (e.g., port 80 or port 443), which makes it difficult for authorities to trace back your location using your IP address.
Another good thing about Hidester is that you don't need to install any software on your computer in order to use its services. All you need to do is visit their website and type in the URL of the website you want to visit anonymously. It even lets you choose the server location (in case you want this for gaming purposes).
Hidester offers both web proxy and VPN services and it's up to you whether or not you want to use a VPN service with this website. If you want more anonymity, then using a VPN will be beneficial, although it may be slow.
---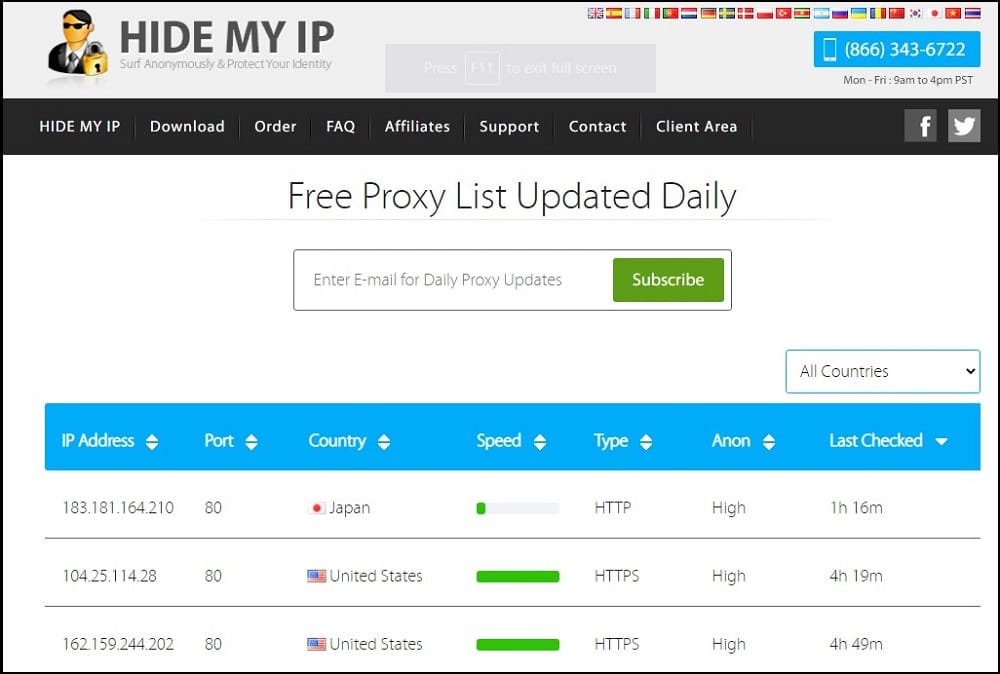 To use this server's premium list, you'll need to Download Hide My IP for Windows or Mac now then follow the necessary instructions as guided. Some advantages of Hide My Ip are:
The speed is fast, and it is not easy to be blocked.
It supports all major browsers such as Chrome, Firefox, IE, Opera, and Safari.
It supports most devices such as Android, iPhone, iPad, Windows Phone, and PC.
No installation is required.
---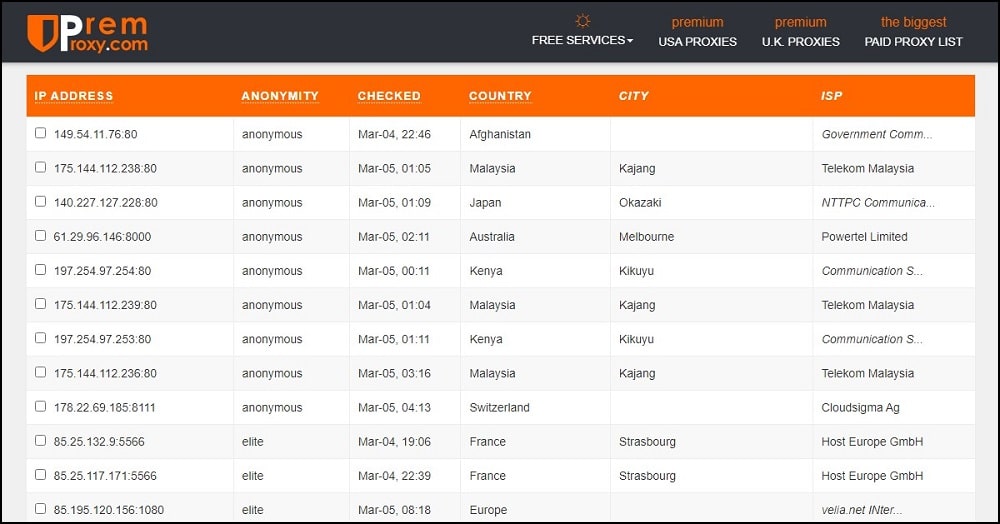 Premproxy is a premium list of free, anonymous proxy servers. Before being included in the list, all proxies are thoroughly vetted. Each proxy is evaluated based on a set of criteria. The proxies' connection speed, location, and level of confidentiality(anonymity) are some of the parameters that could be used. The service provides a list of random working proxies in the most popular formats: txt, CSV, and XML.
This is in addition to having dedicated servers that are capable of handling extremely large amounts of traffic. The server also claims to have the best proxy checker that can check all of their proxies against any website and return whether or not they work and are fast enough for your purposes. You can also use the proxy checker to check your own proxy lists against any number of URLs.
---

The server list is free to use and no registration is required. It's a fast, free and simple way to anonymously change your IP address and access blocked websites in your country.
When using the server nothing is logged and all traffic is encrypted. This means that your activities cannot be traced back to you via your IP address or through any other means. The server list is updated every 30 minutes and contains mostly transparent proxies because that's the only kind the servers claim they can verify.
---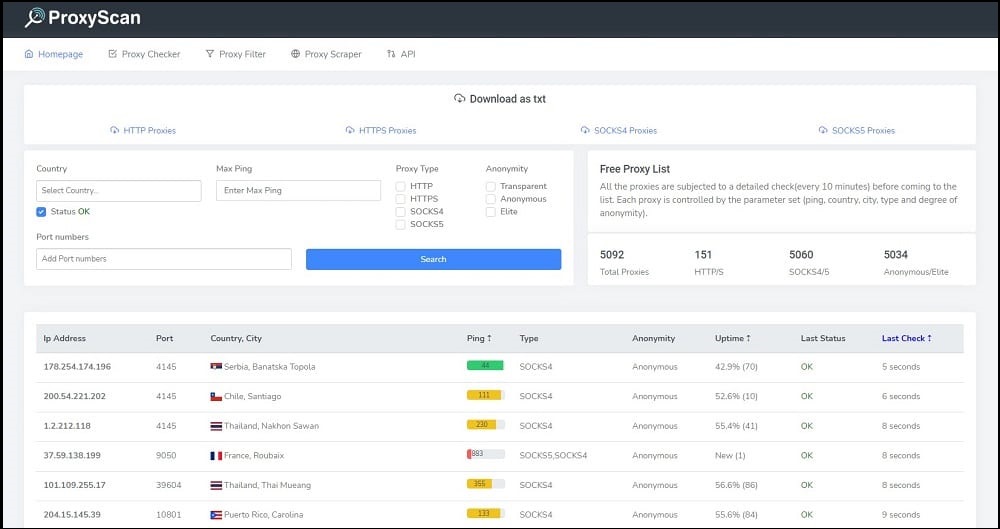 All lists on this site have been tested with Proxyscan's proprietary proxy testing software, ProxyChecker. You can use these IPs for almost everything including SEO tools, scraping programs, bulk mailers and even to mask your identity online.
The server uses a list of common HTTP proxy ports (3128, 8080, etc.) and attempts to connect to each IP address using both the CONNECT method for SSL ports and the GET method for non-SSL ports. So generally with the server you can find and test HTTPS, Socks4, Socks5, and Public proxies in order to use them with your Browser or software.
The lists from this server make it easier for people who want to set up their own proxy server and don't have access to a list that includes which ports are allowed on each IP address.
---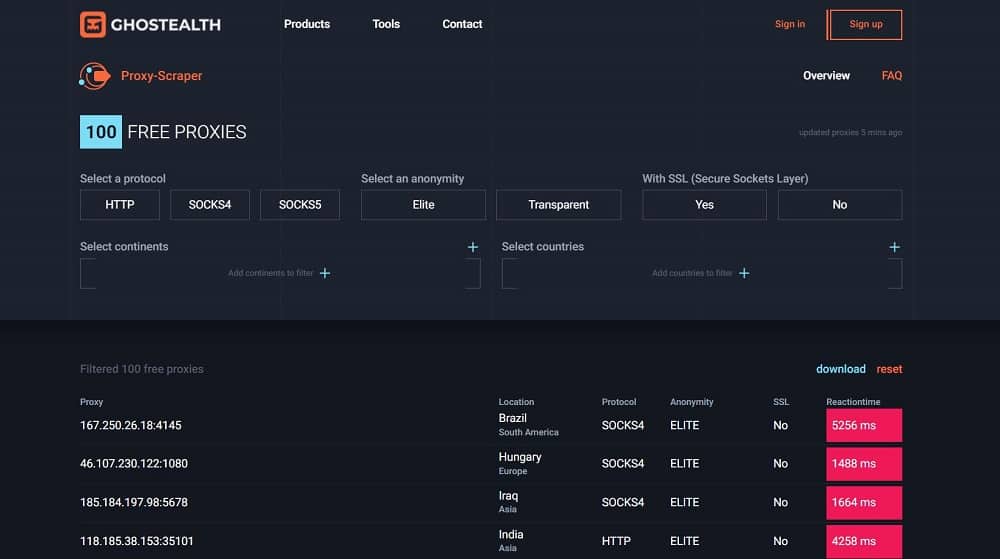 Ghostealth is the best place to get regularly updated free proxies. The emphasis here is not only on the sheer quantity of different proxies. The proxy scraper developed by Ghostealth tests every single server up to five times before it is made available to everyone.
The proxy servers therefore have a long life expectancy.
The free proxies of Ghostealth are available for download at any time. This list of free proxies is updated every 10 minutes. This implies that you will obtain the most up-to-date, functionally-tested proxies every 10 minutes.
Free proxy servers may also be filtered. Response time, location, socks or http, and anonymity-level are distinguished.
Proxy server are updated every 10 minutes.
Great filter option
Tested multiple times before release to guarantee quality
---
17. IPRoyal Free Proxies

IPRoyal is among the best premium proxy providers in the market currently. Apart from its massive pool of paid proxies, it offers reliable free proxies. The platform has an easy-to-use interface with proxies that are updated every 10 minutes. IPRoyal has approximately 6,800 free proxies to pick from, so you'll definitely find something useful here.
You will see details for every proxy in the list, such as IP address, port, city, country, and protocol (HTTPS, HTTP, SOCKS5). The free proxies work as a testing ground to help you gauge the quality of services that this provider offers. IPRoyal's support team constantly receives high accolades for its quick response.
Unfortunately, the website doesn't have a filter. So you have to go through the list manually to choose an IP that interests you. Apart from that hiccup, IPRoyal is one of the best when it comes to free proxy lists.
---
There are some proxy list service websites that can provide you free and fresh proxies every day just like a proxy list tracker. There are hundreds of proxies on each site and the latest proxy list updates every day. So you don't need to subscribe to any paid site for proxies. just google a proxy server website and find the proxies there.
You can, however, cut the google time and find any of these proxies listed here for your best match.