Kodai is one of the best sneaker bots that you can use on popular sites. Not only is it multi-functional, but also multithreaded. This means that you can perform different tasks using unique proxies.
---
Overview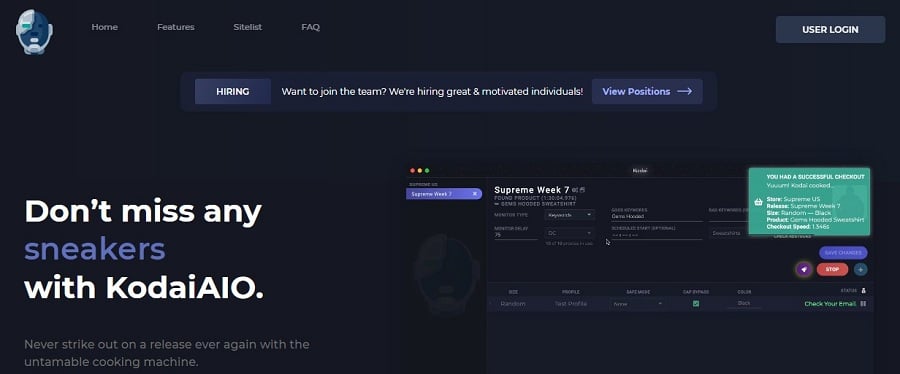 Kodai is one of the best sneaker bots in the kicks industry.  A sneaker bot is a software application that runs automated tasks over the internet that are repetitive. This bot can also be termed as "The untamable".
It supports Shopify, US Foot sites, EU Foot sites, Adidas, YeezySupply, and Supreme. It surely obtains the user really good releases of respective years.
---
The price
When it comes to the price, you will have to be prepared to use a large sum of money to start but after several successful drops, your initial money will be paid back. This bot retails at 175$ for the first two months and then approximately 59.99$ for the other months after.

To get your money back before starting the profit phase you will need to obtain high-profile items on demand. The amusing thing about this bot is that it is competitive to get its license rather than the sneakers. However, once you get it, you are good to go.
---
Site support
This Kodai sneaker bot supports several sites in the market including Yeezy, Foot Locker, Champs Sport, Adidas, Eastbay, and much more.

---
Support for proxy configuration
Proxy service provides a gateway between users and the internet. A bot uses multiple unique IP addresses to make it look like different tasks are being performed by different users. This is because if the sneaker website notes that one IP address is copping too many sneakers, your account may get banned, or worse all your intended purchases canceled.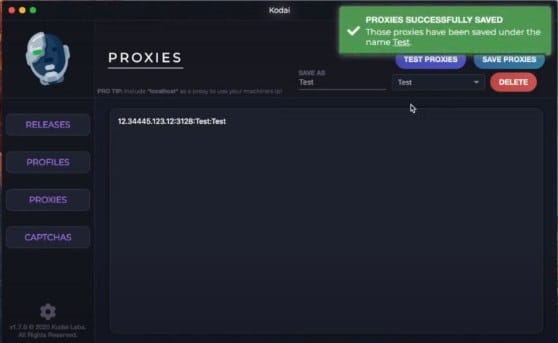 ---
Multi-threaded task
Being multi-threaded means that the bot can perform several tasks at once. You can therefore run all the tasks you create without affecting the performance of the other tasks. This feature improvises the Graphical User Interface responsiveness.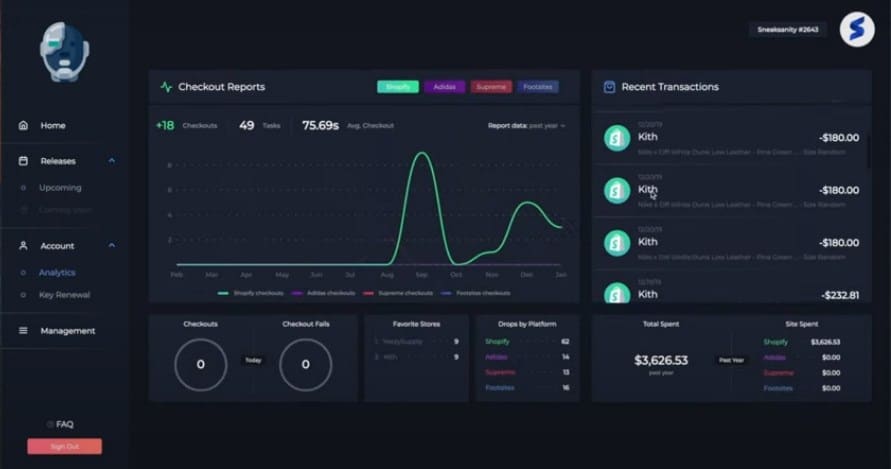 The performance is also improved by decreased development time. The more tasks you perform the higher your chances of getting sneakers. However, remember to have different delay times for the tasks. This will help reduce the chances of items being canceled.
---
Multi-platform support
The Kodai bot works in almost all Mac and Windows devices giving you the chance to choose the most convenient platform for you. The platform used does not affect the functionality of the bot, it works the same in all the compatible platforms.

The advantage of this feature is that there is easier cloud integration, rapid Time-To-Market, and faster customization.
---
Features of special sites
Kodai is equipped with a unique user dashboard that allows you to see the latest releases, setup guides, personalized analytics, and much more. The complimentary dashboard also has a calendar that shows upcoming releases.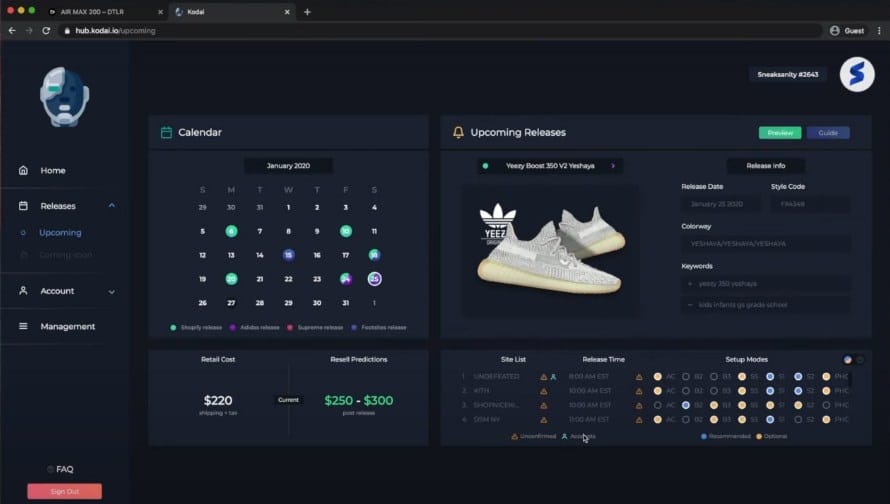 Hence, you will always be updated on when to expect the latest sneaker releases. Whenever there is a restock Kodai updates on their Twitter account. Its clean interface will ensure you cop a considerable amount of sneakers within no time.
---
Collocation of discord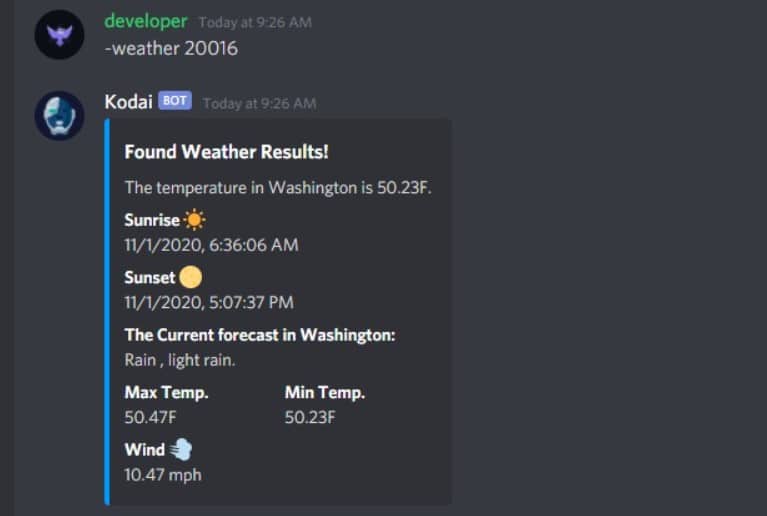 When you acquire the Kodai bot, you will automatically be provided with a free Discord server where you will get the guidelines on how to use the bot.
You could also be discussing with the other members in the discord community on issues related to the bot and successes. Through this, you will broaden your knowledge of internet bots and try to make something out of them.
---
A fly in the ointment
It does not deal with Nike merchandise.
It requires large RAM to support it.
Sometimes upgrading the RAM is costly.
You cannot specify individual delays or proxies for each task without having to create groups.
The competition to get the license is very high. Most times the bot's stakeholders indicate that the licenses are sold out.
---
Do we recommend buying it?
Well, if you are willing to invest a large sum of money to use this bot before it starts paying back after several drops then it will be suitable for you! Additionally, its success rate is high.
The Kodai hub helps users to track the analytics of the number of shoes they have copped and the number they have missed.Additionally, there are guidelines that you can access in discord and you could also check some Kodai bot tutorials on YouTube.
---
Frequently Asked Questions
1. Can the Kodai bot be used on an Android or iOS device?
No, the only platforms that can work with this sneaker bot are Mac or Windows.
2, What are some of the special features that come with the Kodai bot?
Some of the special features include:
Proxy support – this feature helps mask bots as multiple buyers and gives each instance of the bot an IP address.
Proxy tester – this feature enables using a proxy or substitute test taker in place of a real candidate.
Online dashboard – this contains advanced complementary functionalities and detailed analytics to improve performance.
CAPTCHA solver – this is a challenge used to test whether the user is human or not. Hence
Size selector and calendar showing the upcoming releases