Photos help us retain memories. Some may end up blurry, distorted, or corrupted. So how can you recover them? The Stellar Repair for photos software is perfect for the role.
How often do you take photos? Are they always perfect? Many times we take photos and find some issues with them even though we expected them to turn out perfectly.
Stellar Repair for Photo is here to save the day, regardless of how damaged the image is. Some memories need to be kept and when there are issues with the photo, you may end up discarding a memorable image. Stellar Repair for Photo is all round, therefore, you will be able to repair corrupt images at a go regardless of the image format. Luckily it can be used on both Windows and Mac Operating Systems.
We have provided some information on its epic features and cost. You shouldn't miss out!
---
Why Do You Need Stellar Repair For Photo Software?
There are a couple of reasons why you need the software whether as an individual or a business. If interested, you can proceed with the content on our photo repair software.
1. Repair Raw Images from the Camera
We make memories each day and carry the moments with us through photos. Some pictures turn out great, while some tend to become blurry or distorted because of unavoidable circumstances.
Therefore, instead of discarding them, you can use the reliable software to repair the RAW camera image files to make them look better. Therefore, get to preserve your memories for longer.
2. Repair Corrupted Photos
Memory cards are essential when we want to add more storage space to our phones or even hard disks to increase space in our computers. In as much as they are efficient, they at times become corrupted.
It is always a despair to format the disk or memory card. Luckily, Stellar Repair for Photo can be used to repair corrupted photos from corrupt media like SD cards. Therefore, all your memories will be intact!
3. Bulk Repair of Images
Repetitive tasks tend to consume too much time. Luckily, Stellar Repair For Photo allows bulk repair of multiple images in one go. Therefore, you can repair hundreds of images within a short time. However, you have to be keen to ensure the photos are repaired based on their issues.
4. It Can Be Used On Different Platforms.
The Stellar Repair for photo software is multiplatform and can be used on your Mac and Windows computer.
Therefore, no more excuses for why you can't use it. It also supports images from any camera, drone, android phone, tablet, or iPhone. What's your excuse for not acquiring the software?
5. It Repairs Photos In Any Digital Storage Device
The software can be used to repair photos in any storage device such as hard disk drives, solid-state drives, flash disks, memory sticks, and SD cards. Therefore, any media on your mobile phone, drone, camera, or computer can be made more lively.
6. Extracts Thumbnails Of Corrupted Photos
The Stellar Repair for Photo can be used to extract embedded thumbnails from any corrupt images. Through the process, the image will be recovered and made into a better image. Their visual quality will remain, and it can be as good as new.
7. Repair All Types Of Images
You can use the software to repair inaccessible, greyed-out, pixelated, fuzzy, stretched, faded, or blurry images. Typically, any kind of image error can be fixed with the software.
In case it also has an invalid image file structure you can always modify it. Have you ever looked at a photo and felt thought that it was a lost case?
Luckily, the "Advanced repair" feature allows you to repair any destroyed JPEG images. The supported image formats include JPEG, MXPEG, TIFF, ARW, CR2, NEF, and much more.
8. Preview Repaired Photos
The Stellar repair for photo software makes it easy to preview repaired images as you adjust them. Therefore, you can undo changes that seem off. Therefore, the details in the original image will remain. You can even get more ideas on how to make it better.
9. Easily Save Repaired Photos
Once you are done repairing the photos, you can save them at any destination that you wish. In case the photos have thumbnails, they will be saved in a separate folder. Therefore, there is no restriction on where you can save them.
10. The Repair Tool is Simple to Use
Complex software can leave you distressed. However, the software has a straightforward and interactive interface therefore, you won't have any issues when repairing the images.
It is also a safe and trusted tool therefore, you shouldn't fear any malware getting into your computer. You just need to:
Step 1: Download the free trial or choose the preferred paid package for Windows or Mac.
Step 2: Install it and start using it.
Step 3: On the dashboard, click the "add file" option. Proceed on to choose all the RAW photos that you want to fix.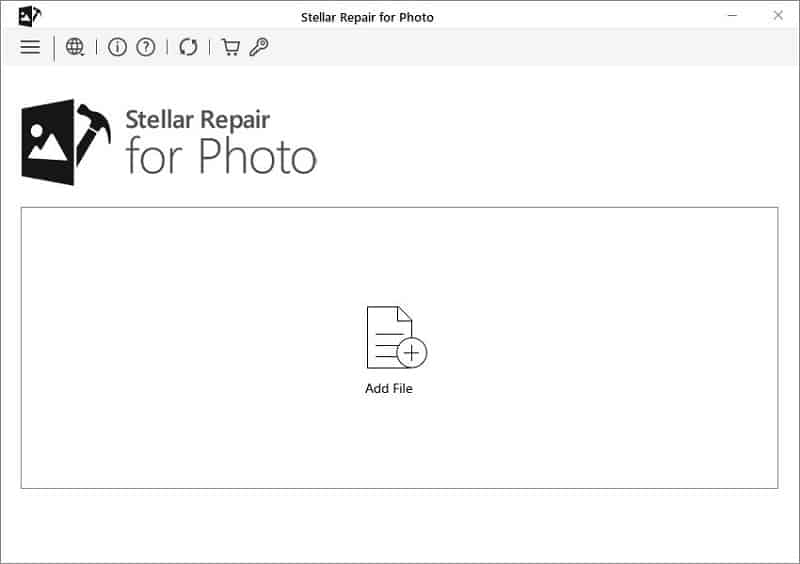 Step 4: Select "Repair" and start fixing it as you wish.
Step 5: Preview the repaired images until satisfied.
Step 6: Save in your preferred location.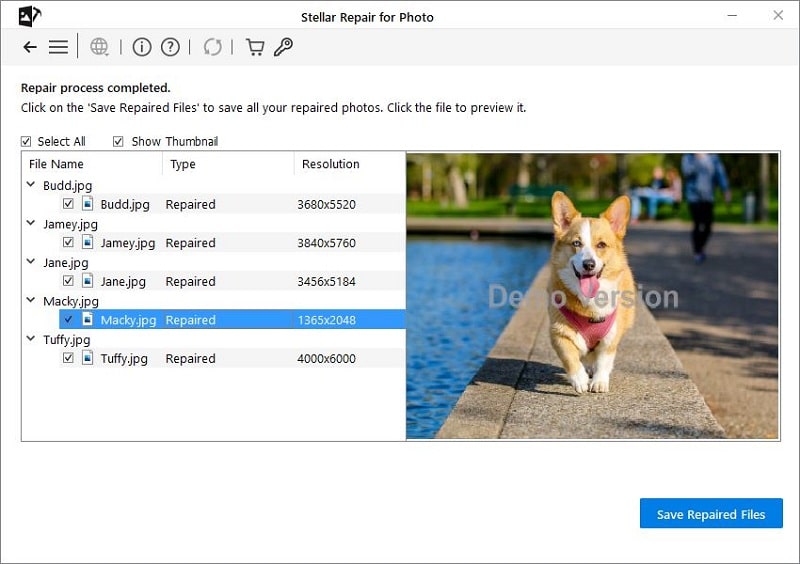 About Stellar Repair for Photo: It can repair distorted, blurry, pixelated, & greyed-out photos and fixes corrupt headers & invalid image file structures. This powerful software can fix any kind of image corruption and makes them sharp and vivid. Read more.
---
Is It Cost-Friendly?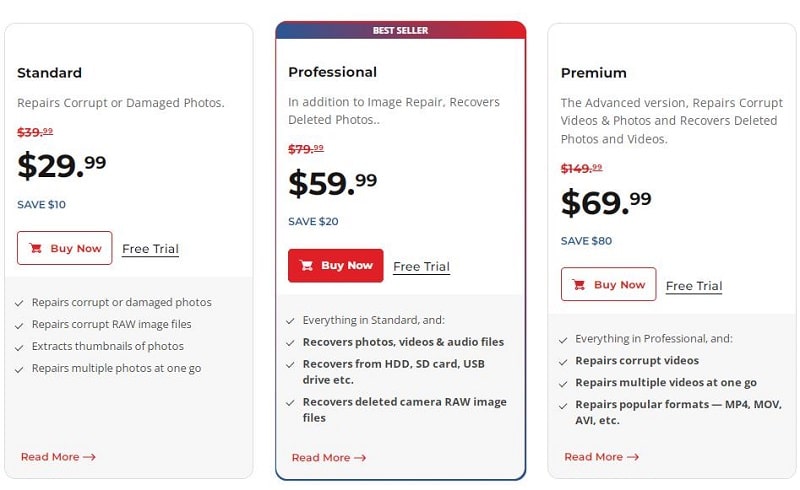 With all these amazing features you might be wondering whether it is cost-friendly.. Based on your budget, you can choose the standard package that goes for $29.99, the professional package that goes for $59.99 and the premium version that goes for $69.99. However, the features are limited base on the price.
All the packages can suit any needs, therefore you can start with the standard one and then upgrade with time. You shouldn't lose images just like that!
---
Repair All Affected Images In An Instant
The Stellar Repair for Photo software is here to save the day! You don't have to feel sad about any distorted, blurry, or destroyed photos, You can use the software to repair the photos as required.
The company has been in operation for over 25 years which makes them one to be trusted. Losing captured memories through images can be frustrating, that's why you can use this software to fix all the photos that you require.
Therefore, even if you aren't a graphic designer, with some little skills, you can use the software to fix all your images. All your memories will remain intact. Both amateurs and professionals can benefit from using it. What are you waiting for?