The online casino industry is worth more than $70 billion in 2022. It is projected to continue growing at double figures in the next decade. That's great. But it means scammers are constantly trying to defraud gamblers and casinos alike.
Casino scams have been around since the industry started. However, fraudsters tend to change their tactics regularly. If you like having fun with slot machines and poker games, you ought to protect yourself from the following scams.
---
1—First Deposit Scam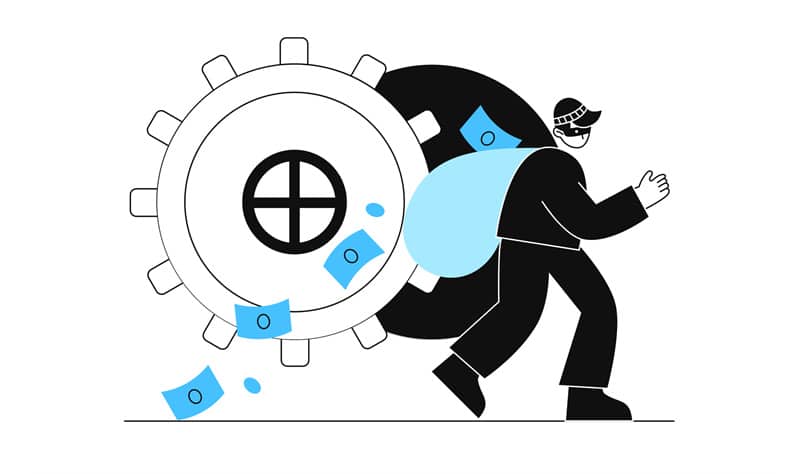 Deposit theft is arguably the most popular scam in the casino sector. It's a straightforward con. A casino lures you to create an account with them. It then promises a generous bonus if you complete your first deposit.
Usually, most casinos have a minimum deposit amount, say $10 or $20. However, they accept up to $100,000 in deposits. After you complete your first deposit, the fraudulent operator will usually freeze your money and make it impossible to cash it out.
You can always try to contact customer service. But there will be no one to respond to you. In the end, many victims give up on their money because it's a small amount and may not know how to get it money back.
How to Stay Safe: Find a comprehensive list of trusted casino sites and compare them for safety, trustworthiness and quality of services. Choose the right casino for you after in-depth research. Also, use a secure payment method that offers chargebacks in case you send money to a scam site.
---
2—Unsuccessful Withdrawals
Far too many dishonest casinos use this tactic. They look and operate like professional gambling sites until you win money and request to withdraw it.
Let's say you deposit $50 and use it to play five rounds of roulette—$10 per spin. By luck, you win a straight bet guaranteeing 35x your stake. Now, the casino owes you $350.
Because you're a risk taker, you spend some of your profits on slots and end up winning $10,000. At this point, you want to cashout your profits. But then the scam unfolds.
After you initiate the withdrawal process, the operator begins to frustrate you. They might ask for a ton of verification documents. If you fail to produce all of these documents, they confiscate your winnings.
They could also accuse you of cheating. But the most common trick is to promise to process your withdrawal with no intention of ever doing it.
How to Stay Safe: Read a casino's reviews to find out whether it processes withdrawals consistently. Another tip is to read its terms and conditions. Some operators have terms designed to make it hard to withdraw large winnings.
---
3—Bonus Scams
Of all the casino scams out there, this is the one that most people fall for. Here's why. People love free things. So, when a casino promises 100 free spins to play Starburst, Gonzo's Quest or Thunderstruck II slot machines, people pay attention.
Usually, the main condition is to make a deposit in exchange for the bonus. If you're not getting free spins, the bonus might be a 100% or 200% matched deposit worth up to $1000.
The actual bonus scams happen in several ways. For example, a casino might have a painfully high number of wager requirements, say 70x to 99x your bonus amount. Sometimes the wager requirements are a multiple of the sum of your bonus and deposit amount.
All the same, a generous bonus is of no use to use if you need to fulfill 99x your deposit amount. Picture this. If you earn a $100 bonus and win $500, you will need to spend $9900 (99 x 100) before you can withdraw your $500 winnings. It is not worth it.
How to Stay Safe: Read bonus terms before you accept a promotion. If the wager requirements are too many (above 40x), find a better bonus.
---
4—Phishing Scams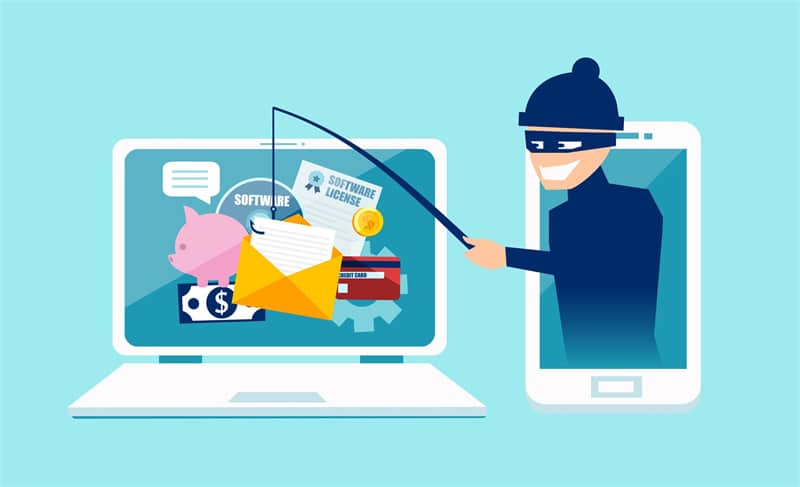 Phishing is a popular Internet scam that doesn't just target casino players. An attacker pretends to be someone or something they are not. And they use their fake identities to scam people.
In the casino scene, phishing scammers pretend to be genuine casinos. They could send you an email with a message that you have won a lot of money at a casino you know.
Next, they ask you to click a link to log into your account and withdraw your money. If you follow through with their demands, they will usually collect your personal information with the intention of stealing your identity.
Alternatively, the scammer might install malware onto your PC and smartphone devices. Then they could ask for ransom.
Hot to Stay Safe: Learn how to identify phishing scams. Look at the fine details like the email address claiming you've won money. Importantly, don't click links from suspicious emails or download files from strangers.
---
5—Crypto Scams
Crypto needs no introduction, not in this age of celebrities, governments and news networks talking about it daily. For the uninitiated, cryptocurrencies are a form of decentralized, digital payments.
Bitcoin started the industry in 2009. But over time, there have come up hundreds of new cryptocurrencies. The primary goal of the industry is to become a genuine payment method for shopping, paying fees and even gambling online.
Against that backdrop, scammers have found ways to scam casino players who love crypto. For example, a newly launched casino might offer bigger bonuses for Bitcoin deposits. But once you deposit money, they freeze your account.
You can't reverse crypto payments, making them pretty convenient to scammers. Another way frauds use Bitcoin to scam people is by launching crypto games. Needless to say, the scammers claim you can win a lot of money through the games. But they are scams designed to suck your money.
How to Say Safe: Use crypto only at safe and reputable casinos. On the other hand, avoid deals that sound too good to be true.
---
Your Turn
Casino scams come in many forms. Sometimes they are difficult to detect. Increase your chances of staying safe by using the tips highlighted above.