ASUS Windows 11 update may be the topic you wonder about. If you are using an ASUS laptop, you may ask: can I upgrade it to Windows 11? How to update Windows 11 on an ASUS laptop? From this post, you can find answers.
Nowadays Windows 11 has been released for a long time and many users decide to install this new operating system to experience its brand-new UI design, security and improved & new features like teams, widgets, snap group, snap layouts, multitasking, and more.
If you are using a Windows 10 ASUS laptop, you can choose to upgrade Windows 10 to Windows 11. But here comes the question: is your laptop compatible with Windows 11?
---
Check If Your ASUS Laptop Can Run Windows 11
In terms of Windows 11 system requirements, they are higher compared to Windows 10. For example, at least 4GB of RAM, 64GB of storage space, Trusted Platform Module (TPM) version 2.0, UEFI, enabled Secure Boot, and more.
To successfully upgrade to Windows 11, your ASUS laptop should meet these high system requirements. You can check your PC specifications to know if it meets them. Just refer to this related post – Basic Windows 11 System Requirements for PCs & Laptops.
To quickly know if Windows 11 is compatible with your laptop, you can run the professional app – PC Health Check. Just get this compatibility checker from Microsoft's official website and launch it. Then, click the Check now button to start a check.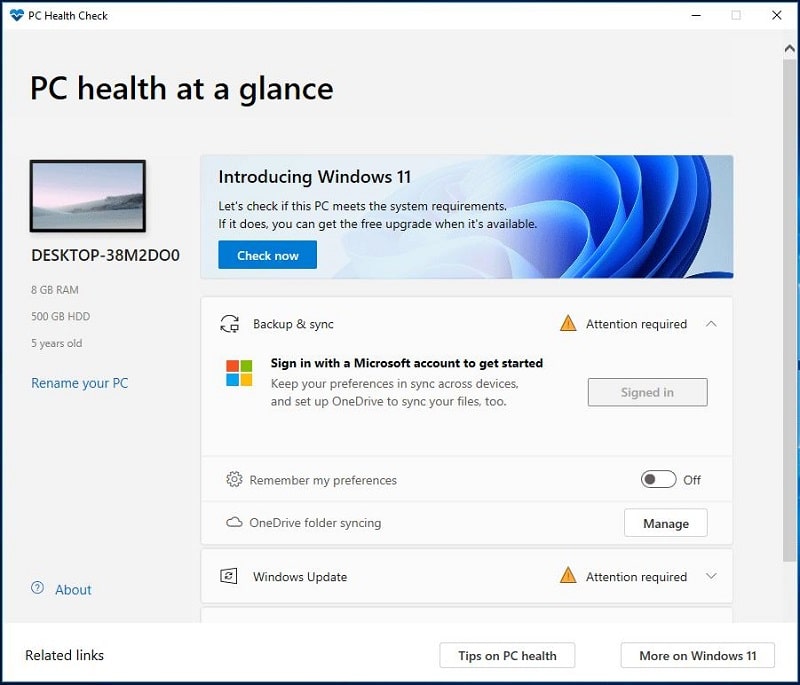 After a while, you know the result. If your ASUS laptop meets Windows 11 system requirements, you can take measures for ASUS Windows 11 update. If not, you had better purchase a new laptop with pre-installed Windows 11 for use.
So, how to update Windows 10 to 11 on an ASUS laptop? It is simple and just follow the guide below.
---
ASUS Laptop Windows 11 Update
Back up PC Before ASUS Windows 11 Update
Since Windows 11 is not stable enough now and some update issues may happen. Sometimes data loss or system crashes can frustrate you. Thus, before the update, you are recommended to create a backup for your laptop.
To do this work, MiniTool ShadowMaker can be a good assistant. The backup software supports creating a system image for Windows 11/10/8/7 and backing up your files, folders, disks, and partitions. Besides, it allows you to create a bootable USB drive/hard drive or CD/DVD for backup & recovery in case of system breakdown. How to back up your ASUS laptop?
Step 1: Go to https://www.minitool.com/download-center/ to download MiniTool ShadowMaker Trial Edition and install it on your PC.
Step 2: Launch it, go to Backup, choose the files you want to back up (by default, system partitions are selected) and specify a path for the image file.
Step 3: Click Back up Now to execute the backup task right now.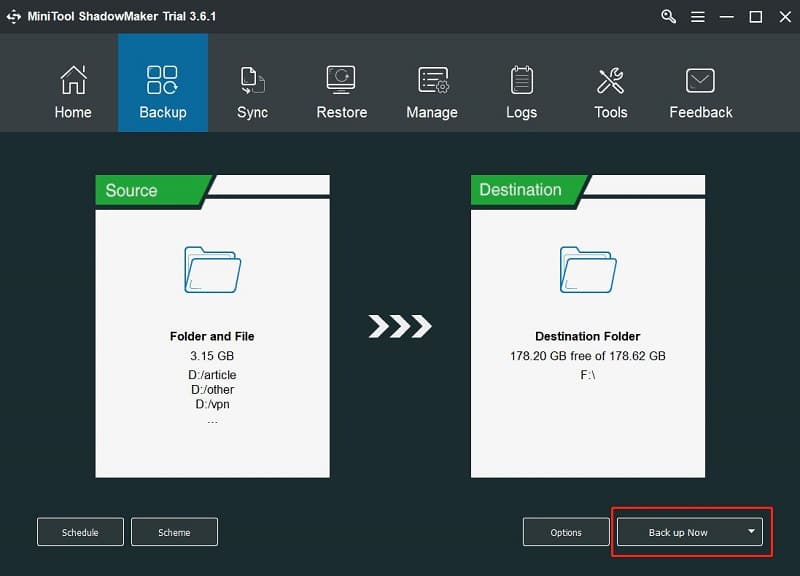 After the backup, now start ASUS Windows 11 update in multiple ways.
Upgrade to Windows 11 via Windows Update
If your laptop is available to install Windows 11, Microsoft will give you a notification in Windows Update and you can go to do the update here.
Step 1: Go to Settings in Windows 10 and click Update & Security > Windows Update.
Step 2: Check for updates and a notification will appear. Just click Download and install to begin the update process.
Upgrade to Windows 11 via Windows 11 Installation Assistant
Microsoft offers a professional tool called Windows 11 Installation Assistant to perform the update task. You can get this tool from the page – https://www.microsoft.com/en-us/software-download/windows11 and then start the update task.
Step 1: Launch this update assistant in Windows 10 and click Accept and install to go on.
Step 2: The app will take some time to download Windows 11 and be patient.
Step 3: After the PC is ready to install, start the process by clicking Restart now.
ASUS Windows 11 Update via ISO Mount
In addition, you can download an ISO file of Windows 11 from Microsoft's website, right-click on it to choose Mount in Windows 10, and then click the setup.exe file in the created virtual drive to start the in-place update.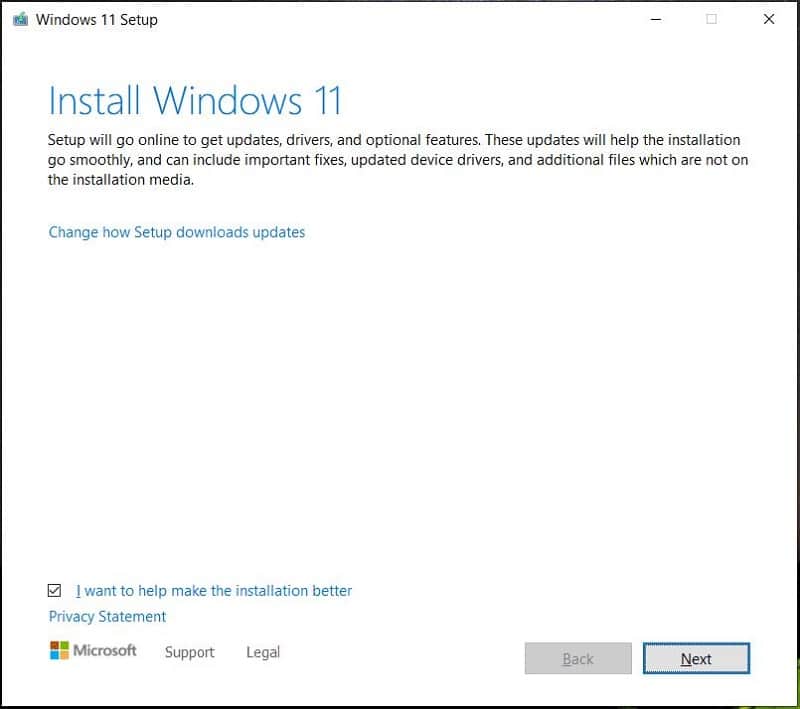 Tip: These three options are about Windows 11 update. To install Windows 11, you can also create a bootable USB drive with the download ISO file using Rufus, boot the ASUS laptop from the drive and start a clean install.
---
Final Words
ASUS laptop Windows 11 update is a common topic and it is easy to do. You can follow these options above to update to Windows 11. Before an update, it is necessary to create a backup. If you want to know more details about the update, refer to this related post – A Guide on ASUS Windows 11 Update in Laptops & Driver Update.