Have you ever heard of the Cybersole bot? You can use it to cop many latest sneakers fast. It is reliable, credible, and easy to use. You just need to get the bot license, set it up, and start creating tasks.
---
Overview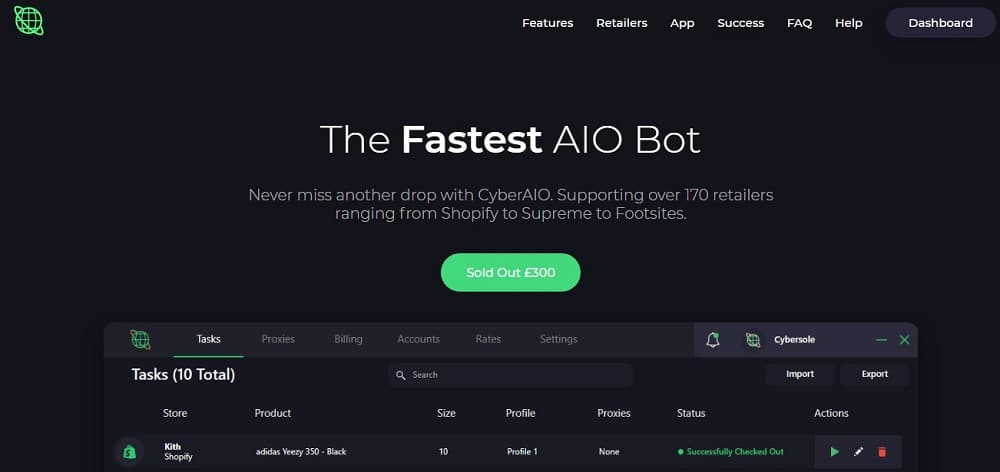 Have you ever used a sneaker bot? How was the experience? Cybersole is a sneaker bot like any other that first came into the market in February 2017. Over time it has gained popularity with many sneakerheads. If you are one, you are missing out on these great Cybersole bot capabilities!
Its many features and consistent success has made it an overall fan favorite. It is software designed to help increase your chances of purchasing limited-edition sneakers, items, and clothing. It is important to know its features and advantages before you make a decision.
---
The Price

The price is a major factor when considering buying a bot. On Cybersole's official website, it retails at £300 with 6 months of free updates. After that, you will be required to renew for £100 every 6 months. If you get to buy it, consider yourself among the lucky ones.
To get it on resale, you will have to part ways with thousands of dollars. Compared to other bots, the Cybersole is definitely in the higher price range. Hence, keep checking their social media for updates on restock of the bot. However, don't put your hopes too high; they rarely restock!
---
Site Support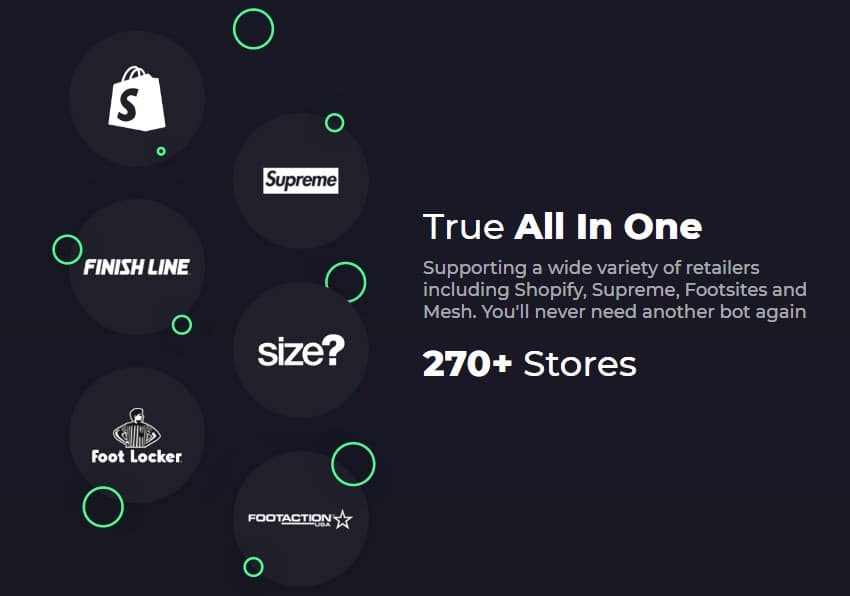 Cybersole supports over 270+ sites from Shopify, Supreme, Footsites, and Mesh sites. It provides fast and reliable website performance.
Additionally, it features hundreds of task techniques, multi-tab, and window captcha. When you miss a drop, the bot automatically waits for the restock. When there is a new release, you get notified.
You can cop as many sneakers as you wish without any kind of restrictions. You can then resell the excess sneakers for profit after you save some for your family and friends.
---
Support for Proxy Configuration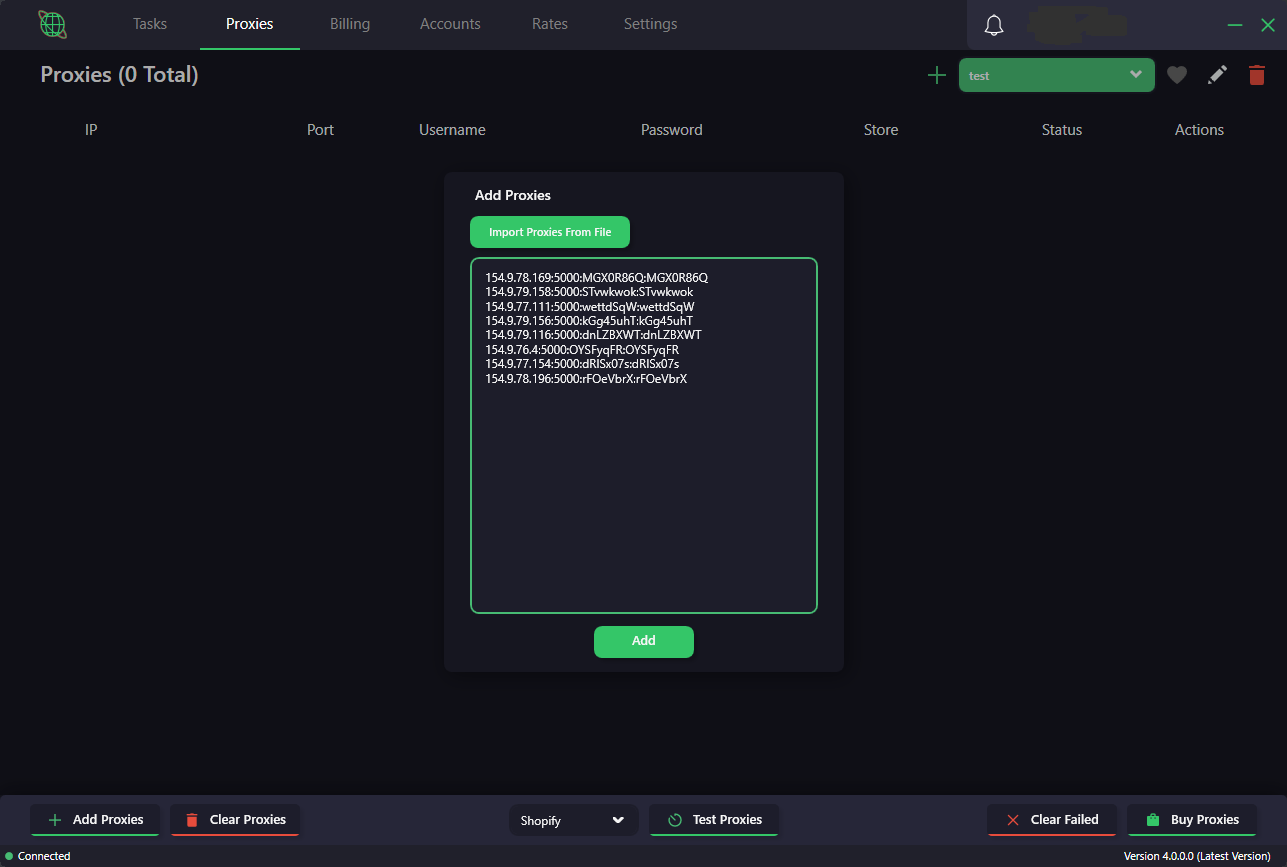 Cybersole supports proxy configuration. On the dashboard, to add a proxy, simply click on the plus icon on the top right or the add proxy button on the bottom left of the screen.
You can also copy &paste or import from a file and arrange them in lists for convenience. With the lists created, you can assign specific proxies to the different tasks you create. If you want to be at the top, you have to do proper research to get the most reliable proxies.
If your computer is not reliable, consider getting a server to run tasks faster. Don't let your slow computer prevent you from living your full potential while copping.
---
Multi-Threaded Task

Cybersole is fully multithreaded to ensure lightning speeds while performing tasks. There are no limits on the number of tasks that can be run simultaneously. Surprisingly, all these tasks can run without hindering the speed.
This feature allows the bot to multitask. If you tried multitasking to cop sneakers or clothing, you might end up getting very few items. However, with Cybersole, you just need to set it up then direct it on what to do at a specific time.
---
Multi-Platform Support
Currently, Cybersole only works on Windows 8 and 10. However, you could run it on macOS through a virtual machine. There is a dedicated support webpage for setting up virtual machines on Mac on their website.
After setting up Cybersole on your machine, you get a free Android and iOS mobile application to create and control tasks. The app can also solve the captcha and track analytics. Hence, you can rate how well you are doing on the sales. If you get more order declines than success, check your setup.
---
Features of Special Sites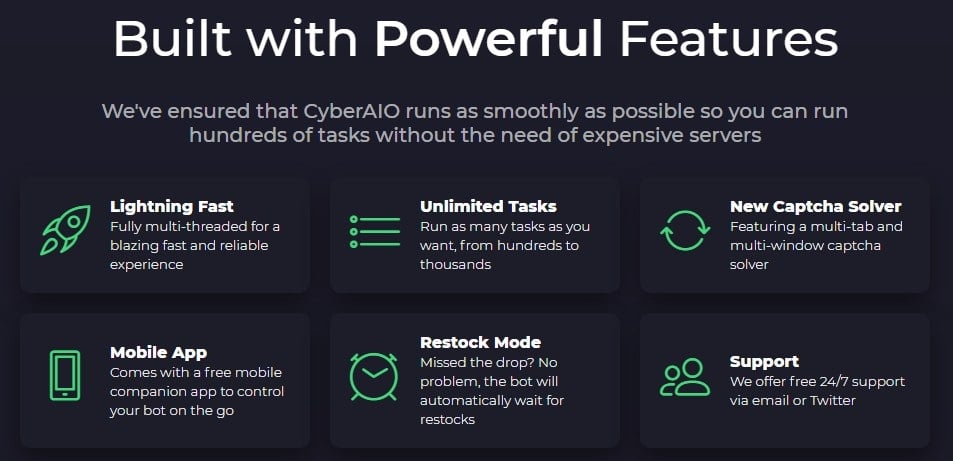 This bot is high speed offers a fast captcha solver, queue bypass, and anti-bot bypass. Hence, it reduces the chances of orders getting canceled.
To avoid being blocked out, invest in quality proxies. Avoid the cheap and free proxies since those can easily be blocked by websites. It is advisable to use residential proxies to obscure IP addresses and tweak shipping addresses.
---
Collocation of Discord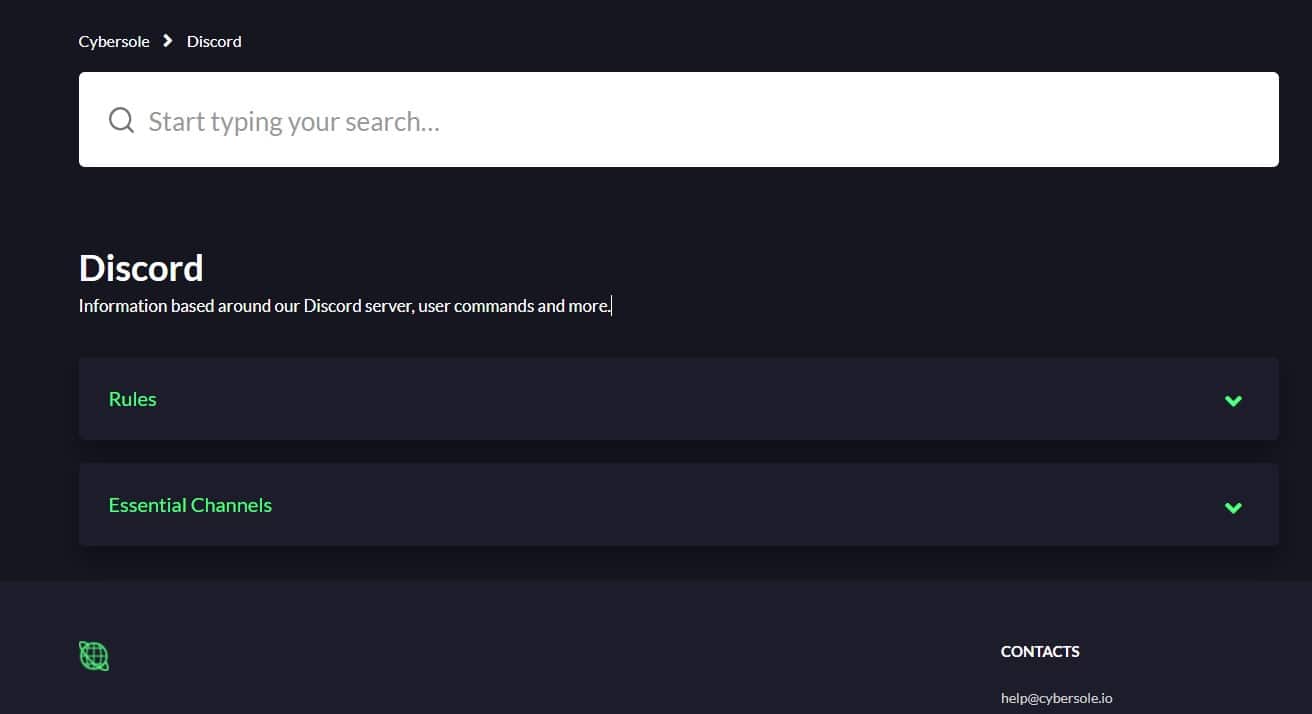 It does not matter whether you are an experienced user or a novice on using bots. You will get 24/7 support via multiple platforms. Support is available at all times via Discord or through a support ticket system.
There is also plenty of content for users to read for common setups and troubleshooting. Go on ahead and join the Discord server for more inquiries.
The discord community is more valuable than any blog, Q&A site that you can find on the internet. You are interacting with experienced people who have been using the bot. What knowledge can be better than that?
---
A Fly in the Ointment
They rarely restock the bot, not unless you rent it.
It is expensive
It only supports Windows. You can use it on Mac using a virtual machine.
---
Do we recommend buying it?
Cybersole has become one of the most coveted sneaker bots in the market, causing it to be quite pricey. As a new user in the sneaker bot environment, it may be difficult to get your hands on the Cybersole bot. However, it is worth the investment for a seasoned user. If you are a beginner, look for cheaper alternatives.
However, if you would like to try out Cybersole and eventually buy it, you could always rent it. This is because, with the monthly random restock of the bot, you may never get it. Stay active on the platforms, and you may find your Cybersolebot soon.
---
Frequently Asked Questions
1. Does Cybersole offer group buy?
There are no private or group sales. The only way to get a license is via public releases.
2. Which countries does Cybersole support?
All countries supported by Shopify are supported by Cybersole.
3. How much does Cybersole cost on resale?
Buying it on resale, on average, costs around $6000-$7000.