Aio Bot V2 is a name that sneaker lovers often hear. This is one of the best sneaker bots that is an upgrade of the first AIO bot V1. It is ideal, reliable, and fast. This review will prove to you why it should be your best sneaker bot choice!
---
Overview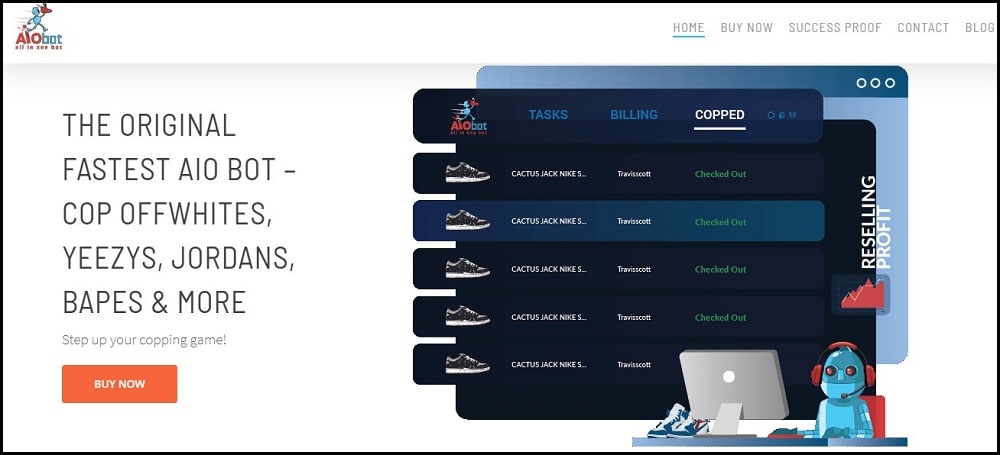 All in One Bot has grown in popularity since it joined the market in 2014. Many people opt to use it because of its ease of use, setup, and efficiency. Who wouldn't want an effective bot that rarely gets banned? The AIO bot was created by the same developers who made Another Nike Bot (ANB).
AIO bot V2 supports over 200 sites with 300K + successful checkouts. The checkout rates should give you more confidence on why you should get the bot.  Additionally, the AIO bot features a discord server, multiple task modes, and a harvester that generates captcha tokens.
Of all the popular sneaker bots, it has one of the best marketing channels that has made it become popular fast.Why would you hesitate to trust such a bot?
---
The Price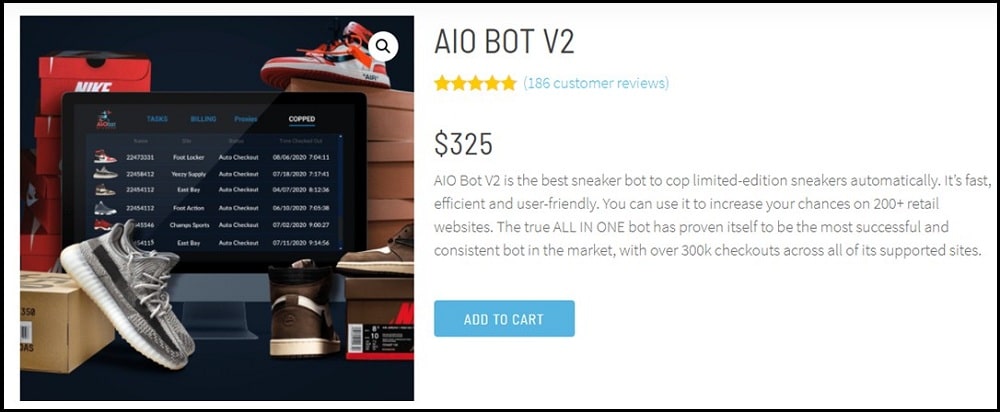 To get the bot, you pay a one-time fee of $325. After this, you get free bots updates for the first six months.
After six months, you pay a subscription fee for software updates. Once you start selling the copped shoes for profit, you can pay for the bot upgrades. If you're on a budget, it provides value for your money.

---
Site Support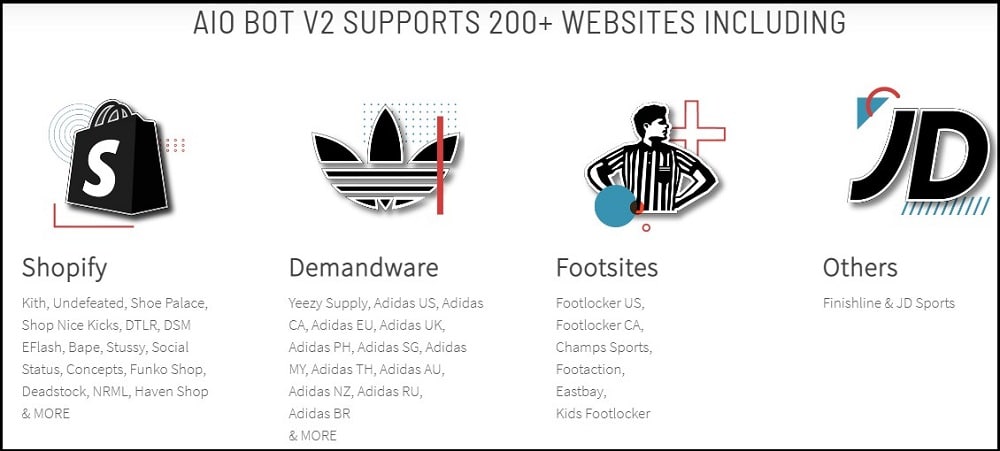 AIO bot supports over 200+ sites. These include sites like Adidas, Yeezy, Jordan, Shopify, Demandware, Foot sites, Eastbay, Kith, and much more. It also allows you to cop from other retail stores to get relevant items that you need.
It has a great database of the sites that it supports. Hence you can't miss out on sales. However, you need to set up the tasks appropriately to get the best from the bot.
---
Support for Proxy Configuration
To increase the chances of acquiring a sneaker, use a proxy. Proxies help to hide IPs and provide different IPs for different tasks. AIO Bot supports configuring a proxy for the different accounts that will be assigned for the tasks.
This helps reduce the chances of your orders getting canceled. To prosper, use the top-notch proxies for the tasks and avoid the "fast mode" setting by all means. The residential proxies are the best to use in this case. Don't opt for the datacenter proxies that are easy to detect due to the sub-networks.
---
Multi-Threaded Task
AIO bot uses a multi-threading technology that supports a maximum of 100 tasks. The more tasks you do at the same time, the more likely you are to get a sneaker. The multithreaded capability gives it the ability to multitask. Hence, cop many sneakers or items simultaneously.

On top of that, it also offers a site monitor to catch restocks or sudden drops. You can use the product keyword search to acquire items. It has great auto-checkout and retries support. Hence, just set up reasonable delays to checkout fast without the target site noting that you are using a bot. Bots will help you get products faster than if you were doing it manually.

---
Multi-Platform Support
The AIO Bot only works on Windows. Fortunately, Mac users don't have to worry. The AIO bot development team provides tutorials that let you run your virtual machine on your Mac. The bot's effectiveness doesn't change depending on the platform. It works perfectly on both.
---
Features of Special Sites
This AIO has some special features on different sites. For instance, Shopify supports queue bypass and Shopify Monitor. Hence you can know whenever there is a restock so that you can start copping. For Footsites, it supports the captcha bypass function. These two features make it preferred by many beginners because of the ease of use.

---
Collocation of Discord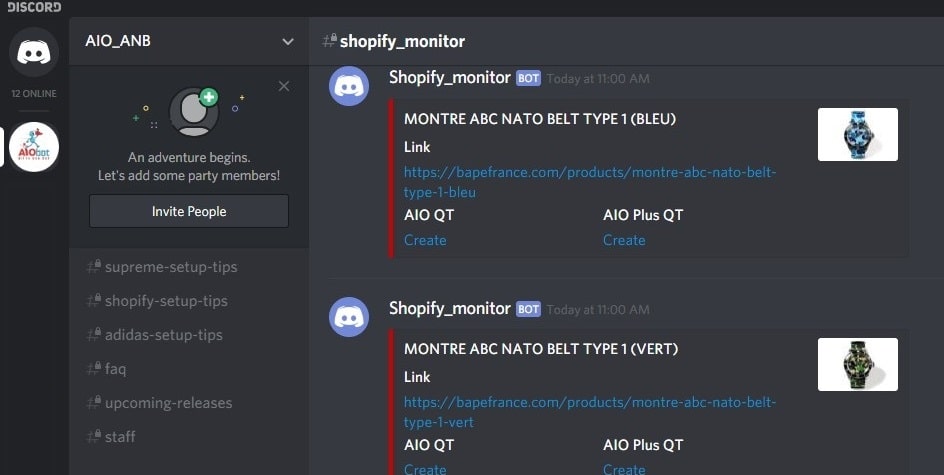 When you buy the AIO Bot, they'll give you a free discord group where you can get guidelines on posting settings and discuss them with other sneaker players. The group will help make using the bot easier than you expect.
When you are in a group of like-minded people, it becomes easier to understand. As compared to having to ask the development or customer service for assistance.
In the discord group, you can know when there is a restock, which site is about to release sneakers, and much more. This helps you to always be updated and learn how to use the AIO bot fast.
---
A Fly in the Ointment
Nike is not included for now
You can't resell
The price is a bit expensive.
---
Do we recommend buying it?
Yes, we highly recommend it. It's a good choice for both beginners and veterans. It will surely help you achieve more success in your sneaker business. When you purchase it, it is easy to set up and features a multi-captcha solver. The unique Shopify and Footsite bypass captcha make it a must-have.
The AIO bot features like link monitor and product keyword search increase the chances of succeeding in coping sneakers or any other items. The proxy support prevents your bot from getting banned or your order canceled.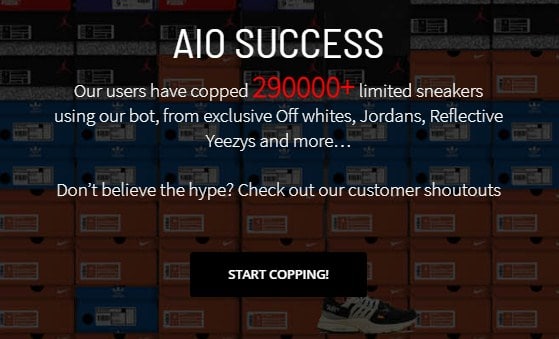 ---
Frequently Asked Questions
1. Can it be used on multiple computers?
No, it can only be used on one computer. To run on another computer, you need to migrate or purchase an additional license ($200).
2. Is the AIO bot effective?
Of course, they've already checked out 300,000 times, and you can see a lot of users sharing their success stories on their Twitter feed.
3. Can you use optimized servers and proxies?
Yes, you can use optimized servers and proxies to hide your IP and use different IPs. If your computer is not so strong, consider using a server that will help you to cop more items and sneakers fast.
All the best as you cop sneakers. Click Here.