Project destroyer bot is one of the best in the market. It features multi-threading, multi-tasking, proxy configuration, and bypass. You also get access to a discord server and community for all your needs.
---
Overview
Online shopping has been on the rise. This has greatly affected how people shop positively.  The demand for sneakers is out of this world, and people have had to devise ways not to miss out on the latest limited editions. Sneaker bots came to life, to help kicks-enthusiasts not to miss out.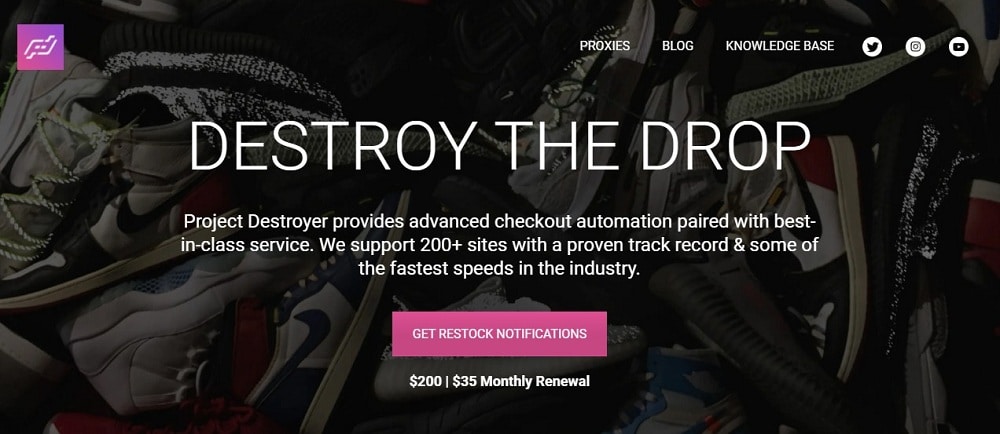 Project Destroyer is one of the prominent sneaker bots in the industry.  It is an established All-In-One market bot that has existed since 2017. Project Destroyer developers have kept tabs on the recent available technology, making the bot always up-to-date to remain competitive.  With the regular updates, Project Destroyer stands out as one of the most consistent in performance.
---
The Price

Project destroyer retails at around $200.  You are then required to renew your subscription monthly for $35.  However, you can get a lifetime copy for about $500 from a reseller.  It is pretty economical to pay the extra amount for the lifetime copy.
The lifetime copy will let you avoid the renewal costs, which are a bit high for someone on a budget. Many see the price as a bit high, but it is worth it, considering its benefits.  Unfortunately, due to high demand, Project Destroyer is out of stock.  You can still rent or purchase from the resale market as you wait for a restock.
---
Site Support

Project Destroyer supports over 200 significant sites from Adidas, Shopify, Demandware, Supreme, Nike, Mesh, and Foot sites.Project Destroyer is on the verge of finalizing the development and later release of their app.
This launch will help in solving captchas that are hectic during checkout and log-in. The flexibility of this bot makes it one of the most preferred in the market.
---
Support for Proxy Configuration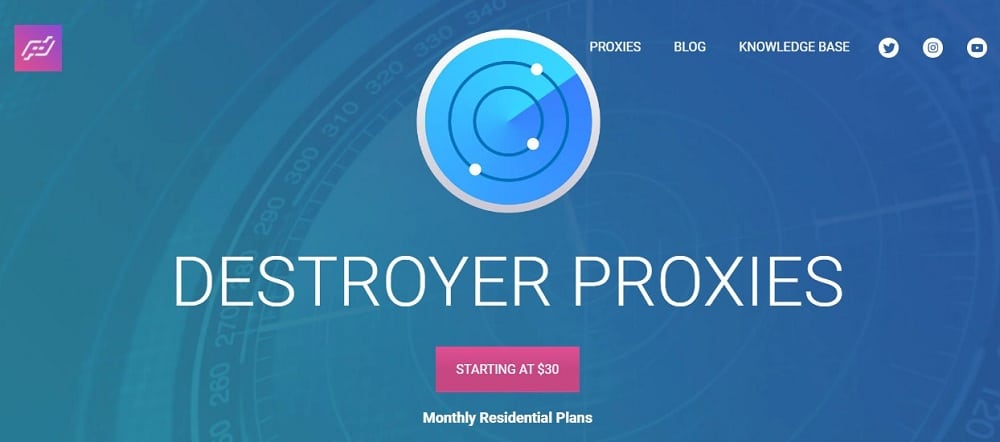 Proxies are ideal to hide your IP or use an alternate IP address. How many times have you tried accessing certain sites, but you were restricted? Many, right? Well, proxies will help you bypass such restrictions.
In this case, you will have multiple IP addresses for the different bot tasks. Hence, you will be able to cop as many shoes as you would wish.
---
Multi-Threaded Task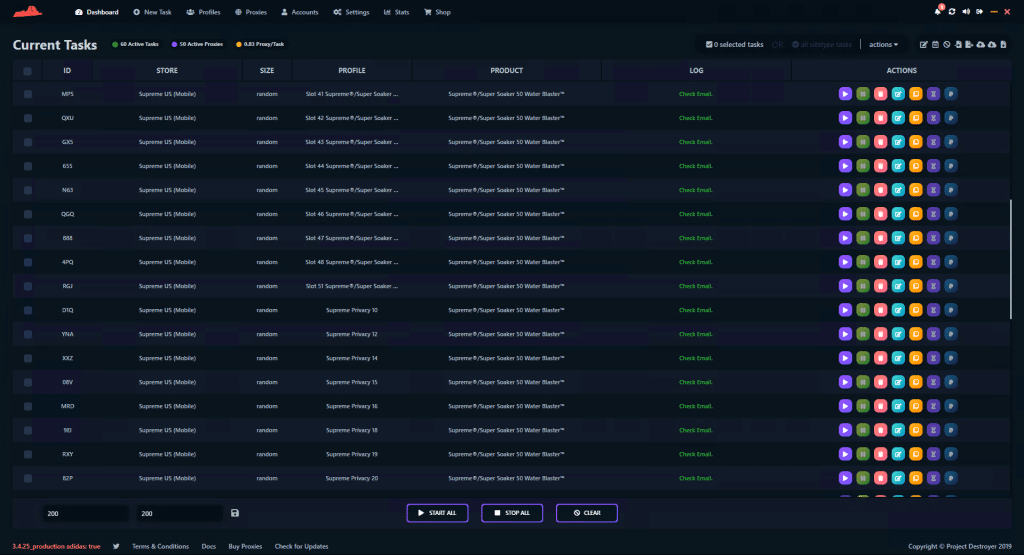 Yes, project destroyer is multi-threaded meaning that you can perform as many tasks as you wish. However, for this to work perfectly, you will need to assign proxies for different tasks. Remember, the project destroyer supports different sites, hence, you need to create tasks for each of the sites.
---
Multi-Platform Support
Project Destroyer works very well on both Mac OS and Windows Operating systems.  This makes it convenient for every user. Thereby, don't be worried about missing out due to Operating system compatibility.
---
Features of Special Sites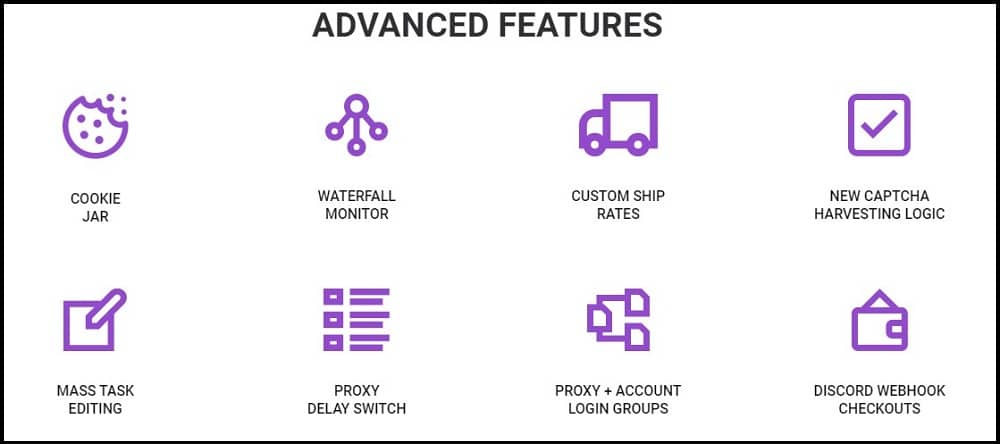 The fascinating thing about the Project Destroyer bot is the myriad of features embedded in it.
Apart from the standard features like task creation and analytics page, it brings more to the table. Constant developments and improvements have been made to ensure the bot stays ahead of the market curve.
Part of the latest updates includes the option of adding account groups and proxies.  The aim is to allow the organization of group accounts for specific sites together.  During the creation of tasks in a group, you can launch the functions to each account within the group.
This reduces the workload of dealing with each account individually.  It also reduces the chances of using an account twice, minimizing the risk of bot detection.
This feature comes in handy when you are monitoring drops that share the exact keywords. Project destroyer bot is designed to focus on only one task or keyword instead of the whole bunch of keywords.
This setting is vital as it reduces the chances of being detected and banned from the website.  When using Proxy plans, waterfall monitor minimizes the use of proxy data.
Project destroyer bot comes with this feature to help during the running of tasks.  Most times, you might not have time to edit tasks one after the other.  This feature allows you to select and set functions in any way that you want.
You have room to customize your jobs based on websites or ID.  This systemic way of editing multiple tasks reduces the pressure during drop times.
---
Collocation of Discord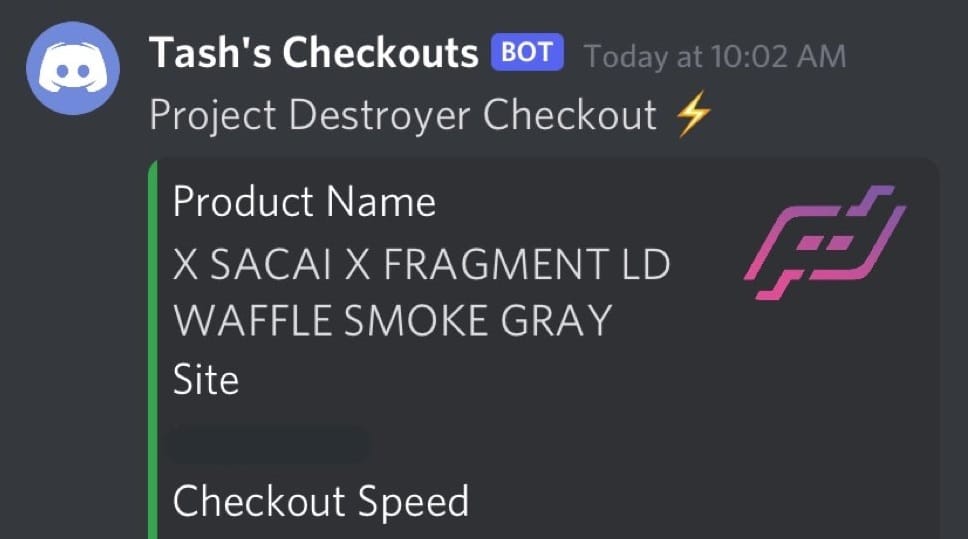 Yes, the project destroyer also features a discord server and community. Hence, you can always get regular updates, advice, and the latest on how to use the bot. Moreover, you can always get bot/discord updates through their Twitter account.
---
A Fly in the Ointment
Project Destroyer bot does not work well with Supreme sites.
The Bi-annual renewal fee is a bit expensive.
In terms of consistency, the Project Destroyer bot is not that sharp.  This might be due to the constant changes and updates available.
---
Do we recommend buying it?
Project Destroyer bot is an excellent choice if you are into the sneaker business.  It is generally good for newbies and veterans to botting.  If you have the cash, you can purchase the lifetime copy to avoid the renewal expenses.
The cost is a bit high compared to other sneaker bots, but you get value for your money.
---
Frequently Asked Questions
1. Is the Project destroyer bot effective?
Of course.  From the endless success stories available online, there is no doubt about its effectiveness
2. Can it be used on multiple computers?
Project Destroyer is only used on one computer.  To run on another computer, you need to deactivate your key first then install/ activate the Project Destroyer bot on the other device.  Ensure you use your key.
3. How do I Deactivate my key?
To deactivate your key, click on the box located at the top right-hand corner adjacent to a red X.
4. When do I log in to Google? 
20-30 minutes before the drop should be ideal.