What you may not know is that it's not just the graphics card or CPU that determines the fluency of your game. The monitor also plays an important role.This article will show you how to overclock monitor to get a better refresh rate for your game.
Overclocking your monitor for gaming is about raising the refresh rate over and above the stock rating. Technically, overclocking increases the monitor's on-screen frame rate; the number of frames per second and decreases the input lag.
A higher number of frames per second translates to a higher clock rate which then means better picture quality. Simply put, overclocking refers to the number of times a picture displayed on your monitor is regenerated per second to ensure crisp clarity for the best visual experience. Overclocked monitors display distinct images.
The standard for measuring clock speed or refresh rates is Hertz (Hz). A 60Hz monitor refreshes on-screen pictures 60 times per second. Similarly, a 75Hz monitor will refresh an image 75 times per second. The same is true for a 144Hz monitor. The overclock rate is considerably higher in LCD monitors compared to screens on analog devices.
---
Is Overclocking a Monitor Worth It?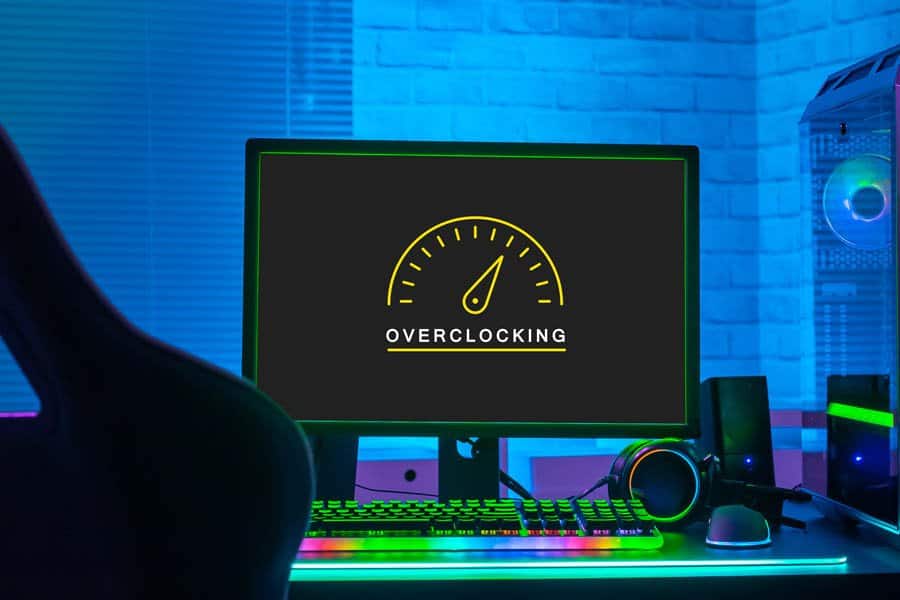 Of course, it is worth it especially considering that it improves image quality and overall video rendering performance. A higher refresh rate translates to superior on-screen image quality which gives you a competitive edge when gaming or streaming content.
However, there's a caveat. Overclocking the monitor is not everyone's cup of tea, especially if your monitor display isn't built for higher screen resolutions. Pushing the rates far beyond the recommended overclock capacity puts your monitor at potential risks of getting damaged.
Moreover, PC panels do not only differ in specs but also some of them come with a preset factory overclock thereby making things more complex if you were considering pushing the overclock limits for such screens. Nonetheless, overclocking is still a neat trick, well worth a try.
---
How to Overclock Your Monitor
Overclocking any gaming monitor is very easy. There are three main ways to go about it. You can do it with the help of a Custom Resolution Utility (CRU), Windows utility, or using a graphics card. Let's take a look at each of these options.
---
CRU Software Overclocking
Custom Resolution Utility (CRU) is among the oldest methods of overclocking display panels. It's worth noting that CRU works excellently on devices with AMD graphics but not those with Integrated Intel graphics or GPUs. In order to use this third-party tool, you'll need to download and install it first. After that, proceed as follows:
Step 1: Launch the CRU software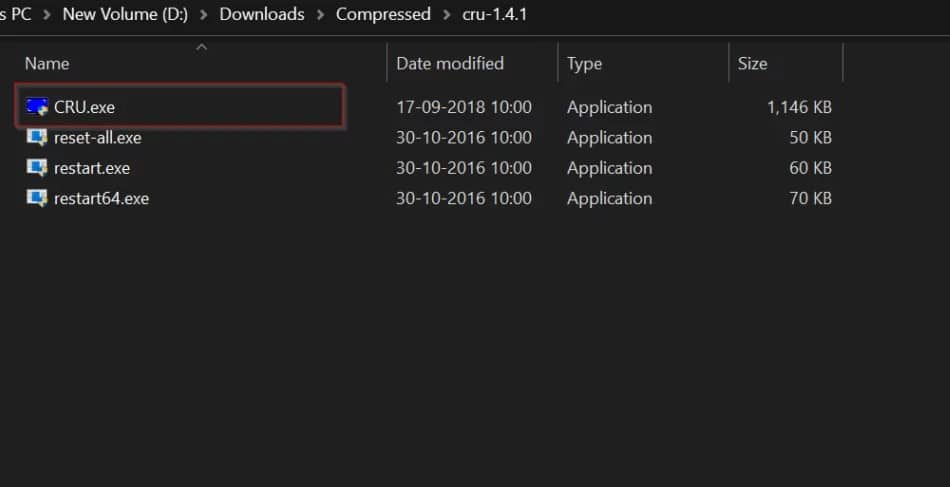 Step 2: On the tool's interface, two screens will appear for Detailed Resolutions and Standard Resolutions.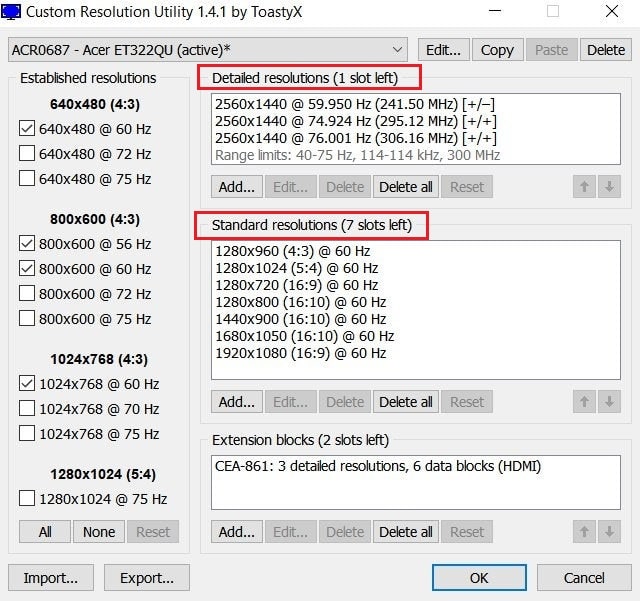 Step 3: Select the Detailed Resolutions screen and then click Add.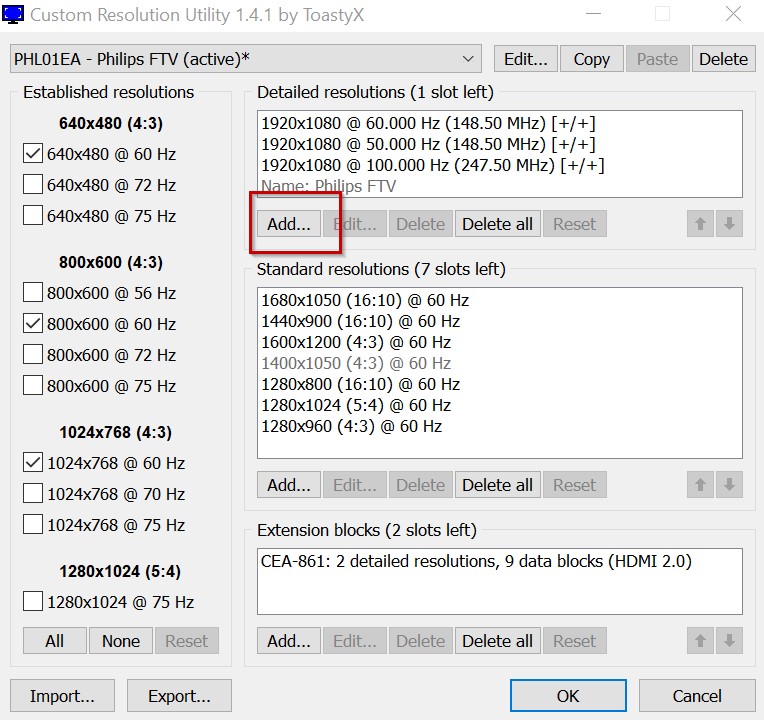 Step 4: Click the dropdown for Timing then choose LCD standard.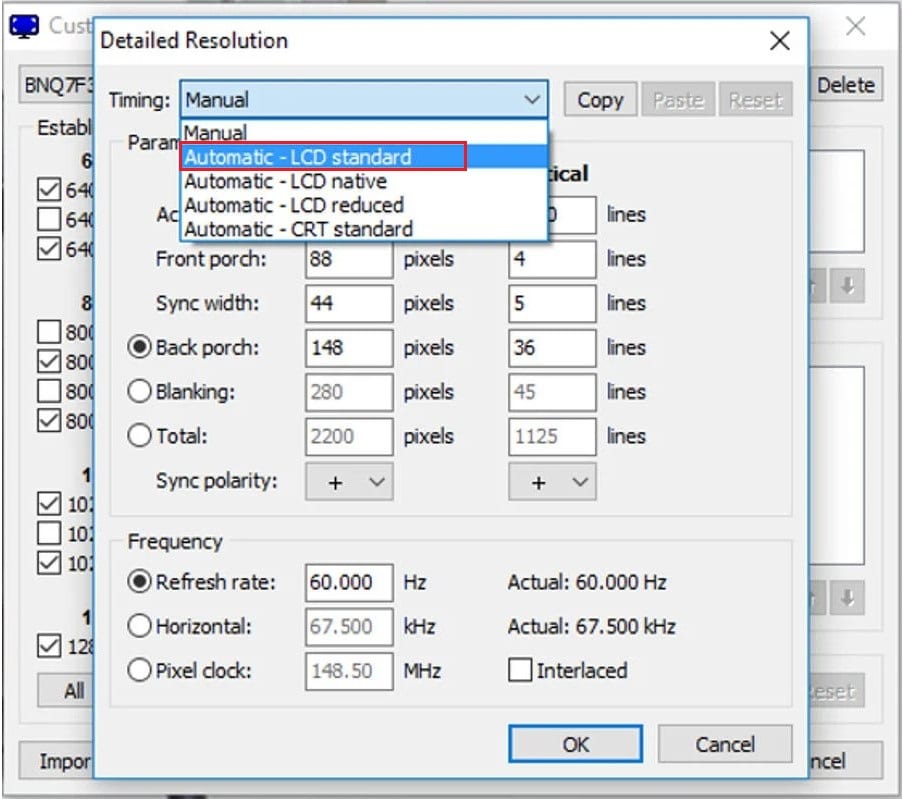 Step 5: Under Frequency, set the refresh rate to a value above your monitor's standard. For instance, if you have a standard 60Hz monitor display, you might want to increment the rate by 5Hz to something like 65Hz, then to 70Hz and 75Hz in that sequence. Once you are happy with the new overclock settings, go ahead and click OK to save the settings then restart your PC.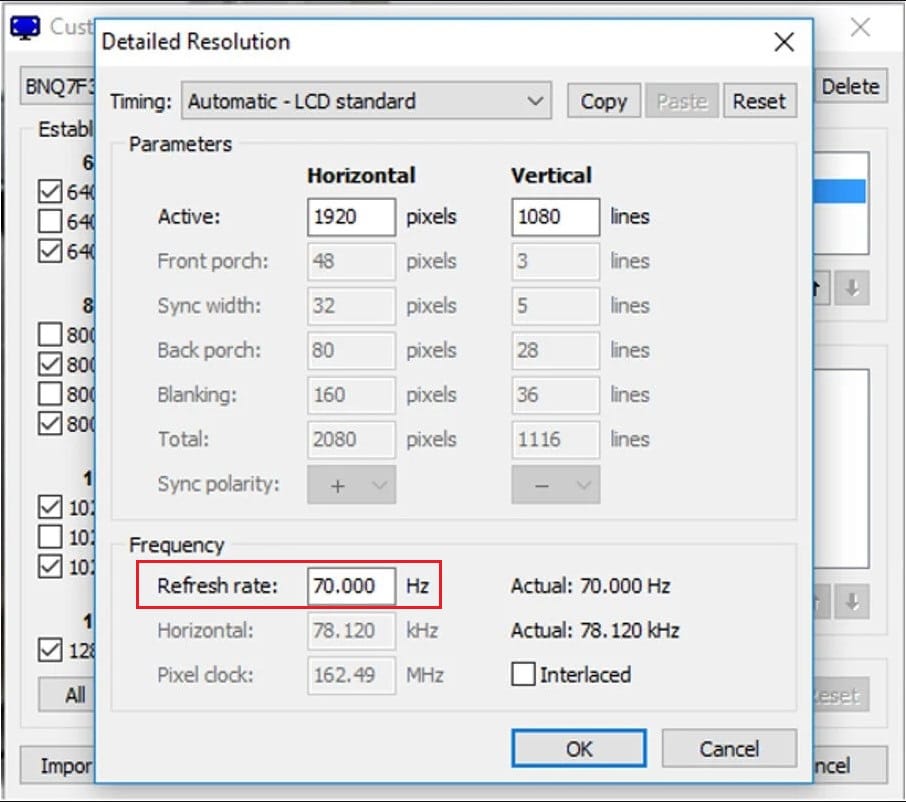 ---
Overclocking Your Monitor for Gaming Using Windows Utility
After setting your preferred refresh rate on CRU and rebooting your PC, your next task is to tweak the refresh rate on Windows so that they're in tandem with what's on CRU. To do that proceed as follows:
Step 1: On your Windows 10 device, right-click on the Desktop, and then from the menu options, select Display settings. If you're on Windows 7, head over to the control panel then locate the Display Settings from there.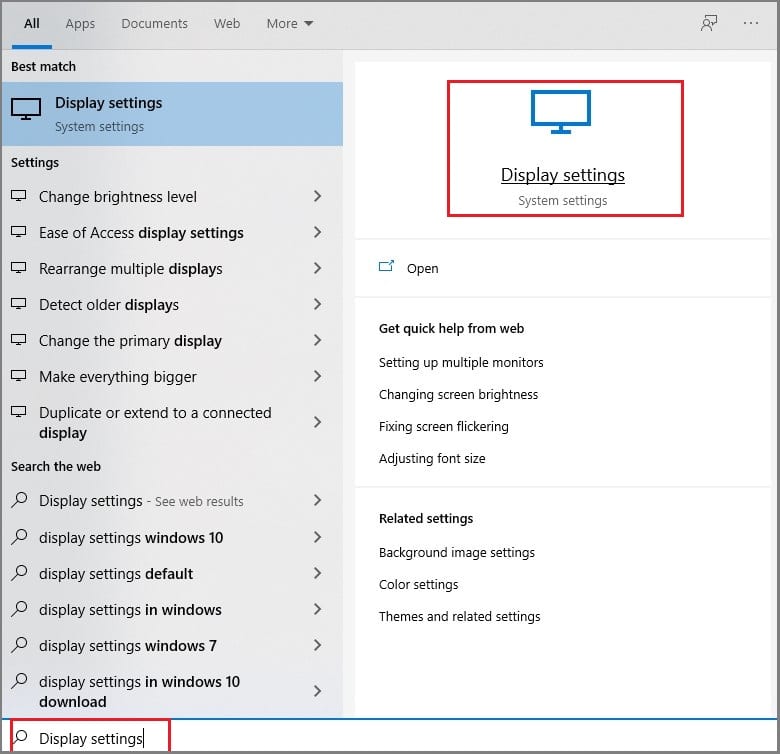 Step 2: Scroll down to the bottom of the Display settings window and click on Advanced Display Settings.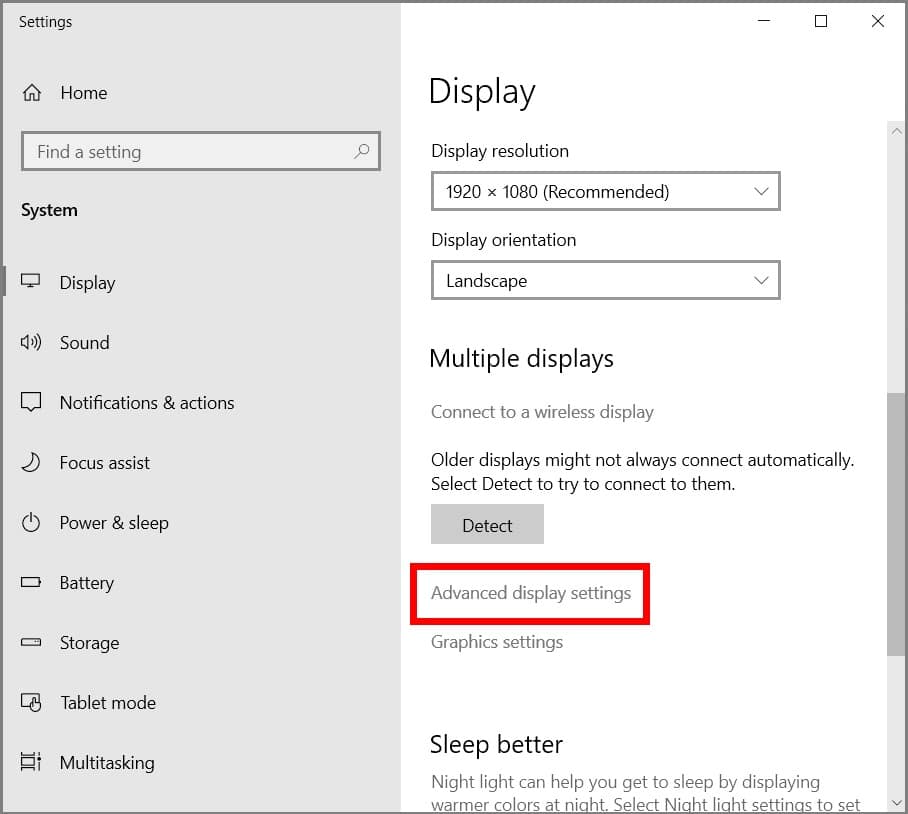 Step 3: Under Advanced Display Settings, click on Display Adapter Properties towards the bottom of the screen.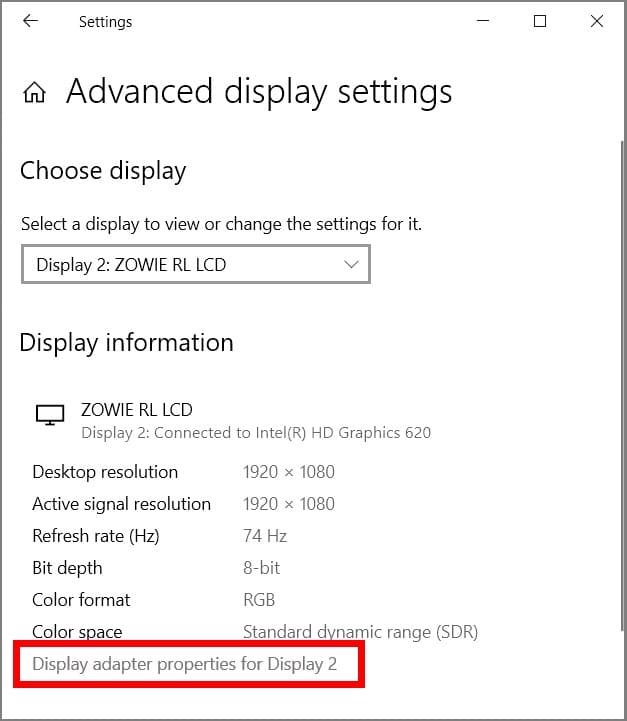 Step 4: A Window with the name of your type of monitor and graphics card will appear. Click on the Monitor tab then under monitor settings, select your preferred screen refresh rate from the dropdown. Remember windows will automatically calculate the right frequency for you. After that, click Apply and then OK.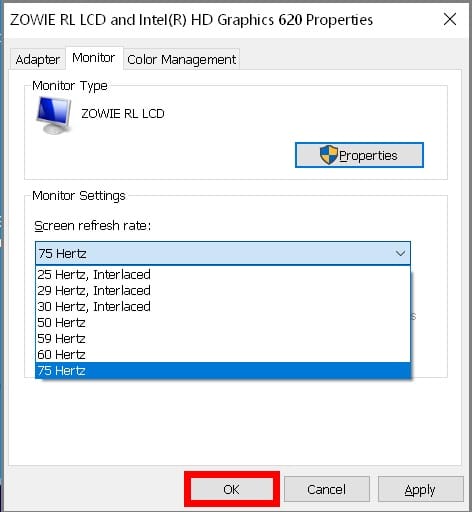 Tip! If the selected refresh rate is beyond your monitor's capacity, the screen will go black then revert to the native resolution after 15 seconds. If you don't see a blank screen or blue screen after selecting a new refresh rate, it means the overclocking was successful.
---
Overclocking Monitor Using Graphics Card Driver
Apart from the CRU utility software option, it's also possible to overclock your display panel using your system graphics card. We'll look at three main options in this regard.
i). Using NVIDIA Graphics
If you're using NVIDIA GeForce graphics, you can overclock your screen via the NVIDIA control panel. Here's how to do that…
Step 1: Right-click on the desktop then select NVIDIA Control Panel.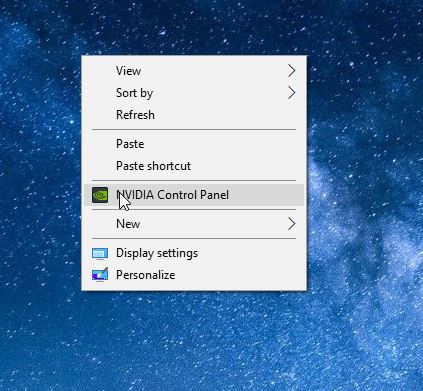 Step 2: On the left panel under Display, select Change Resolution. A popup window with the name Create Custom Resolution will appear.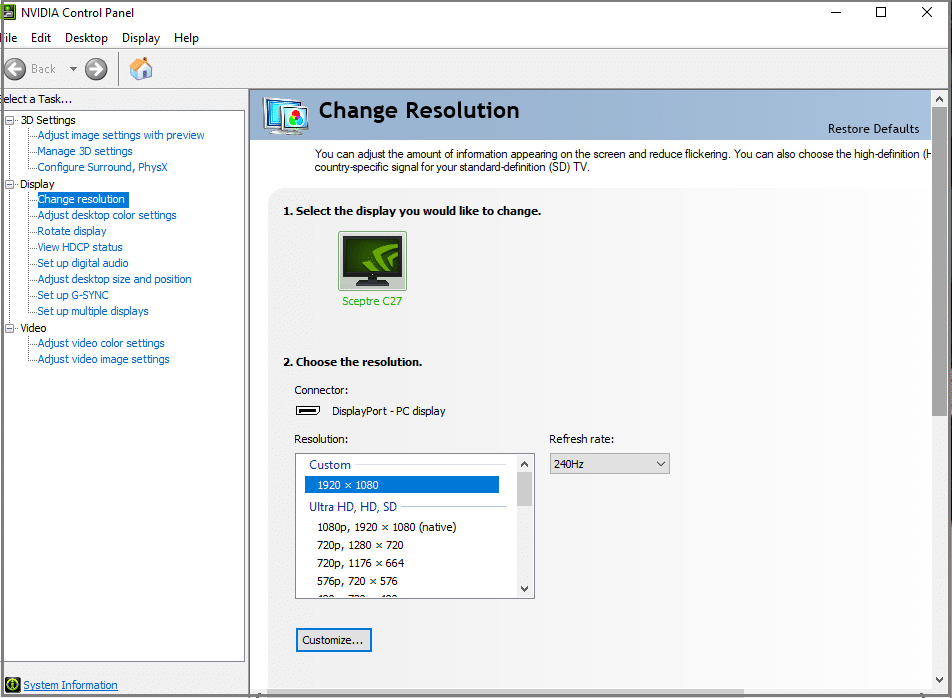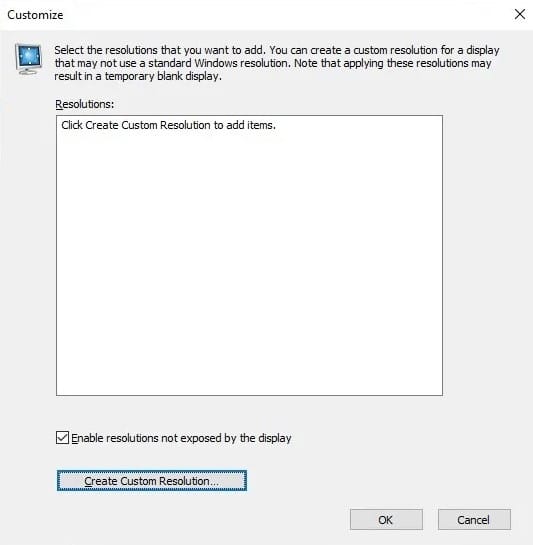 Step 3: Go ahead and create your custom refresh rate. You can keep selecting rates and testing till you find the best refresh rate for your gaming monitor. Once you have confirmed that your screen has overclocked successfully, save the settings and then restart your PC so that the new refresh rate can take effect.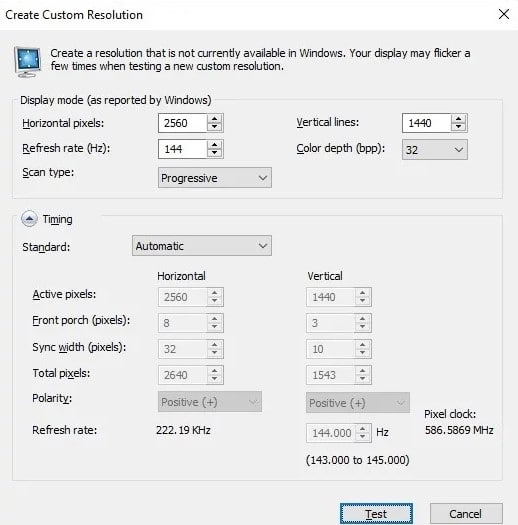 Step 4: The last thing you need to do is to make the refresh rate adjustment on windows so that it matches what's on the NVIDIA control panel. You can do that via the Windows Display settings. Proceed as follows: Display Settings> Advanced Display Settings> Display Adapter Properties> Monitor tab.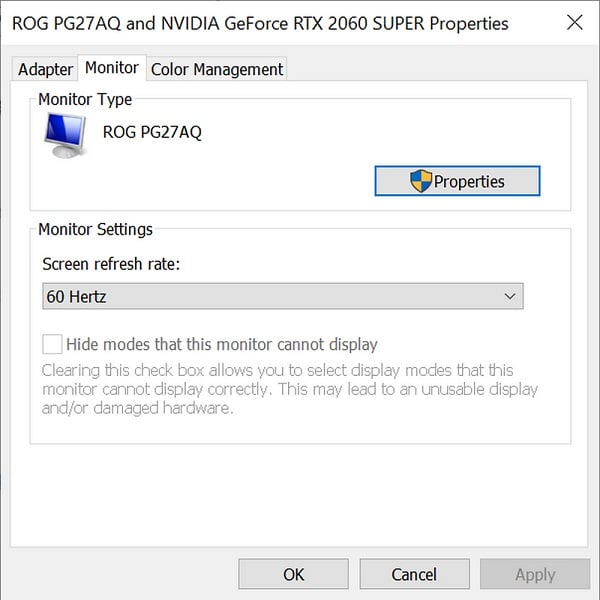 ---
ii). Using Intel Graphics
Besides NVIDIA, you can also create custom screen refresh rates and resolutions for your monitor via the Intel graphics control panel. Intel graphics uses the Intel Core to deliver higher frame rates for the best picture quality. Here's how to use the Intel Graphics Control Panel to overclock your display screen.
Step 1: First, right-click on your desktop and then select Intel Graphics Control Panel.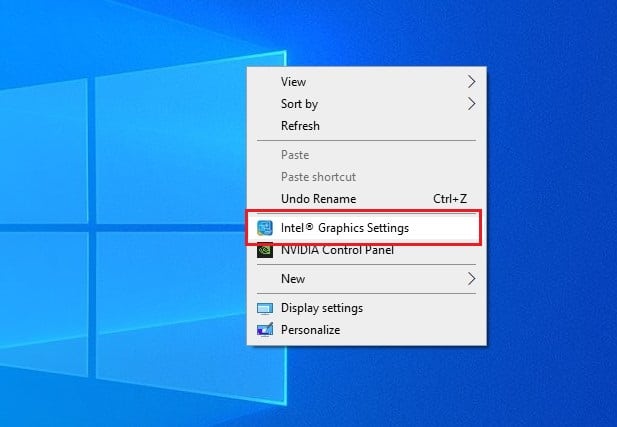 Step 2: On the control panel screen, select custom resolutions under the Display tab.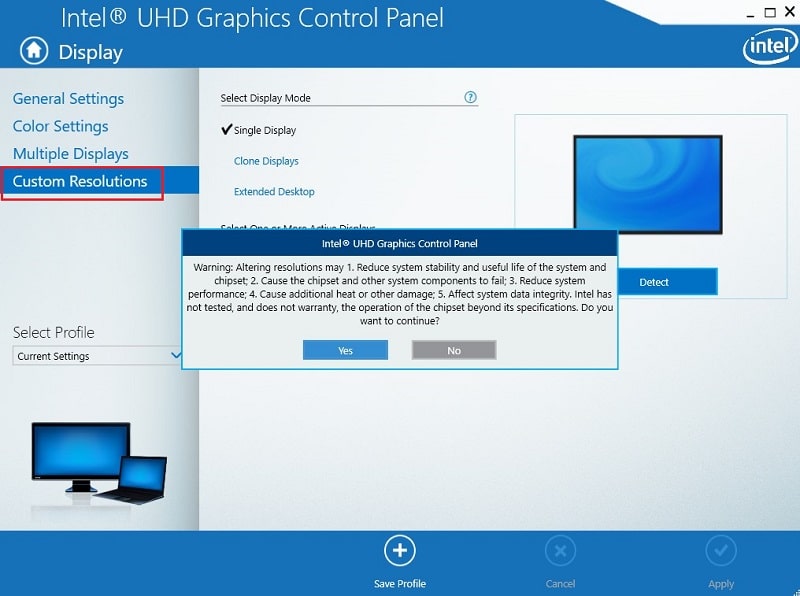 Step 3: On the next screen enter your custom Refresh rate then click Add to save the changes. After that, reboot your PC.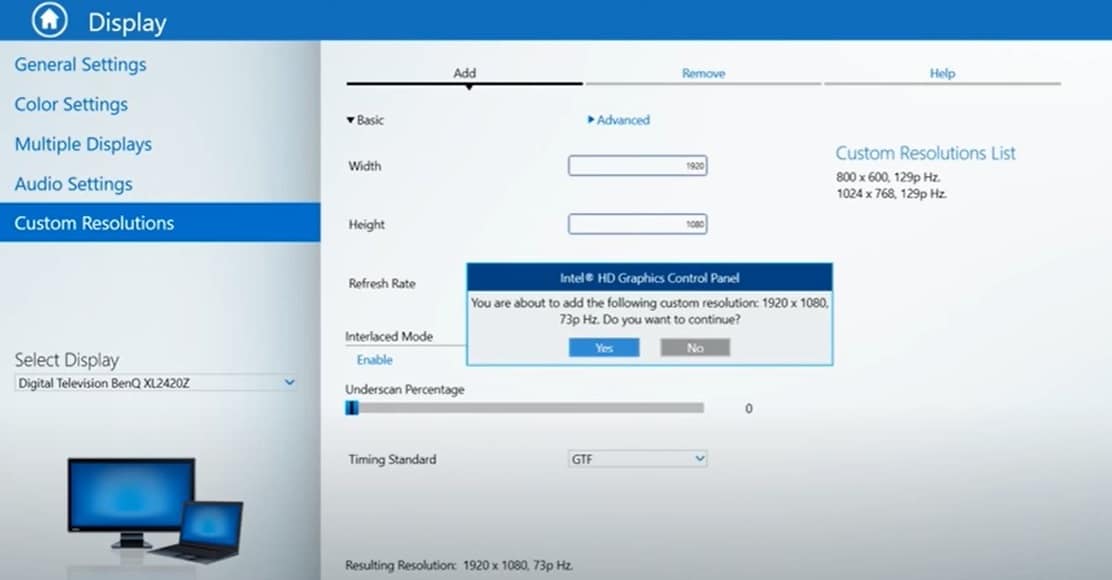 Tip! Some monitors cannot overclock. Such screens have a preset standard screen refresh rate only with no option for higher values.
Step 4: After successfully changing the refresh rate via the graphics card, proceed to make the change on Windows as follows: Display Settings> Advanced Display Settings> Display Adapter Properties> Monitor tab.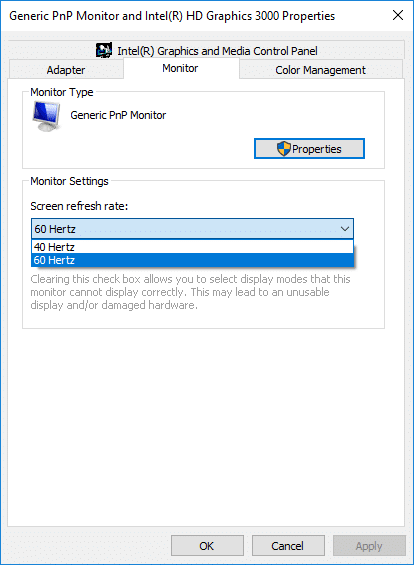 ---
iii). Overclocking Your Monitor Using AMD Radeon Graphics
Monitor overclocking can also be done via the AMD Radeon settings if your PC has an AMD GPU. Here's how to get that done…
Step 1: Right-click on your desktop and then choose AMD Radeon Settings.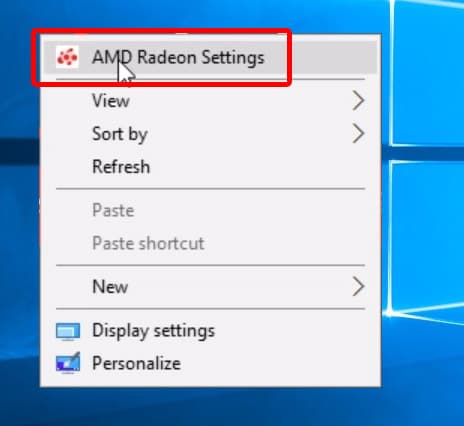 Step 2: In the next window, select the Display tab then click Create next to Custom Resolutions.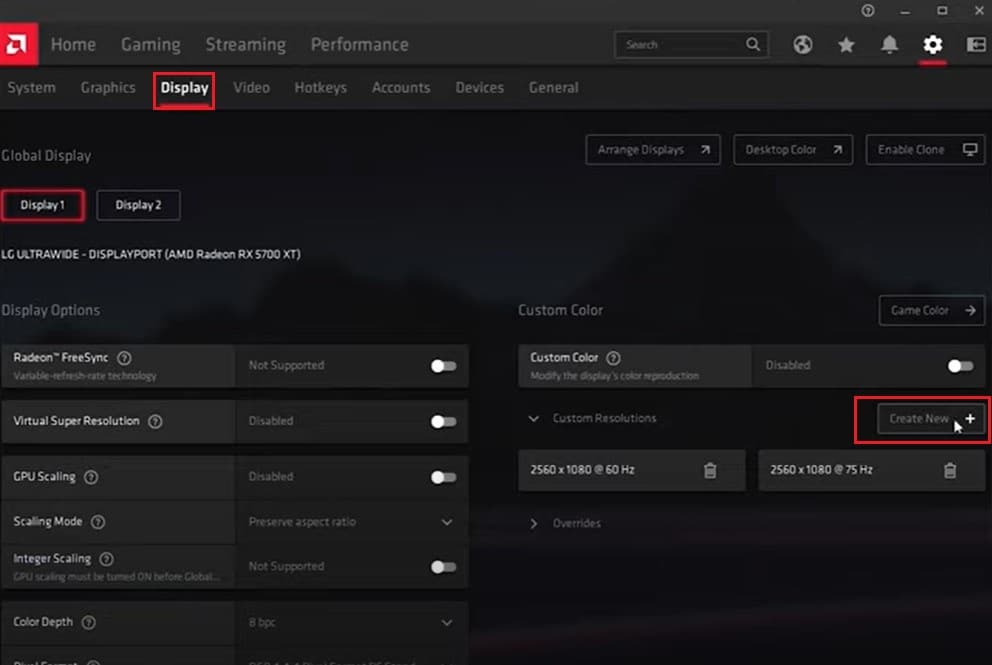 Step 3: Set your preferred Refresh Rate, click Save, and then reboot your PC.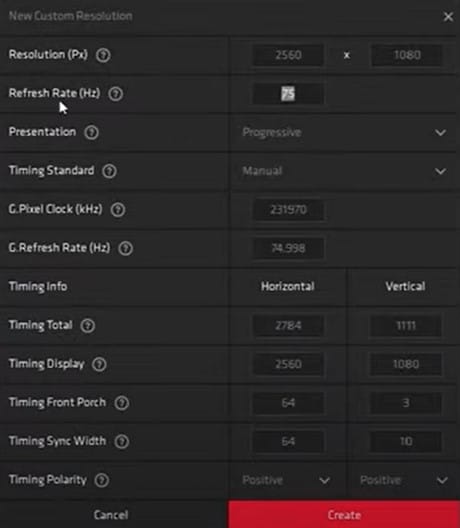 Step 4: For the new refresh rate to take effect, make the changes on Windows via the Display settings as follows: Display Settings> Advanced Display Settings> Display Adapter Properties> Monitor tab.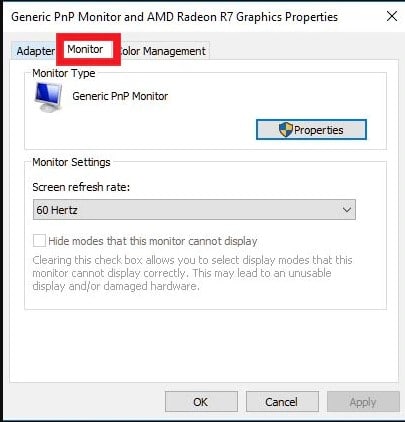 ---
How to Verify Your Overclock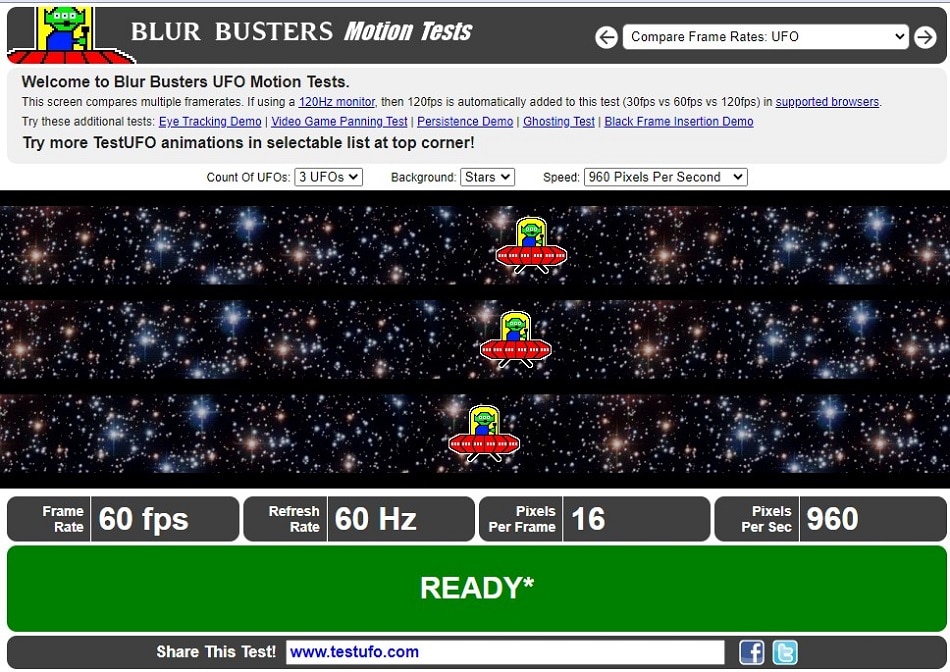 After successfully overclocking your monitor using either the Custom Resolution Utility (CRU) or a graphics card driver, you may want to verify the overclock. To do that, simply head over to this site: testufo.com
Please read this article about how to do this: How to Test and Set the Refresh Rate of Your Computer Monitor
Overclocking your monitor not only improves the quality of on-screen pictures but also gives you a competitive edge when it comes to an immersive experience while gaming. Screen overclocking can be done using either the Custom Resolution Utility (CRU) or a graphics card driver. Either method involves rebooting your PC then adjusting Windows refresh rates to match that on the CRU or graphics card driver. Whichever method you choose will still get the job done.