We all know how fun online gaming can be, whether you're into Dota 2, League of Legends, PUBG, or even Call of Duty. However, once you lag during the middle of an intense game with your friends or squadmates, it could ruin your mood, gameplay, and stats.
Then and there, you will start to blame your internet provider. So, as a gamer, it's understandable that you would want to look for the best high-speed internet to enjoy smoother gameplay all the time. Fortunately, you have several options for the best internet for gaming.
In this article, you'll learn everything about the internet, gaming, and the leading internet service providers for gaming in the United States.
---
Best Internet Options for Gaming
High-speed internet is crucial to maximizing your gaming experience, regardless of the platform you're using. With the widespread demand for fast internet for gaming, internet service providers are surely doing something to cater to the needs of avid online gamers.
Let's break down five leading internet service providers for gaming.
---
1. AT&T

AT&T has an excellent reputation for its affordability and high internet speeds. With their maximum advertised speed of 5,000Megabits per second (Mbps), costing $55 to $180 per month, it's generally one of the best deals you can ever have, especially if you're limiting your budget for the internet.
Gamers can greatly benefit from AT&T, considering their plan 1000 internet featuring ultra-low latency, unlimited home internet data, consistent performance even during peak hours, and a whopping 1,000Mbps.
At&T is the third-largest ISP and the largest telecommunications company worldwide. They currently serve around 53 million households across 21 US states, while 14 million are connected to their fiber network.
---
2. Spectrum
If you're looking for a reliable and accessible gaming internet, Charter Spectrum is your best choice. You can choose from three internet plans ranging from $49.99 to $89.99 per month with speeds ranging from 200Mbps to 1Gbps. With their base internet at 200Mbps, it's more than enough to cater for every online game you'd like to play without lagging, given that not many people are using your internet connection.
However, if you're living with your parents and siblings who are heavy internet users, it's best to get a higher plan like their Spectrum Ultra at speeds up to 400Mbps or Spectrum Gig at speeds up to 1Gbps. The latter two internet plans can accommodate multiple gaming and streaming with ultra-low lag times.
Charter Communications Inc. is one of the most significant telecommunications and mass media companies in the United States. They offer cable television, internet, wireless, and telephone services. Charter Communications takes pride in Spectrum Internet, which has become one of the leading internet service providers in the country.
---
3. Xfinity

With their powerful combination of ultra-fast speeds, wide service area, and low latency, many avid gamers rely on Xfinity's cable internet. It offers an average latency of 23.0ms across its service areas. You can choose from a variety of internet plans depending on your preferred speed and price.
Their internet plans range from as low as $19.99 to $79.99 per month, while speeds vary from 50Mbps to 1200Mbps. Along with their tempting internet plans, they are also highly accessible in many areas, covering 18.92% of the United States.
Xfinity is a division of Comcast Cable Communications that used to offer internet, telephone, cable internet, and wireless services. It's also one of the most popular residential internet service providers in the United States.
---
4. Cox
Cox is also an excellent internet for gaming with an average latency of 22 ms. It offers six data plans with speeds ranging from up to 50Mbps to 1Gbps, with costs ranging from $50 to $99.99 per month. Five of their internet plans are hybrid-fiber, while the other one is entirely fiber.
Their price range is not usually the cheapest in the market, but they are one of the few ISPs that provide reliable, high-speed internet for their consumers. If you want the best internet plan for gaming, it's best to go for their Gigablast plan with 1Gbps priced at $99.99 per month with a 1-year term agreement.
Cox Communications is an entertainment and broadband communications company offering high-speed internet. They also provide digital phones, home security, and home automation services. Currently serving more than six million properties in the country, both residential and commercial, Cox is considered the largest private telecommunications company in the United States.
---
5. Verizon Fios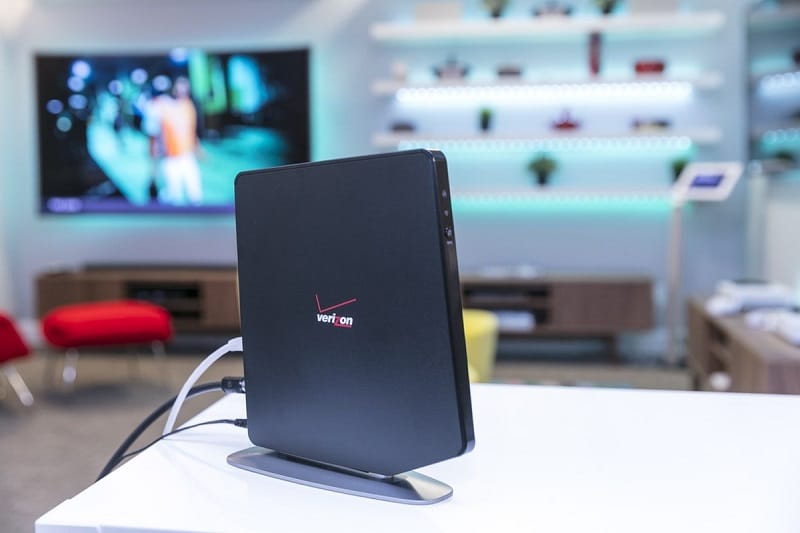 Verizon Fios Internet offers download speeds of up to 940Mbs and upload speeds of up to 880 Mbps, with monthly prices ranging from $39.99 to $79.99. Their internet plans are great for gamers due to their high upload and download speeds, low latency, and affordability. However, their accessibility is one of the most common complaints you'll hear about Verizon Fios.
Currently, they cover around 15 million residential and commercial properties, but it's not as uniform as expected due to halting their Fios expansion operations around 2010. Unfortunately, waiting for their network to reach a new area might take a while.
Verizon Communications Inc. is a multinational telecom company that offers cable, broadband, and wireless services. As one of the largest mobile providers in the world, they have been utilizing the latest technologies to deliver faster internet connections to their customers.
---
Is Fiber Internet the Best for Gaming?
Fiber internet is currently the fastest option available right now. Its impressive speeds and technology create an excellent opportunity for recreational and professional online gamers to unleash their best gameplay without lag spikes and disconnections.
So, with fiber internet, you don't have to worry about participating in ranked games and league contests because you'll have the confidence to unleash your full potential with consistent, high-speed internet.
---
Conclusion
A fast and consistent internet connection is crucial for a hardcore online gamer. Fortunately, you have the list of the best internet service providers for gaming, including Spectrum, Xfinity, AT&T, Cox, and Verizon Fios.
Check their availability in your area, and make sure you get the best one according to your needs and budget!