When you employ VanceAI Productivity Series, a suite of handy image editing tools, you'll be one step closer to efficient graphic design.
As we make progress in the content creation area, it becomes increasingly challenging as there are more tools to consider and learn. While it allows for innovation, it can also discourage new users from experimenting with visual design, content development, or any other related technique.
While software apps provide all of the tools necessary for making and editing images, they are complex and time-consuming to learn in the first place. VanceAI comes into play here. The VanceAI Productivity series is nothing more than a collection of image editing tools that alter an image in various ways to provide users with the finest potential outcomes and efficient graphic design.
Graphic design is a broad subject of labor with many facets. Photoshop's appeal stems from its ability to provide a multitude of solutions in a single software package. Similarly, under the Productivity series, you may find an image enlarger, background remover, photo editor, and more, all available through a single website.
It is also a wonderful alternative for effective graphic design because it is online and simple to use. This is also true for photographers and other visual content providers, who require a variety of picture editing tools.
Pros:
VanceAI is an extremely well-designed user interface that allows you to control everything from a single location.
It processes photos and returns results quickly.
It offers low-cost subscription plans.
Cons:
Watermark outputs are available in the free version.
Currently, only JPG, PNG, and JPEG are supported.
---
What exactly is VanceAI?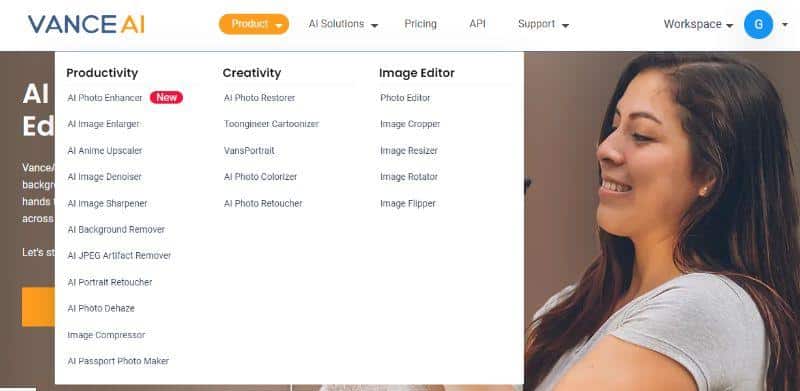 VanceAI is a relatively new internet platform that specializes in image editing and enhancement. However, it has amassed a large tool library in a short period of time and is still growing strong. As you can see from the above list, VanceAI provides tools classified into three categories.
The Productivity list can be used to edit or modify your image in some way. The Creativity tools are mainly oriented on giving your images an artistic edge. Finally, the Image Editor can be used to alter your images. You might, however, employ all of the tools for effective graphic design and visual production.
VanceAI, as the name implies, uses AI-based image processing technologies to improve photos. Depending on the instrument and the desired outcome, it also employs other technologies such as Machine Learning. Users don't have to worry about editing photographs themselves thanks to the AI system, as the processing element is totally automated, unlike traditional software apps where users would have to make the modifications themselves.
However, VanceAI still provides a few parameters on almost all tools to provide users some autonomy and control over their results and photographs.
VanceAI is also fairly easy to use for all users. You can subscribe to VanceAI API if you prefer. This has its own set of subscription options and features. Furthermore, using VanceAI will not be taxing on your machine, as is frequently the case with heavier software applications.
---
Main Features of VanceAI- Productivity Series
In this section, we will go over the VanceAI Productivity series tools and examine the outcomes as well as the tool capabilities.
Sharpen AI to Turn Blur Photo to Clear One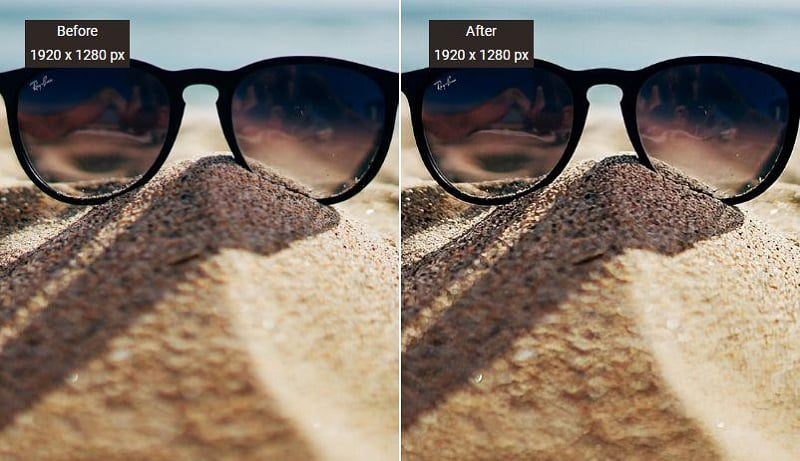 With VanceAI Image Sharpener, you can quickly remove excessive blur effects from your photos. Because of its AI-based features, this is a very handy tool, particularly for photographers.
Blurriness can be used to make your photographs look more gorgeous or interesting. However, too much blur can also obscure many of the image's details. Furthermore, eliminating blur is time-consuming and demands concentration. In such circumstances, as well as when you simply want to add a little contrast to your photos, you can use the Image Sharpener.
As previously stated, many photographers, graphic designers, and others can use blur to their advantage and make artistic fuzzy photographs to improve the look of their websites, portfolios, social media, and other platforms.
When you use the Image Sharpener, you'll notice a slider bar that allows you to select how much sharpening you wish to perform to your images. You can balance the numbers while also producing an image that is not overly sharp. The image above is also an illustration of this. Professionals will undoubtedly benefit from this customizable option.
Image Enhancer to Enhance Photo Details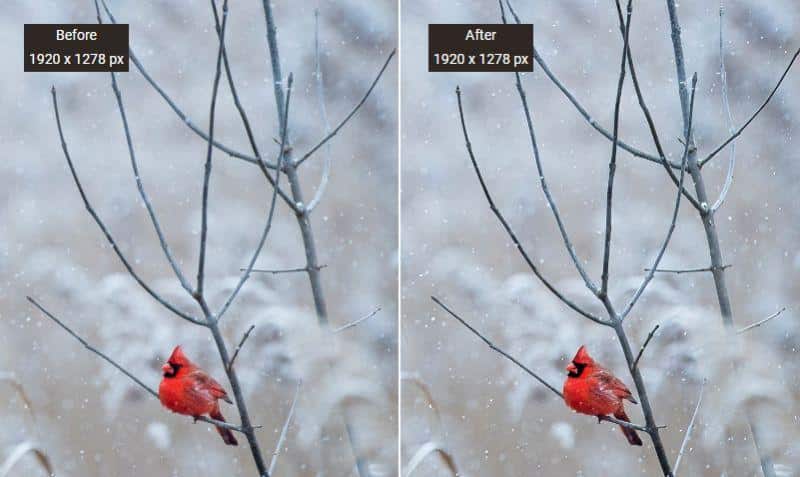 VanceAI Image Enhancer is an image quality enhancer that works on all of an image's elements to improve it holistically. Using the current image as an example, we can see how the quality has improved from the old to the new.
The tree and snow, as well as the bird, appear sharper. The majority of picture enhancers on the Internet improve images by upscaling and reproducing their pixels.
This is a good approach to improve image quality, although some people may not want to upscale their image. The Image Enhancer program does not upscale an image, but rather improves its quality by utilizing several AI techniques.
This type of tool has more applications. You can use this program to greatly improve product images for web posting. Many items have text inscribed on them, such as the brand name, user instructions, slogans, and so on. By improving such images, you improve the text's quality as well.
Because online visitors can read what your product says, they are more likely to remember it. You may also use the Image Enhancer to improve the quality of your web wallpapers and banners. You may accomplish effective graphic design using batch processing by upgrading numerous photos at once.
Denoise AI to Remove Noise from Image Automatically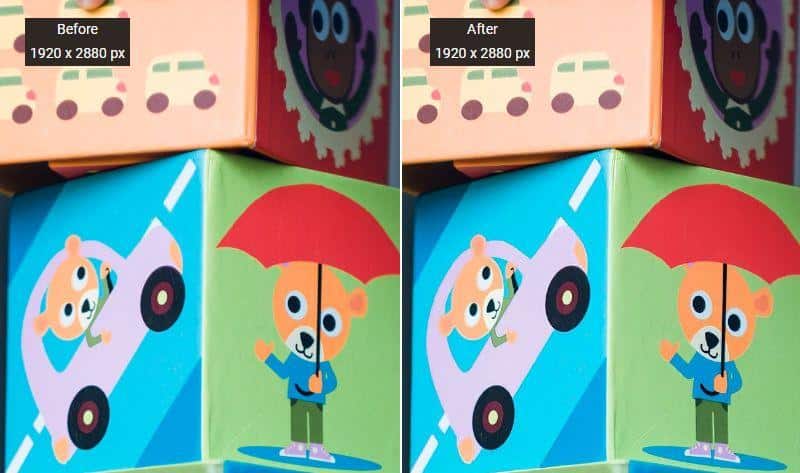 An excess of visual noise, like an excess of blur, can degrade the quality of a photograph. In this scenario, VanceAI Image Denoiser is the best option. Image noise can be created by a variety of factors, the most common of which being camera ISO settings or unusual lighting. Image noise, like blurring, is difficult to deal with in any case.
Having an AI-based solution for this can increase your productivity significantly because you won't have to search for image noise and manually remove it. The image used in an example above was also processed in a matter of seconds.
Users can also use the slider bar for this tool. You can ensure that a specific level of image noise remains to maintain the image's beauty. The VanceAI Image Denoiser works on a wide range of photos, including ancient black and white photographs that have been kept for years.
The Picture Denoiser softened and removed a lot of image noise from the two locations visible in the image above, resulting in a clearer, higher-quality image.
Image Upscaler to Make Photo High Resolution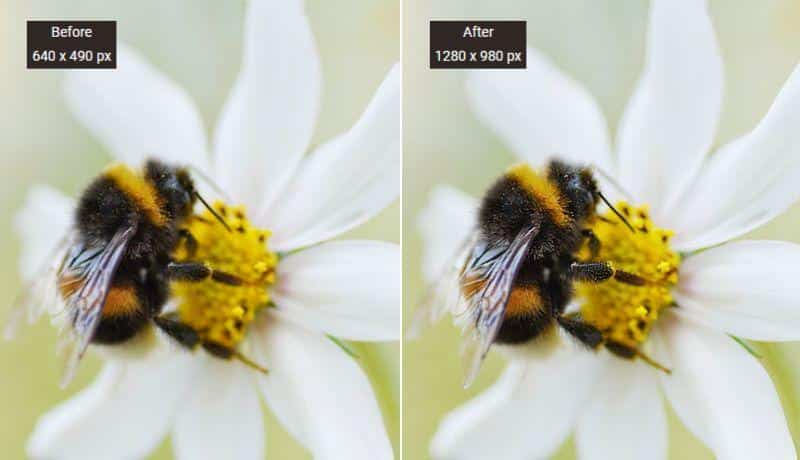 VanceAI Image Upscaler, as the name implies, is your go-to tool for upscaling photographs while also increasing their quality. When using VanceAI's online edition, you can upscale an image up to 8 times its original size at once. This program will produce excellent results regardless of the type of image.
It is also simple to use, as are other VanceAI tools. You can also experiment with a few options in this tool. One, you can obviously choose how much upscaling you want. Second, you can control how much sharpness and noise removal you want in the image.
Given the preceding example image, the Image Upscaler's output is quite satisfactory. Not to mention that this image was created in a matter of seconds. All of the image's details have been improved, as evidenced by the footwear strap and the leaves tattoo above the person's ankle.
This photograph was enlarged to double its original size. The application also resolves small flaws from an image, such as image noise, making the results look sharper.
BGremover to Remove Photo Background with One Click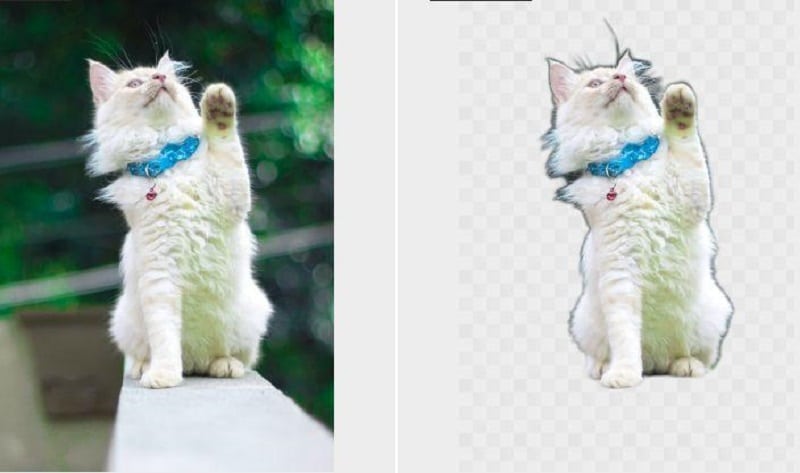 The Background Remover, known as BGremover, can be extremely valuable for graphic designers and other comparable professions because it opens up a plethora of new photo editing possibilities. This tool's AI systems enable it to have extremely high precision when cutting out things from the background or vice versa.
You may make cuts from any image and utilize the item or background however you want. For example, you may easily use this well-designed icon into different projects. If you're creating a product or service page and want to include payment app symbols, you can use this PayPal icon. Alternatively, you may easily replace the transparent background with a new color or aesthetic.
In any case, a BGremover tool is required for photo modification. Not to mention that the program provides customers with a variety of algorithms and alternatives. When you upload an image, you can choose whether to remove the human figure or the object.
Furthermore, the tool is swift enough to produce findings in a few seconds, however intricate photographs may take a little longer than normal.
Photo Editor to Create More Possibilities for Design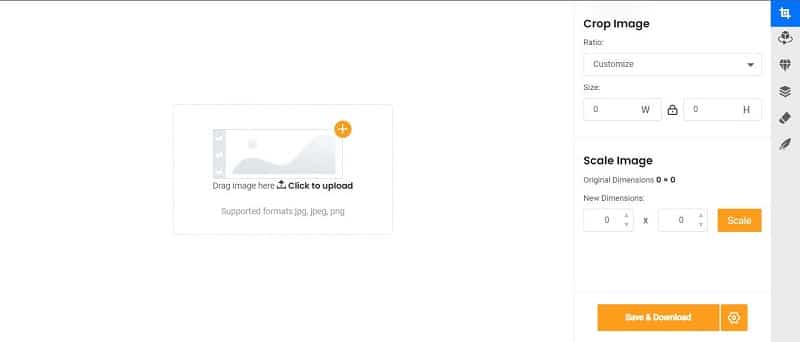 VanceAI Photo Editor, like the BGremover utility previously stated, allows you to generate more possibilities for changing your images. This VanceAI software provides a variety of tools, as seen on the right side bar.
These can be used for a variety of things. For example, the cropping tool allows you to crop photographs based on their ratio, size, and other factors. The ratio includes commonly used ratios such as Facebook post ratio, Instagram story ratio, and others.
Aside from that, there are picture improvement tools, which work similarly to the Image Enhancer and improve image quality. Markups can also be added to photos. Basic graphics, such as shapes or text, can be added as markup.
You can also manually remove things from your image. All you have to do is manually mark the locations you want to delete with the brush tool. The app will immediately process the updates and delete anything you've highlighted.
---
VanceAI Pricing
VanceAI provides customers with a high level of accessibility through its ease of use and premium choices. When you first visit VanceAI, you can register an account for free using your Google account, which expedites the process. Every month, all VanceAI users receive three free image credits. If you wish to keep using the app after that, you'll need to buy a subscription. Fortunately, the paid options are quite well crafted.
You can begin your VanceAI subscription for as little as $5.94 per month, which includes 100 picture credits and enhanced features. This is the annual plan, which can be upgraded to include additional image credits.
You can also choose a monthly subscription for $9.90 per month, which includes 100 image credits. VanceAI also has a 'pay as you go' plan that starts at $24.99 for 200 picture credits. All premium customers benefit from batch processing and faster servers to reduce image processing time.
---
VanceAI Alternatives
VanceAI supports their tools and provides several free alternatives. Although these programs lack all of the functionality and added benefits of premium versions of the original applications, they can nevertheless operate well.
To boost image quality, you can use photoenhancer.ai instead of VanceAI Image Enhancer. You can instead use image-upscaler.com to increase image quality and upscale photographs.
---
Final Verdict
The Productivity series is an excellent choice for efficient graphic design because it not only gives all of the tools that you'd need on a daily basis, but all of these tools are powerful enough to deliver excellent results.
None of the photographs included as examples in this assessment took an excessive amount of time to process. The VanceAI Image Upscaler and BGremover were the tools that stood out the most. Their outcomes were the best among the tools, and they outperformed most online picture editing software.