Are you looking forward to copping limited edition sneakers from the SNKRS platform? You will need a sneaker bot you can trust for that. The sneaker bots described in the article below are some of the best for the SNKRS app.
Overview of Best Bots for the SNKRS App
---
You might be missing out on the majority of draws for limited-edition and expensive Sneakers. Do you want to raise the bar? SNKRS Bots are more than just a practical fix. Users of the SNKRS app for iOS and Android may find and quickly track Nike Sneakers. Sneaker enthusiasts don't mess around with limited-edition Nike sneakers.
You will stand out among your peers if you only buy sneakers for use or if you carve a monopolized market of exclusive Sneakers in your community of consumers. Doing this yourself on the SNKRS app will go to a limited extent. Do you know why?
There are chances you could miss an SNKRSS draw or drop if you are not using an SNKRSS bot. Moreso, the platform allows you to cop a pair only. If you need more to resell for profit, then using a sneaker Nike bot is the way to go.
Unfortunately, there are not many bots out there that you can use. In this article, our goal is to introduce to you, some of the best bots in the market for copping Nike sneakers from the SNKRSS platform.
---
1. Another Nike Bot — Overall Best Bot for SNKRSS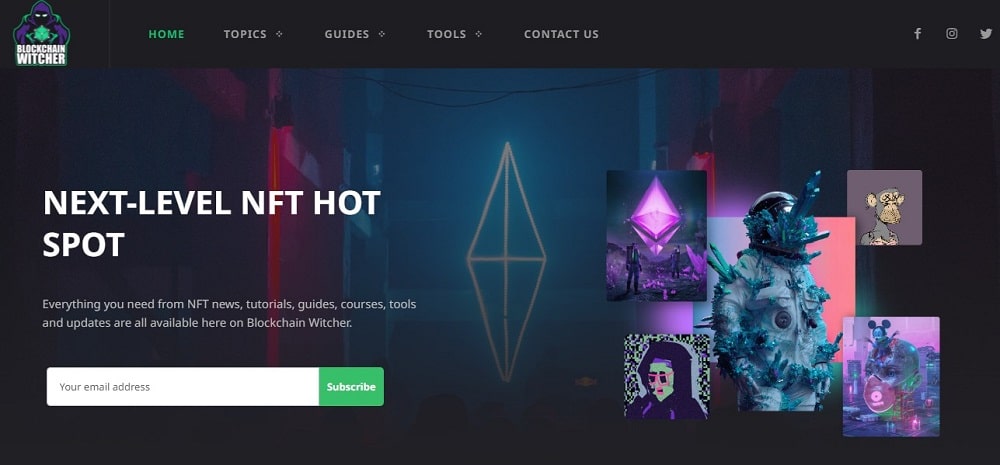 The best bot available for the SNKRSS Nike Platform is Another Nike Bot (ANB). The greatest premium bot created specifically for the SNKRSS App is undoubtedly this SNKRSS bot. SNKRS algorithm finds it incredibly challenging to sniff and block it as a result.
All the features you would need to purchase limited edition Nike sneakers are included in this bot. It can manage 500 jobs at once. Therefore, before and during dropping, you have every opportunity of winning a drop. Both automatic and manual checkout options are available.
Additionally, it includes a calendar scheduler for SNKRS, a proxy tester, and compatibility for all shoe types and sizes. The bot's ability to work with any sort of gadget is another plus. To make use easier, the provider has prepared comprehensive video instructions.
---
2. Nike Shoe Bot — Oldest SNKRS Bot for Newbie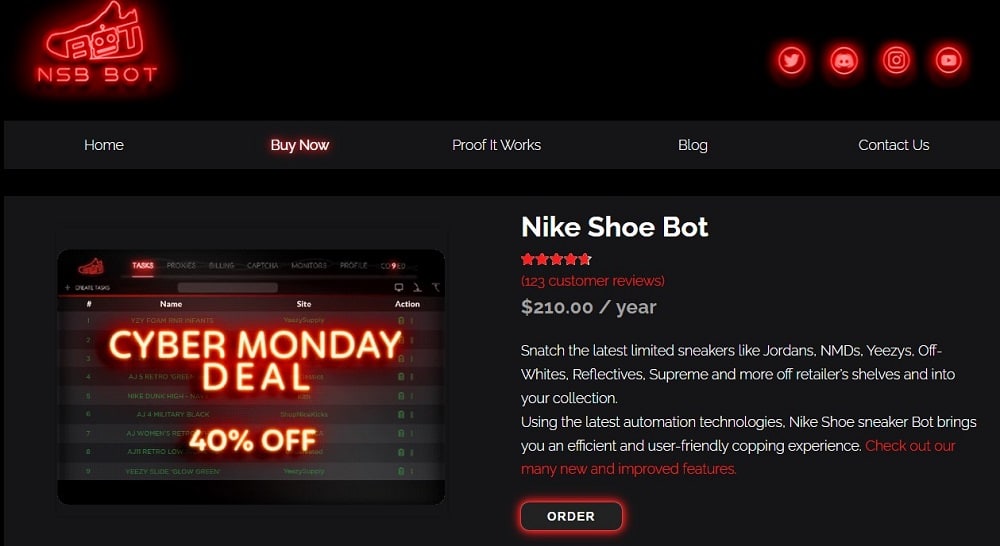 If Nike Shoe Bot is not included, this list won't be complete. This bot, frequently referred to as NSB, was one of the first Sneaker bots to be released on the market. Its ability to serve its purpose is still growing today.
Use this bot if you are new to using the SNKRS app. Your task is made easier, and things are set up on your behalf. Installation is straightforward because you will get step-by-step instructions in the mail after you make a purchase.
You simply need to provide your shipping information and monitor your email for order confirmations. It can also be used on other Sneaker websites. It is still one of the most popular SNKRS bots, even though some Sneakerheads think it absurd since it does not offer customer service on Sundays.
---
3. Kodai AIO — Cheap Bot Usable on Many Footsites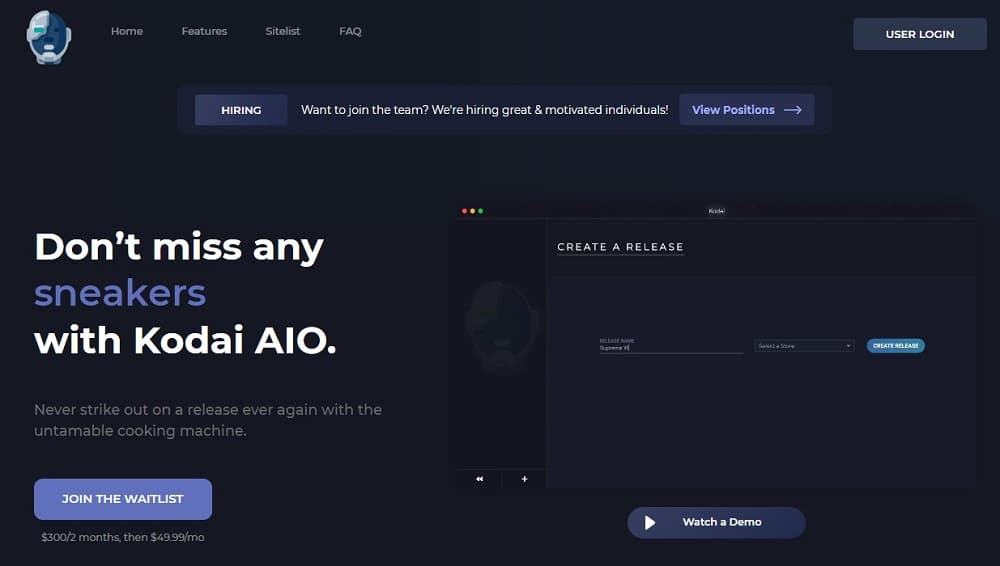 One of the first bots designed to crawl Sneaker sites is called Kodai AIO. It continues to function as intended thanks to how well the SNKRS app performs. Particularly, Kodai is widely adaptable and reasonably priced. It can also be used on other e-commerce platforms, such as Shopify.
As a result, you can think of it as an all-purpose bot – and you can tell that from its name (All in One). This bot receives frequent upgrades from the developer team to keep up with the tight SNKRS regulations. Through the US and EU, it also has strong regional support.
Prism AIO can be compared to it in terms of user interface simplicity. You may see a release schedule, suggestions for site settings, resell prices, and more here. Additionally, it provides you with analytical data so you can make wise decisions.
---
4. Project Enigma — Best Chrome Extension for Copping Nike Shoes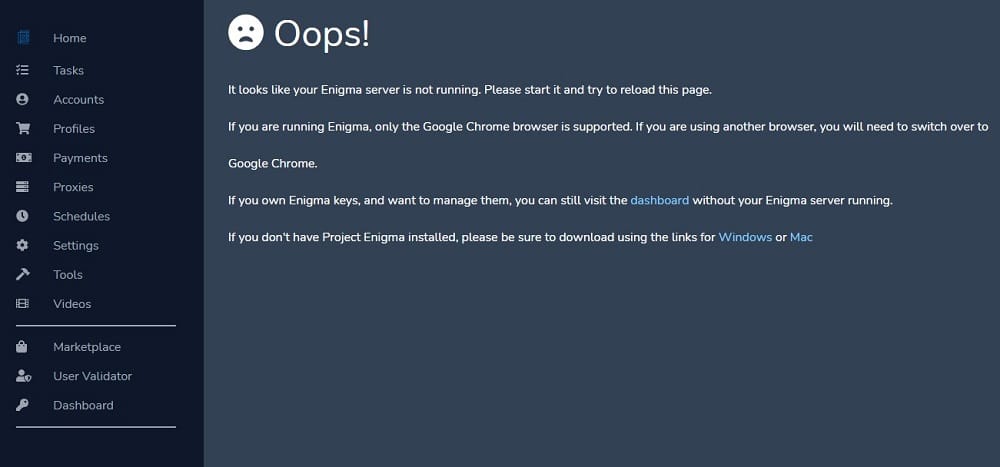 You might have your sights set on the well-liked bots but be unable to afford them. Here is a powerful bot that cops the SNKRS app so effectively but is less well-known than ANB. This bot is made to easily grab sneakers of your choice while using a proxy.
Although it shares certain capabilities with other sneaker bots, it differs in that it is available as a Chrome extension. It provides support for Windows and Mac devices. It must be one of the affordable bots you may utilize for SNKRS. Cheap without sacrificing quality As a result, you won't miss any special releases.
---
5. Better Nike Bot — Best SNKRS Bot for Windows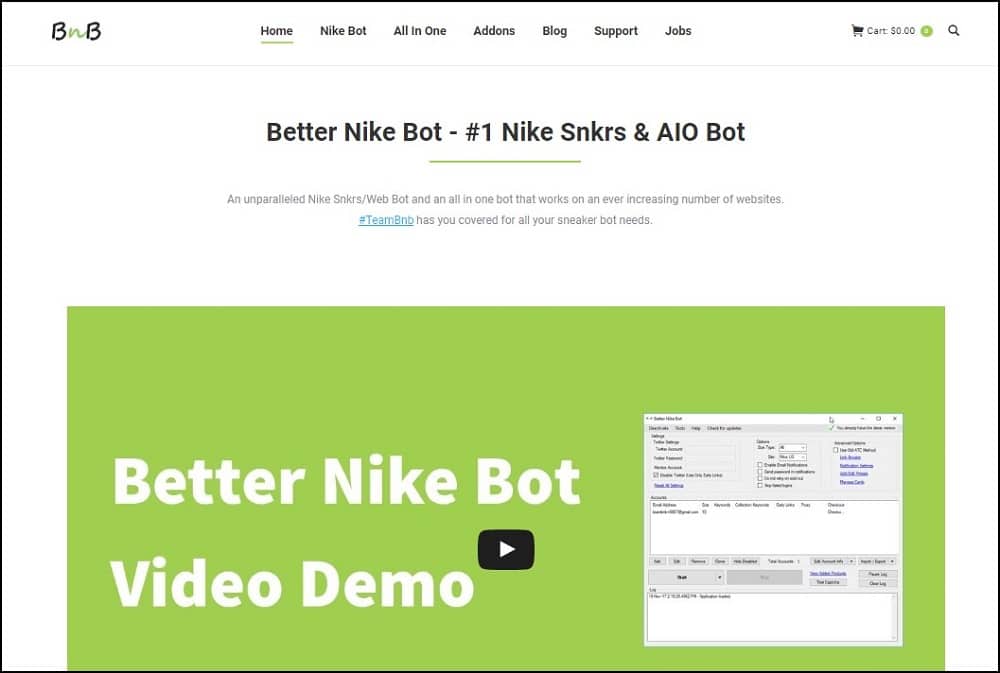 Here is a multitasking bot for the SNKRS app that works quickly and efficiently. Even though it has evolved into a generalist bot for sneakers, it still primarily serves as the SNKRS bot.
Additional benefits include its dependability and affordable treatment charge for dealing with limited NIKE droppings immediately. Unfortunately, this bot only functions on Windows-based computers. It performs competitively compared to ANB. However, it is quite affordable compared to it nevertheless.
While ANB works with any device, this bot only supports Windows. However, if you want to get your hands on limited-edition sneakers, it changes the game. You can verify your orders and add items to your cart as a result. It also has a keyword monitor in case Nike makes a sudden drop. The bot's support for proxy servers is solid.
---
6. Prism AIO — SNKRS Bot With Easy User Interface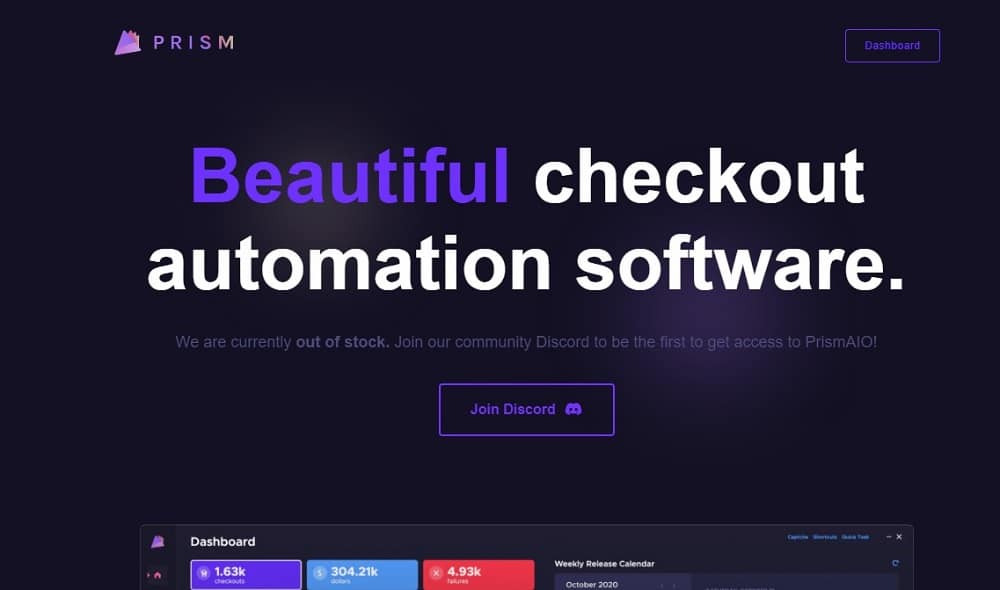 If you don't want to miss out on SNKRS, Prism AIO is a wonderful place to go. Droppings without notification necessitate the use of a standby bot to perform your inspection. Prism AIO distinguishes itself from other SNKRS bots thanks to its lovely and simple user interface.
When you acquire it, you will be able to appreciate the developer's work. The dashboard and interface are so well-designed that you might wish you had purchased them sooner. Prism's price is not quite low, but it is reasonable given the quality of its work.
The bot gets regular updates. It features a built-in calendar that alerts you to possible draws. This tool allows you to set and keep track of tasks. It offers task categorization and statistics similar to other services. When combined with a good Sneaker proxy, its exceptional speed will be completely leveraged.
---
7. TSB Bot — SNKRS Bot With Wide Location Support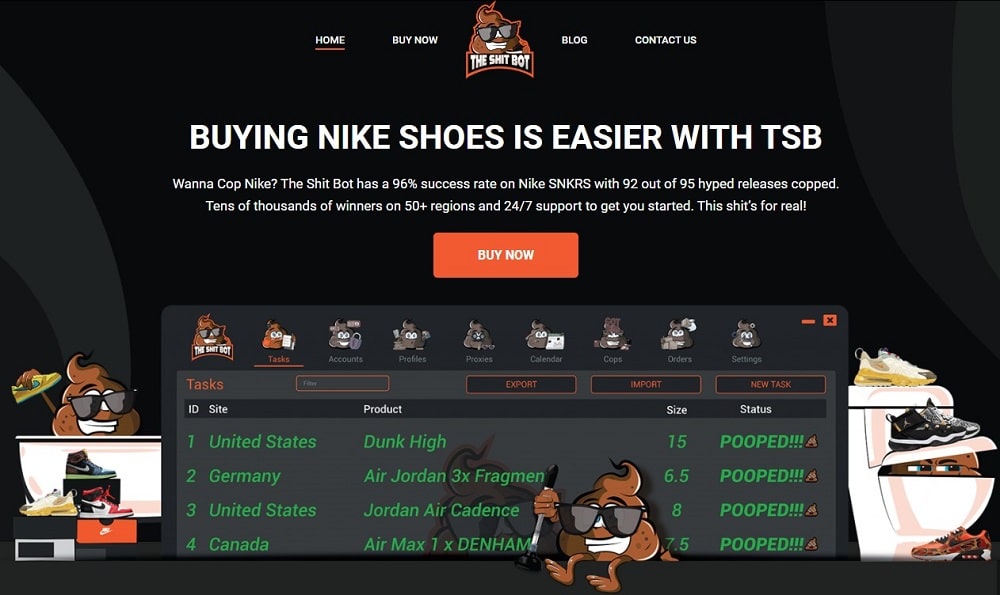 Locational coverage is one of the things you should look for in an SNKRS bot. You might be interested to hear that certain Nike drops are location specific. As a result, you might miss such droppings. TSB has an advantage over its rival because it exploits all SNKRS regions, which includes more than 50 Nike SNKRS regions.
Your chances of purchasing or using limited-edition footwear grow as a result. Amazingly, this bot has a 96% success rate in grabbing SNKRS. From the statistics available, 92 out of 95 exclusive Nike drops have been successfully copped using this bot.
It manages the various processes necessary for ordering each release utilizing all of your Nike account information. To prevent order cancellation due to repeated orders, it tweaks your shipping address as well.
---
8. Kickmoji — One-Time Payment Bot for SNKRS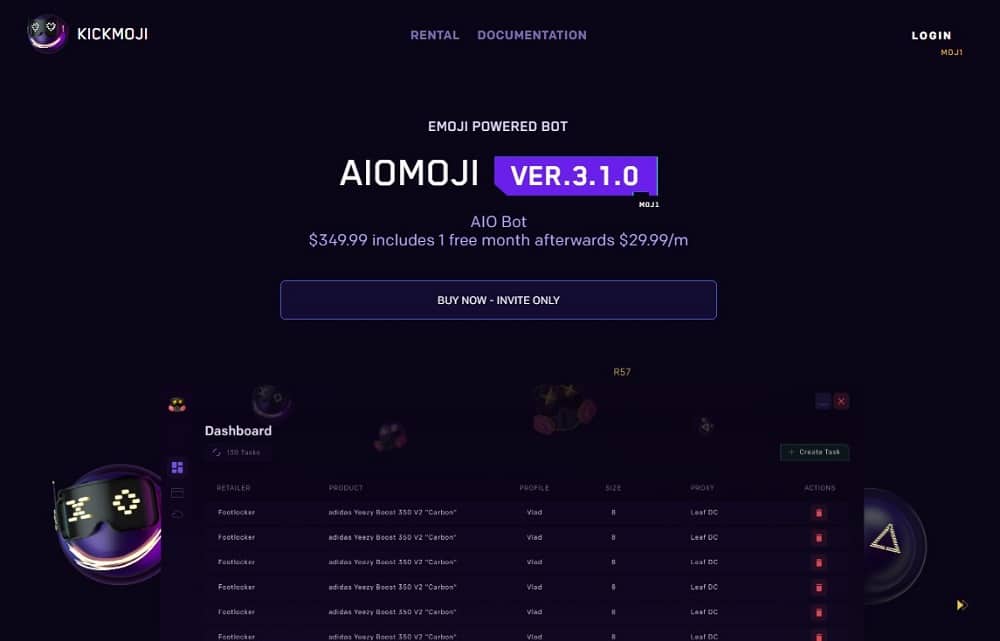 Another fantastic tool that a fan of sneakers won't joke with is Kickmoji. Only for sneaker copping, this bot has more than 5,000 users. It is known as the first emoji-powered shoe machine. It supports multiple threads and is quite quick. Therefore, it is a good idea to get more sneakers than are permitted. It can be used on all types of gadgets, unlike the Better Nike bot. The one-time money it provides adds to that.
You don't have to spend a fortune to use the service, but renewal does demand a token. Like the TSB bot, it has excellent locational support. This bot's ability to organize tasks into groups based on your preferences is another fantastic feature.
---
9. Easycop — Best Bot for All Platforms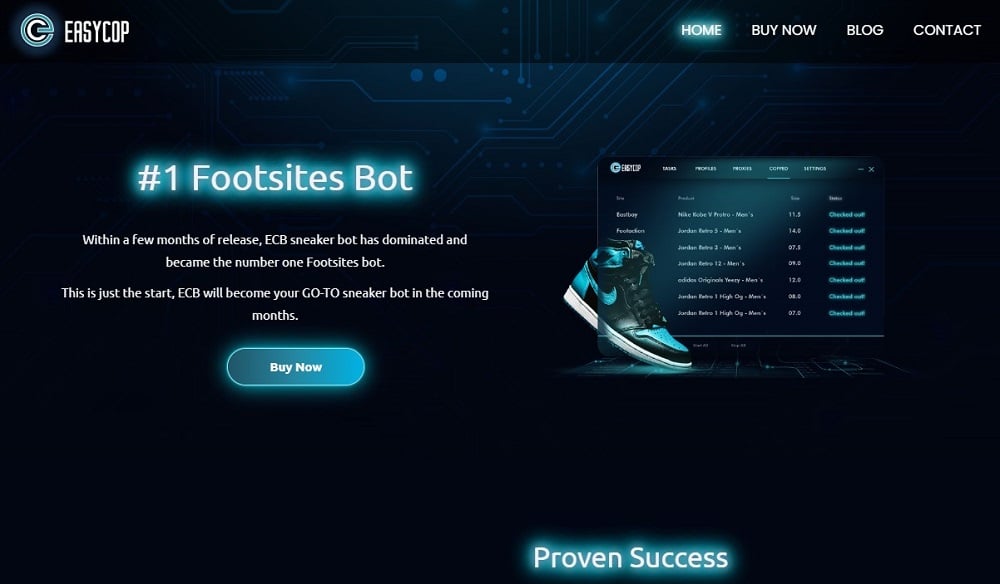 Easycop is a versatile bot that can be used on any website. It works particularly well for placing sneaker pre-orders on the SNKRS app and other sneaker marketplaces. As a result, it support other sneaker retailers like Adidas and Footlocker.
Knowing that its wonderful qualities can be used to easily acquire many sneakers of various sizes and styles is a fantastic thing. You may create, manage, and utilize your numerous accounts on Nike and other websites with the help of this bot.
The bot also comes with an automatic Nike account verification which helps those that create a good number of accounts using a bot. As a result, you are not required to monitor your accounts at draw times. While restocks are tracked and updates are free, you will need to get a reliable proxy to utilize this bot effectively. The pricing is also reasonable.
---
10. Soleslayer — Bot With Notification on Multiple Platforms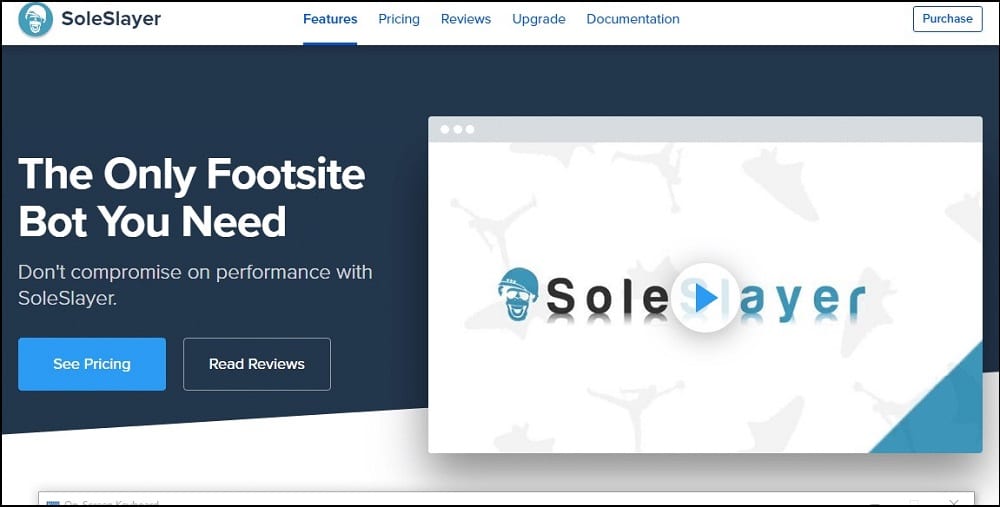 It will be advantageous if you receive notifications and updates at the appropriate times while you employ bots to purchase shoes for you on SNKRS. Through its numerous accounts and platforms, Soleslayer is renowned for providing users with free updates and notifications. For beginners, using this SNKRS bot with a window adaptation can be challenging. On the website, there is a video tutorial, though.
Although it automates your sneaker game, you can add the settings you want from the dashboard. It can handle fewer copping tasks in comparison to ANB and the other bots on the list. Importantly, it has a competent technical support staff that is constantly on the scene in case there are any problems. Finally, it works best when used with a reliable sneaker proxy.
---
FAQs
Q. What are SNKRS Bots?
A Nike app called SNKRS was created specifically for hot, limited-edition launches. Sneaker fans are constantly keeping an eye on this app. Droppings are therefore typically deposited into draws where there is a maximum number that can be checked out. A person may find it challenging to handle all of these at once.
You might even be occupied while the draw is being done. As a result, a backup AI system handles this work and acts as your watchman while you complete your duty. These systems are referred to as SNKRS Nike Bots. SNKRS bots are the ones that can be utilized for the SNKRS App.
Q. What Task Can SNKRS Bots Execute?
These bots are capable of performing any task that can be performed by a human on the SNKRS app. In actuality, these machines' execution rates cannot be matched to those of humans. They can handle several tasks at once while you stand back and observe.
These bots may therefore complete all the procedures needed to obtain limited-edition Nike and other Sneaker brands. They operate using predefined parameters and keywords. They may check them out on the website, place orders for you, and log you in.
Q. Are These Bots Detectable to SNKRS?
Nike prohibits the usage of bots in its main sites and all extensions with one of the strictest algorithms around. As a result, not all bots can be used on their website and app. In the past, there are a good number of bots that support the SNKRS platform but most have dropped support because of the issues they have to deal with. The sneaker bots described above are some of the top options out there that you can trust to work right now.
---
Conclusion
It is not news that sneakers lovers, sellers, and retailers are always on the run to get the limited edition of sneakers to have a mild monopoly of the goods. Thus, the tough game is not played on a level ground with newbies. As such, they make use of bots to increase the winning chances in draws and even cop more pairs.
You don't have any excuse to miss out on any of these draws or droppings. Get any of the aforementioned bots that are usable on SNKRS app for guaranteed results. However, take note of their respective strengths while making your purchase.