NordVPN is known as a world first-class VPN for torrenting.
But to know whether it is really a reliable alternative to use or not, we have tested their services. The following is what we have experienced and we would suggest you read before you are purchasing their monthly or yearly subscription especially to use their VPN services for torrenting.
---
Prices and Plans: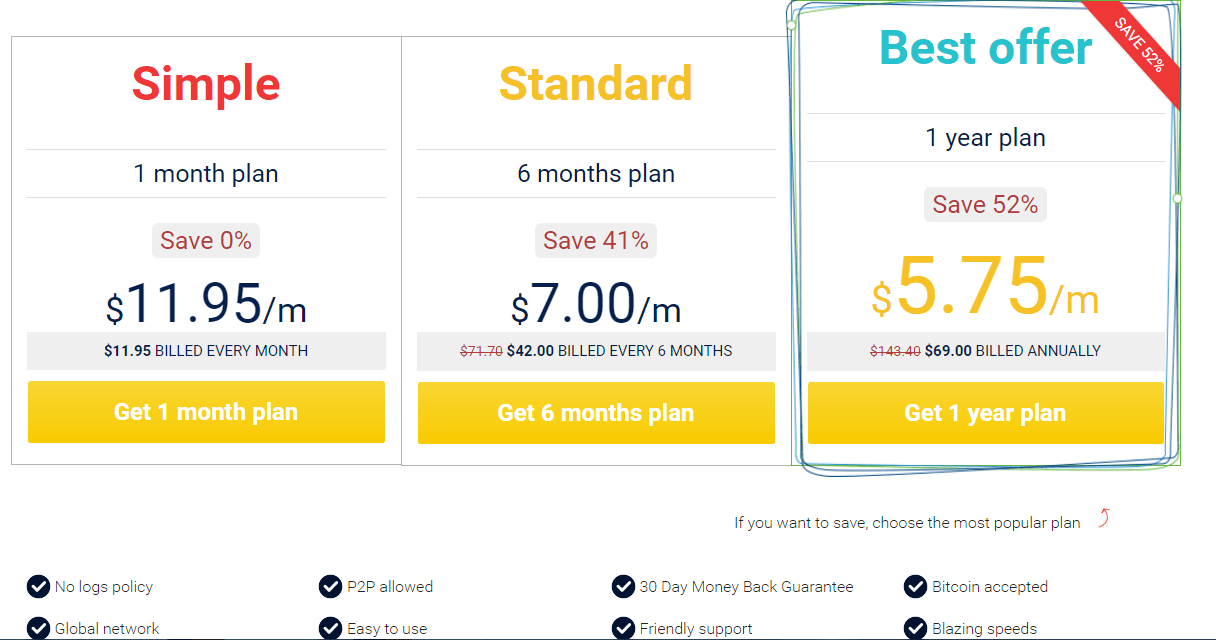 Compare NordVPN with the #1 VPN Providers – ExpressVPN
Their monthly package starts from only $11.95 per month in which you will able to enjoy all the features the company offer. You can get a discount of up to 52% by purchasing their 1-year plan which will decrease the monthly price from $11.95 to $5.75 per month.
Although for people who are looking for 6 month VPN solution, they can purchase their 6-month discount offer which will cost only $7.00 per month which means that you will save up to 41% on the monthly package.
---
Payments options:
There are three different ways to pay to NordVPN for their services. This includes Paypal, Credit Card, and Bitcoin. They also have a section for other payment on their website but it does not explain what other means of payments they are accepting.

---
Features:
While NordVPN offers many privacy and online security-related features but some of them are worth mentioning here. Especially if you are very concern about your online privacy then you should know about the following privacy and online security features of NordVPN which are also necessary to have if you are using VPN for torrents downloading.
Very few VPN companies offer this feature to their users. The dedicated IP address allows you to have the same IP address on specific servers. So, if you want to use the same IP address for a specific reason then this feature of NordVPN will allow you to do this.
This feature will make it impossible to trace the source of internet traffic. By using Tor over VPN, your online activities will become impossible to trace by anyone. For a torrent lover, this is a cool tool to use.
As the name says by it. Double VPN will offer you double encryption. This double encryption is unbreakable. But according to some online reviews, you may see some difference in downloading speed when you use this tool.
DDoS attacks are becoming very common online due to which you may lose important data from your computer or someone can get access to it without your permission. This tool by NordVPN protects you from such kinds of attacks including hacking attacks.
Torrent may be restricted due to firewall settings. This tool allows you to bypass any kind of firewall and allow you to use any software, application, website and torrent clients.
NordVPN is very clear about its log policy. They have mentioned much time on their website about their strict no-log policy. This will surely build confidence within you when you will use NordVPN for torrenting, According to diebestenvpn, NordVPN is a safe VPN to use in Switzerland and safe in the Netherlands also based on research on privacyenbescherming.
No log policy means that your online activities like what are you browsing, what are you downloading, which torrent file you are download or uploading or what torrent client you are using for torrenting will not be stored by NordVPN. Although the information about accounts like your name and IP address will also not be stored or shared with anyone.
You can use a single account on 6 different devices at a time. There would not sacrifice of internet speed by using the same account on 6 different devices.
NordVPN has 698 worldwide servers which are locations in 54 different countries. All the major countries are included in this list including the USA, UK, EU countries, Middle East and Asian countries as well.
Free proxy list and up to 3000 free proxies which can be used for further encryption on both torrent clients and web browsers.

---
NordVPN Speed Test:
Downloading speed is important. Especially, if you are looking for a VPN to download torrents. NordVPN is good at this. The company's aim is to allow P2P networks and torrenting, so providing high-quality internet speed is important for NordVPN. We have test several sever of NordVPN to know and confirm their downloading speed.
Need to Know other More VPNs which Support torrenting visit here.
There is not much difference we got in download speed when we switch to the NordVPN server. If you are getting 62 Mbps downloading speed without VPN then you will get up to 58-60 Mbps downloading speed on any server of NordVPN.
---
Customer Support:
The website is available in multiple languages, which is good news for non-English users. All the knowledge base section which contain information on how to use their services and solution of different problems can be translated into different languages for customer convenience.
Other than this, NordVPN offers you different options to get connected with their customer support. These options include live chat with their agents, ticket system, and send a direct email to get an answer from customer support. Their team is a friend and has a good response time as well. You can also use their support forum to get help from existing customers for free.

---
Pros & Cons:
Pros:
More than 700 VPN servers in 54 different countries.
You can use their VPN servers for torrent downloading
NordVPN offers you a very flexible log policy.
A cheap solution for those who are looking for VPN for torrent
Multiple options to get help from customer services
Fast downloading and web surfing speed on all server
Different security tools like Tor Over VPN, Dedicated IP and Double VPN, etc
Cons:
Their software does not block ads and trackers
Dedicated IP address makes internet speed slow
TorOver VPN has also had some internet speed issues
Very limited refund policy as compared to competitors
---
Conclusion and Rating:
On the bases of my experience, I will rate NordVPN 4.7 out of 5. The issue is only regarding their security tools which are very useful in terms of online privacy and security but you may face internet downloading speed sometimes if you are active these tools.