Knowing how to recover your data in case you lose it is quite handy. Although it is best to stay away from losing data, you can accidentally lose all the data in your hard drive in one way or the other and need a way to recover all this data.
Here are some very common ways of data loss.
Accidental deletions: This one of the most frequent ways in which you can lose data from your hard drive. Accidental deletions are very frequent because we are all humans and we make mistakes. You can delete files you need so much without realizing it.
Damage of the Hard Drive: This cause of data loss is more due to hardware crash than human driven. About 140,000 hard drives crash every week in the US only, with 60% being as a result of mechanical damage and 40% from human error. That is, your hard drive can easily fail on its own with time resulting to a huge loss in data.
Malware attack: Viruses and other malware can cause data loss in a hard drive. When you plug your hard drive into various computers without care, this can lead to a virus infection which will later on result to a data loss from the hard drive. You can also pick up a virus from unsecured sites when connected to the internet.
Laptop theft: According to Gartner, every 53 seconds, a laptop is stolen. While this may cost the owner financially, it also results to data loss which the owner may suffer a lot more than the financial aspect of things. If you don't have a backup of your hard drive, you will lose all the information on it.
Unexpected shut down of the computer: Every time there is a power shortage, a surge or even a hard-reboot on a frequent basis, it has an impact on the life span of your computer's hard drive. If a shutdown occurs when your hard drive is writing information, this information can become corrupt. This is even worse when it involves writing of system files because corrupt system files may prevent the booting of your computer.
Mechanical Damage: When not properly handled, your hard drive can get damaged from physical agents like spilled milk, coffee, water, moist air and even fire. This results to hard drive damage directly hence high chances of data loss.
Formatting your hard drive: when you accidentally format your hard drive, you lose everything on it.
These are some common causes of data loss that many computer users experience.
---
Is it Possible to Recover Data from a Hard Drive?
It is true that most people think data recovery is a myth, and playing with your data can cause permanent data loss. This is not always the case. Most scenarios of data loss have a possibility of data recovery. For those who regularly perform backups, a backup restore is the best possible option for data recovery. However, those who don't have backups can rely on Data Recovery Software.
Every time you lose data from your hard drive, the actual files though not visible anymore are still there but is marked to be overwritten by any incoming files. That is, if you don't transfer any files into the hard drive after losing your data, you have very high chances of data recovery.
This is where data recovery software comes in. These software rebuild the files from the hard drive and unmark them from being written over, restoring your files again.
---
The Best Data Recovery Software to Recover Data from Your Hard Drive
There are many different data recovery software available for computer users to recover lost data from their hard drives. They range from those which are easy to use to those which require you to be tech savvy in order to operate with. Of all these different tools for data recovery, iBeesoft Data Recovery is the best software which will easily help you recover your lost data from your hard drive.
iBeesoft Data Recovery is a free easy to use data recovery tool available for both Windows and Mac users. Being very professional, this tool helps to recover data from many different data loss scenarios ranging from accidental deletion to file corruption.
iBeesoft Data recovery is a solution to data loss applicable to over 500 data loss scenarios with an outstanding file recovery success rate of about 99.65% even when fixing corrupted images and videos. Also, iBeesoft Data Recovery supports over 2000 storage devices, recovering over 1000 different file types hence leaving out no user when it concerns file recovery.
Furthermore, it comes in 20 different languages which explains why it widely used worldwide. iBeesoft is trusted by thousands of users to accompany them in their quest for data recovery and they always end with great satisfaction from a trustworthy service.
---
How To Use iBeesoft Data Recovery To Recover Data from a Hard drive.
Using iBeesoft Data Recovery is simple. In just a few steps you can recover deleted files from hard drive. To use iBeesoft Data Recovery, download and install it from its official website. It is safe and virus free. Once installation is complete,
Launch iBeesoft Data Recovery and on the first window, select your hard drive from which you have to recover files.
Click on "Scan" and the tool will begin the scan process in search for lost files.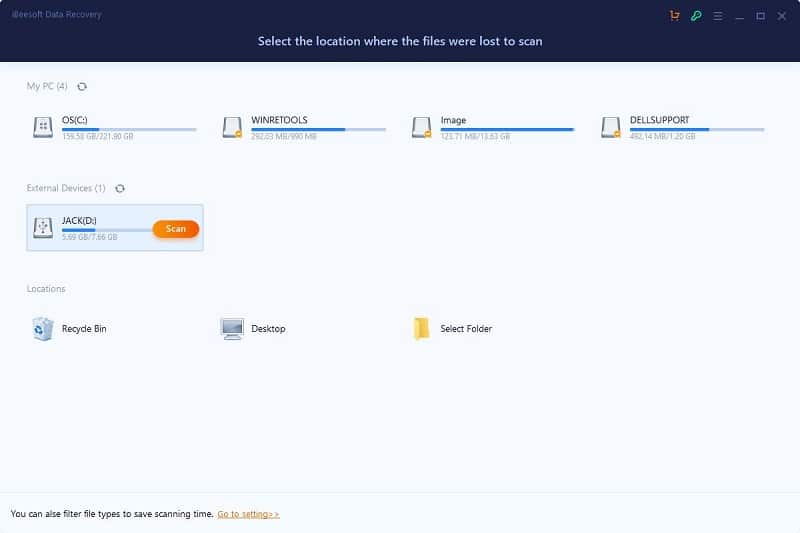 During or after the scanning process, preview the found files and recover the files you need. Then save them into a different location.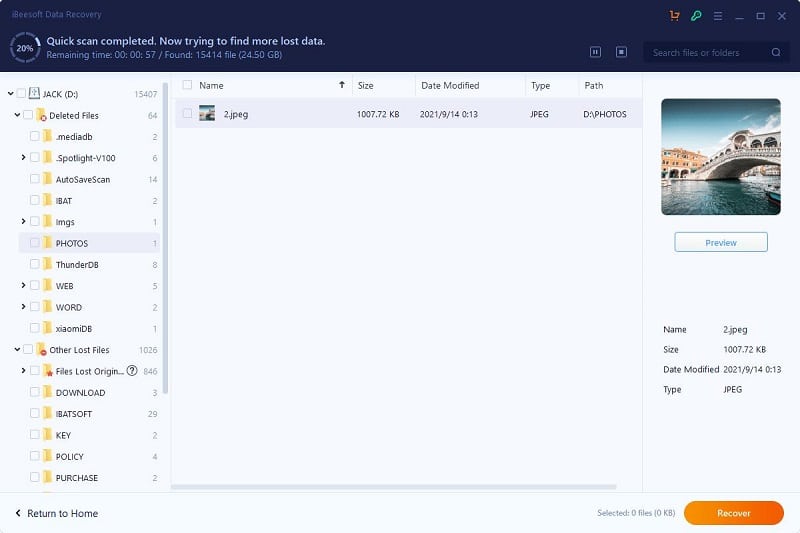 Using the free version of the tool gives you the possibility to scan and preview files only. This enables you to make sure you can recover your files before going for the paid version which helps you to properly recover the files from your hard drive.
Data loss from your hard drive can be caused by a diversity of reasons. Although it is possible to properly recover your data when lost, it is important to make sure you use right software which is up to the task and permits you to overcome the various data loss scenarios.
That is why iBeesoft Data Recovery is the robust data recovery software every computer user needs to keep their data safe. Also, it is very important to back up your hard disk drive as many times as possible. This will ease your work in case of hard drive damage or data loss.