Free WiFi access on your Android phone can save you a lot of money on data charges. Want to know how right? I will share with you how to get free WiFi on Android.
WiFi is essential in providing fast internet speed. Most things have been digitalized and hence increase in need of reliable internet connection.
There are certain apps that you can use to access Free WiFi in your locality. All you need is to download and install the apps. Most support many regions and you can then access the internet at your comfort. However, be cautious of not making payments or accessing personal accounts while on public WiFi.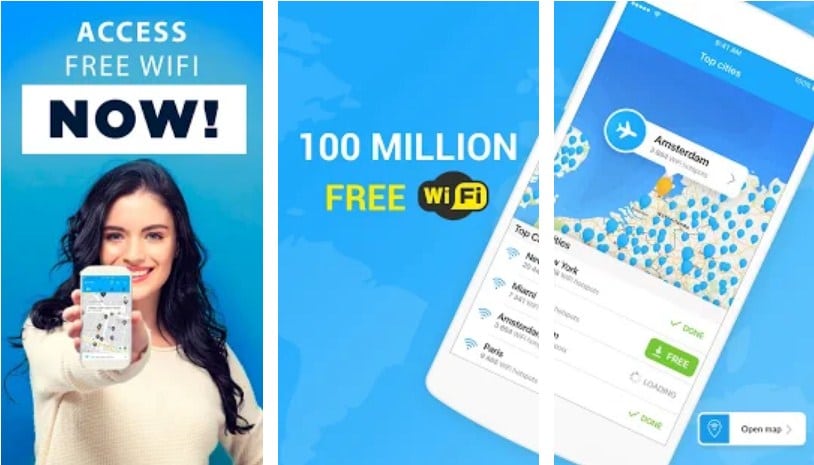 It has over 100 Million users around the world who share and add their WiFi hotspots in the app. You can use it to access 100 million WiFi hotspots in 200+ countries. If you need to open a location, you can check out the WiFi hotspots near you on Google Map.
To use, simply insert your city and it will show all the open WiFi connections in the area.
Features
Easy download of offline maps
Virtual private network to protect the security of WiFi.
ESIM card allows you to connect to the internet where there is no WiFi nearby.
---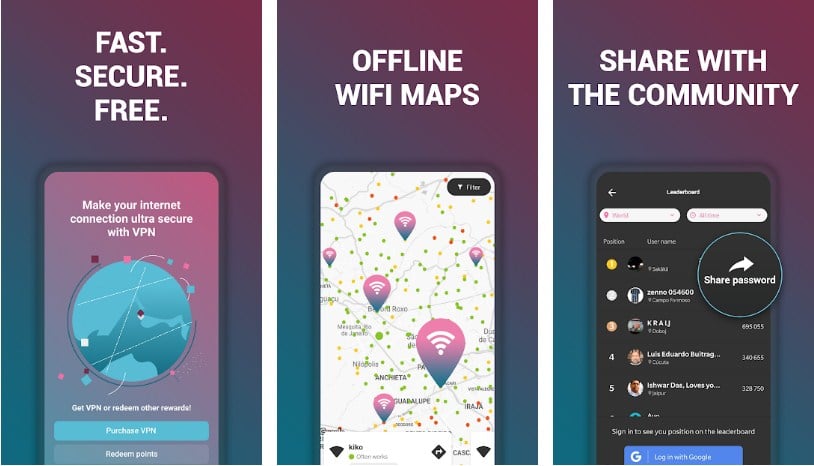 This is a reliable app that you can use to get more than a million up to data WiFi passwords and hotspots on your phone. Moreover, it is a great WiFi sharing community that can help you unlock WiFi connections nearby.
It was invented by Sweden developers and is effective for everyday use on your Android phone. To use, simply click on Free WiFi (on the top menu bar) and search for your location. You will see available free WiFi connections
Features
Unlock WiFi shared in the Instabridge community in your region
It allows you to auto-connect to WiFi – It doesn't require any kind of setup to function.
You can use it to even stream on 4K and lets you connect when you don't have internet.
It is a great way to allow other people to use your WiFi without giving them your password.
It is available on Playstore and Appstore.
---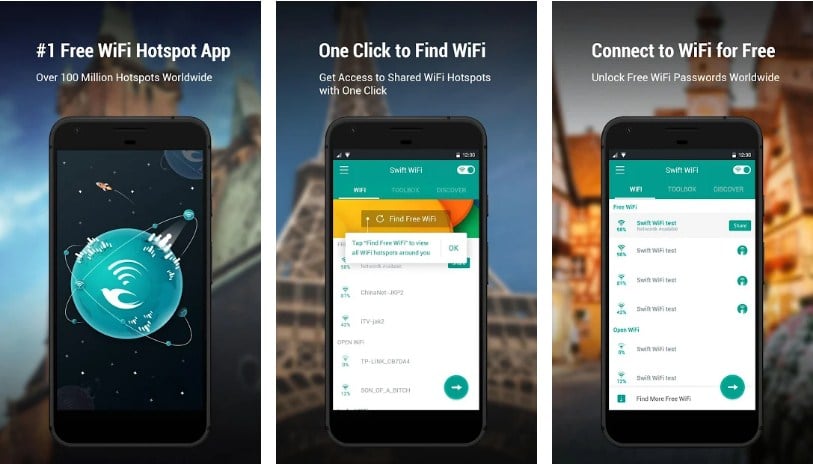 It is one of the best free WiFi hotspot app that you can use to access the internet. It allows you to find and connect to all shared WiFi around the world. Moreover, it provides nearby WiFI hotspot options and the passwords shared by other users around the world. However, before connecting to any new WiFi, use the safety test function for security purposes. The WiFi Master feature provides the speed status and faster hotspots that you can connect to.
Features
Scan and search for free WiFi hotspots around you with just one click.
Access Wifi security to ensure online safety.
You can use the Smart WiFi function to save on battery in different circumstances.
Share free Wifi hotspots with other users.
Allows easy- share to allow you to share files with friends.
---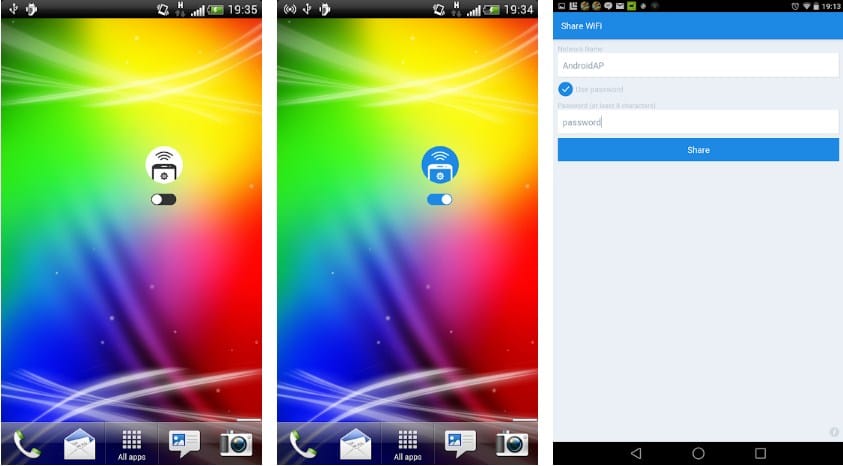 This Android app allows you to share WiFi on your smartphone. Once you install it, you just need to tap on the free widget and share Wifi to the devices nearby.
Features
Use Osmino app to share WiFi.
You can use it to set a password to your portable WiFi hotspot.
In hotspot mode, the WiFi connection is disabled and the internet connection via 4G/3G/LTE is needed.
---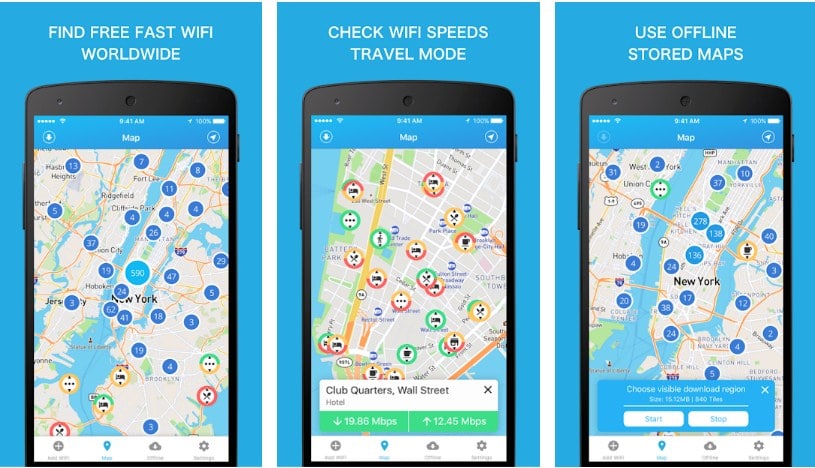 You can use this app to find fast nearby WiFi. Moreover, it has an offline function that allows you to download places you are traveling to and to locate fast WiFi anywhere.
This android app contains verified hotspots to ensure you only get the best. It provides the type of venue (café, library, bank, hotel) you are getting the hotspot from.
Features        
It looks for WiFi hotspots around that provide fast WiFi.
All the available hotspots are verified and speed tested.
You can use it to download maps for offline use when traveling.
Filters WiFi map by venue and works offline.
---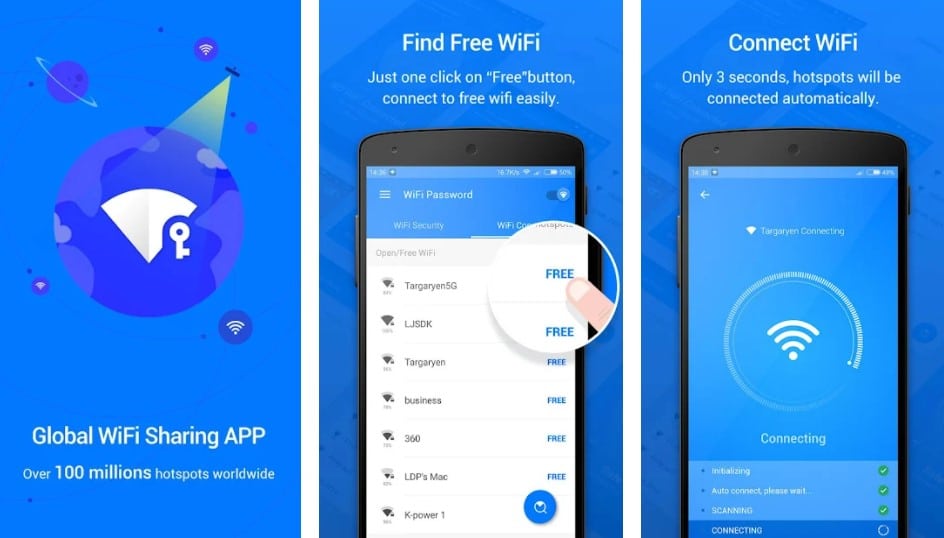 This is another app that you can use to get free WiFi on Android. This is the largest hotspot database in the world. It has over 150 million WiFi hotspots and the number keeps growing with time. With this app, you can connect to Wifi hotspots for free, get actual passwords, and make updates. It offers detailed offline maps to find the internet everywhere you go. You simply need to open the WiFi app, find an available hotspot, connect to it, and enjoy reliable internet.
Features
It offers a fast and secure VPN for public WiFi networks
Use the built-in VPN for private internet access.
You can securely browse the internet.
You can use the map navigation to find the local hotspots.
You can smart search on the Wifi map.
It features unlimited secure and reliable VPN worldwide
---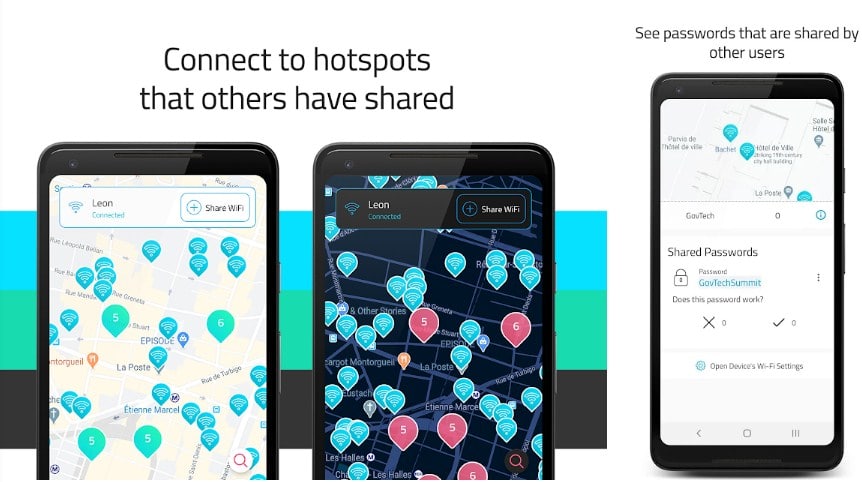 You can this app to access millions of WiFi passwords and hotspots. That's how people gain access to free internet hotspots in their current location. The app allows you to see who is connected to the WiFi and test the internet connection speed.  You can share your WiFi passwords with the community. It requires minimal mobile data to find the nearest shared WiFi hotspots around.
Features
Easy connection to hotspots that others have shared.
Filter to the nearest WiFi and see who is connected to it.
Test your internet connection speed and analyze WiFi networks.
Calculate the WPS PINS of some of the routers.
Create strong passwords and find open ports of a device on the network.
However, you need to have an android 9 or newer versions to use the WPS.
---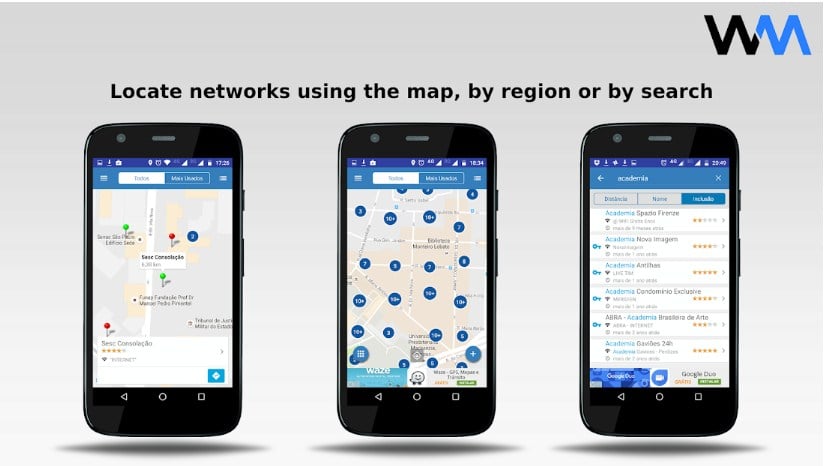 This is an ideal social network for public WiFi passwords. It relies on the collaboration between users who help each other by updating the system with new public networks and passwords. This allows other users to automatically fetch them. However, it doesn't have access to your passwords or router unless you provide the details.
Features
Accessible in most locations.
It offers data plan savings to minimize the use of your data plan.
It saves on roaming charges that you would have used when traveling.
It helps to save on battery as WiFi doesn't consume too much battery unlike when using your own 4G or 3G data.
---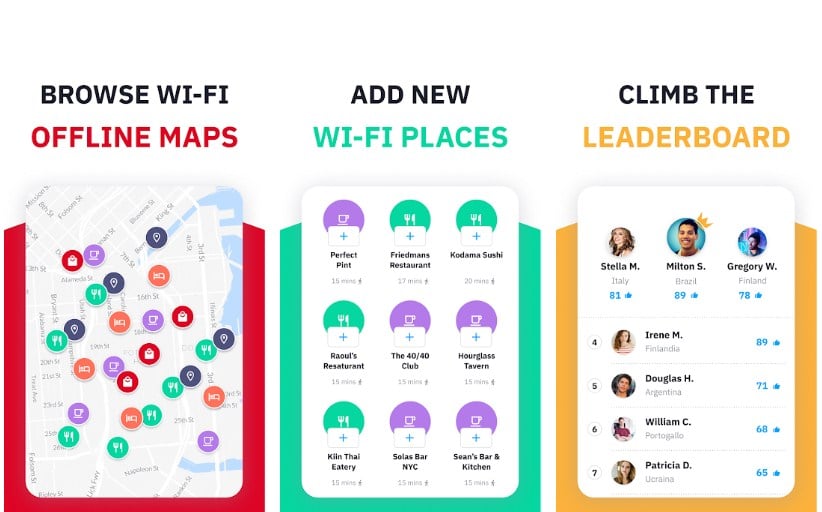 Staying connected online is essential and this WiFi app will help achieve that. The data plan is a bit limiting but when you have WiFi access it becomes easier. This is especially when you travel, the data charges may be too much. Hence, the possibility of tracking nearby Wifi connections can help make it easier. When you connect to WiFi, you can copy and paste the password and start accessing it from wherever you are.
Features
You get WiFi passwords of public places
It features a free WiFi map to show where you can access WiFi.
It features a free WiFi map to know where you can get connections nearby.
You can use these nine applications to access free WiFi on your android phone. They are all reliable, credible, and accessible. However, be cautious when using public WiFi to prevent the chances of being a victim of cyber-attacks. The accessibility of some pubic WiFi depends on how far or near you are to the internet source. This determines the strength of the internet connection.