Internet is the best thing happened in human history. It has given exposure to the information available all around the world. Internet is not just only a place to get information and knowledge but also provides you access of entertainment like watching movies, listening music, playing online games and chat with people living on other parts of the world.
But this is not that easy as its sound like due to online censorship and availability of services to limited countries. Yes, this is true, there are many websites which has been blocked by the government where some of them has been blocked by the internet service providers. There are many reasons behind this censorship, but this is not important to discuss because it won't benefits to you.
Although censorship of internet is a big issue, there are some websites who does not offer their services in other countries, for example Netflix does not allow the access of all of their media list to all people except Americans.
So, what is the solution to access the content which has been blocked on your internet? Well, there is a famous saying that problems does not come without solutions. There are several ways through which you can open blocked websites. But following I am sharing top five best ways to access blocked websites.
These methods includes both free ways to open blocked websites and paid/premium ways to open blocked websites. I am also including the disadvantages of using these methods to help you to pick the most reliable way to open blocked websites.
---
1. Use VPN Servers to Access Blocked Websites

While other four ways are free to access blocked websites but I would like to start from VPN servers to open blocked websites because VPN is most reliable, trusted and fastest way to open blocked website on any device including mobile, tablet and gaming consoles, etc.
Viral Private Network (VPN) routes internet traffic via their servers which allow you to open those websites which are blocked on your internet. There are two types of VPN servers available for both free and paid users.
On free VPN server, the internet speed has been shared with many other users but still you got all the other options like unlimited bandwidth, option to change IP address of your computer to desire country and access of dozens of free VPN servers but there is always privacy and security concern on free VPN services.
On other hands, premium VPN servers are more reliable as compare to any other way to open blocked websites because you got 100% control over your online privacy and web security. The internet speed on paid VPN is always very fast because you become the only person to use the whole VPN server and there is no traffic sharing with other users.
The companies who offer VPN services like ExpressVPN offers dozens of other options other than just unblocking the blocked websites which include:
Access any site including those which does not serve in your country like Netflix etc.
View blocked websites from anywhere which out compromising internet speed
Avoid censorship and surveillance
Protect your identity by changing your IP address and grant you new identity
Stay safe from hackers and thieves because VPN does not save your data log
ExpressVPN doesn't monitor or log your activities, which means no record of your online activates has been recorded at all
Prevent third parties from tracking you including video call and voice call services
There are special VPN apps for every device which allow you to open blocked websites
No tech skills required to operate a VPN server. All you need to download their software and start suffering internet
ExpressVPN is Compatible with all the popular operating systems including Windows, Android, iOS, Linux and Mac, etc.
Read more about our ExpressVPN Review

---
2. Use Free Proxy Websites to Open Blocked Websites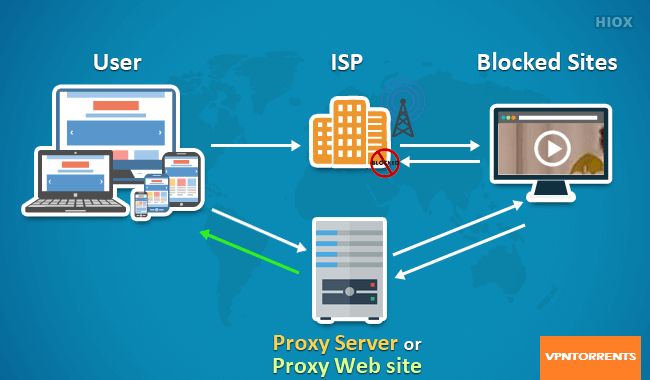 Proxy websites are one of the oldest ways through which you can have access to the blocked website. Does not matter, whether the website has been censored by your internet service provider, government or website itself does not allow access to the users of your countries, website proxy can unblock all of them within a second.
There are thousands of free proxy websites which offer you access of blocked website. Using proxy website to unblock the website does not require to manipulate the setting of your web browser or install and download any third party software.
All you need to search a reliable proxy website on search engine like Google and entered the URL of the website in the address bar. Many proxy websites offer you different options for better results like enable JavaScript or block all images and flash files etc. You can take advantage of these options to load the blocked website fast.
While proxy websites are 100% free way to open blocked websites, but it comes up with a number of drawbacks which includes slow internet speed, lot of advertisements, force visit to unwanted websites, automatic software download and less security.
You can use the Proxy website to block those websites where you did not require to enter your login details like the username of the password because proxy share the same server with a number of users which means that hacking or exploding your privacy could be easy for the hacker as compare to other ways of unblocking websites like VPN.
Read more about VPN VS PROXY
---
3. Use a Web Browser Extension to Open Blocked Websites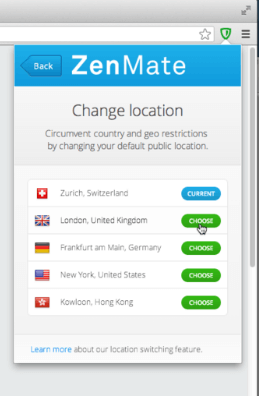 Web browser extensions are not a very old way to open blocked website but it is getting popular as compare to web proxy websites because there are no ads there when you use these extensions to unblock the websites.
Almost all the popular web brewers like Google Chrome, Firefox and other who has an extension or plug-in market allow you to download extensions which allow you to get access of those content which is banned in your country or banned by your internet service provider. The popular extension name is ZenMate but there are many other available while they are also different on each browser. Most of these extensions are available on Google Chrome.
These extensions are free to download while they also allow you to change the IP address of your internet 3-5 different countries which are already available in their extension. While these extensions are free to download and use but these come up with some disadvantages.
The biggest disadvantage of using these extensions are the slow internet speed because the same server/IP address is being shared with a number of other users as well due to which the speed of internet effects. While you need to also concern about your security and online privacy like website proxy when you are using these free extensions because the data log of your online activates are being recorded by the company who owns the extension to open blocked website.
Some of these extensions also come up with premium services in which you have been awarded full internet speed and the server you are using to access blocked websites is not being shared with other people as well. But as compared to other different ways of opening blocked websites, purchasing premium accounts on these extensions could be a bit expensive while they come up with very little controls and options as compare to VPN.
---
4. Use TOR Browser to Open Blocked Websites
TOP is a popular web browser. Its work in the same way like any other website browser but the difference in TOR browser and the traditional browser is that TOR allows you to change the identity of your internet to access those content which is blocked on your internet due to numerous reasons.
If you are planning to use TOR browser to access blocked websites, then you should be known in advance that this free software has been made by US Navy and there are many conspiracy theories that the government record the online activities of users through TOR browser.
While there is no issue of ads in TOR browser and also it allows you to change IP address to many countries, but still you should know that TOR browser is extremely slow software. It does not just make the internet speed very slow but the software itself works very slow and got stuck sometime in the mid of web browsing.
---
5. Use an Online Translator to Access Blocked Websites
Online translation websites like Google translator allow you to get access to those websites which are blocked on your internet. While it is not a very reliable way to open blocked websites but if you are in hurry and only want to get access of text content then this method is one of the fastest ways to open blocked website.
All you need to visit an online translator like Google translator and entered the URL of the website in the translation box and click on the translate button. You will be redirected to the blocked website under the translation box. There is no compromise of internet speed in this method of opening blocked websites but you may not get access to videos and images but only access to text content.
ExpressVPN Voted #1 Best VPN Service On The World